Whites are more likely than people of color to believe most police shootings are justified and that the people police shoot are armed, according to a poll released last week by the state's police union. But majorities of both groups also believe — incorrectly — that most police shooting victims in Wisconsin are minorities.
"In general, the results look like (what) I would have expected from the general literature on perceptions of police," said Pam Oliver, a UW-Madison sociology professor who's studied racial disparities in criminal justice in Wisconsin. "There is a substantial literature that says the police and policing are actually different in different kinds of places or for different kinds of people, so that experiences with police differ."
Forty-eight percent of white respondents, for example, said when their local police use deadly force, it is usually or always justified, but only 28 percent of nonwhite respondents felt the same — although those figures are down for both groups from previous years.
According to past WPPA surveys, in 2014, 63 percent of whites felt police use of deadly force was usually or always justified. For nonwhites, it was 39 percent in 2014 and 55 percent in 2016.
Amelia Royko Maurer, who has lobbied for changes in police practice in the wake of fatal police shootings in Madison over the last six years, said it "makes sense" that the percentage of respondents who say most police shootings are justified has declined, given the increase in bystander video footage of police actions.
Whites were more likely than nonwhites to believe that most or all of those fatally shot by Wisconsin police were armed, or 42 percent versus 25 percent. The difference was even starker in 2017, when 54 percent of white respondents and only 13 percent of nonwhite respondents believed the same.
Over the past three years, nonwhites have also been 8 to 11 percentage points more likely to believe that most of the people shot by police in Wisconsin have been black or members of other minority groups — although majorities of whites and nonwhites alike believe that most of the people shot by police are minorities.
Data on police shootings kept by the WPPA and provided with the survey results, however, show that 16 of the 28 people shot by police in Wisconsin in 2017 (57 percent) were white, as were 18 of the 26 people (70 percent) of those shot in 2016. Whites make up about 87 percent of Wisconsin's population.
Ninety-two percent and 100 percent of those fatally shot by police in 2017 and 2016, respectively, were armed, according to the WPPA.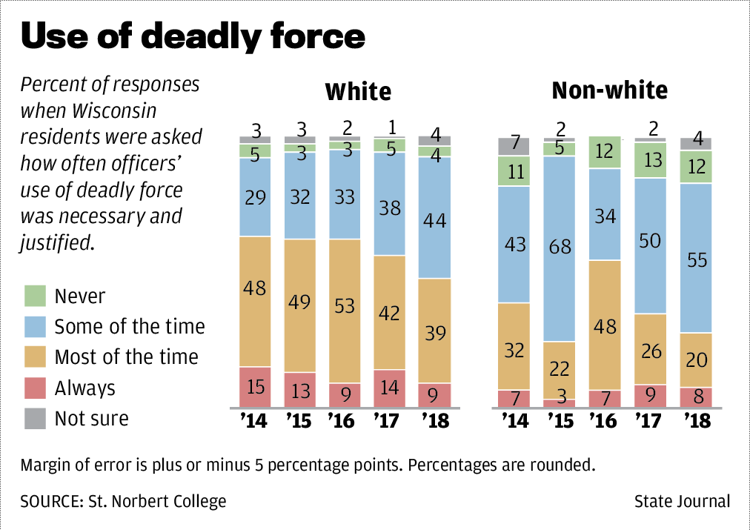 Greg Gelembiuk, another frequent Madison police critic, noted WPPA didn't include a similar perception-versus-reality comparison when it came to how dangerous respondents thought a police officer's job is.
The poll found 49 percent of respondents thought the job has become more dangerous over the past five years, while 42 percent thought it had become less dangerous.
Oliver called the question "pointless," "as people don't actually know and are influenced by media discourses. The number of police being killed on the job has actually been declining."
Views differ by geography
Respondents also differed in their opinions of police depending on whether they lived in small towns or big cities, with 84 percent to 91 percent of those living in cities of fewer than 150,000 people approving of the way their "local police force is handling its job." Only 66 percent of those in cities of more than 150,000 felt the same.
Those in smaller cities also reported greater levels of respect for police and were less likely to think racism was a "major problem" in society.
Oliver pointed to the "pretty high rates of disapproval" of police among nonwhites after 2015, after the fatal shooting of Michael Brown in Ferguson, Missouri, in 2014. That was followed in Wisconsin by the shooting of Dontre Hamilton, a mentally ill black man who was killed in a 2014 confrontation with a white police officer in Milwaukee, and the 2015 shooting of black teenager Tony Robinson by a white Madison police officer after he allegedly punched the officer in a narrow stairwell.
You have free articles remaining.
Register for more free articles
Stay logged in to skip the surveys
Disapproval ratings among nonwhites ranged from 34 percent to 39 percent from 2016 to 2018, up from 17 percent in 2015 and 20 percent in 2014.
Most people of color live in Madison and Milwaukee, she said, and "both cities have had a lot of discussion of racial disparities in policing."
A higher percentage of respondents in cities of more than 150,000 thought police spent too little time policing their neighborhoods — or 31 percent versus 11 percent to 28 percent in those in communities of fewer than 150,000.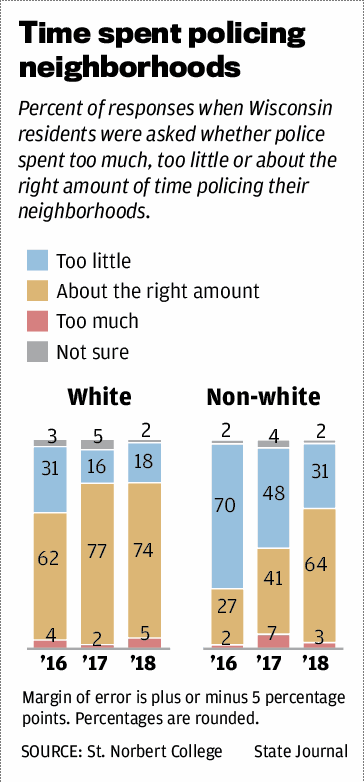 Those in larger areas also had the highest percentages of respondents who either wanted more of a "police presence" or less of it in their neighborhoods, or 49 percent and 19 percent. Majorities of those in communities of fewer than 50,000 people thought the police presence in their neighborhoods should be kept the same.
Oliver noted the poll's sample size was small, and cautioned against reading too much into some of its results — especially those having to do with changes in nonwhite opinion over time. "Only 16 percent of the sample is nonwhite, meaning that results for nonwhites are based on 64 people," she said.
She and Royko Mauer also pointed out that lumping various ethnic and racial groups together under the category "nonwhite" is problematic.
Broad support
for body cameras
However significant the demographic differences on controversial issues such as police shootings, opinion wasn't nearly as divided by race or residence when it came to one police-related issue in particular that the Madison City Council has debated in recent years: whether to adopt body-worn police cameras.
Ninety-four percent of respondents to the poll believed police should be required to wear body cameras that record their interactions with the public, the highest percentage since 2015, when support was 82 percent.
Madison Ald. Paul Skidmore, 9th District, who has been the lead proponent of a body camera program for Madison police, said he was "delighted" by the support.
A November Wisconsin State Journal review of body camera use by Dane County police departments found that 10 of the county's 25 police departments equip regular patrol officers with cameras, and seven were in various stages of researching or deploying them.
"We continue to be amazed and befuddled that the city of Madison has been so resistant to equipping its officers with body-worn cameras," said WPPA executive director Jim Palmer, "particularly when their use appears to be proliferating throughout the state and nation."
Among other survey findings:
72 percent of respondents favored allowing police officers to bargain over wages and benefits.
39 percent believed marijuana should be legal for medical and recreational use, while 45 percent believed it should be legal only for medical use.
77 percent believed police should treat those addicted to opioids as in need of "care and treatment," as opposed to like criminals.
57 percent opposed allowing teachers to carry concealed weapons in schools, and 94 percent opposed allowing people without any firearms training to carry concealed weapons.
The telephone poll was conducted from Feb. 26 to March 28. It has a margin of error of plus or minus 5 percentage points at the 95 percent confidence interval. This means that if, for example, 45 percent of respondents provided a particular response, you can be 95 percent sure that if the entire Wisconsin population had been asked the question, 40 percent to 50 percent of them would have given the same response.