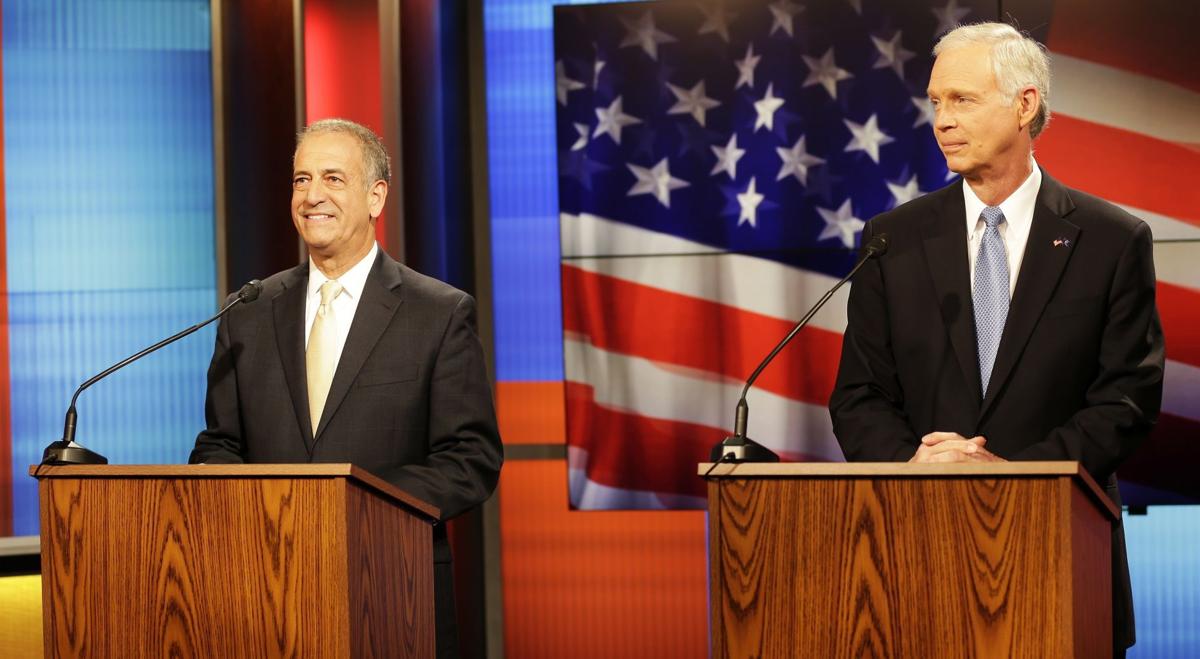 Super PACs are becoming U.S. Sen. Ron Johnson's secret weapon in his bid to stave off his election challenger, Russ Feingold.
Campaign spending by outside groups so far has disproportionately aided the first-term Johnson, R-Oshkosh, in Wisconsin's U.S. Senate race.
The trend accelerated in recent days as two super PACs lit into Feingold, D-Middleton, with nearly $2 million in ads blasting votes he took while a U.S. senator from 1993 to 2011. Super PACs, or political action committees, must operate independently from candidates but may raise unlimited sums and air ads for or against them.
Reform America Fund on Monday announced an ad campaign that hits Feingold, D-Middleton, for voting for the federal stimulus act of 2009, which the ad says sent funds to overseas companies. The super PAC, whose donors include Afton billionaire Diane Hendricks, co-founder of Beloit-based ABC Supply, said the cost of the ads totals seven figures across TV, radio and digital platforms.
The latest outside spending arrives as polls show Feingold's lead over Johnson narrowing. The most recent Marquette Law School Poll showed Feingold leading Johnson 46 percent to 44 percent, within the poll's margin of error.
UW-Madison political scientist David Canon said polls may be boosting donors' appetites to get involved in the race. In addition to the Marquette poll, two other recent polls showed Feingold leading by 3 percentage points and Johnson up by 5, respectively. Together, they depict a tighter race than did a string of past polls that showed Feingold leading, often by comfortable margins.
"It's viewed nationally as being a little more competitive than it had been," Canon said of the race.
Johnson also is benefiting from a national trend of GOP donors and allies focusing on retaining their congressional majorities — in many cases, in lieu of helping embattled Republican presidential nominee Donald Trump, Canon said.
"A lot of the big Republican money is going to save the Senate and the House," Canon said.
More than $7.6 million had been spent by outside groups supporting Johnson or opposing Feingold, compared to more than $1.4 million supporting Feingold or opposing Johnson. Those figures include spending by political action committees, which are required to report their donors to federal regulators, and nonprofit groups, which are not.
They reflect the latest reports to the Federal Election Commission and do not include some of the latest ad buys, including the Reform America Fund ad campaign.
The biggest outside spender in the race so far has been Freedom Partners Action Fund, the super PAC funded by the billionaire Koch brothers and their allies.
Another pro-Johnson super PAC, Let America Work, has spent nearly $900,000 on the race so far.
Outside spenders that boosted Feingold include a pair of environmental groups, the League of Conservation Voters super PAC and the Environmental Defense Action Fund nonprofit group. Together, those groups have spent nearly $1 million — mostly opposing Johnson, the center's figures show.
Feingold's campaign responded to Monday's announcement of the Reform America fund ad buy with a statement saying Johnson "desperately hopes this seven-figure corporate life raft ... will save his political career."
"After years of voting to fatten the profits of big corporations and special interests at the expense of Wisconsin families and small businesses, Sen. Johnson is now relying on that money to bail out his campaign," Feingold spokesman Michael Tyler said.
Johnson campaign spokesman Ben Voelkel responded with a reference to Progressives United Inc., the nonprofit group Feingold founded after leaving the U.S. Senate.
"Sen. Feingold said super PACs were 'dancing with the devil,' and yet he started his own dark money group solely to benefit himself and happily raises money for the kind of groups he claims to despise," Voelkel said.
As a 501(c)4, Progressives United Inc. was the type of group described by campaign finance reform proponents as a "dark money" group because it is not legally required to disclose its donors.
However, the group voluntarily disclosed its funding sources through 2014, when it stopped operating, a Politifact Wisconsin fact-check found. Feingold did receive salaries from the group from 2011-13.
Editor's Note: This story has been changed to accurately reflect the amount of money spent for Feingold or opposed by Johnson by outside groups.
Get Government & Politics updates in your inbox!
Stay up-to-date on the latest in local and national government and political topics with our newsletter.