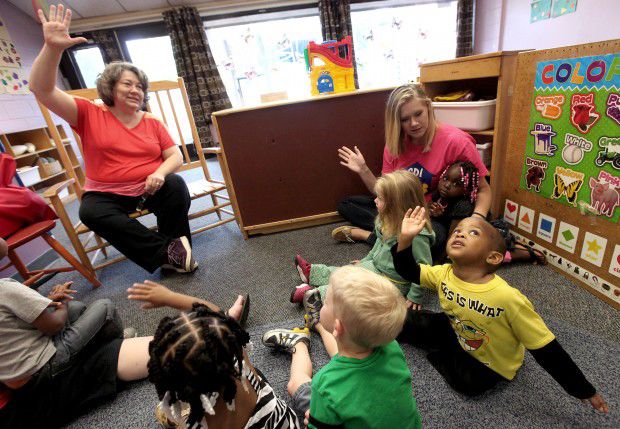 The city of Sun Prairie will consider providing free child care during all of its more than 300 government meetings next year as a way to increase participation in city government, and Madison and Dane County are looking at pursuing similar initiatives.
The Sun Prairie pilot program that could cost up to $23,012 per year would make two child care workers available for each of 314 meetings to care for the children of residents attending the meetings or those on the City Council or the city's current 30 boards, committees and commissions.
"This is a way that we would like to encourage people to be able to come participate in the process," especially people between the ages of 24 and 45 who have young children, Ald. Theresa Stevens told her fellow council members during an Oct. 29 council meeting.
She told the State Journal that the idea was inspired by the local school district's parent-teacher organizations, which provide child care for their meetings.
"We have heard from community members who are interested in serving on committees, boards or even elected positions but don't commit because of concerns around child care," she said.
The measure's other sponsor, Ald. Emily Lindsey, called child care for government meetings "the wave of the future for inclusion in government — local government especially."
The council approved the measure on a 5-3 vote; it will next be considered as part of the city's budget on Tuesday.
Under the program, two part-time city parks and recreation department employees who have been trained and undergone background checks will be paid either $12 or $15 an hour to provide the care, with a guaranteed minimum of two hours of work. If no one shows up to a meeting with children who need care, the workers will be assigned to do other office tasks, parks and recreation director Kristin Grissom told the council.
Madison, Dane Co.
Madison and Dane County officials are also looking into providing child care during their meetings — the county as part of its Engage Dane initiative to better involve citizens in Dane County government, and Madison through recommendations being put together by its Task Force on Structure of City Government.
County Board chairwoman Sharon Corrigan said there is no money in the 2020 budget proposal for child care and that some of the barriers to providing it in the future are cost, liability, how to determine which meetings should provide it, and the "potentially fluctuating demand" for the service.
Eileen Harrington, who leads Madison's Task Force on Structure of City Government, said providing child care at city of Madison meetings will likely be among the task force's recommendations, which are slated to be approved at the group's meeting Wednesday.
For diversification
It's not clear how many American cities have sought to provide child care during their government meetings. Ithaca, New York; Brookhaven, Georgia; and Cuyahoga Falls, Ohio are among those that have implemented the practice for at least some meetings or on a pilot basis.
Providing care for their children doesn't necessary mean parents will come, though.
Mixed returns
Brookhaven, an Atlanta suburb of about 54,000 people, provided child care for each of twice-monthly city council meetings during a six-month pilot project in 2017.
City manager Christian Sigman said it was "well received" in terms of people believing it was a good way to increase involvement in city government, but "we just didn't get a lot of participation." He said there were typically one or two or no children to care for during the meetings, with the exception of one meeting involving a contentious zoning issue that drew about 10 children.
Annie Sherman, executive assistant to Ithaca mayor Svante Wyrick, similarly said the service that began in May for city council and volunteer commission meetings is so far "very underutilized."
"We are hoping to do more marketing in 2020 and possibly shift the nights when we offer child care," she said, "or perhaps require that people call ahead and reserve a spot so we know when to offer it and when not."
Cuyahoga Falls started providing child care for city council meetings in September at an existing child care center at the city's recreation complex, the Natatorium. But the facility's director, Lori Visner, said use by parents going to council meetings has been "very small," with at most a couple of children per meeting.
Ithaca and Cuyahoga Falls have populations of about 31,000 and 49,000, respectively. Sun Prairie's population is about 34,000.
Sigman said that if Brookhaven were to provide the service again, it would target it to meetings with agenda items likely to generate a lot of public interest.
Mayor comments
Sun Prairie Mayor Paul Esser said he generally supports the Stevens-Lindsey proposal, but he said a lack of child care is only one barrier to opening up local government participation to a larger group.
"We've done nothing to evaluate it in that regard," he said, noting that other barriers to participation could be the need for elder care, inconveniently timed city meetings or low pay for city elected officials.
He said the city should create a commission to study the issue.