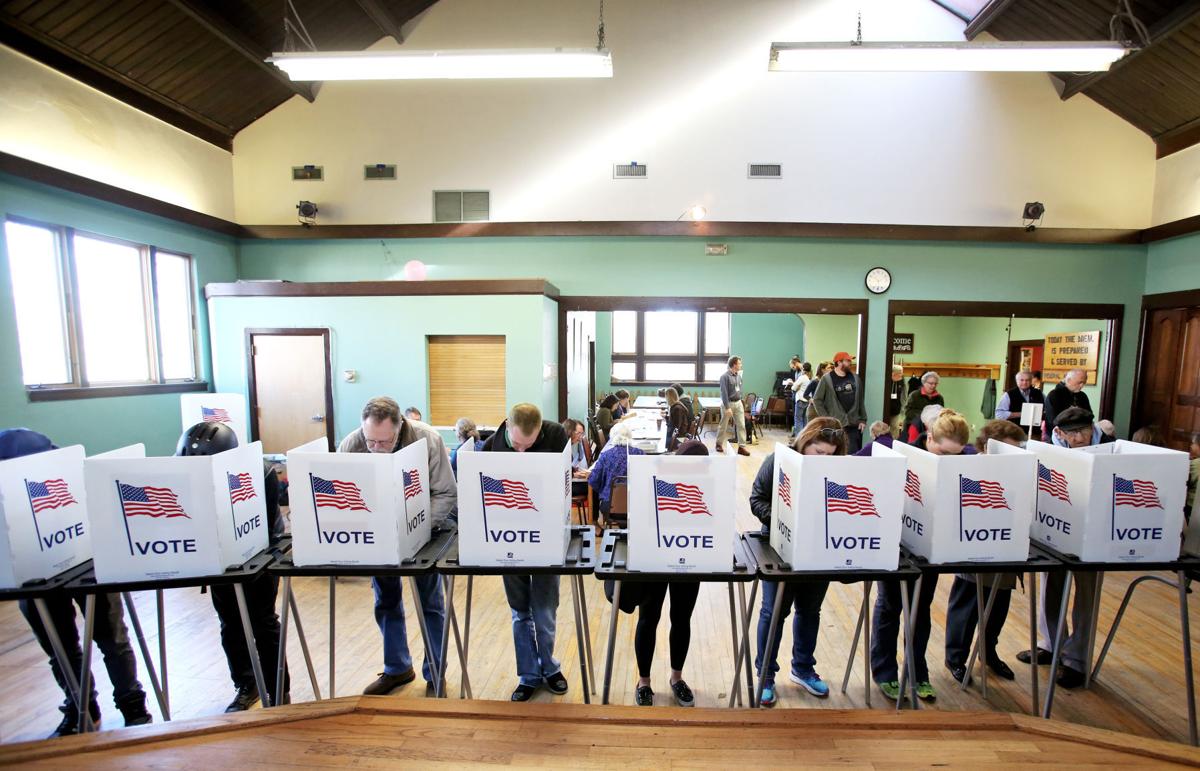 Turnout among black voters in Wisconsin dropped about 19 percent in the 2016 election from 2012, more than four times the national decline, according to a new study by a liberal group.
It provides the strongest evidence yet that Wisconsin's decline in voter turnout, while seen in other demographic groups, was much more dramatic among African-Americans.
The study also found in Wisconsin, as in other key states, the 2016 electorate was significantly more white and non-college- educated than was reported by exit polls immediately after the election.
The downturn in black voter turnout was cited by critics of the state's requirement to show a photo ID to vote, which was in effect for the first time in a presidential election in 2016.
State Rep. David Bowen, D-Milwaukee, said the findings "very much confirm some of the suspicions" he and other Democrats have expressed that the requirement disproportionately hurt turnout among minority voters — who courts have found are less likely to have driver's licenses or other IDs that meet the requirement.
"It definitely had a significant impact on turnout in 2016," Bowen said.
Gov. Scott Walker's office and Republican legislative leaders who backed the voter ID law did not respond Monday to requests for comment on the study.
In 2012, the chance to re-elect the nation's first African-American president, Barack Obama, was widely viewed as having boosted turnout among black voters. For the first time that year, black turnout rates surpassed that of white voters.
But Hillary Clinton, the 2016 Democratic nominee, could not maintain those turnout levels among black voters. Clinton lost the Electoral College to Donald Trump, the first Republican since Ronald Reagan in 1984 to carry Wisconsin — which he did by about 23,000 votes.
The new study finds Wisconsin's drop in black voter turnout was far greater than in other states.
It estimated the turnout rate among eligible black voters in Wisconsin fell from 74 percent in 2012 to 55.1 percent in 2016. Nationally, the black voter turnout rate was down about 4.5 percent, the study found. In neighboring Michigan, it dropped 1.2 percent.
Voter turnout among other minority groups in Wisconsin also declined in 2016, the study found. Turnout by Hispanics and Asians dropped 5.8 percent for both groups, the study found. Nationally, the turnout rate for Hispanics increased 2.1 percent and for Asians, 2 percent.
The turnout rate among white voters also declined, but much less sharply — by 2.2 percent for both college-educated and non-college-educated whites. Nationally, turnout among non-college-educated whites increased 3 percent, and among college-educated whites, 1.9 percent.
A federal judge struck down parts of the voter ID law prior to the election, based in part on the finding that it discriminated against minority voters.
Still, the bulk of the requirement remained in effect. The state had a process in place by which eligible voters who lacked an ID to meet the requirement could petition for a receipt that would enable them to vote.
But Bowen said many voters didn't know about the petition process, in part because he said the state didn't do enough to publicize it.
"Leaving that confusion out there worked for Republicans to be able to disenfranchise voters," Bowen said.
Wisconsin turnout rates and voter composition
2012 and 2016 presidential elections
| Voters | 2012 | 2016 |
| --- | --- | --- |
| White, non-college eduated | 67.2% | 65.0% |
| White, college-educated | 88.4% | 86.1% |
| African-American | 74.0% | 55.1% |
| Hispanic | 52.5% | 46.7% |
| Asian or other race | 60.2% | 54.5% |
| Source: Center for American Progress | | |
Get Election 2020 & Politics updates in your inbox!
Keep up on the latest in national and local politics as Election 2020 comes into focus.