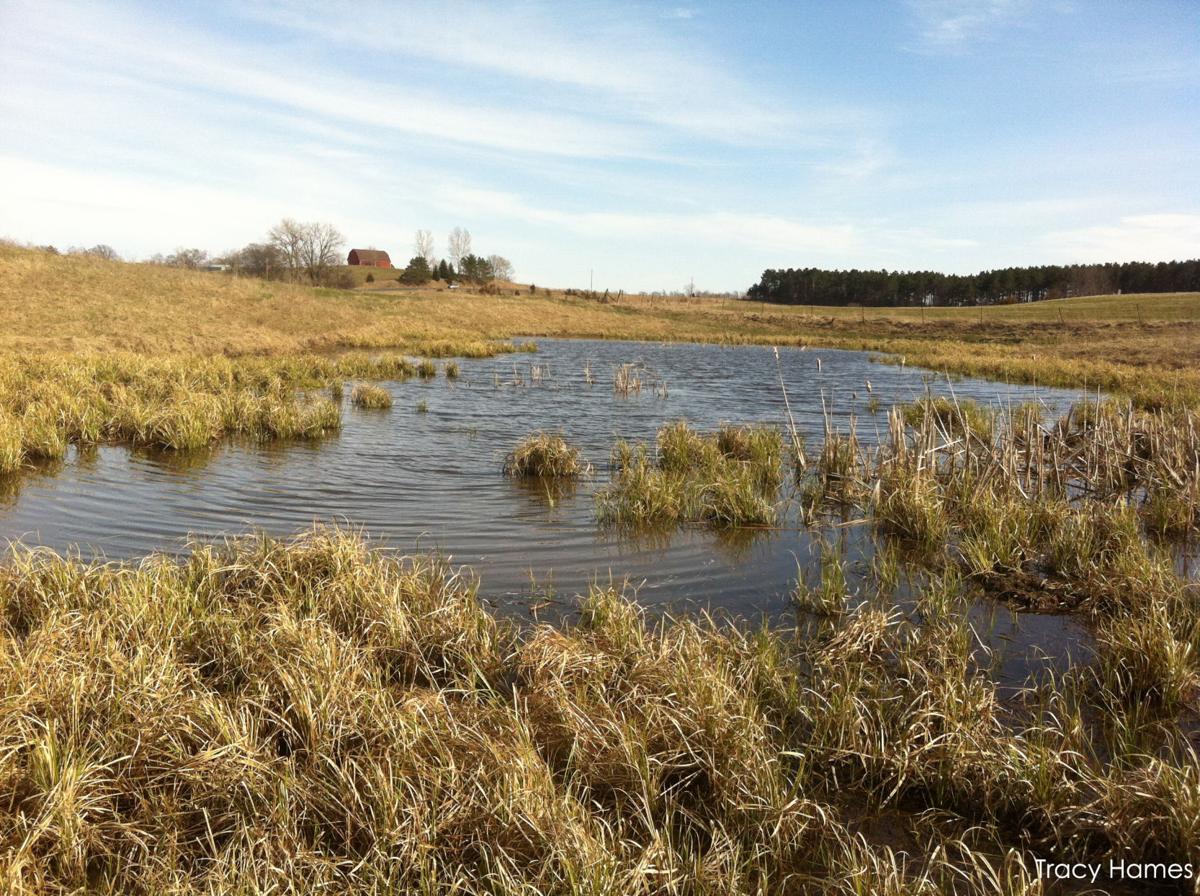 Construction work has filled Wisconsin wetlands at a quickened pace since 2012 when a law was enacted that loosened regulations while requiring builders to minimize the damage they do, data reviewed by the Wisconsin State Journal show.
Over the same five years, demand for state permits allowing wetland elimination accelerated even more rapidly.
Now, two leaders of the Republican-controlled state Legislature are trying to repeal the law's provisions that force builders to adapt site plans to reduce or avoid damage to the watery resources that prevent floods, purify ground water and nurture wildlife.
Conservation, hunting and fishing groups say the 2012 law is working well, but the repeal proposal introduced in October would leave 1 million acres of state wetlands vulnerable for the first time in 16 years.
"We're going to see a lot of key wildlife habitat disappear with the stroke of a pen," said Kyle Rorah, government affairs representative for Ducks Unlimited.
As extreme rain events have grown more frequent, wetland preservation is more important than ever because they soak up water that otherwise rushes downstream all at once, said Tracy Hames, executive director of the Wisconsin Wetlands Association.
But Assembly Majority Leader Jim Steineke, R-Kaukauna, lead author of Assembly Bill 547, says existing law needlessly preserves low-value wetlands, impedes development, increases housing costs and threatens builders' profits.
"It became clear that something needed to be done to assure that we can protect those high-quality wetlands while at the same time not slowing down development," the Kaukauna Republican said in a video posted on YouTube.
"Any rational person would look at this," Steineke says while standing in a construction site at an unspecified location, "and say there's no way this is a wetland."
In defense of the proposal, Steineke and co-author Sen. Roger Roth, R-Appleton, point out that their proposal wouldn't change the way 80 percent of state wetlands are protected, and requirements for replacing certain filled wetlands would remain in place.
Bill would deregulate state wetlands
Scientists estimate there were 10 million acres of Wisconsin wetlands before European settlement. Half of that acreage has been drained and filled for farms and other development.
Of the remaining 5 million acres, 80 percent are considered "federal wetlands" because of their connections to lakes and streams. Federal wetlands are regulated jointly by the state Department of Natural Resources and the U.S. Army Corps of Engineers under state and federal laws requiring developers to avoid or minimize impacting them.
The remaining 20 percent — or 1 million acres — are protected under state law only. These are sometimes called "isolated wetlands," although some state wetlands serve as headwaters for rivers and streams.
Steineke's proposed legislation would affect state wetlands, allowing developers to fill them with no requirement to avoid and minimize.
In a recent 22-month period for which federal data were available, 1,778 applications were filed seeking permits to disturb state and federal wetlands in Wisconsin. Of those, about 37 applications — or 2 percent — affected the wetlands covered by state law only. The data didn't make clear how much acreage was involved.
Acceleration in
filling wetlands
Looking at state and federal wetlands combined, in the first four years after the 2012 law took effect, the acreage approved for filling — 396 acres — topped the 372 approved in the previous six years, according to DNR data.
In the video Wisconsin Assembly Republicans posted on YouTube in September, Steineke and Roth focused on one accidentally created artificial wetland to argue for removing current restrictions on all state-regulated wetlands.
"I think the biggest thing people need to know is we are only one of three states that regulates isolated artificial wetlands the way we do," Steineke said.
Efforts to reach Steineke and Roth were unsuccessful. Their video clip describes a housing deal that fell through in 2006 after heavy equipment had begun working on the site. The equipment left low spots in the soil that filled with water. By the time work resumed, the DNR said the wet areas were wetlands, and that meant the site needed to be redesigned, Steineke said.
"We're bringing this bill forward because we want more high-quality wetlands in Wisconsin," said Roth, who serves as Senate president. "We do that by removing the DNR's oversight on isolated nonfederal wetlands and that's so very important because right now the DNR is standing in the way of our businesses being able to expand."
It's not known how many of the 1 million acres of state-regulated wetlands were created artificially, said Steineke spokeswoman Alesha Potter. But Potter said Steineke has received numerous complaints about wetland regulations, including some about low-quality wetlands that have occurred naturally.
Replacement wetlands
Roth's statement about creating more high-quality wetlands is based on existing state law that in some cases requires developers to pay for at least 1.2 acres of replacement wetlands per acre filled.
Steineke's spokeswoman said the cost of replacement wetlands would prevent wholesale filling of larger wetlands that provide extensive hunting grounds. Last year, businesses participating in one DNR program paid an average of about $47,000 for each acre of wetland they destroyed.
Under current law, developers pay for replacement wetlands, but the DNR has had trouble finding enough acreage that meet standards for flood protection, water quality and wildlife habitat.
By early last month the DNR had collected $15.6 million as part of a new wetland replacement program it began developing several years ago. But the department spent only about $43,000 on wetland replacement acreage. Obtaining federal approvals and hiring staff has been complicated and time-consuming.
Investors who create replacement wetlands often remove drainage tiles from abandoned farm fields so that water will gather. The land is seeded with wetland vegetation. However, experts have long questioned the environmental value of replacement wetlands.
"Not everything is replaceable," said Erin O'Brien, policy programs director of the Wisconsin Wetlands Association. "It can be difficult to replicate the form and function of wetlands that have been on the landscape for a very long time."
Replacement acreage should be near the filled wetlands, but that doesn't always happen.
"They may not even be in the same watershed, and if you're talking about flood control, that's a problem," said Wisconsin Wildlife Federation executive director George Meyer, who is a former DNR secretary.
Meyer was running the DNR in 2001 when the state's first wetland protection bill was passed after the U.S. Supreme Court ruled that the federal government couldn't regulate isolated wetlands.
Uncertain prospects
Meyer said the business interests pushing for the Roth-Steineke bill have declined to meet with conservationists to seek a compromise, and the bill was written without advice of conservation groups, and largely without the help of professional wetland permitting consultants.
Lobbyists registered in favor of the bill include Wisconsin Manufacturers & Commerce, the state Builders Association and the chamber of commerce for the Fox Cities region that Roth and Steineke represent.
Roth has said the bill would pass the Legislature this fall.
Backing of lawmakers in leadership posts usually means a bill has a bright future.
But Meyer said the proposal's momentum may have been slowed by recent efforts to inform other lawmakers about high-quality wetlands that would be left unprotected.
Conservationists said they agreed with the bill's authors that regulation of artificially created wetlands should be relaxed.
Conservation groups said accidentally created artificial wetlands are addressed in a narrower proposal, Assembly Bill 388, which along with its Senate counterpart was introduced in June and passed out of committees last month on unanimous, bipartisan votes.
In addition to deregulating all non-federal wetlands, the Roth-Steineke bill also includes a provision Potter, the Steineke spokeswoman, said was aimed at laying the groundwork for reducing the Army Corps of Engineers role in Wisconsin.
The provision would grant DNR the authority to assume control over an unknown portion of federal wetlands if Walker seeks and wins permission from the Environmental Protection Agency to do so. Walker's spokesman didn't respond to a request for comment.
Many wetlands that fit the definition of federal wetlands have been specifically identified as such in agency studies and court rulings.
The Army Corps of Engineers makes its own determinations about federal jurisdiction for others.
States may ask the EPA for jurisdiction over any wetlands — even those that seem to fit the federal definition — as long as they haven't been identified as federal by studies or the courts.