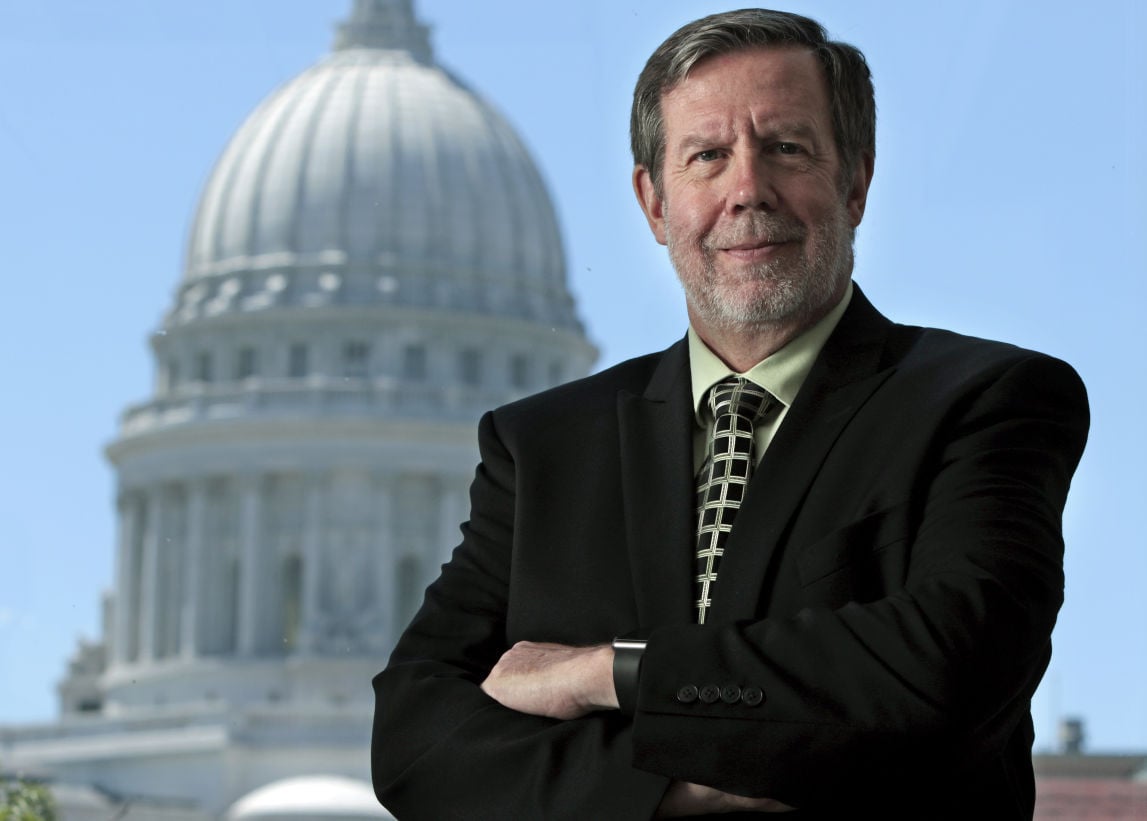 Wisconsin's Government Accountability Board was created in the wake of scandal, meant to be an independent overseer of elected officials and those who influence them.
Eight years later — after playing controversial roles in the 2012 recall elections and an investigation into Gov. Scott Walker's campaign — the board has made enemies of many of the elected officials it was founded to regulate.
Now, the board is on course for a sweeping overhaul — or perhaps for extinction. Some fear the coming changes could leave Wisconsin with weakened oversight of those in power at the Capitol.
They also could mean the state will have untested elections oversight in 2016, the first presidential election year in which a photo ID requirement for voting is expected to be in place.
But critics of the GAB say change is needed because its purported impartiality is a farce.
Gov. Scott Walker said last month that the board should be replaced. Walker was speaking just after the state Supreme Court halted an investigation into coordination between Walker's campaign and conservative groups — an investigation in which the GAB played a key role.
Assembly Speaker Robin Vos, R-Rochester, has signaled the Assembly will take up a bill this fall to overhaul or replace the board, which oversees elections, campaign finance, lobbying and ethics.
Other critics have called for the board's director, Kevin Kennedy, to resign. Some, including Senate Majority Leader Scott Fitzgerald, R-Juneau, have suggested the state should return to when partisan political appointees policed the elected officials and parties that appointed them.
Rep. Dean Knudson, who's spearheading Assembly Republicans' changes to the GAB, describes it as an agency run amok.
"We have empowered these regulators in a way that probably no other state or government in the U.S. has done," said Knudson, R-Hudson.
But the board's proactive approach is precisely what its supporters laud. David Deininger, a former GAB chairman, retired judge and former Republican legislator, said the GAB was meant to be an independent watchdog.
"I think the GAB has done exactly what we were created to do — and in some cases, maybe did it too well," Deininger said. "We've obviously angered some folks who have an interest in our work."
Unique from other states
In 2007, the consensus to create the Government Accountability Board was bipartisan and nearly universal.
A law creating the board passed the Legislature with just two dissenting votes and was signed into law by then-Gov. Jim Doyle. Deininger said part of the impetus for its creation was the caucus scandal of 2001-02, in which top lawmakers from both parties were criminally charged with illegally running political campaigns out of their state offices.
The GAB replaced two former state boards that oversaw ethics or elections, respectively. The old ethics board members were appointed by the governor, while elections board members were mostly partisan nominees made by lawmakers, political parties or the governor. At the time, many viewed the boards as ineffective or partisan, Deininger said — leading to the consensus to create the GAB.
The GAB is made up of six former judges who are appointed by the governor and confirmed by the state Senate. Experts such as Daniel Tokaji, a national elections expert and professor at Ohio State University, say the independence and nonpartisanship of the GAB distinguish it from its counterparts in other states.
Another element that sets the board apart is its ready access to funding to investigate allegations of wrongdoing. The board has a sum-sufficient budget, meaning it doesn't need to ask lawmakers for money to conduct investigations.
George Dunst, an attorney for both the former elections board and the GAB until 2008, said the GAB tried to distinguish itself from its predecessor by taking a more aggressive role.
"My sense was that the judges came in with the belief that we're the new sheriff in town, and we're going to be tough on enforcement," Dunst said.
But since it began operating in 2008, the board made moves that fueled criticism.
In 2010, the board angered both sides of the political spectrum by issuing a rule that would have regulated so-called issue ads, political spots that stop short of supporting or opposing the election of a candidate. In the face of lawsuits from progressive and conservative groups, the board quickly backpedaled, agreeing in a settlement not to enforce the rule.
Then came the recall elections. The board angered Republicans by declining to accept analysis of recall petitions done by outside groups, including tea party groups, and with its handling of a particularly contentious Senate recall election in the Racine area. The board also irked Democrats by allowing Republicans to run as Democrats in several of the recall primaries.
The board was dinged in a 2014 Legislative Audit Bureau audit for several problems, including being late to conduct reviews to identify felons voting illegally.
What's next
The John Doe investigation may have been the last straw for the board. The state Supreme Court ruled last month that the investigation, which examined coordination between conservative groups and Walker's campaign, must end and that prosecutors' theories behind it weren't rooted in law.
Critics say the board, rather than being impartial, acted like a cheerleader for the investigation, which it assisted prosecutors in conducting.
Recent comments by Walker, Vos, Knudson and others made clear that the status quo will not last for the board.
"I think we'll have new leadership. We'll have a new oversight body," Knudson said. "It'll probably have a new name, a new structure, a new role."
The rumblings of change are troubling to minority Democrats in the Legislature. Senate Democratic Leader Jennifer Shilling, in a statement, said voters are tiring of what she described as "Republican power grabs."
"No one has ever come up to me in a grocery store or at the school bus stop and said: 'We need more partisanship in our elections,' " said Shilling, D-La Crosse.
Knudson said he favors maintaining some role for former judges in the GAB or its replacement. He said he mulled the idea of a "hybrid" board made up of a combination of former judges and political appointees, but he hasn't convinced fellow GOP lawmakers of the merits of that approach.
Knudson said the bill he expects to introduce will require legislative confirmation of top administrators for the GAB or its successor.
Criticism taken in stride
That appears to be a shot at Kennedy, who has been a lightning rod for criticism during much of his tenure. Most recently, some Republican lawmakers and conservative media called for Kennedy's resignation when the release of his emails showed his friendship with Lois Lerner, the former IRS official who was a central figure in that agency's targeting of conservative groups seeking tax-exempt status.
Kennedy says he doesn't plan to step down and shrugs off the personal criticism. He says it's predictable for anyone who tries to referee political campaigns, elections and ethics disputes.
"I've always operated knowing there's a sword hanging over my head to measure my performance," Kennedy said. "It wouldn't be fair to the people who work for me to bolt at the first criticism."
Lawmakers expect to take up a GAB bill this fall. That means a shake-up of the board could happen months before the 2016 primary election and less than a year before the general election.
Next year is no ordinary election in Wisconsin. In addition to being a high-turnout presidential election year, it's also expected to be the first presidential election in which the photo ID requirement for voting, enacted by lawmakers in 2011 but stalled since by court rulings, is fully implemented.
It also may be the year in which Walker is on the ballot as a presidential candidate.
Kennedy said charging a rookie agency with administering elections next year could be problematic.
"That's one of the risks that I think is inherent in making this decision," Kennedy said. "There are better times to do it."
Municipal clerks, the foot soldiers in the army that administers Wisconsin's elections, share those concerns.
The Government Accountability Board provides support and training to clerks that didn't exist before it was created, and on which the clerks — many of whom are part time — have come to rely, said Karen Weinschrott, clerk of the town of Grand Chute and head of Wisconsin's statewide association of municipal clerks.
Weinschrott said clerks are fearful that state lawmakers will dismantle the board and leave them in limbo.
"We don't want it changing every four years to reflect whoever's in office at that time," Weinschrott said. "We want consistency."
Still, even Kennedy says there are constructive changes lawmakers could enact to the board. One is to remove the legal shroud of secrecy around the board's deliberations on and investigations into allegations of campaign finance and lobbying violations.
Dunst emphatically agrees with that point.
"If you shed public light on it, the truth will come out," Dunst said.