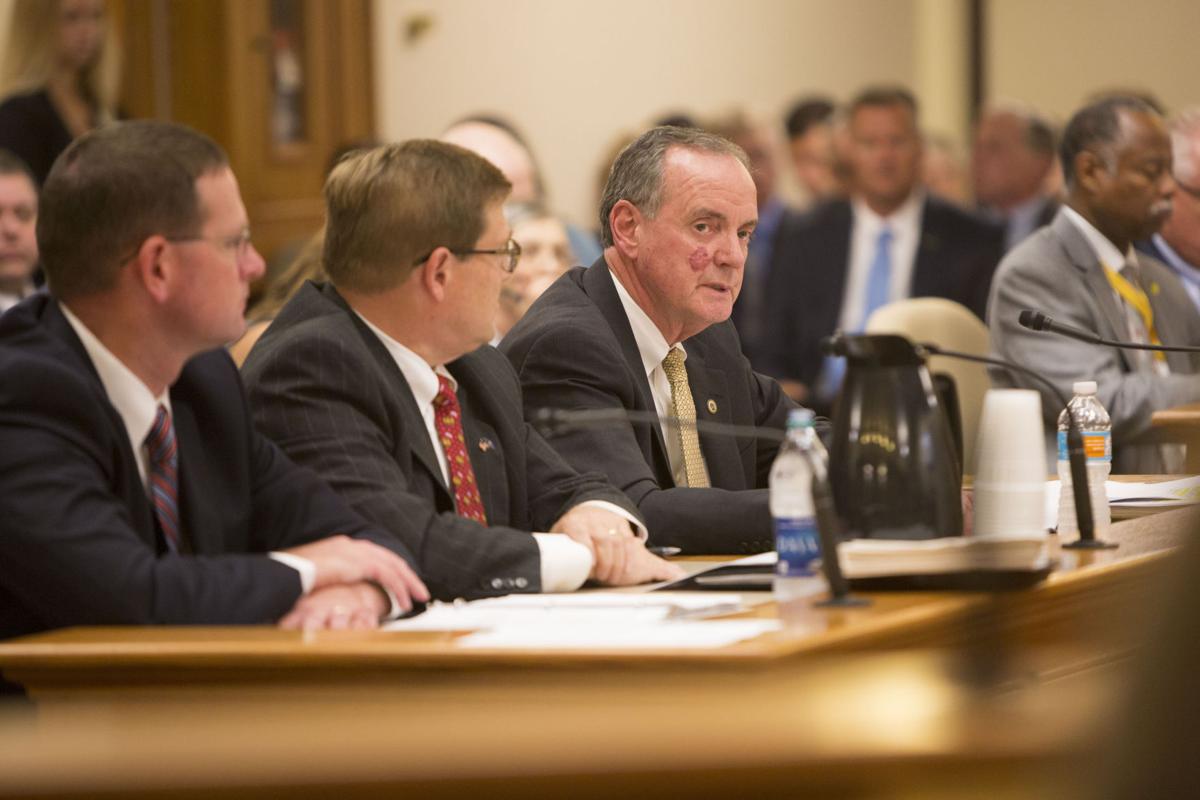 It would take 25 years for state taxpayers to see a return on the billions Gov. Scott Walker wants to invest in a project that would bring Taiwanese electronics giant Foxconn to Wisconsin, new state estimates show.
Walker has proposed giving Foxconn nearly $3 billion in refundable tax credits as part of an incentive package state lawmakers are considering to convince the company to build its first U.S. plant in the southeastern part of the state — a campus that is projected to employ 13,000 and create a supply chain that could employ more than 30,000 statewide.
A new analysis released Tuesday by the nonpartisan Legislative Fiscal Bureau shows taxpayers would pay to Foxconn Technology Group about $1 billion more than the state received in tax revenues during the first 15 years of the project, and that the state would start to recoup those payments starting in 2043 — or a quarter of a century after the project starts.
That estimated break-even date assumes the workforce produced by Foxconn is 13,000 employees and entirely composed of Wisconsin residents. The more out-of-state workers that commute to the plant, the further away the break-even date will be, according to the analysis.
Tom Evenson, spokesman for Walker, said after the analysis was released that the project is "a once-in-a-lifetime opportunity that brings high-tech manufacturing back to America, right here in Wisconsin, and adds 13,000 good paying jobs."
And Walker in a tweet said, "Foxconn is bigger than just future tax revenues" and that the project would add more than $10.5 billion in payroll to the state economy over 15 years plus "construction & indirect jobs."
A Foxconn-commissioned analysis shows that once the plant is up and running, for every 10 jobs created there, 17 jobs would be created elsewhere in the state and that the facility's operations would support more than 35,000 jobs statewide — a figure that includes the 13,000 planned to be at the campus itself.
Fiscal bureau director Bob Lang, who authored the analysis, noted the review focuses only on the impacts of the Foxconn project on the state's finances, and does not account for other benefits to the state's economy and residents. Foxconn would spend $6.70 for each public dollar, for example.
But Lang also warned that any cash-flow analysis that covers a nearly 30-year time frame must be considered "highly speculative, especially for a manufacturing facility and equipment that may have a limited useful life."
"Technological advances and changes in Foxconn's market share, operating procedures, or product mix could significantly affect employment and wages at the proposed facility over time," Lang wrote.
Some lawmakers supporting the package have said the Foxconn project would barely affect the 2017-19 state budget, which lawmakers are more than a month late in passing. But the fiscal bureau analysis shows the Foxconn project would likely take $15 million out of the next two-year spending plan's general fund and more than $522 million in the following two-year state budget.
Democrats, including Assembly Minority Leader Peter Barca who represents the area Foxconn is considering developing, said the analysis raises questions that need more time to be answered than the quick timetable some Republican lawmakers are pushing.
Budget-writing committee member Rep. Gordon Hintz, D-Oshkosh, said the memo shows taxpayers are assuming 100 percent of the risk of the Foxconn proposal and that more vetting of the incentive package's impact on future state budgets is needed.
"Taxpayer funded assistance this massive in size will certainly create budget problems for the state, and likely result in another round of cuts to our most valued priorities," Hintz said in a statement. "When considering this multibillion-dollar legislation, we must also consider the far-reaching impacts it will have on every budget for the next 15 years."
And Senate Minority Leader Jennifer Shilling, D-La Crosse, said she's "not convinced that handing over $3 billion in state subsidies to a foreign corporation is the best deal for Wisconsin families and small businesses."
Walker introduced a bill nearly two weeks ago that would give Foxconn the nearly $3 billion in refundable tax credits and another $150 million in sales tax exemptions. The company also would not be required to abide by environmental regulations during construction, and even after, of a proposed 20 million-square foot campus in southeastern Wisconsin, and would be eligible to pay lower utility rates.
Lawmakers in the state Assembly held a hearing on the bill last week and plan to advance the package for a floor vote as soon as Thursday.
Evenson said because Foxconn has promised to invest $10 billion, that the project "is an excellent investment for our entire state."
"Wisconsin is offering $3 billion for a $10 billion investment, $10.5 billion in new payroll, and 13,000 direct jobs," Evenson said.
A spokeswoman for Assembly Speaker Robin Vos, R-Rochester, did not respond to a request for an interview.
Under fiscal estimates from state agencies released Tuesday, the state's payments to fulfill the incentive package would reach their peak by fiscal 2023, when the state would annually be sending $119.5 million in income tax credits and $192.9 million in capital expenditure credits to the Apple iPhone manufacturer that wants to build LCD panels in Wisconsin.
Fiscal estimates from state agencies released on Tuesday also show provisions exempting Foxconn from sales taxes on construction materials and equipment would result in $139 million the company would not need to pay. Local governments would have gotten about $10.7 million in revenue if the exemptions were not in place and Foxconn created the same campus at the same size investment, the estimates show.
Another bill provision to rebuild and expand I-94 in the area of the proposed campus would cost about $408 million in principal and interest re-payments between 2019 and 2042, according to an estimate from the state Department of Administration.
Walker's bill proposes to use $252 million in bonding for the project.
The bill also would create a new tax credit program specifically for Foxconn within Walker's state jobs agency. WEDC estimates the agency would need to hire three more staff members to facilitate the Foxconn incentives, costing between $251,000 to $323,000 and would come from reorganizing existing programs and activities.