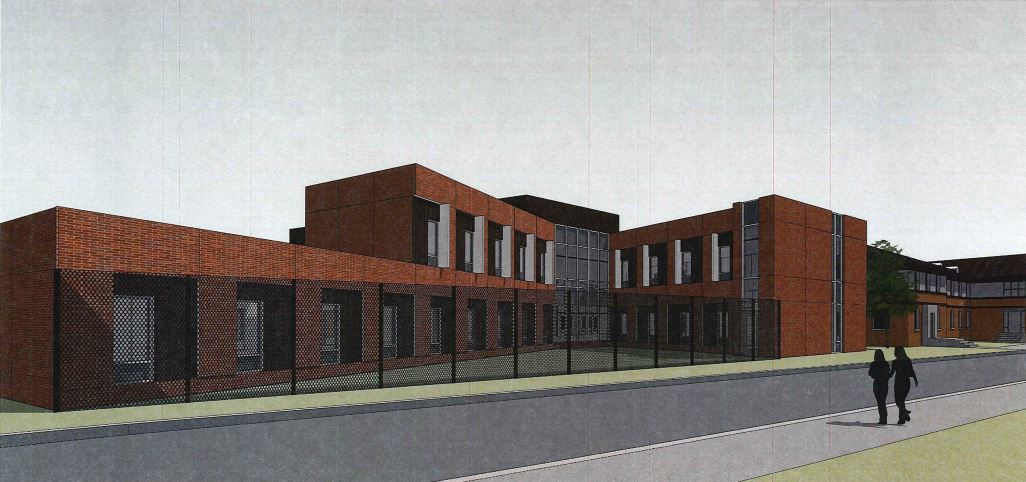 The state is proposing to roughly quadruple the size of the Mendota Juvenile Treatment Center on Madison's North Side as part of plans to replace the embattled youth prison in northern Wisconsin.
The Mendota center, in operation since 1995, treats serious and violent juvenile offenders by providing the security of a traditional corrections institution with a mental health orientation. The proposal would allow for the treatment of more boys at the site and girls there for the first time.
In July, Democratic Gov. Tony Evers signed a budget that directs $80 million to counties, $47 million to the state and $59 million to the Mendota Juvenile Treatment Center to overhaul the state's juvenile justice system and shut down Lincoln Hills and Copper Lake, which have been the subject of numerous lawsuits and state and federal investigations for abuses against inmates and staff.
New facilities are required to be built to replace Lincoln Hills and Copper Lake under a bipartisan law passed by lawmakers in 2018 and signed by former Republican Gov. Scott Walker.
As part of that, the state is seeking city approval to remodel and expand the Mendota Juvenile Treatment Center, which is located on the grounds of and operated by the Mendota Mental Health Institute, 301 Troy Drive. State law requires the center to be located on the Health Institute campus.
The center's treatment model addresses detachment, defiance and anger often experienced by traumatized youth and seeks to rehabilitate by helping participants understand interpersonal relations, acquire social skills and improve social connections.
The existing facility meets current needs, Mendota Mental Health Institute Director Greg Van Rybroek said. The proposed project is designed to fulfill state law that it be expanded. The addition will allow DHS to serve more juveniles with psychiatric and psychological interventions that are effective for greatly reducing recidivism, he said.
Under the proposal, the state would remodel the existing, 24,700-square-foot building, which currently houses 29 male juvenile offenders, and build a 77,850-square-foot addition with two units for 30 male juvenile offenders and two units for 20 female juvenile offenders.
The existing building would be remodeled to update door controls and video surveillance to improve circulation and safety. The new facility would include spaces for life-skills training, dining, health and dental services, education, counseling, recreation, visitation, staff offices and support areas.
Fenced courtyards would be located next to buildings, and an underground tunnel would be constructed from the new building to the existing service tunnel network at the Health Institute. The parking lot to the south of the existing building would also be significantly expanded.
The city's Plan Commission is scheduled to consider the request on Aug. 26.
'Positive' reviews
Ald. Rebecca Kemble, 18th District, said she's working with city staff to organize a community meeting on the proposal.
"What I've heard from neighbors so far is positive," Kemble said. "I think it's generally good that children will be in a better, newer facility closer to their families."
The state hopes to start construction on the project in February 2020 with occupancy in March 2022.
The existing facility must remain operational during construction, so the project will be done in three phases, the state's submittal says. The bedroom unit wings and supporting program space will be built first. Then, juveniles currently housed there will be moved to the new facility. Last, the existing space would be remodeled and administration and visitation areas would be completed.
The biennial budget includes $80 million for counties to build treatment centers. But the handful of counties that want to build facilities to help replace Lincoln Hills and Copper Lake had sought $130 million for construction.
Dane County has asked for up to $4 million to expand its current juvenile detention facility at the City-County Building Downtown to make room for up to 23 more beds for boys and six beds for girls.
Milwaukee County has offered a $42 million proposal to build a 54-bed facility by remodeling existing buildings. Brown County has sought $43 million to build its own regional facility. And Racine County made a $40 million proposal to build a new 48-bed regional youth lockup.
Get Government & Politics updates in your inbox!
Stay up-to-date on the latest in local and national government and political topics with our newsletter.