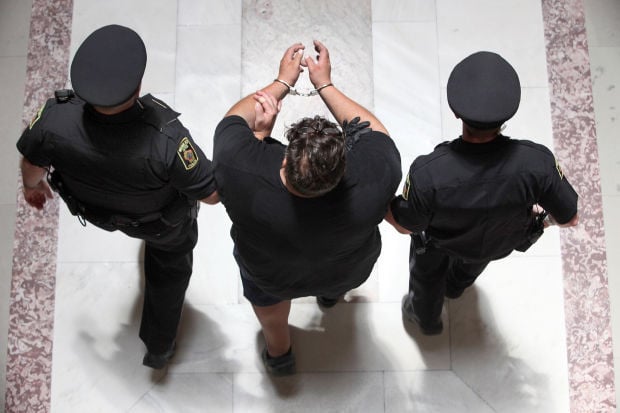 Taxpayers will pay a local radio show host $75,000 to settle a lawsuit he filed against Gov. Scott Walker's administration after being arrested in 2013 while covering the arrests of protesters at the state Capitol.
Dominic Salvia, co-host of the liberal talk show Devil's Advocates Radio Show on The Mic 92.1 FM, will receive the money as part of an out-of-court settlement in a federal civil rights lawsuit Salvia filed in 2014 against three Capitol Police officers who handcuffed and ticketed him during the July 2013 mass arrests of singing protesters.
Salvia's attorney, Jeff Scott Olson, said on the radio show Tuesday that he plans to represent anyone arrested that summer in a class-action lawsuit against the state. Olson told the Wisconsin State Journal he plans to go forward with a class-action suit that includes 75 plaintiffs.
Salvia sought compensatory and punitive damages for violation of his First Amendment rights as a member of the press and his Fourth and 14th Amendment rights for being arrested without probable cause.
While appearing on the Devil's Advocates show, which Salvia hosts with Mike Crute, Olson said the settlement amount will cover his legal fees of $47,500. The rest will go to Salvia.
Department of Administration spokesman Steven Michels referred the State Journal to the state Department of Justice for comment on the settlement.
"In consultation with our client, DOA, we reached a settlement — without admitting any liability — to reduce the risk to the taxpayers from an expensive trial and much larger costs if the state did not prevail," said DOJ spokesman Johnny Koremenos.
Michels said the state will continue to enforce a "notification process" for groups larger than 12 people at the Capitol.
"Groups are consistently providing notification of events allowing Capitol Police to allocate the resources necessary to protect the health and welfare of everyone who visits the Capitol," he said.
In October 2013, the DOJ asked a judge to dismiss Salvia's ticket, one of more than 400 issued between July 24 and Sept. 6 as part of a coordinated crackdown on protesters.
The state continued to prosecute other tickets, many of which have been dismissed by Dane County judges.
The ongoing noontime protests, known as the Solidarity Singalong, are a remnant of mass demonstrations that began in 2011 against Walker.
According to the lawsuit, Salvia was taking pictures of the Solidarity Singalong July 24 when Officer Adam Fell approached him and told him he was participating in an unlawful event and needed to leave the Capitol or face arrest.
Salvia began to leave the area when Sgt. Chris Weiss told Fell to place him in custody. Salvia asked why he was being arrested and identified himself as a member of the media.
Fell then restrained his wrists with plastic flex cuffs and took him to the basement where he was photographed, processed and issued a citation for violating Wisconsin's administrative code.
"At no time on July 24, 2013, did the plaintiff participate in the sing-along," the lawsuit states.In addition to Fell and Weiss, the lawsuit also names Sgt. David Davis as a defendant, saying he was involved in approving the citation.