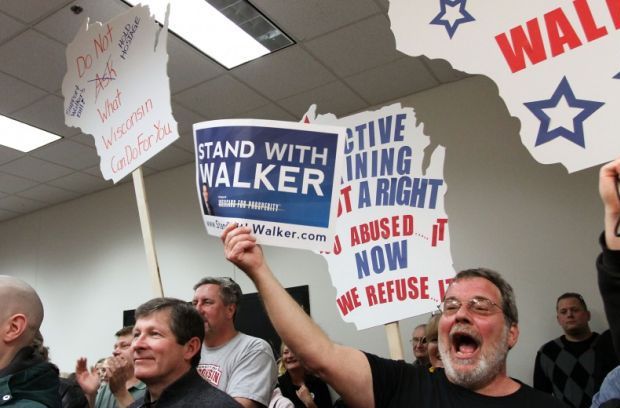 Clearing a potentially serious obstacle from Gov. Scott Walker's path to the White House, the Wisconsin Supreme Court on Thursday ordered prosecutors to drop their investigation into whether the governor's campaign broke the law by working with conservative groups that spent millions of dollars to fight the recall elections won by Walker and legislative Republicans.
The 4-2 court ruling comes three days after Walker officially announced his candidacy for the 2016 Republican presidential nomination, an effort that relies heavily on his status as the only U.S. governor to survive a recall.
The once-secret John Doe investigation targeted coordination — the special prosecutor referred to it as "a criminal scheme" — between Walker's campaign and purportedly independent conservative groups that supported him through so-called "issue advocacy," thinly veiled campaign ads that don't explicitly urge a vote for or against a particular candidate.
The court ruled there was no wrongdoing and said campaigns can work closely with such groups, which don't have to report where their money comes from. The court left untouched the prohibition against candidates collaborating with groups that engage in "express advocacy," or urging a vote for or against a particular candidate.
Critics said the ruling means Wisconsin now assigns more constitutional protection to electoral influence wielded by unidentified donors than any other state.
Walker allies called the court ruling a victory for the First Amendment.
"Today's ruling confirmed no laws were broken, a ruling that was previously stated by both a state and federal judge," Walker's presidential campaign spokeswoman, AshLee Strong, said in a statement. "It is time to move past this unwarranted investigation that has cost taxpayers hundreds of thousands of dollars."
Justice Michael Gableman, writing for the majority, said the special prosecutor trampled the rights of innocent citizens.
"It is utterly clear that the special prosecutor has employed theories of law that do not exist in order to investigate citizens who were wholly innocent of any wrongdoing," Gableman wrote in an opinion joined by fellow conservatives David Prosser, Patience Roggensack and Annette Ziegler.
The ruling upheld the "fundamental right of each and every citizen to engage in lawful political activity and to do so free from the fear of the tyrannical retribution of arbitrary or capricious governmental prosecution," he said.
In April, the conservative National Review published an account in which a former Walker administration official and others described intrusive searches of their homes by heavily armed police.
In her dissenting opinion, Justice Shirley Abrahamson accused the majority of adopting "an unprecedented and faulty interpretation of Wisconsin's campaign finance law and of the First Amendment."
"I conclude that the Special Prosecutor has a valid legal theory to support his investigation," Abrahamson wrote.
Abrahamson said her fellow justices ignored evidence the special prosecutor presented that the campaigns also may have been working with groups involved in express advocacy, which is clearly illegal. Despite that evidence, "the majority determines, without explanation, that the John Doe investigation is over," she wrote.
Justice N. Patrick Crooks filed the other dissent, while Justice Ann Walsh Bradley, the third liberal on the court, didn't participate because her son works for one of the firms representing a client in the proceedings.
In December, the court accepted three lawsuits related to the investigation and consolidated them. Two were filed by several unnamed plaintiffs seeking to stop the probe. Francis Schmitz, the special prosecutor in charge of the investigation, also requested a review of Judge Gregory Peterson's decision to halt the investigation. Thursday's decision dispensed with all three cases.
In its order, the court mandated that everything gathered as potential evidence — including thousands of pages of emails and other documents — be returned and all copies be destroyed.
'Witch hunt'
Walker has characterized the probe as a "political witch hunt" designed to intimidate his allies. The probe was launched in 2012 and halted by a judge in 2014.
The leaders of conservative groups who funded advertising and other efforts supporting Walker viewed the probe as an intrusion on their free speech rights.
Critics of the ruling raised the possibility of an appeal to the federal court system, noting the four majority members of the court were elected with help from three of the independent groups targeted by the investigation.
In a statement, Schmitz said the decision "represents a loss for all of the citizens of Wisconsin — independents, Democrats and Republicans alike.
"It defies common sense that a Wisconsin resident of average means who gives $25 to a campaign has his or her name publicly reported under the law but, according to this decision, someone who gives, for example, $100,000 to a group which closely coordinates with the same campaign can remain anonymous," he said.
Jay Heck, executive director of Common Cause in Wisconsin, said no federal court decision has ever permitted such unfettered financial activity in elections.
Attorney General Brad Schimel, a Republican, applauded the decision.
"This closes a divisive chapter in Wisconsin history, and the assertive recognition of First Amendment rights by the Wisconsin Supreme Court protects free speech for all Wisconsinites," Schimel said in a statement.
Many specifics of the case remain unclear. A John Doe investigation is Wisconsin's version of a secret grand jury probe where information is tightly controlled and investigators go about their work in secret.
A majority of the Wisconsin Supreme Court chose to argue the case behind closed doors. However, many documents and information about the case have leaked out, including in conservative publications.
Prosecutors alleged in court documents that Walker raised money, including a $700,000 donation from a company seeking to build an iron ore mine in the state, for Wisconsin Club for Growth, which distributed the money to conservative groups that ran ads in the run-up to the recall election supporting Walker's policies.
Those contributions should have been subject to campaign donation limits, and the activities should have been reported as coordinated campaign activity, they argued.
In claiming a political motivation for the probe, Walker has noted that it was launched in 2012 by Milwaukee County District Attorney John Chisholm, a Democrat. However, four other district attorneys also signed on: Democrats Ismael Ozanne of Dane County and Larry Nelson of Iowa County, and Republicans Kurt Klomberg of Dodge County and Jane Kohlwey of Columbia County.
And Schmitz revealed in a court filing that he is a former member of the Republican Party who voted for Walker in the 2012 recall.
In April, Schmitz told the Milwaukee Journal Sentinel that Walker's use of the term "witch hunt" was "offensive when he knows that the investigation was authorized by a bipartisan group of judges and is directed by a Republican special prosecutor appointed at the request of a bipartisan group of district attorneys."
Previous John Doe
The investigation started with information obtained by Chisholm in a previous John Doe investigation into Walker's Milwaukee County executive's office. Six former employees were convicted in that case, sometimes referred to as John Doe I.
"This decision effectively eviscerates contribution limits in Wisconsin," said Daniel Weiner, senior counsel at the Brennan Center for Justice at the New York University Law School. "No other court has gone this far and for good reason — it is a misreading of the law and threatens fair and transparent elections."
Judge Gerald C. Nichol, chairman of the state Government Accountability Board, said in a statement that the election agency will review the decision.
"Today's Wisconsin Supreme Court decision reverses a longstanding interpretation and application of campaign finance law that has been followed by the former State Elections Board and the Government Accountability Board since the U.S. Supreme Court's Buckley v. Valeo decision in 1976," Nichol said. "It also reverses a 1999 Wisconsin Court of Appeals decision that backed the state's interpretation of the law, which the Board has relied on in its advisory and enforcement decisions."
Nichol renewed the board's call for the state Legislature to make a comprehensive review of campaign finance law.
In spite of the ruling, tax-exempt groups could still put their tax status at risk if coordinating with candidate campaigns is seen as political activity under the Internal Revenue Code, Mike Wittenwyler, a Madison-based campaign finance attorney, said in a memorandum.
Federal appeal failed
More than a year ago, Wisconsin Club for Growth and one of its board members, Eric O'Keefe, filed a federal lawsuit to halt the investigation.
In October, U.S. District Judge Rudolph Randa agreed that the activity in question was protected free speech and ordered a halt to the investigation and the destruction of evidence.
An appellate court overturned the decision, saying the federal courts should not have intervened in a matter of state law.
A federal appeals panel also found that "no court has ever found that coordinated issue advocacy is a protected right under the Constitution," said Randall Crocker, who represented the John Doe prosecutor. The U.S. Supreme Court on May 18 refused to review the 7th Circuit Court of Appeals decision, making it "the final determination of this case" at the federal level, Crocker said.
The separate state challenges, which culminated in Thursday's Wisconsin Supreme Court decision, had continued to block the investigation.
O'Keefe's attorneys at the Graves Garrett firm blamed the state election agency for assisting with some parts of the investigation. "In a manner that likened more of what you'd expect from a playground bully than a prosecutor, Chisholm and the Government Accountability Board were power hungry," the law firm said in a statement.
State Journal reporter Molly Beck contributed to this report.