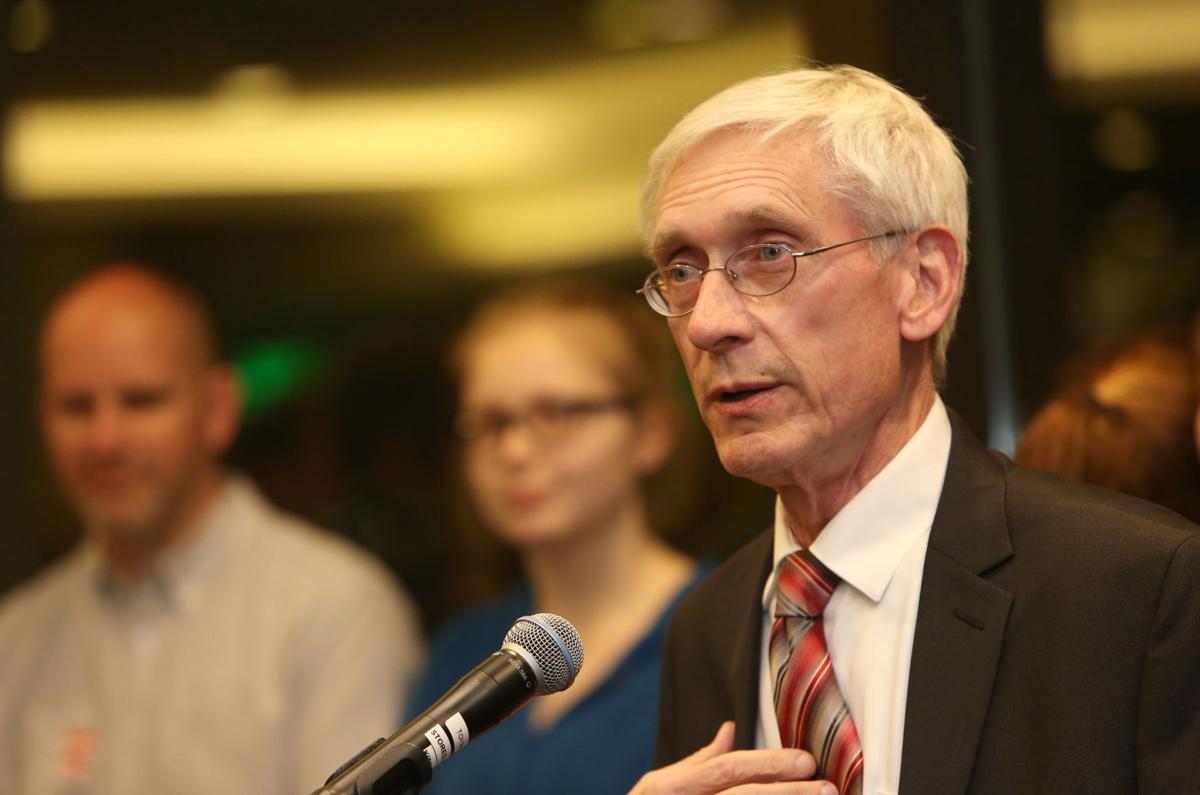 State Superintendent Tony Evers has filed paperwork to run for governor in 2018, according to state campaign records.
Evers, 65, said earlier this month he had heard from a number of supporters urging him to run for governor after he earned 70 percent of votes cast in an April election to secure a third term as head of the state's 422 school districts.
But Evers isn't calling the Friday filing a "final decision."
"As I continue talking with voters about the future of our state, this is the next logical step for me to take," Evers said in a statement. "My record of public service and leadership on behalf of Wisconsin families, kids, and educators brings a unique and different choice for voters. One that I believe provides a compelling alternative to the status quo. I look forward to making a final decision in the near future."
The state superintendent position is officially nonpartisan, but Evers has been heavily backed by Democrats, making him one of only three statewide officeholders with Democratic support.
The Plymouth native recently won his third statewide race to lead the state's public schools. The only Democrat elected to the governor's office in the past three decades, Jim Doyle, had won three previous statewide elections as attorney general.
Evers is the most prominent Democrat to file paperwork to run against the expected Republican candidate, Gov. Scott Walker, who has more than $2 million on hand heading into 2018, according to the latest campaign finance records.
Evers has experience fundraising statewide, but nothing like he would experience in a governor's race. He raised about $440,000 in his recent re-election bid. Walker spent more than $36 million in 2014.
Though he has not officially announced, Walker is expected to announce after the 2017-19 state budget is passed that he will seek a third term and has mounted his probable campaign largely on a significant boost of funding he has proposed for public school districts.
A spokesman for Walker did not immediately respond to a request for comment.
Since proposing his spending plan for the next two years, Walker has touted his education proposal at nearly 50 public schools so far this year — about four times the number of schools he visited during his entire first year as governor.
Recent Marquette Law School polling shows significant public support in Wisconsin for increasing state funding for public schools, an attitude that could become central to a potential matchup between Evers and Walker.
Walker has proposed $649 million in new spending for schools within his $11.5 billion plan for K-12 education. His proposal provides about $227 million more in aid than what Evers asked for in his agency budget request.
Since he was first elected state superintendent in 2009, Evers has asked Walker and the Legislature four times to significantly increase funding for schools, by raising state-imposed revenue limits and changing the equalized aid formula to account for districts with high poverty, declining enrollment and rural issues. His proposal to revamp the state's funding formula has repeatedly been ignored until this year, when Walker included some of his proposals.
Evers earlier this year praised Walker's budget proposal, but until now the two have been at odds over how much money the state and property taxpayers should send to schools, the expansion of taxpayer-funded vouchers and on Walker's signature piece of legislation known as Act 10, which nearly eliminated collective bargaining for public school teachers and resulted in massive membership losses for the state's largest teachers union, which has heavily backed Evers.
Alec Zimmerman, spokesman for the Republican Party of Wisconsin, said Evers will have to compete with an idea being considered by fellow Democratic gubernatorial candidate Milwaukee businessman Andy Gronik to prohibit state employees from paying toward their benefits.
"If Tony Evers wants to run for governor, he needs to make clear where he stands on the early litmus test of this Democrat primary: whether to go further in empowering the big government special interests than even the administration of Gov. Jim Doyle did," Zimmerman said. "With already $5 billion in savings for taxpayers from Gov. Walker's reforms, will tax-and-spend Madison liberal Tony Evers support having state employees pay nothing toward their benefits?"
In a statement, Gronik said he has the "utmost respect" for Evers.
"I believe anyone with a vision, plan and ability to execute for the state of Wisconsin should get into the race," Gronik said. "It's exactly what the people of Wisconsin deserve when considering who they want to be their new governor and I love competition."
He said Evers represents a "high caliber of individuals considering a run for governor," which "is a strong reflection of Scott Walker's unpopularity and the deep divisions that he has created across the state."
Evers joins a pool of Democrats considering running against Walker next year, including Gronik, Madison Mayor Paul Soglin, Jefferson County District Attorney Susan Happ, Professional Fire Fighters of Wisconsin president Mahlon Mitchell, former Democratic Party chairman Matt Flynn, Rep. Dana Wachs, D-Eau Claire, Rep. Gordon Hintz, D-Oshkosh, Sen. Kathleen Vinehout, D-Alma, campaign finance changes advocate Mike McCabe and political newcomers Bob Harlow, of Barneveld, Ramona Whiteaker, of Stoughton, and Jeff Rumbaugh, of Madison.
Only Gronik and Harlow have officially announced a run.
But Zimmerman said the potential candidacy of Evers is "continuing a trend of highly flawed Democrat recruits who would look to empower liberal special interests at the expense of Wisconsin taxpayers."
Get Election 2020 & Politics updates in your inbox!
Keep up on the latest in national and local politics as Election 2020 comes into focus.