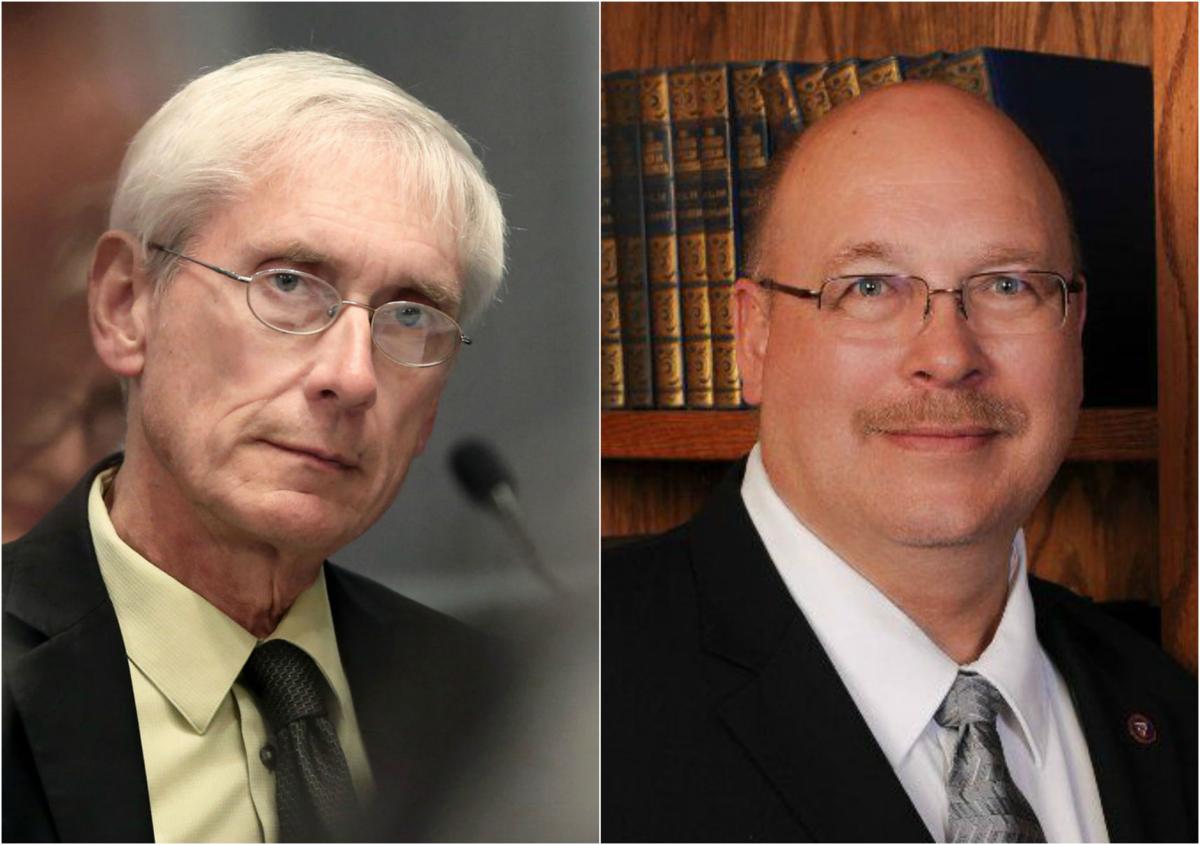 The state superintendent race pits two former school district superintendents and longtime educators against each other — a proponent of expanding school choices and an opponent of the state expansion of taxpayer-funded school vouchers.
On the April 4 ballot will be two-term incumbent Tony Evers, a public school advocate backed mostly by liberals and teachers unions who has been at odds with Republicans for years over his adoption of the Common Core State Standards and his opposition to the expansion of private school vouchers in the state.
He took about seven of every 10 votes in the primary.
His challenger, Lowell Holtz, is backed mostly by conservatives and school voucher supporters. He is making his second run for the position and opposes the Common Core State Standards and favors expansion of educational options — including taxpayer-funded vouchers — other than public schools.
Holtz got 23 percent of the vote Tuesday, and was dogged by allegations he sought to get out of the race in exchange for a guaranteed, taxpayer-funded $150,000 job that would let him oversee the state's largest school districts, including Madison.
Evers is seeking a third term in the wake of massive membership losses for the state's largest teachers union — a strong campaign contributor for Evers in the past— setting the stage for the potential of third-party groups spending on behalf of Holtz to ensure the election of a voucher supporter.
Evers says he expects such spending, but it's unclear if it will materialize.
"We have absolutely no control over whether that comes in or not," Holtz said about outside spending. "It's illegal for me to work with them. I'm supposed to run my own race. If they do get involved, I have no control over it."
A spokesman for Wisconsin's arm of the pro-voucher group American Federation for Children did not respond to a request for comment.
Evers said he expects Holtz will receive outside help, particularly from groups like AFC, which was headed by U.S. Education Secretary Betsy DeVos until she secured a spot in the Trump administration.
"If it's all in, it'll be very difficult to compete with that amount of money. There's just not that much in the state that's available," Evers said. "And we're talking about Amway money and the money from the family that owns Walmart and I don't know any of those people."
Holtz said he has not sought any money from outside groups.
No Supreme Court race
Republican lobbyist and former state party official Brandon Scholz said the donors to outside groups that typically spend on behalf of conservative candidates in spring races are not necessarily going to spend in a state superintendent race, even if the candidate is aligned with their ideology.
"This isn't necessarily their issue," Scholz said. He said Holtz also has "a lot of ground to make up" in terms of matching Evers' fundraising and getting supporters to vote.
"The voters in the spring elections tend to be older and more conservative ... the question is whether or not Holtz has the horsepower to reach them," Scholz said.
Holtz is the latest conservative candidate for state superintendent to try to defeat an incumbent backed by Democrats and teachers.
But the teacher's union has been severely weakened in recent years, and Holtz said he has potential for support from teachers.
"I think there's enough teachers that are upset about all the extra requirements that have been put on them over the last eight years," Holtz said. "I've had strong union support (as superintendent). I think there's potential there."
Recruited to run
Holtz was recruited to run by a former Republican lawmaker. He was one of more than a dozen candidates interviewed by a nonprofit group headed by former Rep. Don Pridemore of Hartford called Wisconsin Needs Necessary Education Reform, or WINNER.
An email released Wednesday by the liberal advocacy group One Wisconsin Now written by Holtz when he was superintendent of Whitnall School District shows Holtz in January 2016 expected the group to do organizing and fundraising for him.
The emails also show Holtz communicated with Pridemore about setting up a meeting using a school district email account.
Holtz said Wednesday that he hasn't worked with the group in months after he organized his own campaign. Pridemore, who unsuccessfully challenged Evers in 2013, confirmed the group interviewed Holtz and talked to him about a campaign and didn't fundraise for Holtz.
Between now and the April 4 general election the group will seek to "educate voters" about the race. "If we want any education reform, the only way to get it is through the DPI superintendent and (Evers) shows no sign of reforming anything," Pridemore said.
One Wisconsin Now has filed a complaint with the state Election Commission, alleging a deal between Holtz and former candidate John Humphries in which one of the two would drop out of the race in exchange for a $150,000-per-year job at the DPI should one beat Evers amounted to election bribery.
"So far, he's shown us an abysmal lack of ethics and commitment to public service in pursuit of his personal political ambitions and enrichment," OWN research director Jenni Dye said. "Now we find out he never even intended to do work on his own campaign, claiming that outside groups were going to do the organizing and fundraising for him."
Evers' spokeswoman Amanda Brink said the email doesn't surprise her.
"The last two weeks of this race have shown us that Lowell Holtz can't be trusted to look out for anyone other than himself," Brink said.
Voters interested
The Holtz-Humprhries controversy in the last week of the race, contested school board races in Madison and a burst of political interest following the election of Donald Trump as president may have contributed to a larger turnout than usual in spring primaries. And unusually warm February weather might have helped get people to the polls, too, observers say.
Heather DuBois Bourenane, executive director for the public schools advocacy group Wisconsin Public Education Network, said school advocates were motivated.
"These are the same voters who passed a record number of referenda last year, raising taxes on themselves to make sure their schools can provide a world-class education to their kids," she said.