Wisconsin's jobless rate has skyrocketed to nearly 27% due to the COVID-19 pandemic and the state's shuttering of thousands of businesses to combat the disease, according to a new estimate from the state Department of Workforce Development.
The projection, which is not the same as the official state unemployment rate, mirrors the explosive growth in unemployment claims — which have surpassed 300,000 initial claims since mid-March — as businesses shut down across the state to limit exposure to the respiratory disease that has killed 111 and sickened more than 2,800 people in Wisconsin.
Dennis Winters, chief economist with DWD, said the analysis projects that close to 725,000 Wisconsin residents — across 48,000 private establishments — are out of work due to the pandemic. Some 109,000 people already were unemployed before the outbreak.
Just a year ago, in April 2019, the state had recorded its lowest unemployment rate ever at 2.8%. The unemployment rate in February was 3.5%.
A 27% jobless rate could be historic, Winters said, noting that the state's unemployment rate peaked at a little over 10% in early 2010, at the height of the Great Recession.
"The only numbers that even approach this, with any history that we have, would be the Great Depression, and even that number is a little nebulous," Winters said. He added that, based on limited data, the unemployment rate at that time had been estimated at between 25% and 30%.
Winters said the projection was made following the same assumptions regarding the economic impact used by Moody's Analytics and reported in the Wall Street Journal over the weekend, which estimated more than one-quarter of the nation's economy had shut down due to the coronavirus pandemic.
The U.S. Department of Labor on Thursday reported more than 6.6 million initial unemployment claims in the country last week. There were more than 6.8 million claims the previous week.
Numbers are subject to change, due in large part to the overall uncertainty surrounding the outbreak and how long businesses will remain closed.
"The shorter the duration, the faster it will pop back," Winters said.
Unemployment funds
The state's unemployment fund balance was sitting at more than $1.92 billion at the close of February, up from less than $600 million in 2007, before the last recession hit.
The state unemployment fund is filled through payroll taxes on employers and used to provide temporary benefits for qualifying workers who lose their job.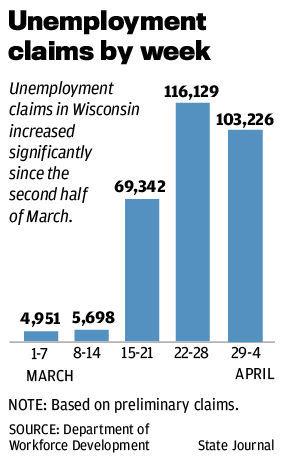 DWD on Thursday reported the state had distributed more than $68.8 million in unemployment benefits between March 15 and April 6. During the same period last year the state doled out $39.6 million.
But while the unemployment fund is in a better position than it was 13 years ago, Wisconsin lags behind 29 states in terms of the jobless fund's preparedness to weather a recession.
A February solvency report on state unemployment insurance trust funds by the U.S. Department of Labor ranked Wisconsin 30th in the nation — falling just below the threshold to be eligible for interest-free borrowing. The report compares the state jobless fund balance with total wages paid in a year.
There have been more than 318,000 initial unemployment claims made in Wisconsin since March 15, according to preliminary numbers from the Department of Workforce Development.
In the same span last year, just over 19,000 unemployment claims were made.
While much remains uncertain, DWD spokesman Tyler Tichenor said it does appear that initial claims have begun to drop off slightly since March 30, when more than 24,000 were made — the most in any single day since the outbreak began.
"It looks like we've kind of hit a peak and we're leveling off, but anything can change that," Tichenor said.
A person's earnings determine his or her level of unemployment benefits, with the maximum weekly payment capped at $370. Benefits can be claimed for up to 26 weeks.
Gov. Tony Evers and GOP leaders in the Legislature agree that the state's one-week waiting period for unemployment benefit eligibility should be waived, but it's uncertain when lawmakers will take up any legislation.
"I was encouraged to see this proposal gain bipartisan support and now ask that the legislature act swiftly to guide the law change through both houses and get it on Governor Evers' desk as soon as possible," DWD Secretary Caleb Frostman said in a statement Tuesday. "The stability of Wisconsin families and our economy depends on timely legislative action."
Strain on system
The dramatic increase in joblessness has put an incredible strain on the state's DWD office, which processes unemployment claims. The department has increased staffing to manage the growing workload but also had to shut down in-person job centers due to social distancing requirements implemented to prevent the disease's spread.
Frostman said Thursday the department has managed to process as many as 25,000 initial claims a day, almost entirely online.
Tichenor said another challenge is that the department had adapted to a lower federal funding in recent years, due in large part to what had been a strong economy and a low unemployment rate.
"State unemployment programs in general are just not built to handle this rapid change from a low unemployment economy to a sudden high unemployment economy," Tichenor said. "Imagine the Great Recession, but everybody loses their job at once."
On March 18, Evers ordered all bars and restaurants to halt sit-in services. A week later, Evers instituted a "safer at home" order that shut down nonessential businesses until April 24.
The order includes a wide range of exemptions from farms and factories to grocery stores and retailers that supply those working from home.
However, large sectors of the economy that tend to draw walk-in business were forced to close their doors.
Restarting economy
On Thursday, Wisconsin Manufacturers and Commerce, along with 18 state business associations and 33 local chambers of commerce, sent a letter to Evers calling for a plan to begin reopening businesses after the order concludes on April 24.
"Restarting our economy will not happen overnight, and it likely will not be all at once," Kurt Bauer, WMC president and CEO, said in a statement. "That is why the business community and Gov. Evers need to work together on a plan that determines what industries and what areas of Wisconsin can open safely, along with a timeline."
Department of Health Services secretary Andrea Palm said the state will be closely monitoring the number of COVID-19 cases in Wisconsin as the April 24 deadline nears.
"I do not think folks should expect that we're going to flip a switch and it's all going to happen all at once," Palm said. "We will need to absolutely continue to actively manage this so we are able to protect our health care workforce and our hospital capacity."