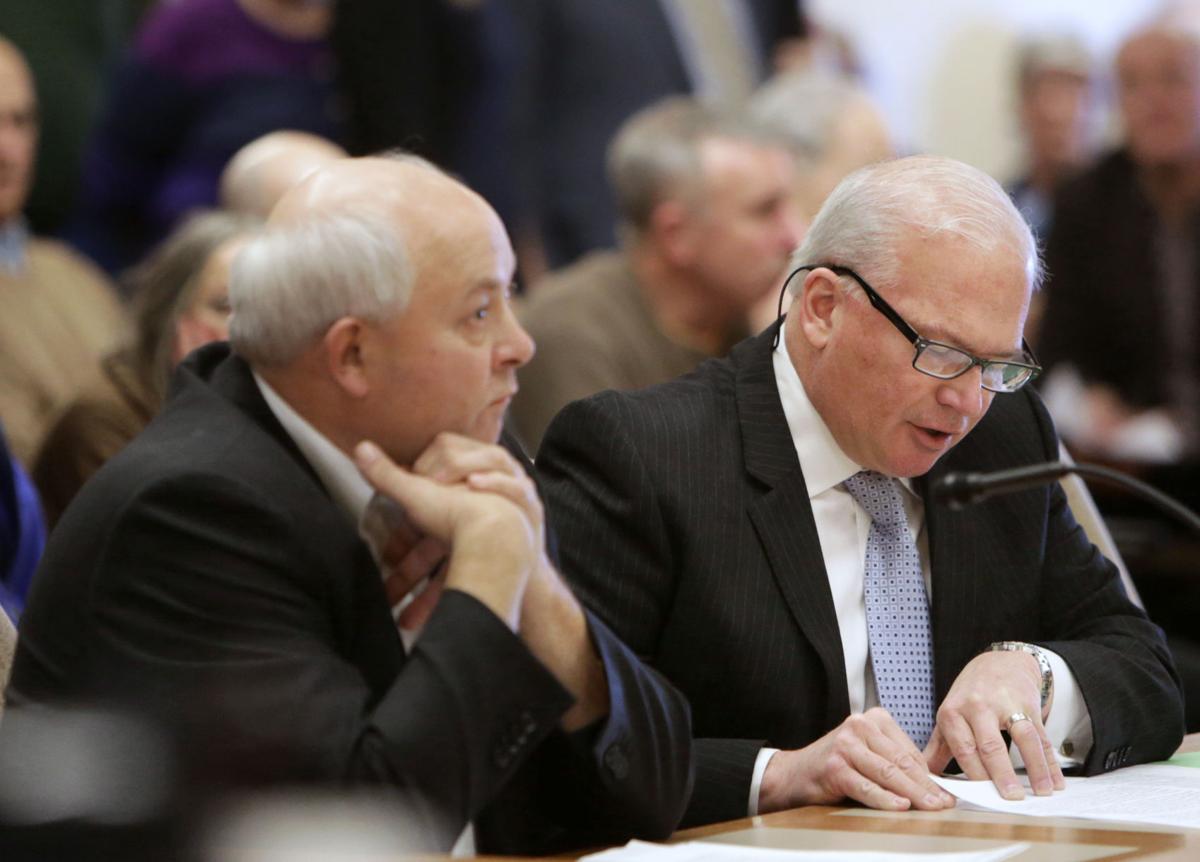 Since October, Wisconsin has approved requests from businesses for a billion gallons per month in new groundwater withdrawals from locations where the state's own experts warned that higher pumping levels could be expected to harm vulnerable lakes, streams and drinking water supplies.
The increase was added by revising dozens of permits for high-capacity wells after regulations were relaxed in June at the urging of business groups and Republicans who control state government.
The revised pumping limits and the potential environmental damages they pose are detailed in hundreds of pages of documents obtained through the state open records law by the conservation group Clean Wisconsin and shared with the Wisconsin State Journal.
The records show the state Department of Natural Resources granted 38 of 41 requests for revisions to high-capacity well permits, including 34 that now authorize wells to operate at full pumping capacity and three that are still being reviewed. The DNR removed expiration dates from four permits without changing pumping.
Almost all of the wells are used by farms to water crops during summer months.
The department said 437 other high-capacity well owners are also eligible for removal of limits the DNR imposed before June 2016 because hydrological studies projected that higher pumping rates would harm surrounding waters. Wells that can pump at least 70 gallons per minute require high-capacity permits.
The revised well permits were originally written between 2011 and last June when DNR policy changed. Each included an upper limit for the amount of water that could be pumped in any 30-day period. The total for the permits had been 1.3 billion gallons. Their 30-day limits now total 2.4 billion gallons.
Three-quarters of the wells are owned by farms in the Central Sands region where heavy pumping has been closely linked to dwindling — and in some cases dried up — surface water.
The documents list dozens of lakes, streams, wetlands and drinking-water wells DNR scientists said would be affected at the higher pumping levels that now have been approved.
The single biggest increase boosted the 30-day rate at a Central Sands farm to 121 million gallons. The original 2013 permit capped the rate at 72 million gallons because analysis of groundwater flow indicated that extracting more would harm a nearby Class I trout stream, a lake already suffering from fish die-offs and drinking-water wells.
At a farm 20 miles to the south, the DNR doubled pumping despite a 2014 finding that such withdrawals would further degrade a Class II trout stream where reduced water flows in one section had already led to the disappearance of trophy brook trout.
In another case, the DNR granted a 34 million gallon permit to a farm in western Wisconsin that had been unable to win permission for a high-capacity well just a year earlier because three existing wells were already depleting a nearby coldwater trout stream.
Wisconsin Potato and Vegetable Growers Association executive director Tamas Houlihan said the DNR wouldn't allow pumping that could harm the environment, and referred other questions to the DNR.
Pumping
to ramp up this summer
Loosened regulations last year also led to approval of 190 backlogged applications for new high-capacity wells between June and September. Many were stalled because applicants weren't ready to accept proposed pumping limits. Department spokesman Jim Dick said last week that 2016 pumping figures weren't compiled.
Asked if the DNR has plans for responding if problems projected by DNR staff occur after pumping ramps up for the growing season, Dick said the agency can't speculate about what may happen.
"Such incidents would be addressed on a case-by-case basis," Dick said. "We are not going to make a broad, general, speculative comment on a 'what if' question."
The change was based on a reinterpretation of a 2011 law — Act 21 — the Legislature passed to sharply reduce state employees' authority to write administrative rules that spell out how laws are put into action.
The DNR had been imposing pumping limits based on its reading of state law and court rulings that included a 2011 case in which the state Supreme Court said the agency must consider the cumulative impact of high-capacity wells on water, which the state is constitutionally bound to protect for the benefit of the public.
Industry groups chafed at pumping limits, and said the DNR was overstepping its authority. But independent scientific studies linked high-capacity wells to dwindling water levels that were alarming waterfront homeowners, vacationers and fishing enthusiasts. The GOP's majority in the Legislature failed several times to pass legislation removing regulations.
Now permits are decided based on the affect of wells on the well owner's property, without regard to how much is being withdrawn by surrounding wells.
"The Legislature and the attorney general have relegated the DNR to a rubber stamp for high-capacity wells," said Clean Wisconsin's Amber Meyer Smith.
"The science is showing us there are huge impacts," she said.
Elected officials contacted by the State Journal chose not to comment.
"These are legislative policy decisions and the AG has no comment," said Schimel's spokesman Johnny Koremenos.
Walker, Vos and Senate Majority Leader Scott Fitzgerald, R-Juneau, didn't respond to requests for comment for this article.
The Assembly is set to vote in the next two weeks on a bill co-authored by Fitzgerald that would eliminate even limited impact reviews when wells are replaced, sold or transferred to new owners. Unlike other environmental permits that must be renewed periodically, high-capacity well permits are permanent.
Three permits
Documents filed with the revised permits describe how DNR hydrologists and fisheries biologists evaluated permit requests, using computer models, stream flow data and information on fish populations.
These examples illustrate considerations that went into setting pumping limits the DNR set, and then removed last year:
The largest increase was granted to Gordondale Farms in Portage County to increase its
30-day
pumping limit for three wells to 121 million gallons, a
68 percent
increase over the 72 million gallons approved three years earlier.
The lower limit was set in 2013 to protect nearby drinking water wells, two large spring-fed ponds, a wetlands and a spring-fed tributary that flows to the Tomorrow River, which is a Class I trout stream classified as an "outstanding water resource."
If Gordondale was allowed to pump at the higher level for 60 days, the tributary could be diminished and the river flow could decrease by up to 11 percent, hydrologist Rachel Greve wrote after examining groundwater data and other information.
Meyers Lake, 4,000 feet to the south, was expected to drop up to 4.8 inches. The 19-acre lake was already suffering winter die-offs of fish in part because it was relatively shallow.
Under the original permit limits, it was possible that nearby drinking-water wells could be drawn down close to five feet, but the well users would still have an adequate supply at the level, Greve said.
In October, the DNR removed the limit placed in 2014 on high-capacity wells owned by another Portage County farmer, Lorn Dykes.
The permit limit was imposed to protect a Class II trout stream, the South Branch of Tenmile Creek.
Two DNR fisheries biologists warned the permit writer, Greve, that some creek sections were already stressed by low water in late summer.
"What was once a trophy brook trout fishery has been relegated to a fishery comprised of mud minnows, sticklebacks and white sucker," aquatic biologist Scott Provost wrote in an email that is part of the permit file.
"As a lifelong resident and trout enthusiast, this is not the norm. The generation before me will tell you the same," Provost said.
After studying groundwater flows, Greve set a 21.0 million gallon limit "to prevent significant impact from this well." Last year the agency revised the permit to allow 43.2 million gallons.
The Brion Dairy near Durand in Pepin County owns one of seven permits the DNR revised for farms outside of the Central Sands.
Brion withdrew its application at the DNR's suggestion after agency scientists said it would likely not be granted.
The department projected that the well, along with others already operating in the area, would cause a 30 percent drawdown of Fall Creek, a Class II trout stream that had already been hit hard by pumping.
That area isn't as porous as the Central Sands, but shale bedrock doesn't consistently separate the aquifer from surface water, so heavy pumping from the aquifer was likely to reduce water levels in the creek.
Last year, three days after the DNR announced the policy change, a drilling company representing Brion farm asked the DNR to approve its original application for 34.6 million gallons. The DNR approved it in October.