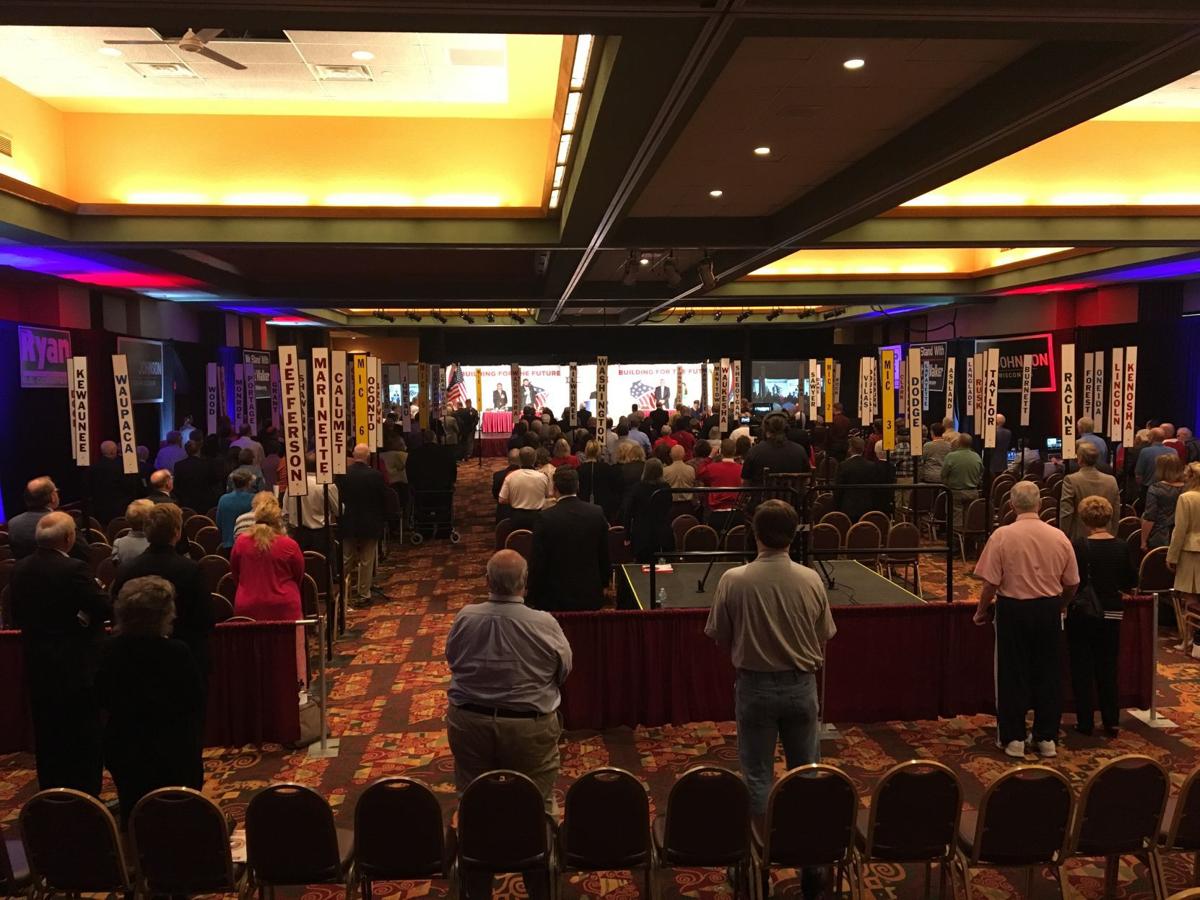 WISCONSIN DELLS — State Republicans gathered here Saturday to celebrate a winning streak that reached new heights in November and to warn party faithful not to let it all come crashing down in 2018.
The annual event featured speeches from a range of state and national figures, including U.S. House Speaker Paul Ryan and U.S. Sen. Ron Johnson, as well as Gov. Scott Walker announcing that he's ready to run for a third term.
"It's important we take time to congratulate ourselves," said U.S. Rep. Sean Duffy. "As we come out of this weekend, we do have to recognize that the left is energized, they're angry and they're motivated and they're coming hard."
U.S. House Speaker Paul Ryan said the Wisconsin model for winning elections and governing — making promises and then following through on them — is serving as a blueprint for the national GOP agenda, including the recent House vote to replace the Affordable Care Act.
"We thank you for getting us to where we are," Ryan said. "This is a once-in-a-generation opportunity. The House. The Senate. The White House. … This is the chance we have, and we understand how important this is."
Most speakers keyed in on defeating Democratic U.S. Sen. Tammy Baldwin next year as the last obstacle to claiming control of all branches of state government and major statewide elected offices. Several potential GOP Senate candidates also mingled with the roughly 800 registered participants hoping to pick up supporters.
A straw poll of 296 GOP activists conducted by Wispolitics.com found 47.3 percent supported state Sen. Leah Vukmir, R-Brookfield, to challenge Baldwin. Senate Majority Leader Scott Fitzgerald, R-Juneau, came in second with 13.9 percent support, followed by Madison real estate developer Eric Hovde, Rep. Dale Kooyenga of Brookfield, trucking company heiress Nicole Schneider and U.S. Marine veteran and Milwaukee businessman Kevin Nicholson.
'We're not done yet'
Walker announced he's ready to run for a third term in 2018, emphasizing the state's Top 10 ranking in workforce participation, health care and business climate.
Entering to the 1980s John Fogerty pop anthem "Centerfield," Walker declared, "I'm ready and I hope you are too."
"We are now a top 10 state because we were not afraid to go big and go bold," Walker said as audience members waved red "Top 10 Wisconsin" signs. "But I got to tell you, we're not done yet, there is more work to be done."
State Democratic Party chairwoman Martha Laning responded to Walker's announcement by saying he has failed to deliver on a promise to help Wisconsin families pursue the American dream.
You have free articles remaining.
"When given the choice between helping those at the very top or giving working-class families the ability to rise in society he has consistently chosen those who already have much," Laning said. "We need a governor that will put working families first, make work pay and truly invest in our children's future."
Unlike last year's convention, when the name of the party's presumptive presidential nominee was hardly spoken and few wore his paraphernalia, speakers rallied behind President Donald Trump's victory — the first by a Republican in Wisconsin since 1984 — and his record so far in office.
"That's exciting," state GOP chairman Brad Courtney said of Trump's victory. "We've come far, but in 2018 everything we have fought for is on the line again."
Looking to 2018
Though the Democratic Party has yet to find a challenger for Walker, Courtney said a candidate will emerge and "it will be a tough race." Courtney said the Walker campaign won't have field operations because it will be relying on the state party to mobilize voters.
"He's giving us the keys to his campaign," Courtney said.
Attorney General Brad Schimel, who is up for re-election next year, took shots at announced Democratic challenger Josh Kaul, the son of former Attorney General Peg Lautenschlager.
"Next November Democrats are running one of Hillary Clinton's own lawyers against me," Schimel said, referring to Kaul's role during the 2016 Wisconsin recount. "He has made a career of suing states like ours to undo voter ID laws that protect the integrity of your vote."
Democratic Party of Wisconsin spokesman Brandon Weathersby criticized Schimel for spending $10,000 on commemorative coins for staff, misrepresenting the state's progress on clearing a backlog of thousands of untested rape kits and not signing on to a letter signed by 20 other attorneys general calling for a special prosecutor to investigate Russia's involvement in the 2016 election.
"Wisconsin deserves a real attorney general who will make public safety a top priority and work on the public's behalf — not their own," Weathersby said.
The event, held at Chula Vista Resort, was more low-key than other years, at least since Republicans swept into power in 2010, said Brian Westrate, 3rd Congressional District party chairman.
"The Democrats don't have a candidate for governor," Westrate said. "There's not much to talk about."
The party decided not to take up resolutions as part of the weekend's agenda, which 4th Congressional District chairman Bob Spindell said disappointed many of the party's grass roots.
U.S. Reps. Glenn Grothman, Mike Gallagher and Jim Sensenbrenner didn't attend because of other engagements. Grothman and Gallagher sent video speeches.