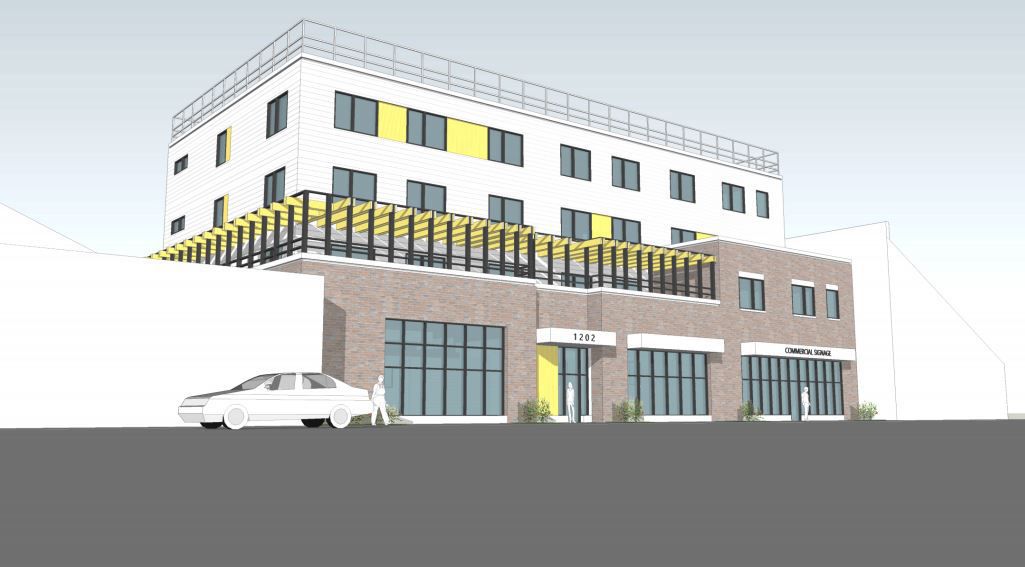 In a setback for Madison's affordable-housing efforts, the state is awarding critical federal tax credits to just three of six city-backed, low-cost developments with a project for the homeless on South Park Street among those not getting support.
The city has pledged financial support for all of the projects, but the low-income housing tax credits make the difference in their being viable, officials said.
For 2017, the Wisconsin Housing and Economic Development Authority will provide $14.8 million in new tax credits over 10 years to help create a total 162 low-cost units at the 8Twenty Park project on the Near West Side, which got additional credits to boost those awarded last year, the Normandy Square Senior Apartments on the West Side and the Union Corners Grandfamily project on the East Side.
But WHEDA won't provide credits this year for a housing project with support services for the homeless on South Park Street, the Fair Oaks Apartments on the Near East Side and the Tree Lane Senior Apartments on the Far West Side.
"We're a little bit disappointed at the results," city community development director Jim O'Keefe said. "We understand this is a highly competitive process, and we've had a good run over the last couple of years. We did get two (new) projects funded. We're going to have to take a step back and confer with (the other) development teams and see how we go forward"
Most concerning, O'Keefe said, is the status of Heartland Housing's proposed $10.9 million redevelopment with 58 units for single adults and some units for couples at 1202 S. Park St. "We have a very acute need for permanent supportive housing," he said.
Heartland, which opened the city's first such housing for the homeless on the East Side last year and is beginning construction on more such housing on the Far West Side, hopes to demolish a vacant, two-story structure for a four-story project on South Park Street.
"Heartland is disappointed as well but we are optimistic that the project will come to fruition in the future," said Nadia Underhill, the nonprofit's director of real estate development. "We remain committed to working with the city and county to help end chronic homelessness in Madison with well-designed, well-managed supportive housing developments."
The city's initial project for the homeless, Heartland's $8 million Rethke Terrace, opened a year ago with 60 units for chronic homeless single adults and veterans at 715 Rethke Ave. Next, opening in 2018, is Heartland's $11 million Madison Family Supportive Housing project with 45 units for homeless families at 7933 Tree Lane on the Far West Side. Both are getting WHEDA tax credits.
You have free articles remaining.
The city will now see if Heartland and other developers who didn't receive WHEDA awards in 2017 will submit new applications in late December for the next funding cycle in early 2018, O'Keefe said.
"The development teams have to make decisions about whether or not to try again," he said.
The city's Affordable Housing Initiative, begun in the 2015 budget, relies heavily on the tax credits to help developers finance 60 percent to 70 percent or more of such projects. The initiative seeks to create 1,000 lower-cost units — including 250 units for the homeless — over five years.
City officials see the combination of city support and tax credits — secured through WHEDA — as the most potent way to create such housing in locations across the city near transportation, schools, groceries and other basic needs.
Through the initiative, developers already have used credits at four projects to create 60 units for the homeless and 205 low-cost units for those making less than 60 percent of the area median income, or $45,360 for a family of three.
Five more projects awarded credits last year have either started construction or are expected to break ground this year, bringing 53 more units for the homeless and 214 low-cost units.
The WHEDA awards made this week are the first since talk of major corporate tax cuts by the Trump administration created instability in federal tax credit markets. Lower corporate tax rates make federal affordable housing tax credits less attractive to banks and other big investors that use them to offset federal tax liability.
If prices for the credits drop, they don't generate as much money for developers, meaning financing gaps for projects that got awards last year and the need to issue more credits from a finite supply to make projects in the 2017 cycle viable.
In the just-announced awards, WHEDA provided supplemental credits to some projects that got awards last year, and the size of the awards seemed higher for this year, O'Keefe said.
WHEDA makes awards based on a scoring system that weighs how efficiently credits are used, location and the population being served.