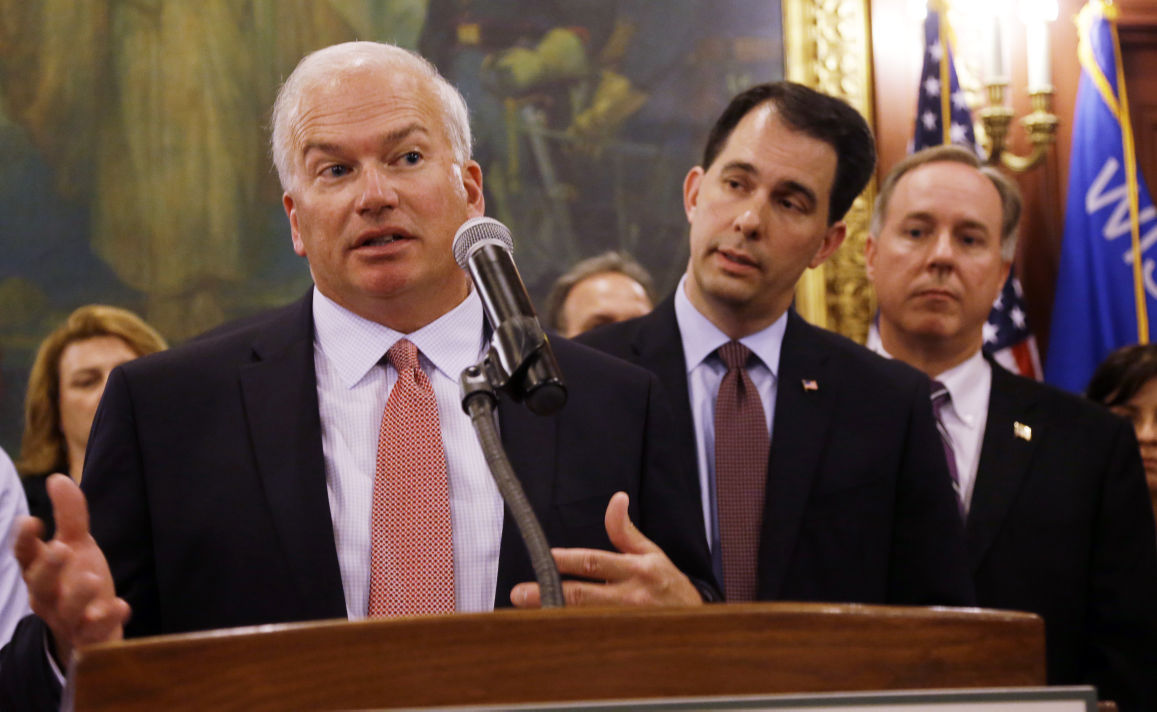 State employees got their first look Wednesday at new rules governing the state's civil service system after lawmakers overhauled hiring, firing and promotion earlier this year.
The new rules spell out nearly three dozen actions that could put employees on a progressive track of discipline that begins with a single day of suspension and leads to firing. Nine of the 34 offenses can lead to immediate termination, without warnings, according to a memo sent to state employees and obtained by the Wisconsin State Journal.
The new system eliminates written reprimands but suspension letters kept in a personnel file will still be used. The law takes effect in July, but agencies have until Sept. 1 to enforce the new rules.
Among the most serious offenses that can lead to immediate firing are:
Harassing a person while on duty.
Being intoxicated or under the influence of a controlled substance.
Stealing state property or services, stealing money, or damaging state property.
A criminal conviction, while on or off duty, that makes it impossible for the employee to perform work duties.
Misusing or abusing state property, including using state equipment to download, view, solicit, seek, display, or distribute pornographic material.
The work-based offenses that put state employees on track to be fired through a progressive-style of discipline include:
Violating the state's work rules, including being disobedient.
Appearing intoxicated at work.
Possessing drugs.
Giving false information.
Appearing unkempt or inappropriately dressed.
Running a personal business on state time.
Misusing or abusing days off.
Inflicting mental anguish on another person.
Stacey Rolston, who heads the division of personnel management within the Department of Administration, said the new rules make discipline more consistent across state government.
Rolston said in an interview Tuesday that agencies previously had their own work rules, and now the same rules apply across agencies.
But Rick Badger, executive director of state employees union AFSCME Council 32, said the new work rules are "one-size-fits-all edicts handed down from on high."
Changes result of new law
The new rules result from a law passed earlier this year and pushed by Republican lawmakers and Gov. Scott Walker.
The law determines that layoffs from state agencies are based on job performance instead of seniority, extends the probationary time for new hires, outlines specific offenses for which employees can be immediately terminated and centralizes the hiring process within the DOA.
It applies to the state's civil service system, which includes nearly all 35,000 state workers except the University of Wisconsin System and the Wisconsin National Guard.
It also replaces state civil service exams with a resume-based hiring system.
Badger said the civil service overhaul does not protect against cronyism.
"Make no mistake, these changes mean the end of a system that protected taxpayers and employees from waste and cronyism because employment decisions were based on what you know, not who you know," Badger said in a statement. "Gone is a process based on blind testing to find qualified job candidates. Instead, the whole process now will be controlled by subjective judgments made by political appointees directly answerable to the governor."
Rolston said agencies will still be responsible for hiring new employees and that the state is considering allowing people to apply anonymously to avoid unfair treatment of applicants.
New discipline
The new rules create a new discipline process in which employees face increasingly severe sanctions: one day of suspension for the first offense, followed by three days of suspension, five days of suspension and firing after subsequent offenses.
Employees are able to recover or "earn back" a level in the progressive discipline structure. For example, if an employee receives no further discipline after violating a work rule for the first time, they would be back to the first level of the discipline process — which is a one-day suspension — the next time they violate the rules.
Also under the new civil service system's rules, employees will no longer receive written reprimands. An employee who has only received a written reprimand will be considered to have no formal misconduct under the new system, according to the memo.
An employee's discipline file will follow them if they move to a new job in a different agency, according to DOA, which was not the case under the old system.
Rolston and DOA deputy secretary Cate Zeuske told lawmakers on the Senate's Committee on Labor and Government Reform on Wednesday that the new rules were the result of discussions that have taken place with more than 200 human resources staff from agencies around the state.
Other changes include reducing the number of days an employee can fail to show up for work without notifying a supervisor from five to three.
Employees who leave their jobs without discipline problems after July 1 will no longer be able to get their jobs back, according to Rolston and Zeuske. Currently, employees are eligible to return to their jobs for five years after separating from the state.
Employees who are laid off also no longer will be eligible to be reinstated in the same or similar job within three years under the new rules. However, state agencies may do so if they wish.
Layoffs will be completed within a 60-day time frame, and will be driven by employee performance, not seniority, under the new rules.
The new civil service system will "ensure a clear concise and consistent system that allows the best to serve the state while better addressing a more modern and changing workforce," Zeuske said Wednesday.
Badger objected to that characterization, saying the new rules will "ironically" make it harder to retain current employees.
"Existing employees will now find it harder to do their jobs without fear of political retribution, and it now will be harder for state employees who leave their jobs to ever return," Badger said.
'Make no mistake, these changes mean the end of a system that protected taxpayers and employees from waste and cronyism because employment decisions were based on what you know, not who you know.' Rick Badger
Executive director of state employees union AFSCME Council 32