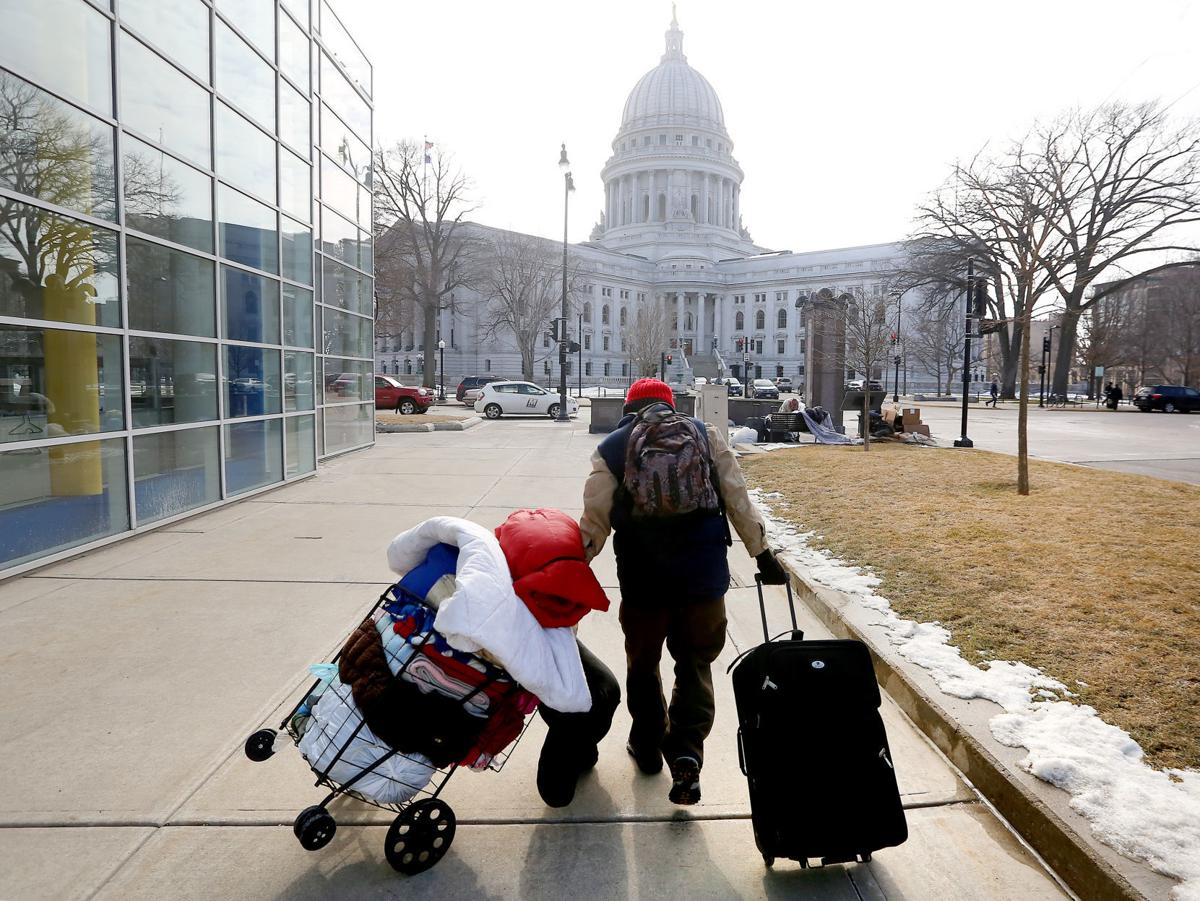 A year after its creation, the Wisconsin Interagency Council on Homelessness is offering an action plan to combat homelessness that uses a "Housing First" approach, emphasizes case management and calls for $3.75 million in new spending annually.
The 30-page plan, called "A Hand and a Home: Foundations for Success," is perhaps the state's most coordinated, deepest attempt to prevent and curtail homelessness.
The plan puts a focus on Housing First, a nationally acclaimed model that puts chronically homeless people in permanent housing with support services — without first requiring them to be addiction- or conviction-free, a precondition that can often be a deal-breaker to finding housing.
But the plan also places a high priority on case management, which is linked to better housing outcomes, better physical and mental health, decreased substance abuse, better re-entry to society and decreased cost of emergency responses.
It also lists priorities for new spending and emphasizes collaboration among the state, school districts, nonprofits and the private sector.
The council, established with unanimous support of the state Legislature and signed into law by Gov. Scott Walker on Nov. 27, 2017, is chaired by Lt. Gov. Rebecca Kleefisch and includes the secretaries or directors of eight state agencies and representatives of federally required collaborations that serve the homeless in Dane, Milwaukee and Racine counties, and one for the balance of the state.
The council, which first met in February, is expected to vote Tuesday morning to approve the action plan and will tour the state with events starting at The Beacon day resource center for the homeless in Madison. It will also make stops in Milwaukee, Eau Claire and Appleton.
"I feel we're digging deep and looking out into the future," Kleefisch said on Monday. "It's not only a report. It's not only a white paper. It's truly an action plan."
Joesph Volk, executive director of the Wisconsin Coalition Against Homelessness, said he's generally pleased by the plan. "It has depth. It is comprehensive," he said. "I think it's a very good first step."
Volk said he'd like to see the state spend more money connecting homeless people to jobs and subsidizing the development of low-cost housing. Eventually, he said, the state also must better define who is expected to do what.
A key to it all, Volk said, is how the action plan is received by Democratic Gov.-elect Tony Evers and his administration and how they work with a Legislature still controlled by Republicans.
Assembly Majority Leader Jim Steineke, R-Kaukauna, who sponsored legislation to create the council, said he is gratified by the action plan and confident Evers and the Legislature will work on homeless issues in a bipartisan way.
"The challenge is to keep the momentum going in view of a new administration coming in," Volk said.
The need is real, data show.
In 2017, 21,906 people experiencing homelessness received shelter and services from agencies in Wisconsin, the action plan says. Of those served, 8 percent were chronically homeless, with nearly half of those served in Dane and Milwaukee counties.
On a given winter night, more than 3,470 people are sleeping in cars, on sidewalks, on park benches, in wooded areas, in parking garages and in other places not meant for human habitation, the plan says.
But that's not the full picture.
Another federal measure defines homeless children and youth as those who lack a fixed, regular and adequate nighttime residence. In the 2016-17 school year, there were 19,264 children attending Wisconsin public schools who met that definition, including 14,888 who were "doubled up" in housing with relatives or friends, the plan says.
In Dane County alone, there are 874 single homeless people on a list awaiting housing, including 264 chronically homeless, 50 veterans and 60 youth ages 18-24, said Torrie Kopp Mueller, continuum of care coordinator for the Dane County Homeless Services Consortium.
There are 143 families on the list, including 19 experiencing chronic homelessness, Kopp Mueller said.
A Wisconsin State Journal special report in 2016 that explored the root causes of homelessness in Madison, obstacles to solutions and its insi…
The action plan recommends creating some new programs and supplementing some existing ones, and creating performance measures to determine the impact of the state's investments.
"Any long-term success must not be judged on the number of people added to government programs or placed in shelter beds," the plan says. "It must be judged on the number of people responsibly moved into independent living with low likelihood of returning to homelessness or financial insecurity."
Case management key
Housing First, the plan says, is a mindset, not a program and must be accompanied by case management that delivers support to those seeking and placed in housing.
"We can't just do housing and leave someone alone and assume it's going to work out," Kleefisch said.
The plan calls for more case management at shelters, supports the state's efforts to pursue a federal waiver to allow billing of Medicaid for support services related to housing, and seeks to expand professional development of case managers.
It also links case management to more areas of care, including for those at risk of becoming homeless and those returning from incarceration with no housing options.
"At all points in the continuum of care, there's someone to help if people need it," said Michael Luckey, the council's first director.
The plan outlines the connection between housing and work. It calls for better partnerships, such as data sharing between school districts that operate under one set of federal guidelines and federally mandated collaborations of homeless service providers that operate under another set of rules.
It also outlines challenges outside the council's direct scope, including problems arranging transportation, child care, domestic violence and social mobility.
"We're not going to eliminate homelessness," Kleefisch said. "This is a constant condition. There's always an unfortunate churn in the population. But we want to be there when the misfortune occurs."