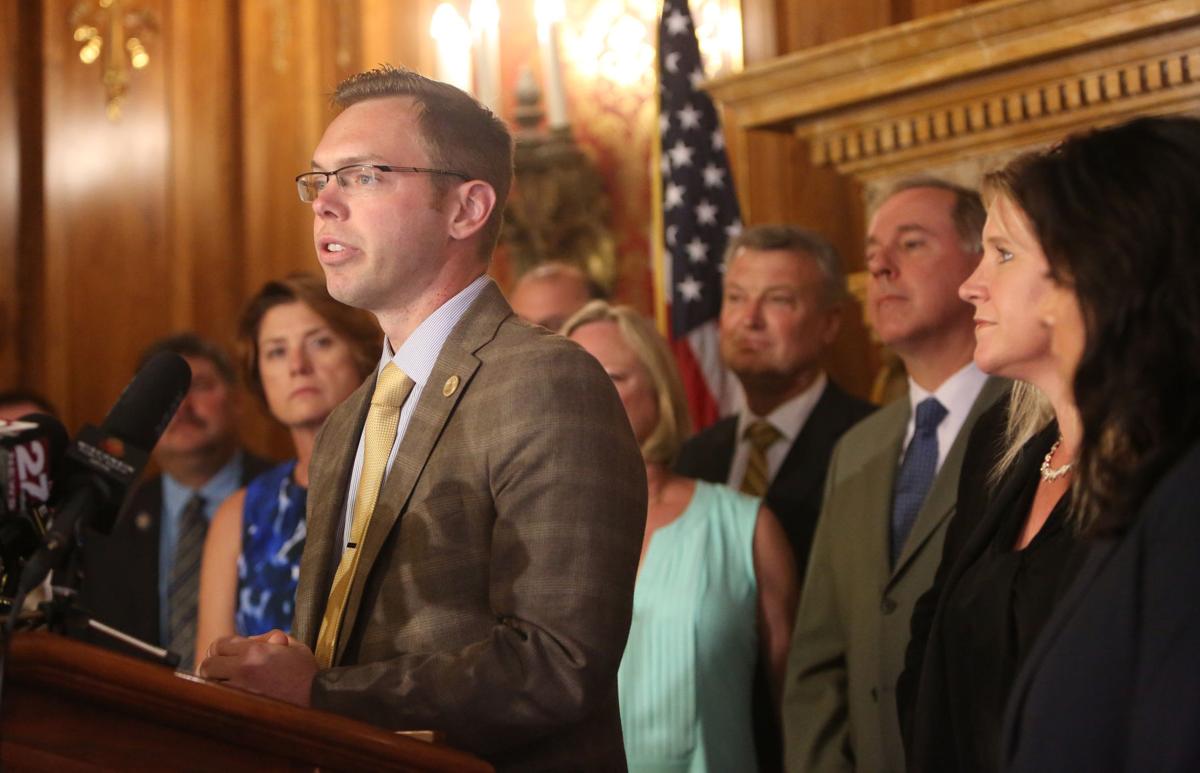 Assembly lawmakers want the state to spend $20 million to train Wisconsin workers as part of a deal to convince Taiwanese electronics manufacturing giant Foxconn to build a $10 billion campus in southeastern Wisconsin to build LCD panels.
The proposal is part of a number of changes Assembly Republicans released Friday to a bill authored by Gov. Scott Walker moving quickly through their house.
The thrust of Walker's bill provides about $3 billion in refundable tax credits to Foxconn as long as they create jobs in Wisconsin. Under the bill, Foxconn also is eligible for lower utility rates and is exempt from sales taxes and environmental regulations during the construction of the 20-million-square-foot campus they want to build.
Assembly lawmakers made a host of changes to that bill on Friday, including providing money to the Department of Workforce Development after 2019 for job training, requiring the state's jobs agency to provide tax credits only for jobs that have a salary of at least $30,000 per year, and allowing tax incremental financing funds to be used for fire, police and other government services.
The lawmakers also want state officials negotiating a final contract with Foxconn to emphasize that workers living in Wisconsin should be given preference during the company's process of hiring what they promise will be for 13,000 jobs. But Assembly Speaker Robin Vos, R-Rochester, acknowledged that requiring that preference could be illegal.
If Foxconn fills a wetland during its construction process, Assembly lawmakers also want to require the creation of two wetlands in its place in the same watershed, if possible.
"The ideas put forward today in the amendment reflect our commitment to our constituents to bring the best bill forward that protects taxpayers and our natural resources while preparing Wisconsin for the biggest economic development in state history," Vos said in a statement.
A public hearing on the bill was held last week in the Assembly Committee on Jobs and Economy. That committee will hold a vote Monday and an Assembly floor vote is scheduled for Thursday.
"Yes, I am very confident this bill will pass on Thursday, and my hope is it will do so in a bipartisan fashion," Vos told reporters Friday.
Rep. Adam Neylon, R-Pewaukee, said much of the changes put forward Friday were done with help from Democratic lawmakers who were briefed on the final changes Friday morning.
But Assembly Minority Leader Peter Barca, D-Kenosha, warned the process was going too quickly and questioned Republicans' motives.
"It's remarkable that with a vote scheduled for Monday, we just received the Republican amendment. The legislature and the public will have little to no time to review these changes," Barca said in a statement. "It's clear that Republicans are trying to appear proactive without actually fixing the concerns that many people have with this bill."
Neylon said Democrats have "been instrumental in the language of the amendment so I'm not sure where the criticism is coming from."
On Thursday, Senate Majority Leader Scott Fitzgerald, R-Juneau, said he wants the deal with Foxconn to include deadlines to create jobs.
Vos said he feels Walker's proposal to tie the tax credits to job creation is an assurance, but would be open to making more changes as long as the requirement would not "harm" the deal.
Fitzgerald has scheduled a public hearing on the Senate's version of the Foxconn package on Aug. 22.
He said the budget-writing committee will come in the rest of that week to wrap up the state budget, which was due on June 30.
Liberal group: Foxconn violate lobbying laws?
Meanwhile, the liberal-leaning Wisconsin Democracy Campaign is considering filing a complaint regarding Walker's negotiations with Foxconn, director Matthew Rothschild said Friday.
The group, which analyzes and monitors campaign finance and ethics, raised questions on Friday about whether the company violated state lobbying laws by not registering lobbying activity with the state before Aug. 3, when its lobbyists officially notified the state campaign ethics board about their work.
Walker's bill outlining the incentive package for Foxconn was introduced on Aug. 1, but Walker and other state officials met with Foxconn officials in April, Department of Administration Secretary Scott Neitzel has said, and a memorandum of understanding was signed between Walker and Foxconn chairman Terry Gou on July 27.
State lobbying laws require paid employees of companies seeking to influence or create legislation to register their lobbying efforts with the state Ethics Commission within 10 days after their fifth communication with state officials and after they spend $500 on lobbying efforts within one six-month reporting period, said Brian Bell, administrator of the Ethics Commission.
The six-month reporting periods are between January and June, and between July and December.
"In his haste to push this deal through, Walker is willing to give Foxconn a pass on our lobbying law, which clearly states that companies must register as lobbyists not after legislation is introduced but while it's being developed," Rothschild said.
Andrew Cook, a lobbyist hired by Foxconn, said the company first retained his employer, Michael Best Strategies, on Aug. 3, and that his firm had its first lobbying communication that same day.
Tom Evenson, spokesman for Walker, said it is common for business employees to meet with state officials when considering building in the state and "discussing what advantages of moving here might be."
"This is what happened here," he said.
"Wisconsin was actively competing with many other states. While partisan groups are trying to derail this big win for Wisconsin, it is absurd to think every business is required to register as a lobbying principal just to begin discussing why Wisconsin is now a great place to do business," Evenson said.
"The bottom line is that right after a bill was introduced, the company hired a firm that registered to lobby as required by law," he said.
Bell, who would not comment specifically on the questions raised by Rothschild, said generally lobbyists must register after doing $500 worth of lobbying even if a bill they are seeking isn't introduced yet.
He also said just because lobbyists are meeting with lawmakers or state officials on five occasions doesn't mean lobbying is taking place necessarily.
He said he could not comment on whether a complaint had already been filed over the state's negotiations with Foxconn.
"Yes, I am very confident this bill will pass on Thursday, and my hope is it will do so in a bipartisan fashion." Robin Vos, Assembly Speaker