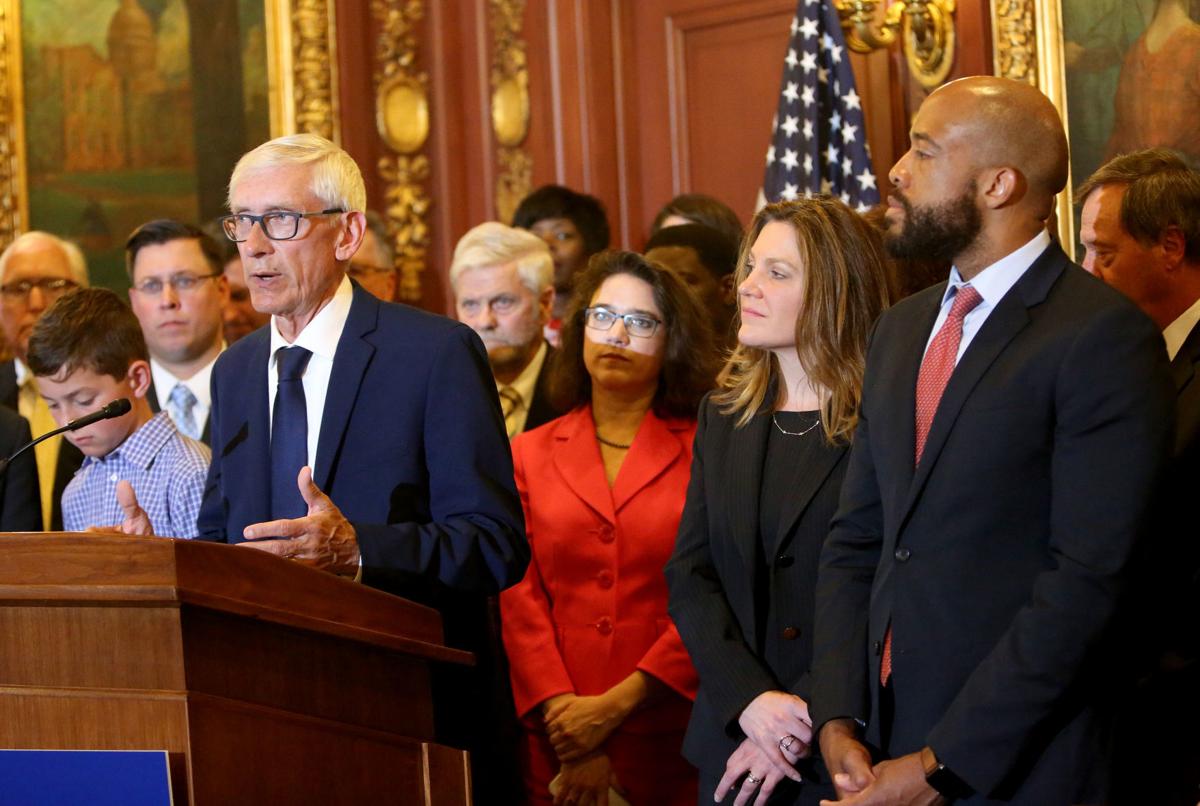 Wisconsin collected $76 million more in taxes than anticipated last fiscal year, prompting lawmakers from both parties to claim credit for a sign of positive economic growth in the state.
The nonpartisan Legislative Fiscal Bureau on Monday announced general fund tax collections for the 2018-19 fiscal year, which ended June 30, were up 7.4% from the previous year.
The $17.3 billion collected in taxes was $75.5 million, or 0.4%, more than anticipated in May when the state was finalizing its 2019-21 budget.
About $31 million of the unanticipated money will be deposited in the Budget Stabilization Fund, a rainy day fund to be tapped in times of recession or fiscal emergency. The remaining $45 million will go into the general fund, which covers the majority of state expenditures.
Rep. John Nygren, R-Marinette, co-chairman of the Legislature's budget committee, attributed the added revenue to legislation adopted during eight years of Republican control of state government.
"Wisconsin is on the right track and the numbers prove it," Nygren said in a statement. "With the amount of money coming into the state, we can continue to prioritize education, cut taxes, and maintain a balanced budget without raising taxes. No amount of spin or rhetoric can change the facts."
Senate Majority Leader Scott Fitzgerald, R-Juneau, also touted Republican efforts in an email.
"Republicans in the Legislature have spent the last decade leading the way on reforms that have helped bring about Wisconsin's comeback, and as a result, our state is one of the best places in the country to start a business, raise a family, or retire," Fitzgerald said. "We are committed to keeping our state headed in the right direction."
Neither Nygren nor Fitzgerald spoke to how the added revenue identified in the LFB report might be spent or used to fund a tax cut, which Republicans have enacted in response to previous unanticipated revenue.
Democrats, meanwhile, credited Gov. Tony Evers, who took office midway through the latest fiscal year and whose first budget took effect July 1.
"I am glad to see that Wisconsin's economy continues to grow under Governor Tony Evers' leadership," Sen. Jon Erpenbach, D-West Point, said in an email. "With an estimated $75 million in additional revenues coming in, we have increased security in our ability to fund vital programs, including special education and farmer mental health care."
The latest fiscal bureau report on annual updated tax collection data showed the amount of unanticipated revenue has ebbed and flowed over the years.
In fiscal 2017-18, final tax collections came in about $18.4 million higher than the preliminary estimate. A year earlier it was $14 million higher than anticipated. And in fiscal 2014-15 the amount was $71.4 million higher.
In fiscal 2015-16, actual tax collections were $84.8 million lower than preliminary estimates and two years before that actual revenues were $281.2 million lower.
In May, an LFB analysis found the state was set to collect $743 million more in tax revenue than previously estimated. Evers said at the time those funds would help pay off debt and make possible investments in education and worker training.
Evers' office did not respond to a request for comment Monday.