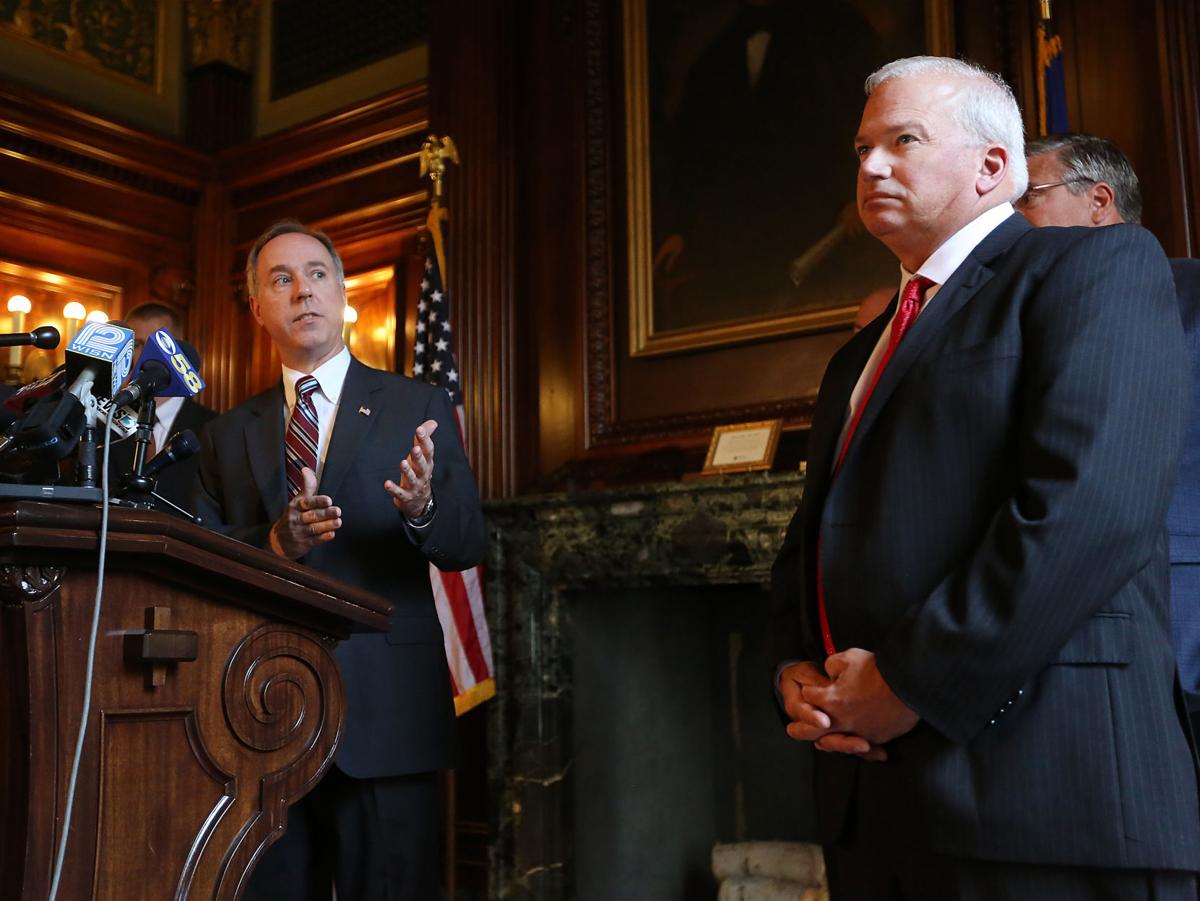 Senate and Assembly Republican leaders were supposed to meet all day Tuesday to iron out their differences on the new, two-year state budget ahead of a July 1 deadline.
Instead, they met for less than 45 minutes before ending abruptly, then aired their frustrations about an escalating budget impasse.
Assembly Speaker Robin Vos, R-Rochester, told reporters in the Capitol press room that Senate Majority Leader Scott Fitzgerald, R-Juneau, spent a lot of the time "talking at us, seeming angry, and then said 'We're done,'" before leaving the meeting.
Fitzgerald stopped by the press room a few minutes later and responded by saying he's "never angry" and was being direct.
"My underlining message when I walked into the room is I don't know where to go anymore," Fitzgerald said.
Both leaders said the key disagreement remains over how to fund transportation and blamed the other for not budging, though a key roadblock remains: Gov. Scott Walker's insistence there be no increase in the gas tax or vehicle registration fees.
Vos wants an increase in tax or fee revenue to plug a nearly $1 billion shortfall for transportation repairs and improvements and create a sustainable funding source for future budgets. Fitzgerald says a revenue increase is a non-starter for Walker and that he supports additional borrowing to keep road projects on schedule.
Fitzgerald expressed concern that the budget might not pass until August. The new budget year begins Saturday, though if a deal isn't reached by then, state spending will continue at current levels.
"We'll all have egg on our face," Fitzgerald said. "Republicans will look like we don't know what we're doing if we're through July to August and we don't have a state budget."
The Legislature's Joint Finance Committee had been meeting for weeks to edit Walker's $76 billion biennial spending plan before negotiations ground to a halt. In almost every budget since 1977, the committee has wrapped up its work by July 4, though the budget has been finalized only five times by the July 1 deadline, according to the Legislative Fiscal Bureau.
The committee last met June 15. Rep. John Nygren, R-Marinette, JFC co-chairman, said it's unlikely the budget committee will meet Thursday.
"When you sit in the room for 40 minutes and don't get a lot accomplished, not likely," Nygren said.
Fitzgerald said the Senate Republican caucus plans to meet Wednesday to discuss the possibility of passing the budget bill before JFC wraps up its work, something that has never happened. Vos said he would prefer that the Senate and Assembly not pass different bills, which would result in a conference committee working out differences between them.
Fitzgerald and Vos also plan to meet with Walker on Wednesday as they usually do every week.
"The governor is hopeful the Legislature will reach an agreement that funds his significant investments in K-12 education, tax relief and transportation," Walker spokesman Tom Evenson said.
You have free articles remaining.
Nygren said it might be helpful if Walker is in the room if the lawmakers negotiating the budget meet again in private.
Tuesday's meeting included Nygren, Vos, Assembly Majority Leader Jim Steineke, R-Kaukauna, and Rep. Dale Kooyenga, R-Brookfield, on the Assembly side and Fitzgerald, Sens. Alberta Darling, R-River Hills, Howard Marklein, R-Spring Green, and Leah Vukmir, R-Brookfield.
Differences over transportation, education, tax cuts
Republicans have been conflicted about how to resolve differences involving transportation and education funding, and tax cuts in the 2017-19 state budget.
Fitzgerald indicated lawmakers are closing in on an agreement on K-12 spending, and that the plan could include a change to the enrollment caps in the statewide private school voucher system.
Fitzgerald also said some education matters remain unresolved.
He said his caucus has not agreed to a proposed increase in the income threshold for families seeking a private school voucher in the statewide program to 300 percent of the federal poverty level. The current level is 185 percent of the federal poverty level.
Walker has proposed funding transportation by borrowing $500 million and delaying some projects. Senate Republicans want to add $350 million in borrowing backed by the general fund, which pays for schools, environmental regulation and other state government services.
Assembly Republicans say continuing to borrow is unsustainable and want to keep other options on the table for raising transportation fund revenues, such as raising fees on heavy trucks. Walker has vowed to veto a budget that includes an increase in the gas tax or vehicle registration fee.
Fitzgerald said Tuesday that raising heavy trucking fees is a non-starter for him. He said Vos' current position of passing a budget with no change in transportation spending — also known as a base budget — is "laughable." He said it would result in $340 million less than what is needed to keep current projects on track.
Vos said the only thing that's laughable is Republicans supporting a budget that increases spending and borrowing without a long-term solution for funding roads. He said the Assembly is willing to support borrowing if the Senate and Walker can support increasing transportation revenue.
"What's laughable is saying that it's our way or the highway," Vos said.
Democrats also support raising revenue to pay for roads, though Vos has expressed no interest in relying on their votes to override a possible Walker veto.
Rep. Gordon Hintz, D-Oshkosh, noted continued borrowing means more transportation revenue is spent paying off debt and interest, taking money from the general fund comes at the expense of other state programs and delaying projects costs more in maintenance and compounds the problem in future budgets.
"You increased fees to fund our state parks so it is hard to understand what is different here," Hintz said. "Just fix it."
State Journal reporters Mark Sommerhauser and Molly Beck contributed to this report.
Get Government & Politics updates in your inbox!
Stay up-to-date on the latest in local and national government and political topics with our newsletter.