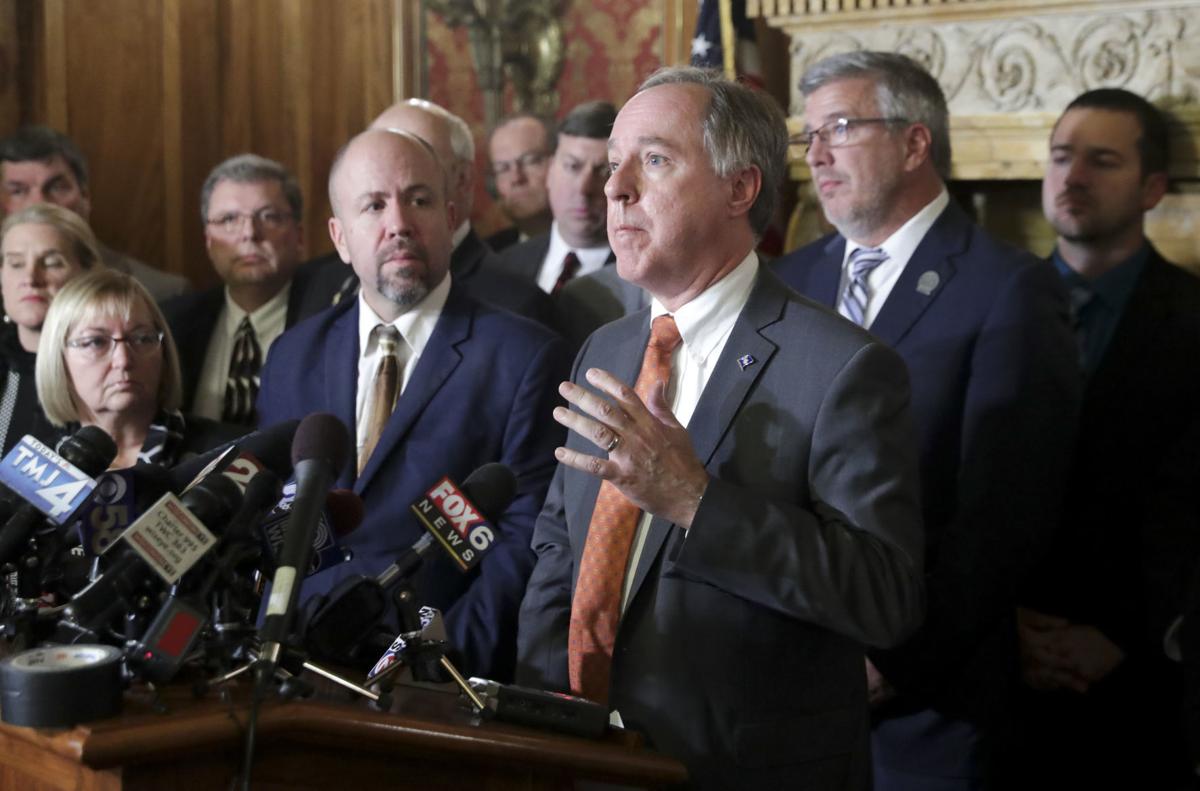 Assembly lawmakers Thursday passed several pieces of legislation that would cut income taxes, enhance penalties for drunk drivers, push back the date of closure for the troubled Lincoln Hills youth prison and change how the state handles transportation construction projects.
The legislative action comes as lawmakers separately prepare to vote on a roughly $81 billion budget next week that's on shaky ground after two Republican senators vowed to vote against it.
One of the highest-profile bills Assembly lawmakers approved on Thursday is one that would push back the closure date of the troubled Lincoln Hills and Copper Lake youth prison in northern Wisconsin by six months, from January to July 2021. Lawmakers proposed the change to accommodate concerns from counties regarding construction timelines of replacement facilities.
Democratic Gov. Tony Evers has called for entirely eliminating the deadline to close Lincoln Hills, instead allowing it to remain open indefinitely until new county and state-run replacements are ready.
Under a bipartisan law passed last year setting a closure date for Lincoln Hills and overhauling the juvenile justice system, a handful of counties will band together to build regional facilities that will house juvenile inmates. The state will separately build at least two youth prisons for more serious offenders.
Lawmakers on the Joint Finance Committee earlier this month shifted funds in the corrections budget to direct a total of $80 million to counties to build or renovate new county youth lockups.
To provide that amount, committee members stripped funding originally allocated to build the new state-run facilities. Republican lawmakers have said they intend to meet in the fall to approve funding for the state-run centers.
Tax cut
Assembly lawmakers passed a bill the Joint Finance Committee unanimously approved last week that would cut taxes for middle-class taxpayers in the lower two brackets by about $59 in 2020. That's on top of a roughly $27 cut that middle-class taxpayers are already set to receive this year.
After a U.S. Supreme Court decision last year, lawmakers approved a bill allowing the state to collect sales taxes from out-of-state sellers and apply the additional revenue to a new income tax cut. The bill Assembly lawmakers approved on a voice vote Thursday would make a fix to the original bill by applying the tax cut to 2020 and clarifying that third-party intermediaries, such as eBay and Amazon, collect and remit Wisconsin sales tax.
Along with the GOP budget plan currently under consideration, middle-income taxpayers would see a roughly $124 income tax reduction in 2020. Together, the GOP budget plan and bill passed Thursday would lower the state's two lowest tax brackets from 5.84% to 4.93% and from 4.00% to 3.76% in 2020.
The bill now heads to the state Senate.
Drunken driving penalties
Two bills that Assembly lawmakers approved on a voice vote would enhance criminal penalties for drunken drivers. One would require people accused of driving while intoxicated to appear in court in person or face a $300 surcharge. Another would implement a mandatory minimum sentence of five years behind bars for those convicted of homicide by intoxicated use of a vehicle. The bills now go to the Senate.
Assembly Speaker Robin Vos, R-Rochester, said he wouldn't go so far as to make first-offense operating while intoxicated a misdemeanor. Currently in Wisconsin, first-offense OWI is a civil violation, similar to a speeding ticket.
Transportation bills
Republicans approved several bills they contend would reduce costs for road building. Democrats said the legislation may have unintended safety ramifications, and slammed the bills as a means to appease conservatives who don't think transportation revenue increases are necessary.
One bill would allow contractors on Department of Transportation projects more flexibility with the types of materials they use to build roads to reduce costs.
Another would require the DOT to keep in its inventory of designs several "design-build" projects, where a single contractor is responsible for both design and construction of a project.