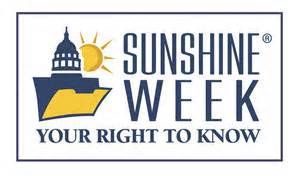 Wisconsin state agencies are responding more quickly to public records requests since Gov. Scott Walker ordered improvements a year ago, according to a Wisconsin State Journal review of agency record request logs.
Agencies logged more than 11,000 requests since Walker's March 11, 2016, executive order directing state agencies to respond to requests promptly, update requesters on the status of their requests, track all requests and facilitate access to electronic records whenever possible.
Most agencies were already tracking how long it took to fulfill records requests. In the 14 months prior to the order, the average response time to fill 8,448 requests was 13 workdays. The average response time to fulfill 10,395 requests since has been nine workdays, a 30 percent improvement.
"This is very encouraging," said Bill Lueders, president of the Wisconsin Freedom of Information Council. "The response times had gotten longer and records requesters are often frustrated by how long it takes. Agencies have been saying, 'We don't have the resources to respond more promptly.' What the governor's executive order reminded them is they need to find those resources."
Walker spokesman Tom Evenson said over the past year the governor has worked with his 17 cabinet agencies to institute best practices and improve response times.
"The governor's office has been in regular contact with departments on public records process because this is a top priority and the results are encouraging," Evenson said.
Records requests that had not been filled by mid-February were not considered in this analysis, but the number of such requests was small.
Public access to government records in Wisconsin is enshrined in Chapter 19.31 of state law. The preamble to the law states: "Providing persons with such information is declared to be an essential function of a representative government and an integral part of the routine duties of officers and employees whose responsibility it is to provide such information."
Walker's order last year asked agencies to complete straightforward requests within 10 workdays, publicize an email address for receiving records requests, respond to requests for updates within five workdays, implement a tracking system, provide electronic copies of records already in electronic format, clarify requests when necessary and provide a written explanation when records are withheld.
The order came several months after Walker and Republican lawmakers tried unsuccessfully to gut the public records law.
The State Journal asked state agencies to provide their records request tracking logs ahead of Sunshine Week, March 12-17, which is sponsored by the American Society of News Editors and Reporters Committee for Freedom of the Press to focus attention on open government issues.
More than 20,000
entries analyzed
The State Journal compiled and analyzed more than 20,000 state agency records log entries since Jan. 1, 2015, that included both a discernible request date and completion date.
In some cases, the completion dates weren't clear. The Wisconsin State Patrol Academy wasn't tracking completion dates at all until after the State Journal submitted its request.
The tracking logs also weren't standardized across agencies. Some kept track of fees being charged and dates that an acknowledgment was sent out, while others didn't.
Although most agencies were maintaining logs before the executive order, the departments of Transportation, including the State Patrol, Military Affairs and Safety and Professional Services began their logs last year. Others made changes to their logs or formalized the process for maintaining them.
Some agencies received very few requests. State Treasurer Matt Adamczyk said he doesn't keep a log because he has so few requests. Lt. Gov. Rebecca Kleefisch's office provided a spreadsheet with no entries, but it only started maintaining a log this year.
"We have no pending requests, hence its being blank," spokesman Daniel Suhr said.
The State Journal included the Department of Justice, Department of Public Instruction and Secretary of State's records logs in its analysis even though those agencies weren't covered by Walker's order. The analysis doesn't include the Department of Children and Families and several Department of Health divisions because the records weren't provided in an easily tabulated format.
The Justice Department's response times shortened from 23 days in the 14 months before the order to 16 days since then. Assistant Attorney General Paul Ferguson said the DOJ is continuously trying to improve its records response process, but hasn't made specific reductions in the past year that would explain the decrease.
Quicker responses
since Walker order
Almost all agencies logged faster response times after Walker's executive order compared with the 14 months prior. In August the Department of Administration also issued a set of best practice guidelines.
The Wisconsin Economic Development Corp. made the biggest improvement. In the 14 months before the order it fulfilled 108 requests, which took on average 55 workdays to complete. After the order it fulfilled 63 requests, which took on average 18 workdays to complete.
WEDC spokesman Mark Maley noted the agency often gets complex and detailed requests that require clarification and sometimes follow-up after the records have been provided, which can extend the length of time it takes in the log for the request to be fulfilled.
Maley said another factor that can extend the timeline is when the agency is waiting to hear back from a requester about a decision on whether to pay a fee, which can be required for requests that take several hours to fill or result in printouts of several pages.
"Even though we have continued to work with requesters to comply with their requests, the length of time it takes to respond to a request has decreased significantly since the executive order," Maley said. "Prior to the executive order, approximately 9 percent of the requests received were fulfilled in 10 days or less; since the order, 39 percent of the requests received were fulfilled in 10 days or less."
The Department of Agriculture, Trade and Consumer Protection started tracking records requests in October 2015. In the six months prior to Walker's order, the response times took 25 workdays, and since then have taken 15 workdays.
DATCP spokesman Bill Cosh said the improvement reflects the department's effort to speed up response times, and also a few complex requests that came in at the end of 2015.
DATCP plans to digitize some records to allow for easier retrieval, Cosh said.
Since the order, Walker's office has had the slowest response time at 21 days, though that's faster than before the order, when it was 35 days. The number of requests since last March, 66, is also down from 251 in the year before when Walker gained national prominence during a short-lived presidential run.
Goal is improvement
Walker issued another records-related executive order last week, asking agencies to identify records that are routinely requested and make them available without a request. Agencies also will post online how many requests they receive and how long it takes on average to fulfill them.
"Last year, our Sunshine Week executive order went above and beyond what was required by law to ensure our citizens have greater access to an open and transparent government," Walker said in a statement. "The public will continue to receive more access to records and information than ever before in state history."
Lueders, the WFOIC president, said the goal for state agencies should be continuous improvement in how quickly they are responding to records requests. He said the lessons should also be applied at the local government level.
State agencies responding to records requests faster
Agencies are completing requests in nine workdays on average since Gov. Scott Walker's executive order, down from 13 days in the year before the order.
| Field 1 | Field 2 | Field 3 | Field 4 | Field 5 | Field 6 | Field 7 |
| --- | --- | --- | --- | --- | --- | --- |
| Department | Before order: Requests logged | Before order: Avg. workdays to complete | After order: Requests logged | After order: Avg. workdays to complete | | |
| Administration | 629 | 16 | 415 | 11 | | |
| Agriculture, Trade and Consumer Protection | 142 | 25 | 583 | 15 | | |
| Commissioner of Insurance | 348 | 8 | 252 | 8 | | |
| Corrections | 2095 | 13 | 2276 | 12 | | |
| Financial Institutions | 33 | 7 | 186 | 2 | | |
| Governor's Office | 251 | 32 | 66 | 21 | | |
| Health Services* | 55 | 27 | 145 | 18 | | |
| Justice | 627 | 23 | 645 | 16 | | |
| Military Affairs | 5 | 6 | 19 | 12 | | |
| Natural Resources | 3849 | 9 | 3600 | 7 | | |
| Public Instruction | 81 | 16 | 60 | 13 | | |
| Public Service Commission | 44 | 13 | 43 | 11 | | |
| Revenue | 202 | 9 | 140 | 7 | | |
| Safety and Professional Services | 2 | 4 | 583 | 5 | | |
| Secretary of State | 1 | 7 | 20 | 6 | | |
| State Patrol | 0 | ** | 1294 | 4 | | |
| State Patrol Academy | 0 | ** | 20 | ** | | |
| Tourism | 3 | 13 | 5 | 3 | | |
| Transportation | 3 | 16 | 125 | 8 | | |
| Veterans Affairs | 84 | 12 | 124 | 7 | | |
| Wisconsin Economic Development Corp. | 108 | 55 | 68 | 18 | | |
| Wisconsin Housing and Economic Development Authority | 22 | 22 | 41 | 9 | | |
| Workforce Development | 724 | 16 | 386 | 6 | | |
| Total | 9308 | 13 | 11096 | 9 | | |