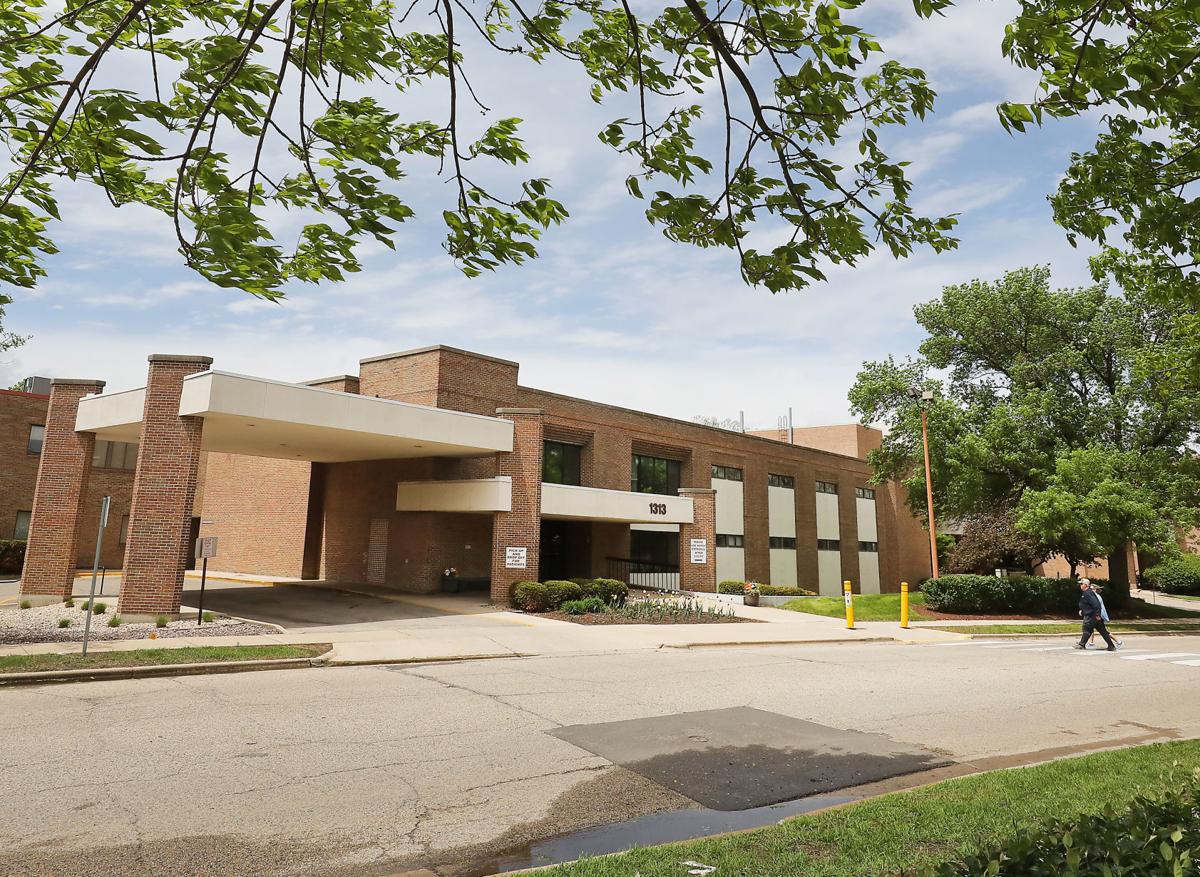 In response to neighborhood concerns about losing access to fresh food, SSM Health is changing where it plans to build a $75 million first phase of a multi-decade redevelopment that would have displaced a grocery store on South Park Street.
Now, SSM plans to build its new clinic on property the company owns around its aged, existing clinic at 1313 Fish Hatchery Road, SSM's regional president Damond Boatwright said Wednesday.
"We hear you South Madison," Boatwright said in a statement. "We care about your health and well-being and understand the importance of maintaining access to healthy foods in our community. I am grateful to the community members who have provided feedback, asked questions and offered suggestions as we have worked through site selection for our project."
Mayor Satya Rhodes-Conway, who has described food access for the area as one of her top immediate priorities, applauded the move.
"I'm really grateful to SSM for their continuing investment in South Madison," she said. "I really applaud SSM for listening to the community and being a great partner."
Currently, SSM owns the 12.9-acre parcel along Fish Hatchery Road, South Street and Midland Street that includes a three-story, 175,000-square-foot clinic, parking lots and 16 vacant homes.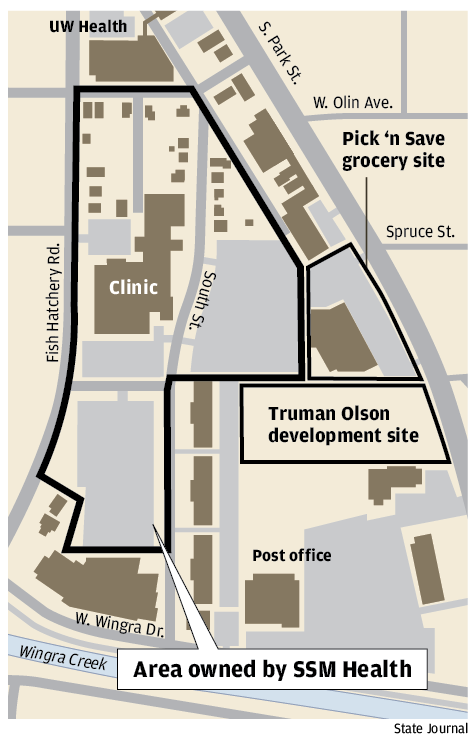 As of late March, SSM had been moving to acquire a 2.3-acre site that holds a 1960s-era Pick 'n Save grocery store at 1312 S. Park St., with the intent of demolishing the store as soon as late this year and immediately building a $75 million, five-story, 175,000-square-foot clinic on that property. When that building was completed, the existing clinic — 35,000 of which is already unoccupied — would be demolished. SSM had not closed on the Pick 'n Save site.
City officials and neighborhood residents have said they welcome the investment but have voiced concern about the time gap between the demolition of the Pick 'n Save and securing a new grocery nearby. After hearing concerns from neighborhood residents and community leaders, including many faith leaders, SSM decided to change sites, Boatwright said.
"It was more ideal to do it on the (Pick 'n Save) parcel, but we can do it on our existing parcel," he said in an interview. "We have the space."
Ald. Tag Evers, whose 13th District includes the site, said sparing the "grocery gap" would be welcome news to many.
"SSM has shown itself to be a model corporate citizen," Evers said. "They truly do care about the residents who would be impacted by the loss of a grocery store. They weren't just going through the motions."
With the new direction, SSM would keep the existing clinic — built in 1961 with additions in the 1970s and 1980s — open as long as possible while the new one is being built, and transfer personnel to the new facility when it's completed, Boatwright said. It's still unclear where on its property the new clinic would be built, he said.
"We've hit the reset button," he said. "We have to meet with our architects and our general contractor to talk through the logistics of doing it on the existing property."
If all goes well, SSM could begin the project in the spring of 2020, he said.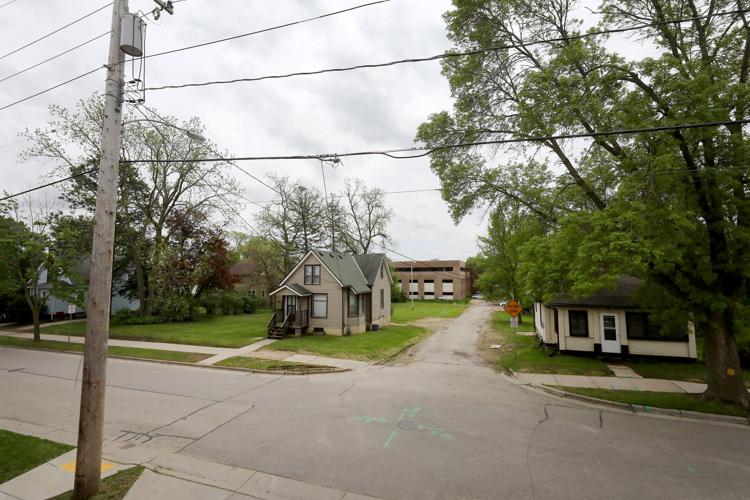 The decision gives the city and neighborhood more time and flexibility to redevelop the Pick 'n Save site and an adjacent, 3.5-acre, city-owned lot at 1402 S. Park St. in a way that doesn't disrupt access to food, Boatwright said. The vacant lot once held the now-demolished Truman Olson U.S. Army Reserve Center.
'For the long term'
Earlier this month, the city issued a new request for proposals focused on delivering a full-service grocery store and open to other uses such as housing on the Truman Olson site.
"We are going to move forward with the (proposal) process," Rhodes-Conway said. "It's critical for us to make sure there is a grocery store in the area for the long term. This is still a very important issue and high priority for the city."
The city issued a first request for proposals for the Truman Olson site to adjacent property owners in January 2018 and had been in conversations with the two respondents, SSM and Welton Enterprises.
The city issued a new request for proposals to see if there were other options to accommodate SSM's proposed clinic and a full-service grocery store.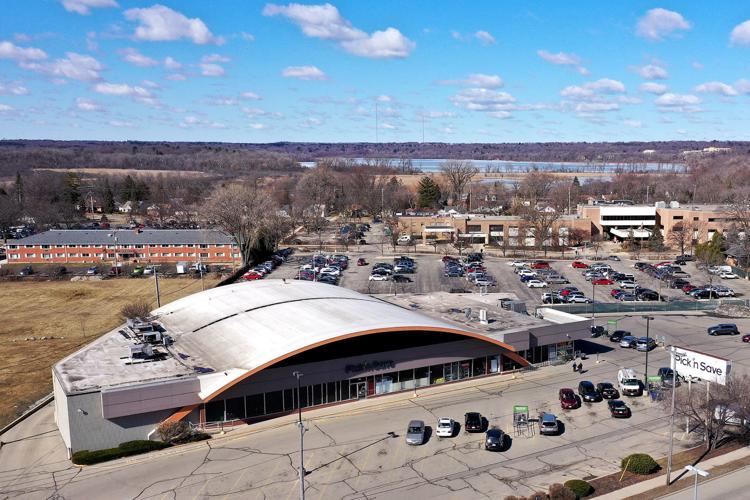 'Innovative and creative options'
SSM will not submit a response to the city's new request for developer proposals for the Truman Olson site, but it is interested in and committed to working with the eventual developer and grocery operator to deliver health care services in or near the new store, Boatwright said.
"There are a lot of innovative and creative options," he said, listing retail pharmacy, prescriptions for healthy foods, and community health education as possibilities.
SSM will explore "any and all options" for its own next phases, which include a roughly 60,000-square-foot building and a parking garage within 10 years, Boatwright said. Beyond those phases, SSM also anticipates future development on its larger campus.