Starting soon, some UW-Madison students who get cited by campus police for underage drinking or having a fake ID will have less expensive tickets to pay.
"One of the benefits of it for students is the fines are significantly less," said Ald. Mike Verveer, 4th District, who sponsored the measure.
The pilot program will likely begin in December or January and run until Nov. 1, 2020, with the option to renew. Municipal Judge Dan Koval emphasized that the agreement will be evaluated to ensure it is "working for everyone involved."
The change will apply to off-campus citations for underage possession or consumption of alcohol, false identification and disorderly conduct. Anyone cited by UW Police off-campus for those violations — even if they are not a UW student — will receive the cheaper tickets.
"Primarily it will be underage alcohol possession or consumption violations," Koval said. "That's the vast majority that (UW Police) write."
In the rest of the city, most of those citations already are processed in municipal court, unless the tickets are given by the Sheriff's Office or Capitol Police. The pilot will make how such citations are handled more consistent citywide and relieve some of the load on the circuit court system.
Because of state laws, UW Police citations given on campus, including in dorms, will still go through circuit court, which handles county and state cases, Koval said. On-campus violations are considered "more of a state charge," Koval said, because they happen on state university property.
Lower municipal court fines
For people between ages 17 and 20, the minimum fine in circuit court for underage alcohol citations is $263.50, while the municipal court fine is $187.
For false-identification citations, the minimum fine is $515.50 in circuit court and $439 in municipal.
Fines for disorderly conduct are a little more complicated. Circuit court tickets range from $150.10 to $263.50 for a first offense, and $169 to $389.50 for a second violation within one year. City court fines for disorderly conduct range from $38 to $1,311, but Koval said it is "very rare to impose anything near to the maximum."
Koval said it is likely the tickets for disorderly conduct will still be less expensive in municipal court if there is no history of disorderly conduct and no aggravating factors.
Next year, the city expects to see an additional 150 to 200 citations in municipal court with the pilot.
You have free articles remaining.
In 2018, UW Police wrote 549 underage alcohol tickets, with 397 on campus and 152 off campus. UW Police also issued 27 tickets for fake IDs, seven of which were off campus, and 32 disorderly conduct tickets, six of them off campus.
Impact on Langdon Street
Verveer said the timing of the change is "very helpful" because it comes as the Madison Police Department eliminates the position of a neighborhood officer dedicated to Langdon Street, with UW Police stepping in to "help fill the void."
To address the cited staffing shortage, the Madison Police Department next year plans to shift a dozen specialty positions focused on proactive, community engagement work — including the Langdon neighborhood officer — to patrol.
UW Police will add an officer to cover Langdon Street and other densely populated surrounding streets, a much larger territory than Figueroa oversaw. It is the first position in the UW-Madison Police Department that will serve entirely off campus.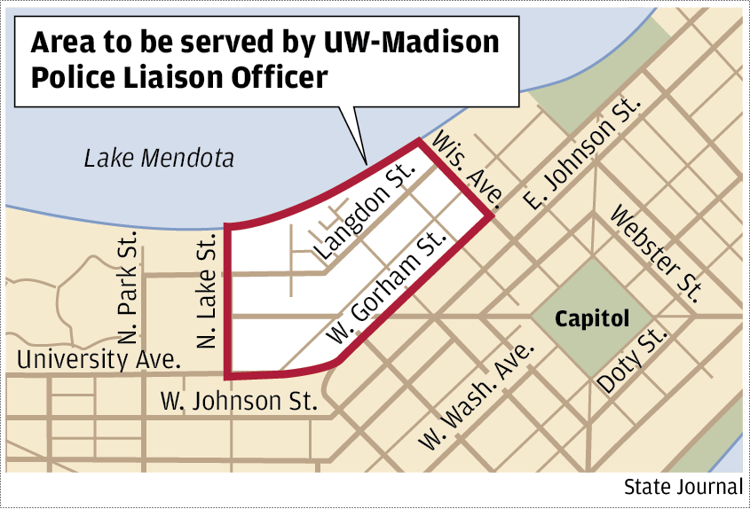 If the pilot wasn't happening at the same time, those ticketed by the new campus officer on Langdon Street and surrounding off-campus areas would have had to pay the higher circuit court fines.
Other benefits
Although it's a relatively small number of cases being transferred to municipal court, Koval said an expected benefit is that these citations will be taken off the plates of county judges, court commissioners, clerks and the District Attorney's Office, giving them a bit more time to focus on criminal cases.
The pilot won't impact the public defender's office because those attorneys are only appointed in criminal cases, Koval said.
He said other advantages include more consistency between local police departments and more accessible community service opportunities in municipal court.
In terms of revenue for the city, Koval said the first year will "probably break even" with costs.
Annually, processing the citations in court is expected to cost the city $4,950 to $6,600, but the tickets are projected to bring in $15,000 to $20,000 in revenue. City court will need to modify its software to accommodate the change at a one-time cost of $10,059.
Koval said a start date for the pilot is variable because it depends on when the software is updated.
"The goal would be to try to get it done by January if we could," he said.