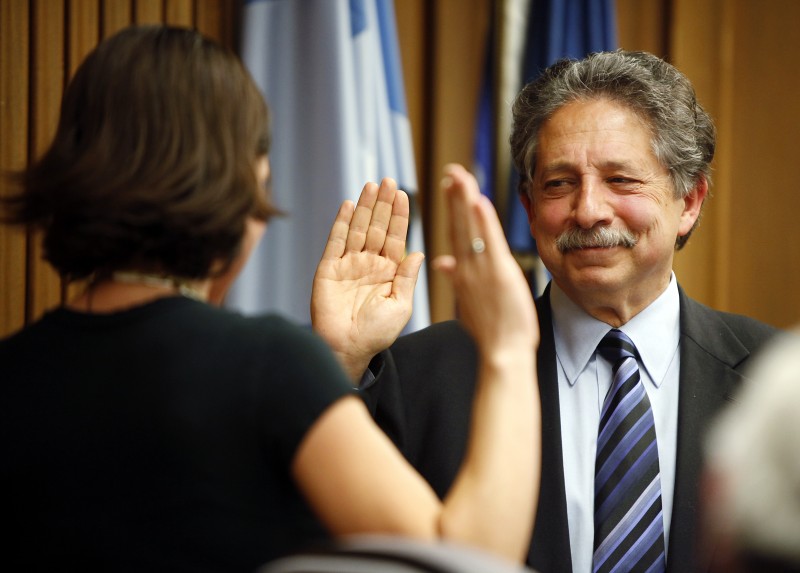 After being away for 14 years, new Mayor Paul Soglin walked down a hallway Tuesday afternoon and quietly reclaimed the office he's already held longer than anyone.
Soglin, who earlier had taken the oath of office in a bittersweet ceremony that marked farewells for outgoing Mayor Dave Cieslewicz and six City Council members, spied his old desk, quickly hung two pictures on the bare walls, loosened his tie and rolled up his shirtsleeves, and reflected on the moment.
"I am really appreciative of the fact I won the election," said Soglin, mayor for 14 years during the 1970s, '80s and '90s. "I'm even more appreciative of the fact the people of this city let me come back to do this job."
In an interview, the new mayor relaxed on a leather couch in his fourth-floor office in the City County Building and said he intends to press ahead with reviews of a number of initiatives started in the previous administration, including a $29.5 million reconstruction of the Central Library, nonprofit operation of Overture Center, Central Park on the Near East Side, and Public Market Square southeast of the Capitol.
Soglin said he plans to move forward on fighting poverty in neighborhoods, cutting debt costs, and economic development, and that he would not try to stop The Edgewater hotel renovation.
The new mayor will work with a new council and leadership. Freshman Alds. Lisa Subeck, Scott Resnick, Sue Ellingson, Jill Johnson, Anita Weier and Matt Phair joined the new council, which unanimously elected Ald. Lauren Cnare, 3rd District, as its new president and Ald. Shiva Bidar-Sielaff, 5th District, as president pro tem.
The day of transition was full of hugs, expressions of gratitude, good will and humor - and even a few tears - across the political spectrum.
At a noon ceremony, Cieslewicz flashed his trademark humor and showed no ill effects from his razor-thin defeat on April 5.
In parting remarks, he voiced his appreciation for family, staff, and the council - the lone moment he choked up - and the honor of serving as mayor for eight years.
"I appreciate the lessons I've learned about politics and about life," he said. "I loved being mayor of Madison, but before that I loved being just a citizen of Madison."
Alders praised Cieslewicz, from his policies to his trademark puns to his legacy.
"You've served with integrity and honesty and keeping in mind the best interest of the city we all love," outgoing Council President Mark Clear said.
"You will be forever Mayor Dave," Bidar-Sielaff said.
Cieslewicz offered support for Soglin. "If he succeeds, so does the city," the former mayor said.
Alders who did not seek re-election - Jed Sanborn, Bryon Eagon, Julia Kerr, Judy Compton, Michael Schumacher and Thuy Pham-Remmele - bid farewell.
Kerr, 13th District, advised new alders to make a friend, to listen to the public, to be collegial, and to be an advocate for their districts.
Pham-Remmele, 20th District, who tangled with the mayor and over four years became isolated in the council, expressed gratitude but declined her ceremonial plaque before leaving, saying, "please keep it. I have no place for it in my life."
But Eagon, the youngest council member and who represented the 8th District around UW-Madison, captured the mood of the day where differences were set aside and alders joked about mind-numbing meetings and endless speeches.
Eagon, who didn't seek re-election because he will be teaching in New York City, shared a short story about his teaching job interview, explaining that he was asked if he had experience working with children.
He said he simply responded, "I've been on the City Council in Madison."
The room erupted in laughter.
Get Government & Politics updates in your inbox!
Stay up-to-date on the latest in local and national government and political topics with our newsletter.