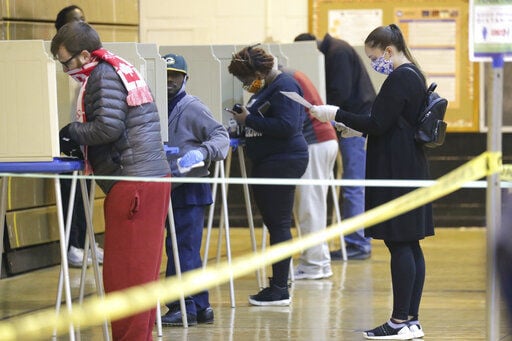 Courts could act on a number of lawsuits seeking elections changes ahead of the November presidential election, adding to an uncertain landscape created by the COVID-19 pandemic.
Already, the 7th Circuit U.S. Court of Appeals this week issued a ruling — a remarkable three years since taking up the case — that puts back in place Republican-authored voting restrictions in Wisconsin just months ahead of a presidential election that could be decided by a razor-thin margin.
On Wednesday, however, the Wisconsin Supreme Court signaled it would not hear oral arguments until at least late September in a case that could purge from the rolls more than 100,000 voters suspected of moving. That could delay a ruling until after the upcoming presidential election.
Other lawsuits still hang in the balance that could affect the rules for the 2020 presidential election in a state that President Donald Trump won by fewer than 23,000 votes.
Wisconsin has already been rocked by last-minute election-related court decisions this year. A day before the April 7 presidential primary, the Wisconsin Supreme Court and U.S. Supreme Court issued rulings allowing for the election to move forward during the COVID-19 pandemic and clarifying when ballots needed to be turned in.
This week's appellate court ruling also changes rules just months before the Nov. 3 contest and weeks before the Aug. 11 primary.
"To have this kind of ruling that's going to just add more confusion to what's already going to be a confusing year in terms of voting rules, it's just really unfortunate that they didn't do this 12 months ago," said UW-Madison political science professor David Canon.
Appellate ruling
On Monday, an appellate court ruled that Wisconsin can restrict early voting days, hours and locations, and restored a requirement that people need to live in a district for 28 days, not 10, before they can vote. The court also ruled that emailing and faxing absentee ballots is unconstitutional, but that expired student IDs are acceptable at the polls.
The judge who authored the opinion said the restrictions don't burden people in the state, where voters have more ways to register, longer poll hours on Election Day and more absentee voting options than in other states.
Madison City Clerk Maribeth Witzel-Behl and others say the restrictions could have at least some role in reducing voter turnout in Madison, one of the state's Democratic strongholds.
"I think the largest effect that we'll see would be (on) more high-turnout elections such as November," Witzel-Behl said. "That's when we have the most in-person absentee voting, and in a pandemic, people have to consider what their options are for having some social distancing as they vote, and so voting in person prior to election day might be an appealing option."
In recent years, the city of Madison has typically offered in-person absentee voting about six weeks prior to the election date, as early as was possible under previous state law. But under Monday's court ruling, Madison and cities and towns across the state must wait until two weeks before Election Day to conduct in-person absentee voting.
During the 2018 gubernatorial race, when 37,338 Madison voters cast their ballots in-person absentee, 11,616 voters, or about 31% of the total in-person absentee votes in Madison, had done so prior to two weeks before the election date.
Parties differ
Republicans have lamented the ability of the state's Democratic urban centers to maintain early in-person voting, while smaller cities and towns with fewer resources, home to more Republican voters, often lack such a lengthy in-person voting window.
"All state residents deserve an equal opportunity to have their voices heard on the same level as Wisconsinites who live in our largest cities," said Republican Party of Wisconsin spokeswoman Alesha Guenther.
Democratic Party of Wisconsin chairman Ben Wikler, however, has a different view.
"The intention of the rollback on early (in-person absentee) voting has always been to suppress Democratic votes," Wikler said, but he added that Democrats are enthusiastic this year and surges in voting by mail could dampen the ruling's effect.
Canon said the appellate decision could at least somewhat dampen voter turnout — particularly in Democratic urban areas that have enjoyed extended in-person absentee voting windows.
But Canon said the decision allowing the use of expired college IDs as acceptable forms of voter ID could also turn out more college-age, typically Democratic votes.
Days in district
Witzel-Behl fears another part of the decision implementing a requirement that voters need to live in a district for 28 days to vote there, as opposed to 10, could cause voter confusion. Voters who move in Wisconsin 28 days prior to an election will need to vote at their old address, which could be challenging or catch them by surprise.
She also said having a shorter window of in-person absentee voting could be a health risk amid the pandemic, because the number of voters will be spread across a shorter time frame, potentially causing lines, which could also discourage people from voting.
Other lawsuits
This week's appellate court decision isn't the only lawsuit affecting Nov. 3. Courts could decide a suite of other federal lawsuits that are seeking to change how Wisconsin elections are conducted.
The Democratic National Committee and the state Democratic Party filed a lawsuit in March seeking to ease regulations on absentee voting in the state's April 7 presidential primary as the coronavirus was spreading across the state. The lawsuit was consolidated with two other lawsuits seeking to make absentee voting easier in light of the COVID-19 pandemic.
The U.S. Supreme Court ultimately rejected the Democrats' arguments a day before that election, but the lawsuits are still pending.
DNC attorney John Devaney told U.S. District Judge William Conley during a status conference that Democrats aren't seeking to make changes for the Aug. 11 primary and are instead prioritizing Nov. 3. He asked Conley to build in time for the appeals process to play out once he issues a ruling.
Conley ordered all briefs to be filed before the end of July and set a hearing for Aug. 5 and 6.
The lawsuits seek to erase requirements that voters supply proof of residency and a photo ID with registrations and absentee ballot applications submitted electronically and by mail; extend registration deadlines to the Friday before the election; extend the deadline for clerks to receive absentee ballots from 8 p.m. on election night to within 10 days of the election; and suspend the requirement that absentee ballots include a witness signature.
Republicans oppose the changes, saying voting by mail is ripe for fraud.
The League of Women Voters, a plaintiff in one of the lawsuits, amended its filings Monday to demand that voters who don't receive their absentee ballots in time to mail them back be allowed to download ballots and mail them.
The Associated Press contributed to this report.
Concerned about COVID-19?
Sign up now to get the most recent coronavirus headlines and other important local and national news sent to your email inbox daily.