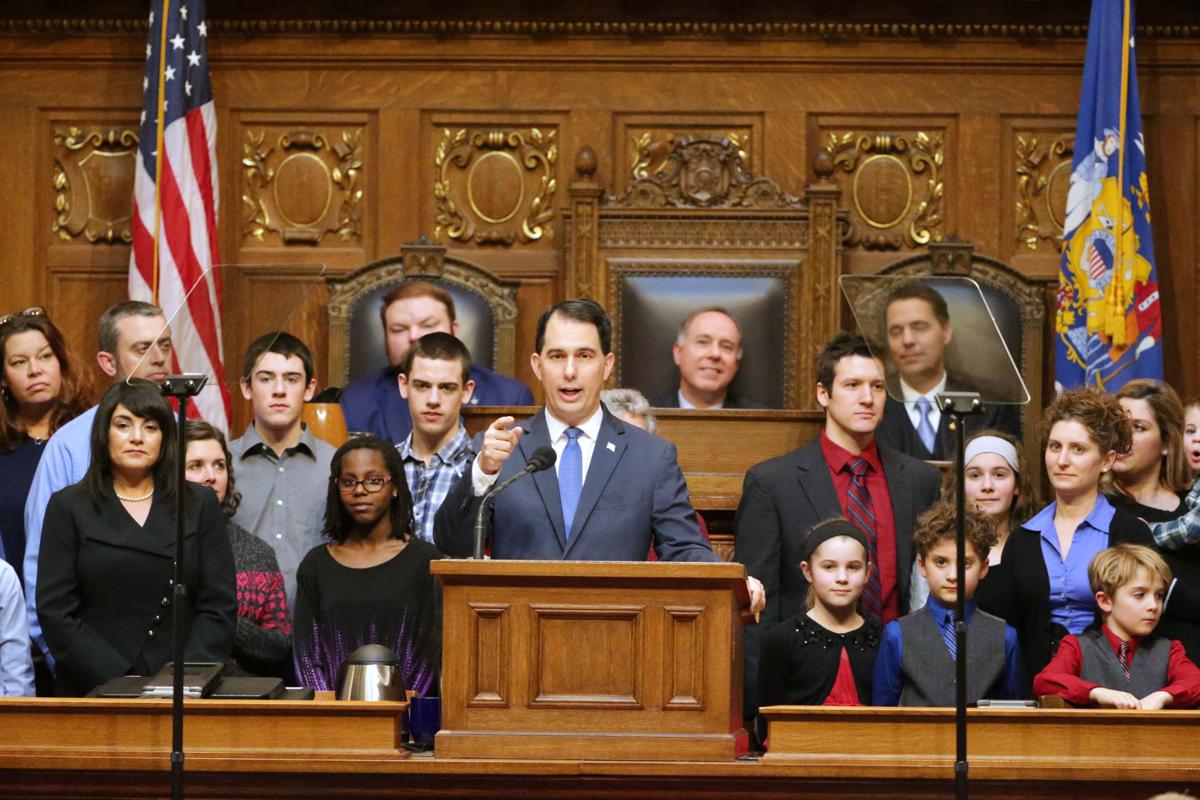 Gov. Scott Walker's plan to give parents $100 per child in the months leading up to the fall election is raising questions from critics — including some conservatives.
Walker says the $122 million tax credit for children under 18 will help struggling families with school supplies, and some legislative Republicans have voiced support. But Democrats say it's an election-year gimmick and even at least one prominent conservative agreed, calling the tax credit "redistributionist and wrong."
"I love Scott Walker & the reforms he and the WI conservatives have done, but this idea to give a quicky $100 per child tax credit to parents before the election reeks of the type of vote buying & game playing we've ripped on dems for doing for 30 years," WISN 1130 AM radio host Jay Weber tweeted Thursday morning.
Tax experts also questioned the underlying public policy behind the move.
Republican Senate Majority Leader Scott Fitzgerald, R-Juneau, who on Wednesday called the child tax credit a "good idea" that "makes sense," told The Associated Press on Thursday it will take some time to see if senators want to pass it and that the idea will need to "sit in the sun for a couple of days and we'll see what it does for the momentum of it."
Mike Mikalsen, an aide to Sen. Steve Nass, R-Whitewater, tweeted Thursday that the main message he's heard from Republicans is support for a tax cut, but many questions linger about the method Walker has proposed.
Walker spokeswoman Amy Hasenberg said returning surplus revenue to taxpayers is a "conservative idea."
"It's not the government's money," Hasenberg said. "It's the hardworking taxpayers' money."
A Department of Revenue memo on the proposal makes clear Walker wants the Legislature to pass the tax credit quickly. If the Legislature adopts the proposal, parents would receive notification by mail sometime in the spring that they can claim the tax credit by visiting DOR's website.
The site would be available starting May 15 and claims would have to be filled out by June 30, the end of the current fiscal year. Tax rebate checks or direct deposits would be sent out no later than Sept. 1 — in time for the school year and the heart of campaign season.
The department's one-time overhead costs would be nearly $1 million on top of the $122 million in state tax revenue each year, the memo states.
The tax credit would be available to parents of dependent children who are younger than 18 as of Dec. 31, 2017, according to the DOR memo.
In future years, the credit could be claimed as part of the normal tax filing process. That option wasn't available this year because tax filing forms have already been printed and distributed, the state memo said.
The refundable credit could be claimed by those with no tax liability, so even low-income families would receive a benefit. But adults with no children or grown children would not be eligible to receive a credit.
Playing favorites?
Dale Knapp, research director for the Wisconsin Policy Forum, said the tax credit would amount to a tax policy carve-out for a select group.
"What you typically don't want to do is play favorites with one group or the other," Knapp said.
Knapp also noted it would draw down an already small state budget cushion compared with other states. Wisconsin is projected to end the current biennium with a $385 million surplus. The tax credit would deliver rebates to some 671,000 households at a cost of $122 million a year.
"Our ending balances, our cushion, are up some, but they're really still nowhere near where most public policy budget analysts would recommend," Knapp said. "There's room to get better in terms of that cushion because the one thing we do know is there is a recession coming. We don't know when but we do know it's coming at some point."
Morgan Scarboro, policy analyst for the conservative Washington-based Tax Foundation, said families would appreciate the extra money, but it won't help Wisconsin improve its business climate. She noted her organization ranks Wisconsin's tax system as 38th most competitive for businesses in the nation based on income, corporate and property taxes.
"This might help families, but it's not what we think of as reform," Scarboro said. "It's not going to generate investment in the state."
Republican legislators are working through a process to overhaul the state's tax code. Rep. John Macco, R-De Pere, who is leading the effort, declined to comment on Walker's proposal, but said it wouldn't necessarily conflict with the plan he hopes to deliver in time for the 2019-21 budget.
The recent federal tax bill increased the partially refundable federal child tax credit from $1,000 per child to $2,000 per child. Unlike Walker's proposal, which has no income limit on eligibility, the federal credit phases out completely for single parents who make more than $115,000 and couples who make more than $150,000. Those thresholds increase to $200,000 and $400,000, respectively, under the new tax law.
Income limit in other states
Of the five states that offer a child tax credit, only two make it refundable and all have an income-based phase out, according to Tax Credits for Workers and their Families, an advocacy group based in Maryland.
"There should be income requirements and it shouldn't be going to families that make $1 million and have five children," said the group's director, Lauren Pescatore. "It is by nature a proposal designed to benefit low- to moderate-income families."
Jon Peacock, research director for liberal-leaning Kids Forward, said his group hasn't advocated for a child tax credit at the state level because there are usually better ways to deliver the money to those in need, such as the earned income tax credit, which can be claimed only by those who work.
Walker's proposal comes at the same time he is calling for work requirements and drug-testing for those receiving public benefits such as food stamps, yet there is no such requirements for those who would receive the child tax credit.
"It's a bit of a surprise in light of the governor's other pronouncements," Peacock said. "We're pleasantly surprised that he's targeting a tax credit in this way. But we think there are other ways you could get more bang for the buck."
Editor's note: This story has been updated to include information on the federal child tax credit income thresholds under the new tax law.