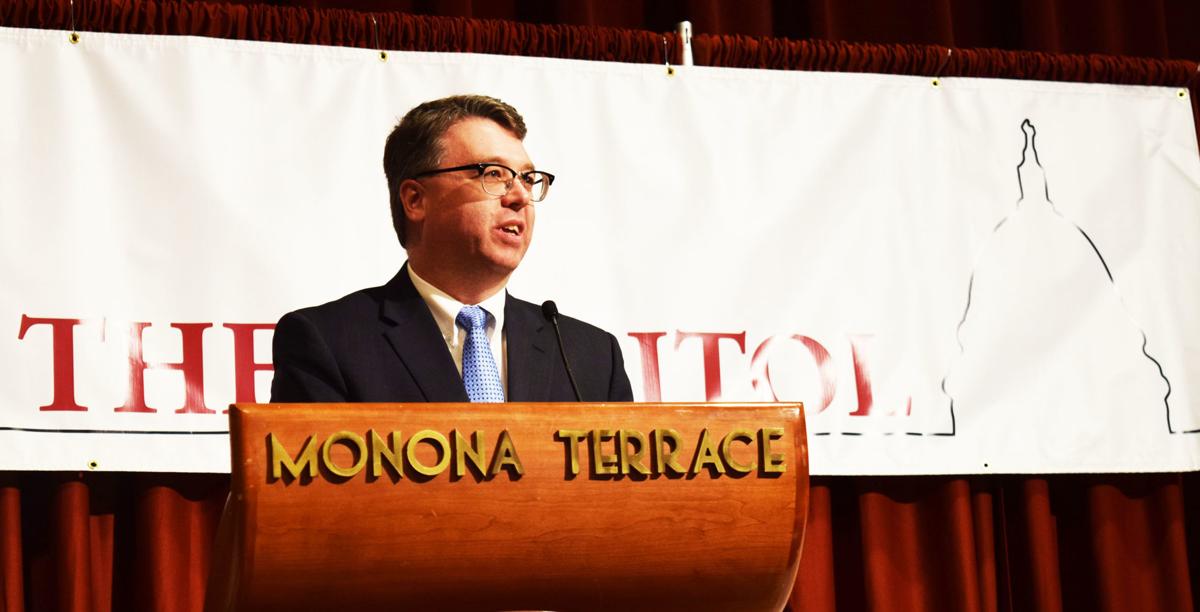 More than six months after Democratic Gov. Tony Evers was inaugurated, none of his cabinet secretaries has been confirmed by the Republican-controlled state Senate despite warm reviews in several cases from Republicans.
Until they get the green light, members of Evers' cabinet could be removed at the whim of GOP leadership. That leaves a cloud of uncertainty hovering over a swath of the governor's cabinet, from the heads of the departments of administration and revenue to the leader of the state's agriculture and trade agency.
"I'm sure it's on the back of their mind that they could be tossed out just by one vote," said Sen. Janis Ringhand, D-Evansville.
Removal from their posts is unlikely, yet the Senate's failure to confirm the governor's cabinet places instability over state government. It may also lead some cabinet secretaries to think twice whether to provoke Senate leadership for political gain.
On Wednesday, Senate Majority Leader Scott Fitzgerald, R-Juneau, tore into Brad Pfaff, secretary of the Department of Agriculture, Trade and Consumer Protection, after he criticized the Legislature's budget committee for failing to release funding for a farmer mental health program.
Political observers say heated rhetoric such as the kind put forth by the still unconfirmed Pfaff could be politically dangerous.
"He's saying some fairly hot things opposing the very body that's going to potentially confirm him," said Bill McCoshen, a GOP strategist and cabinet secretary under former Gov. Tommy Thompson. "That's a risk for him."
In Wisconsin, state law dictates cabinet secretaries are appointed by the governor "with the advice and consent of the Senate."
State law doesn't define when such a vote must occur, meaning the chamber can vote at any time to approve or turn down any secretary or other member that requires Senate approval, even if it's years after a secretary or appointee assumes the post.
Theoretically, a cabinet secretary could serve all four years of a governor's term without receiving Senate approval.
A Fitzgerald spokesman said Evers' cabinet secretaries will be up for consideration this fall. An Evers spokeswoman did not respond to a request for comment.
In January 2018, the state Senate exercised its power to remove agency heads. Republicans in the chamber voted to oust Elections Commission administrator Mike Haas and Ethics Commission administrator Brian Bell citing "no confidence" in the two leaders.
Haas had assumed his post in May 2016 and Bell in July of that year. Their ouster stemmed from GOP outcry over alleged "partisan influence" remaining in the two agencies after the former Government Accountability Board, which had been investigating Republican Gov. Scott Walker and Republican lawmakers, dissolved.
Confirmation of Evers' secretaries was never guaranteed, and Fitzgerald has even openly threatened to hold up confirmation over political disagreements with Evers.
Earlier this year Fitzgerald told reporters "there's some truth" to Democratic Senate Minority Leader Jennifer Shilling's accusation he was purposely delaying Senate confirmation as retribution for lawsuits against Republicans brought by liberal groups.
Still, Republicans have so far failed to vote down cabinet appointees who have faced real questions over their fit for the role. The Wisconsin State Journal reported in March that Dawn Crim, Evers' pick to lead the Department of Safety and Professional Services, was charged in 2005 with felony child abuse for jabbing her 5-year-old son's hand with a pen. The case ended with a deferred prosecution.
Evers' choice to lead the transportation department, Craig Thompson, has also received pushback from Republicans for his role as a lobbyist, but he has not yet been voted down. McCoshen said Thompson may have the most difficulty getting the nod from the Senate. Revenue Secretary Peter Barca and Department of Administration head Joel Brennan may have the easiest time, he said. Barca earlier this year was endorsed by Assembly Speaker Robin Vos, R-Rochester, who called him a "reasonable Democrat."
Ringhand figures the harsh rhetoric directed toward a select few of Evers' secretaries is simply political posturing. She said Democrats have not pushed for confirmation votes for fear of the secretaries being rejected.
Political grandstanding around cabinet secretaries is nothing new, especially during eras when the state Senate and governor's office are controlled by opposing parties.
The last time that happened during the gubernatorial confirmation process was in 2003, when Democratic Gov. Jim Doyle battled a Republican-controlled Senate. That year, the Senate — more than 10 months after Doyle's inauguration — sent the confirmation of Administration Secretary Marc Marotta back to committee after Doyle angered Republicans by pushing them to skip vacation and work on a regulatory reform bill.
He was later confirmed in January 2004.
In June 2003, about five months after Doyle took office, the Senate confirmed a handful of key leaders, including the secretaries of revenue, commerce, corrections and transportation, among others.
By March 2004, only one secretary was left unconfirmed as the Senate adjourned for the session.
The drawn-out confirmation process under split government contrasted starkly with the process that took place under the Republican trifecta when Walker took office in 2011.
Most of Walker's top leadership was confirmed within a few months of him taking office.
[Editor's note: This story has been corrected to note that the process for confirming cabinet secretaries is outlined in state law, not the state constitution.]