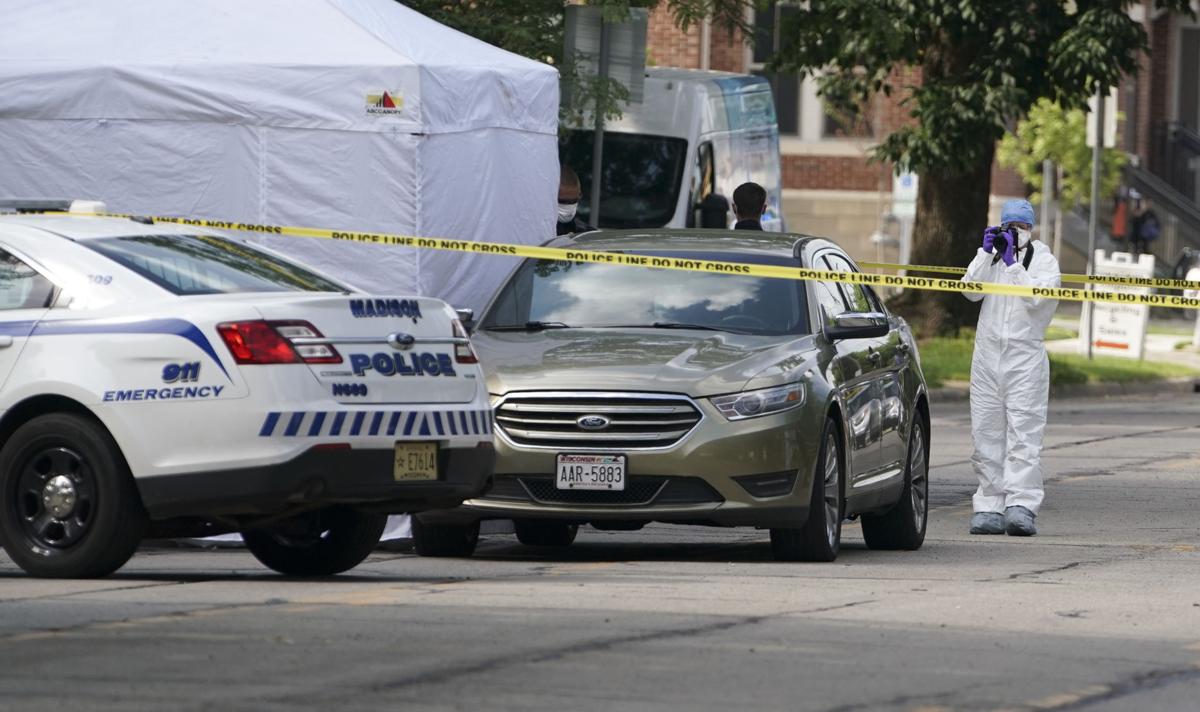 The numbers are alarming and the answers hard to find as local law enforcement officials and others face a summertime surge of gun violence in the city of Madison.
Since June 30, the city has seen two fatal shootings, at least 18 incidents of shots fired, nine residences and nine vehicles struck by gunfire, and about 160 shell casings recovered, police said. That doesn't include incidents in neighboring communities.
Madison police and community activists are struggling to contain the "unprecedented" level of gun violence in recent weeks at a time when attention and resources are focused on the COVID-19 pandemic and resulting economic downturn, along with ongoing protests for social justice and racial equity.
No one is sure what sparked the uptick in gun violence, but city officials and activists suspect it's a combination of hot weather and people living with chronic poverty, stress and trauma now compounded by a pandemic that has increased job loss, financial insecurity, frustration and despair.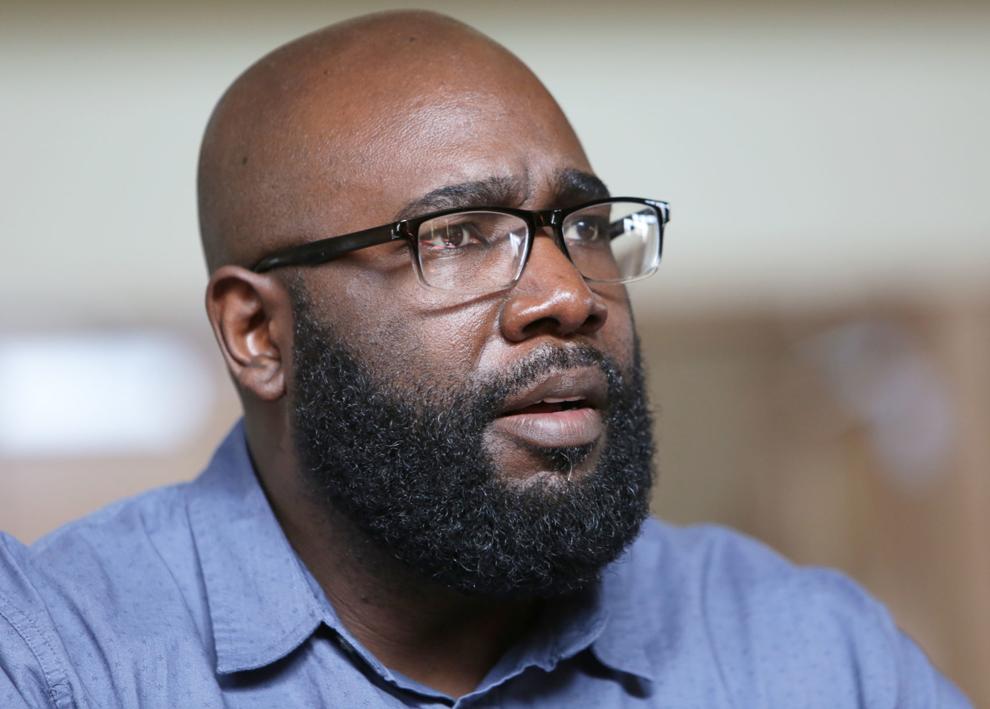 "It's happening spontaneously," said Anthony Cooper, executive director of the Focused Interruption Coalition (FIC), a community-based organization that responds to gun violence incidents and uses peer support to prevent further conflict and retaliation. "There are a lot of people who are hurting. People are carrying weapons now for their own protection or how they're looking at life now."
Interim Police Chief Vic Wahl said, "I don't think anybody has a definitive answer or we'd be closer to solving these things. Nationally, a lot of cities are seeing significant spikes in gun violence. We are not alone in this."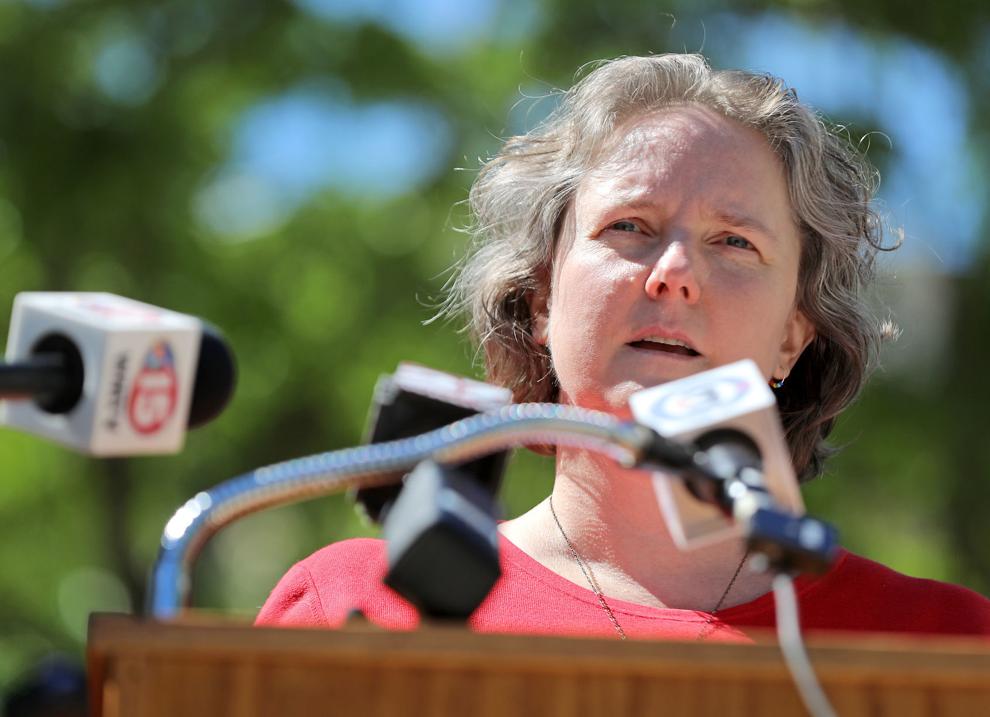 In some respects, Madison is less equipped to respond because it cut funds for FIC in the 2020 budget and a public health approach to violence that took shape after spikes in 2016 and 2017 has stalled amid the coronavirus pandemic.
"I am deeply concerned about the recent violence," Mayor Satya Rhodes-Conway said. "We have to invest in our community and reduce the stressors that can lead people to violence."
Struck by gunfire
Some incidents involved people in moving vehicles shooting at each other on streets. A majority of residences struck by gunfire were occupied — by both adults and children — at the time of the shootings. Evidence indicates both handguns and rifles were used, Wahl said.
The police have responded to 99 shots fired incidents — including a record 29 in June — and recovered 267 casings in the first six months of the year, with incidents continuing in July. For perspective, police responded to 144 shots fired incidents, and recovered 473 shell casings in all of 2019, Wahl said. There have been six homicides so far this year, compared with four in all of 2019.
The incidents do not appear to be direct conflict between cliques or gangs, but rather disputes among individuals who might be tied to cliques or gangs, Wahl and community activists said.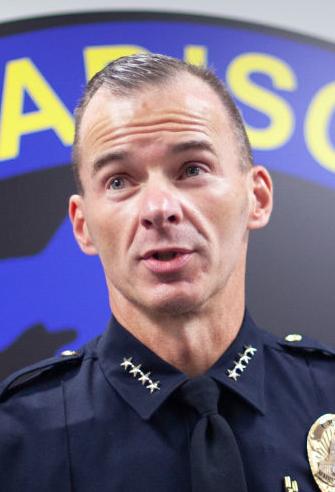 "We don't have a lot of pure gang shootings," Wahl said. "Typically, there's some other underlying motivation. Drugs, money, relationships. But people may belong to different cliques or gangs."
Rhodes-Conway said a small number of individuals can be responsible for a lot of gun violence. "The majority of incidents in Madison are targeted, come in clusters and involve very few people," she said.
Michael Johnson, executive director of the Boys & Girls Club of Dane County, who has long been engaged in trying to address gun violence in the community, said it's a combination of factors.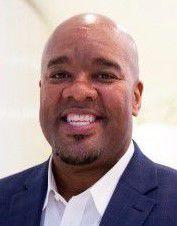 "Like most urban communities, it's getting warm outside and most people have been isolated for weeks," he said.
"In Madison, there are neighborhood cliques, individuals who are underemployed or unemployed who are dealing with life challenges like trauma, a lack of education, poverty and a lack of direction. In some of these cases, conflict within individuals are causing an uptick in violence and there seems to be a lack of deescalation skills among those involved and embedded in our community."
FIC, which responds 24-7 when someone is hit by gunfire, usually at the hospital, sees those issues playing out.
"You have folks who are living in cars, who are homeless with babies," Cooper said. "There's a lot of things that have happened to folks. If you have a person who's struggling, can't find a job, can't pay rent, what do you think is going to happen?"
The desperation can lead to robberies, theft, drug dealing, prostitution, desperation and acting out, he said. "This (expletive) is hard. This (expletive) is real," he said.
"The struggles people are going through are tough. Sometimes these things seem small. Now they're a lot bigger. When it comes out, it comes out in rage. People are hurting. People are trying to figure it out. There's a reality to all of that. We have to do something as a community."
Wahl said he's disappointed by a lack of urgency. "People are losing lives to gun violence," he said. "There is no recognition. No outcry."
New approaches
In the spring of 2016, after three gang-related and retaliatory gunshot homicides with African American shooters and victims, organizers of the group that would become FIC and City Council members offered an ambitious 15-point plan with a top priority of peer support for teens and young adults at risk of committing violence, victims and families, and those re-entering the community from incarceration.
In the fall of 2016, former Mayor Paul Soglin proposed and the council approved $400,000 for peer support.
In 2017, as incidents rose, the city awarded two $200,000 contracts. One went to the Nehemiah Center for Urban Leadership Development and its subcontractor, FIC, for crisis-focused peer support with 24-hour emergency response and services to those who have experienced or been involved in acts of violence. The other went to Madison-area Urban Ministry, now called JustDane, to provide peer support to those returning to the community from jail or prison.
Each organization got $200,000 in 2018. Soglin tried to boost peer support funding to $700,000 for 2019, but the council trimmed that back, raising FIC's funding to $409,500 and keeping MUM's support at $200,000 that year.
Rhodes-Conway's first proposed budget reduced FIC's funding, providing FIC and MUM $200,000 apiece for 2020, the same as in 2018, but the council added back $25,000 for FIC.
But the effort has stalled amid the pandemic.
"For many months now, a majority of the agency — including our violence prevention coordinator and data analyst since February — have have been focused on COVID full time," Rhodes-Conway said.
It's unclear when those positions will be revived, Public Health spokesperson Sarah Mattes said.
Seeking solutions
Gun violence is the "top priority" for the Police Department's Violent Crime Unit (VCU) with multiple detectives assigned to a growing number of cases, police spokesman Joel DeSpain said.
The VCU is also working with the department's Gang Unit, Criminal Intelligence Section, district Community Police Teams and neighborhood resource officers, and the Dane County Narcotics Task Force, and sharing information with partner law enforcement agencies including names, photos or surveillance images, vehicles and addresses to which they may be connected, he said.
But continuing protests are straining police resources and complicating cooperation with victims and witnesses, Wahl said. "People refuse to talk but that's not always the case," he said. "There are plenty of cases where victims are cooperating and want to talk."
The protests haven't affected commitment to duty, Wahl said, noting that arrests were made in both homicides within 48 hours.
The community must refocus on root causes, many said.
"The City Council unanimously voted to support the 15-point plan years ago but failed to fully fund it," Johnson said. "I believe if fully funded, some of the issues we see would be minimized."
The city is seeking to link families facing eviction with housing supports; create work and leadership programming for young people; support Black enterprises and small businesses; analyze models of crisis intervention that don't involve police; and connect with City Council members and the county on models to better support mental health needs, Rhodes-Conway said.
"We are hoping to pivot many of the budget discussions into deeper community investment, but the city also faces a financial crisis and will not be able to solve every problem," she said.
Police protests: How Madison responded to the police killing of George Floyd
Protests erupted across the country, including Wisconsin, to condemn the police-related death of a Minneapolis man, George Floyd, on May 25. Here's a collection of photos looking at how the protests in Madison have unfolded since then.
Police protests: How Madison answered the police killing of George Floyd, in photos
Protester confronts officer, May 30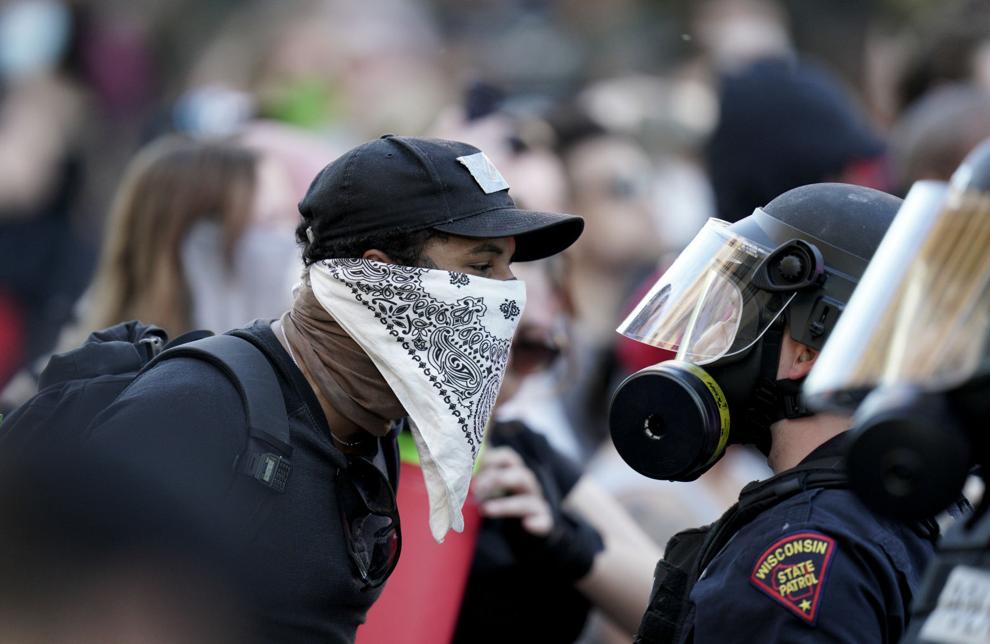 Madison protest turns destructive, May 30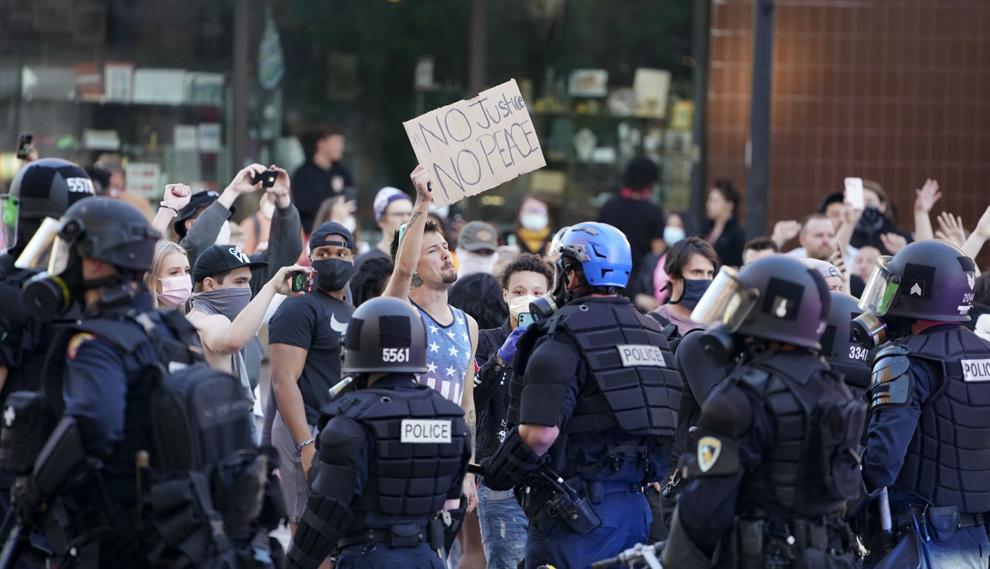 Police spray protesters, May 30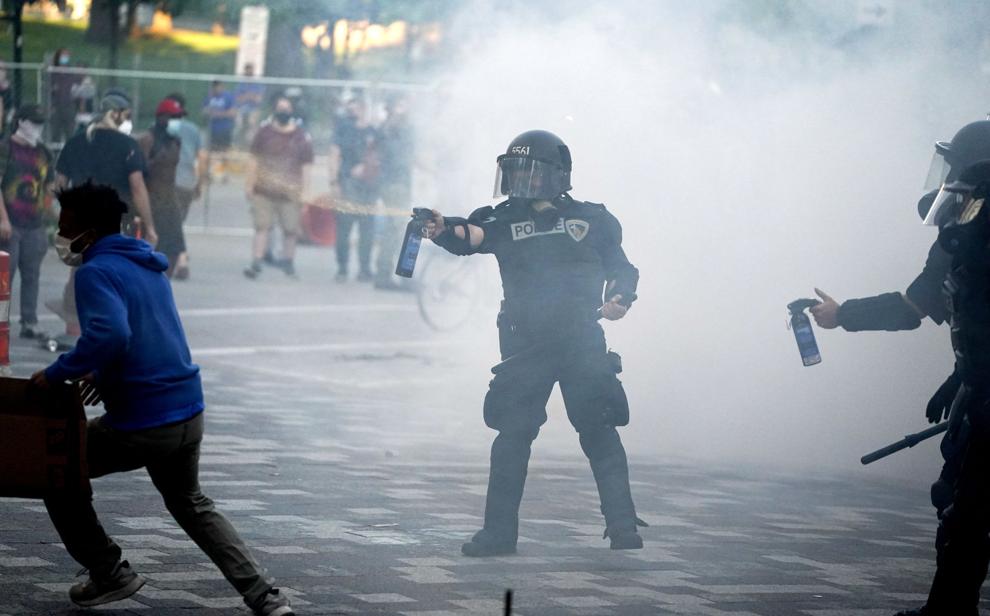 Effects of tear gas, May 30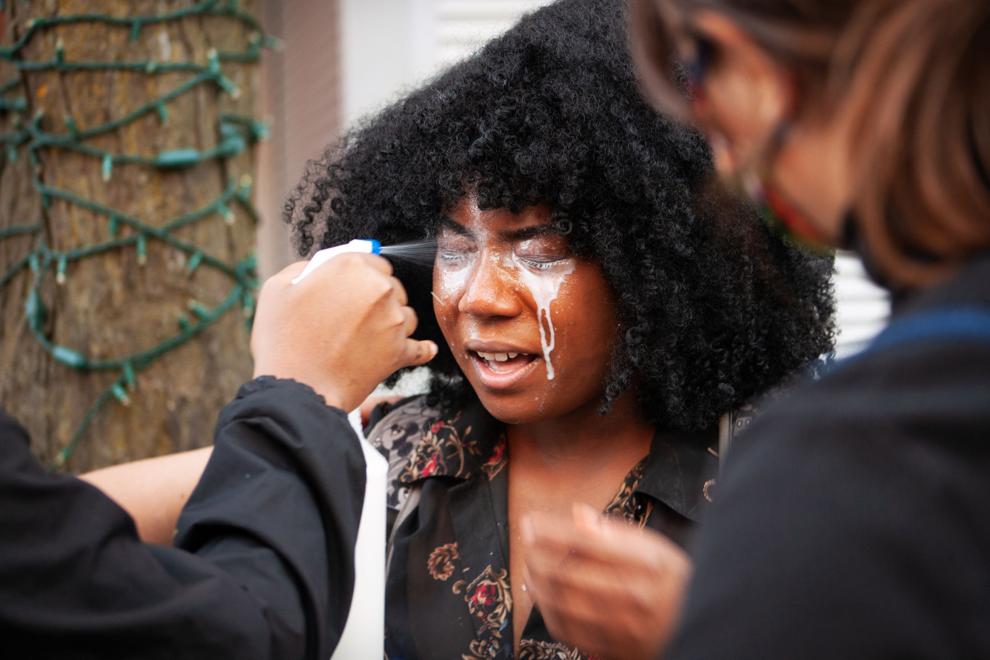 Medical station, May 30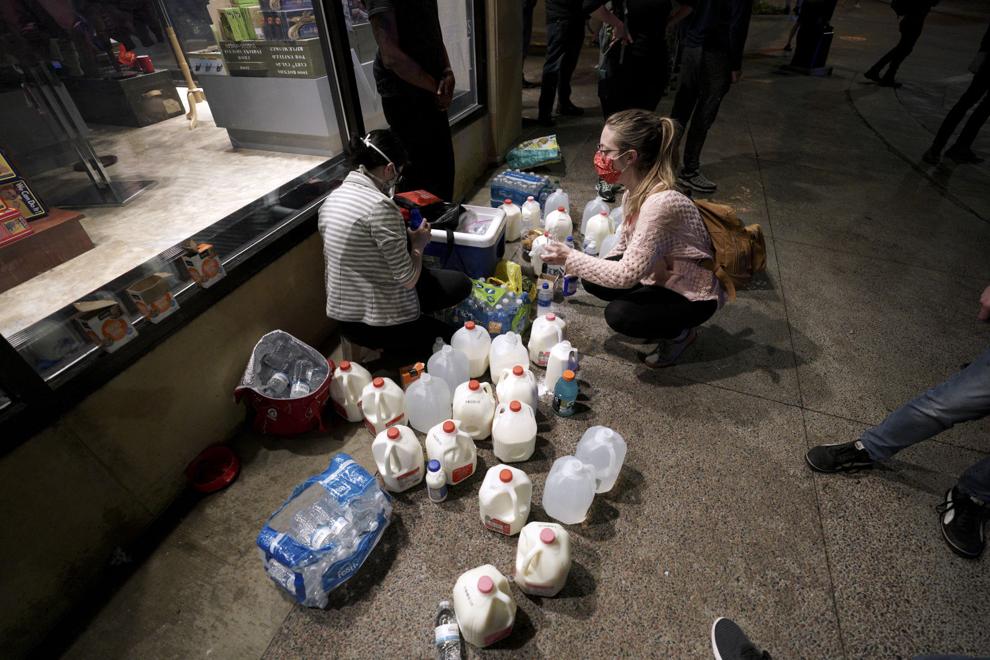 Standoff with police, May 30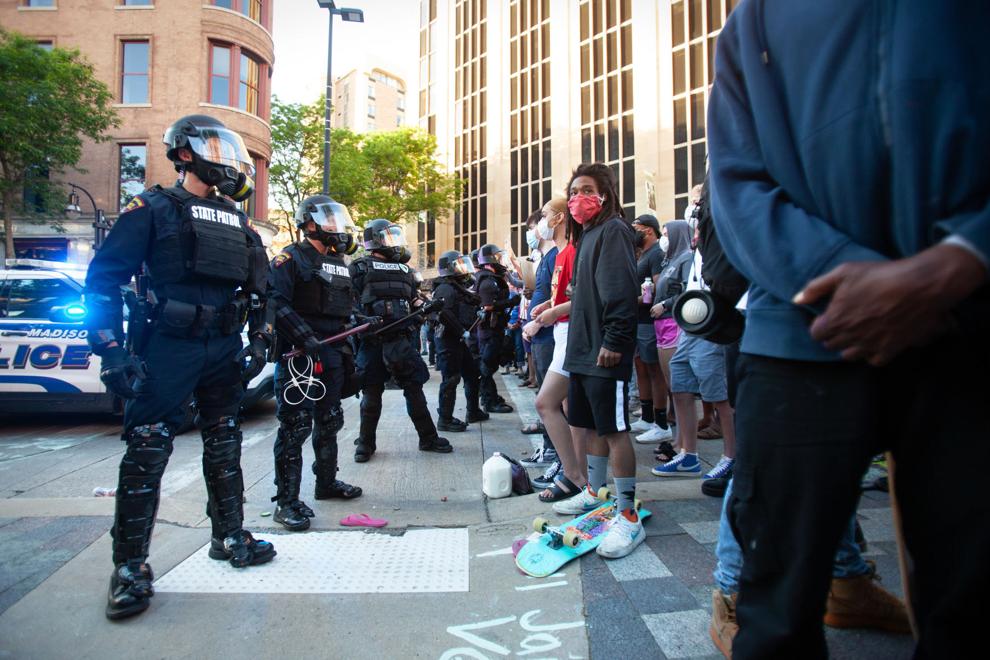 Protesters meet police, May 30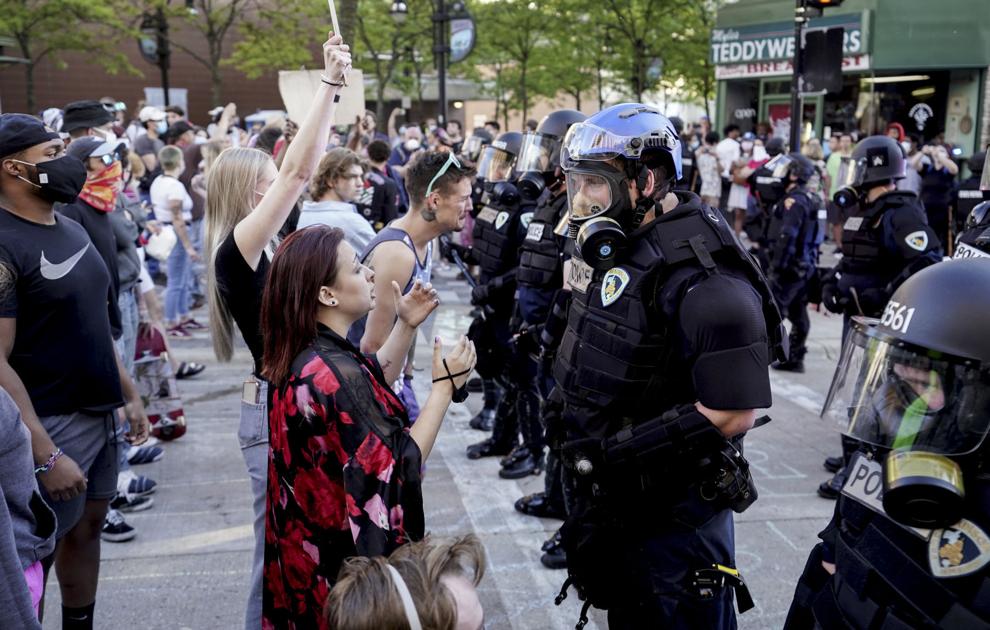 Madison protest turns destructive, May 30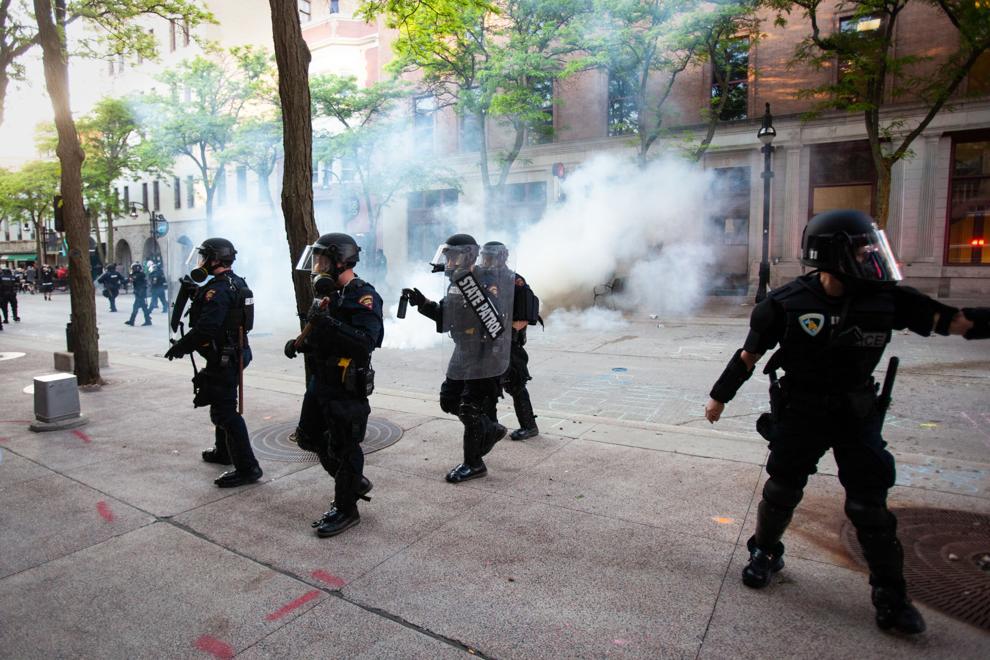 Mayor condemns violence, May 30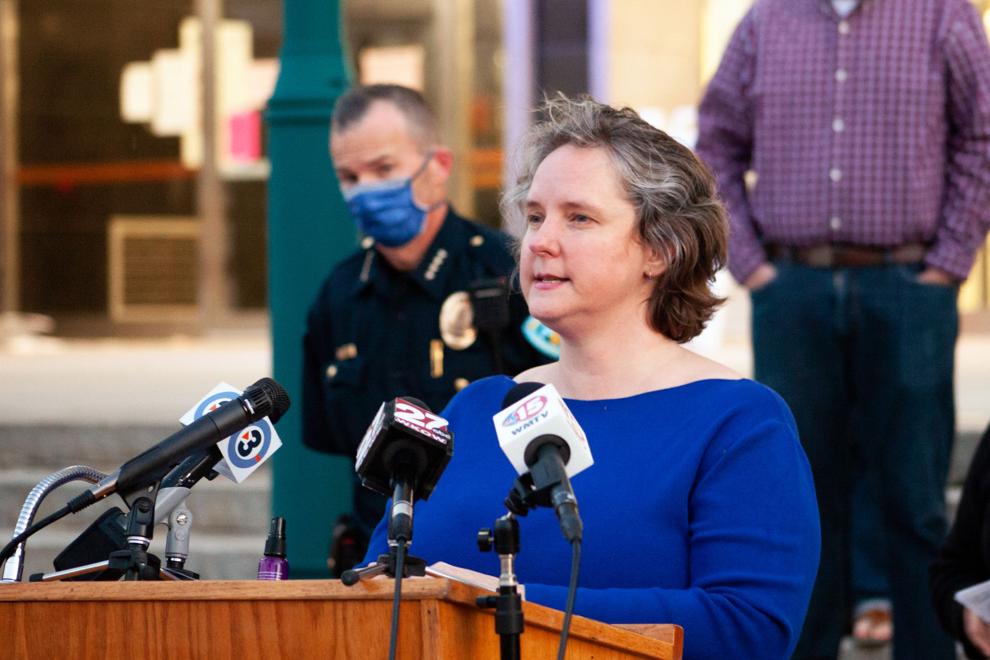 Protests May 30, 2020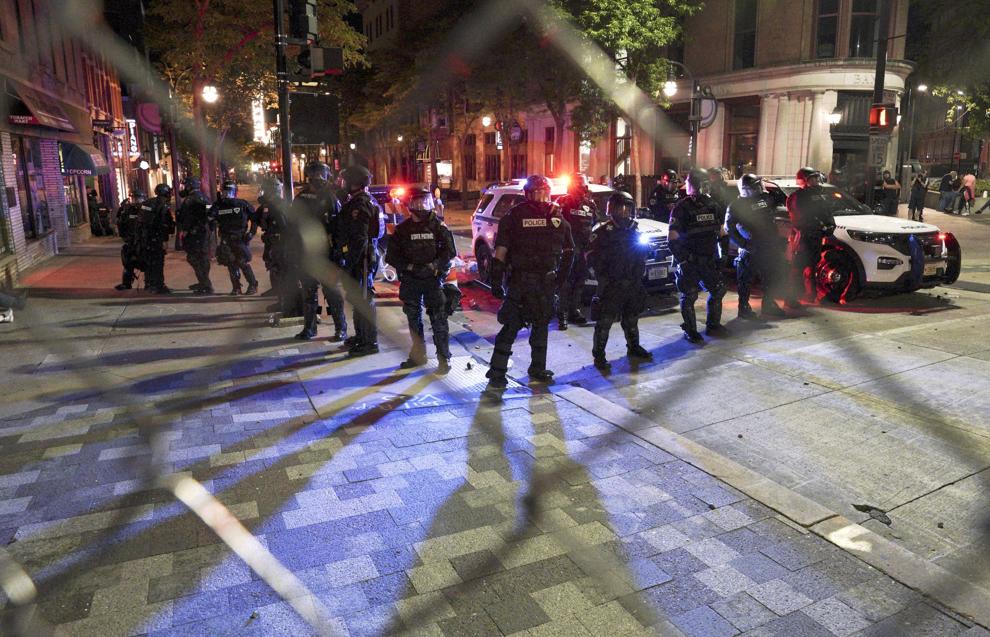 State Street press conference, May 31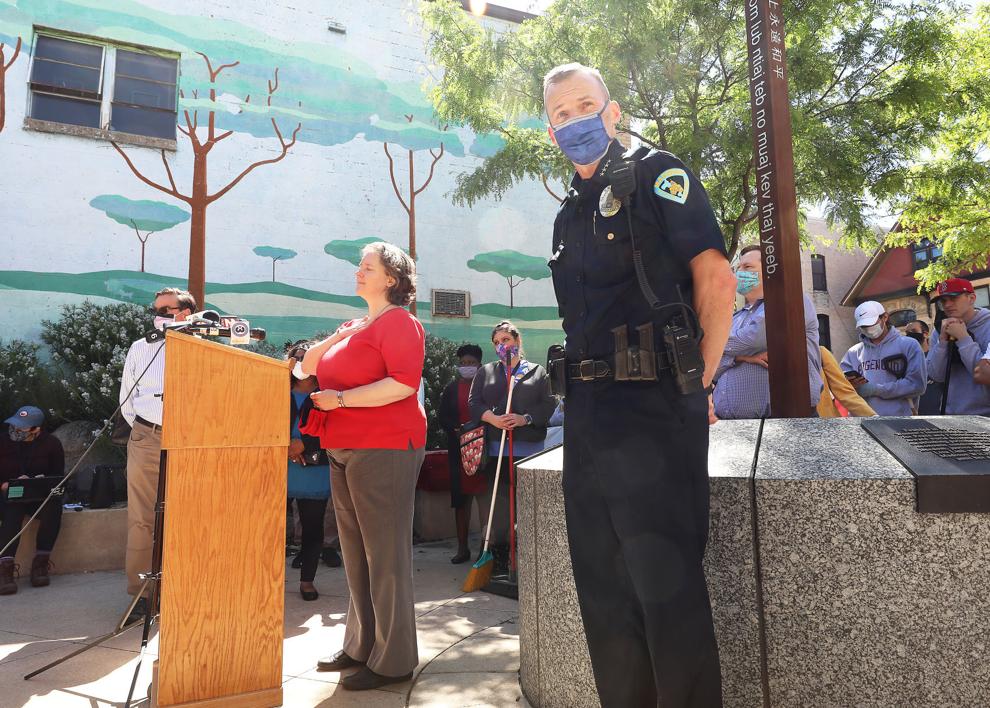 Protests against police, May 31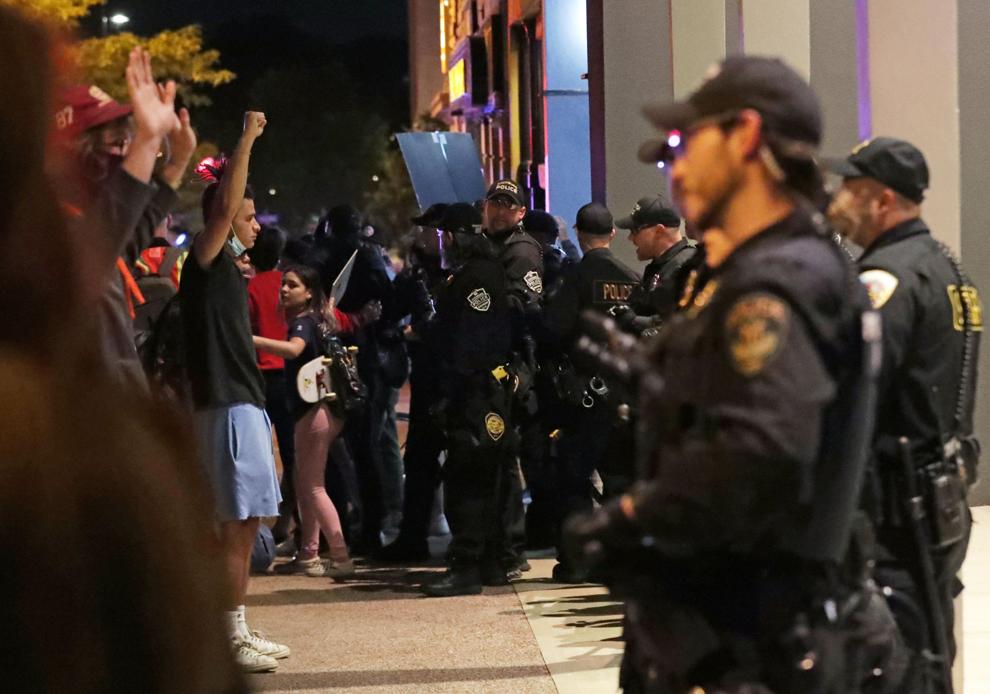 Second night of protests in Madison, May 31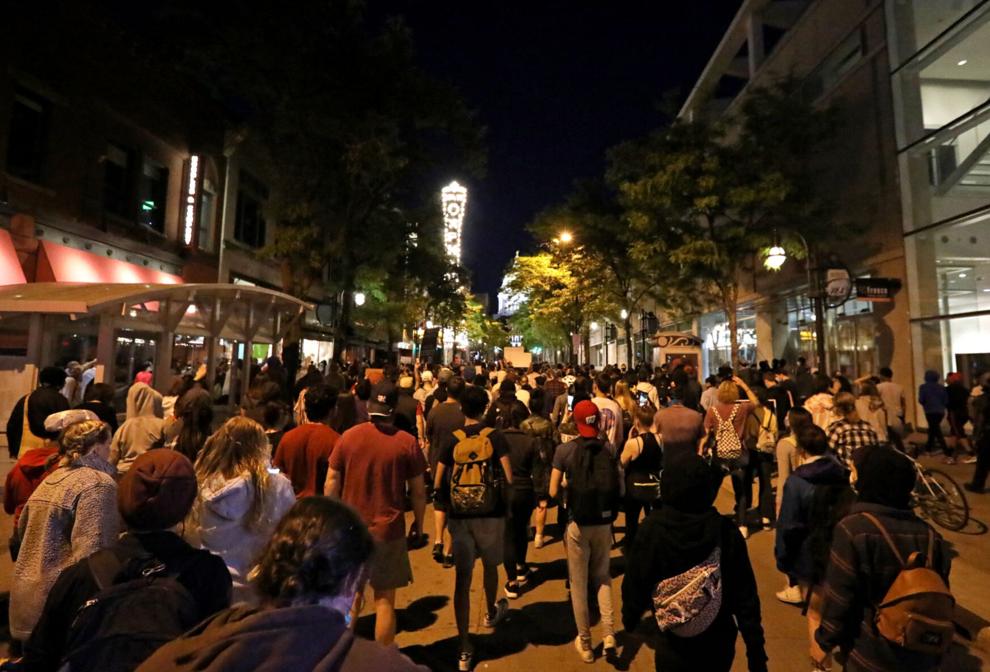 Cleanup after damage Downtown June 1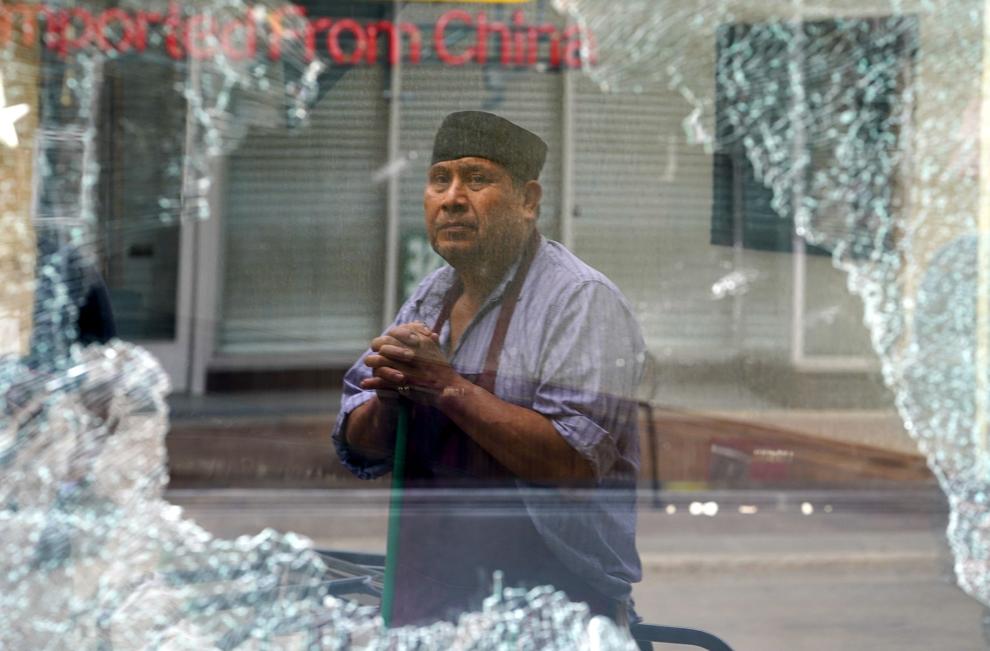 Cleanup after latest damage Downtown, June 1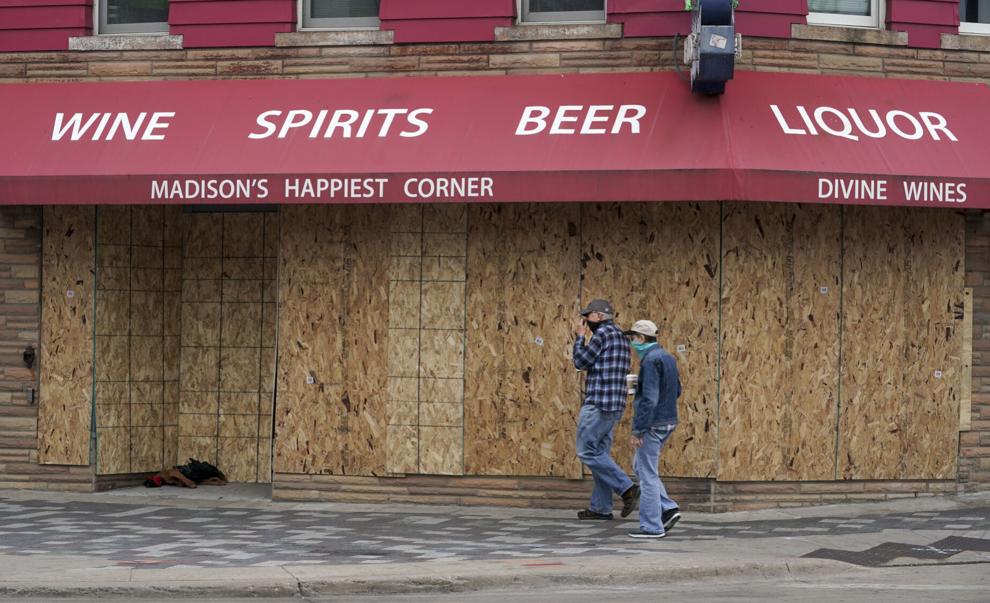 Disrupting traffic, June 1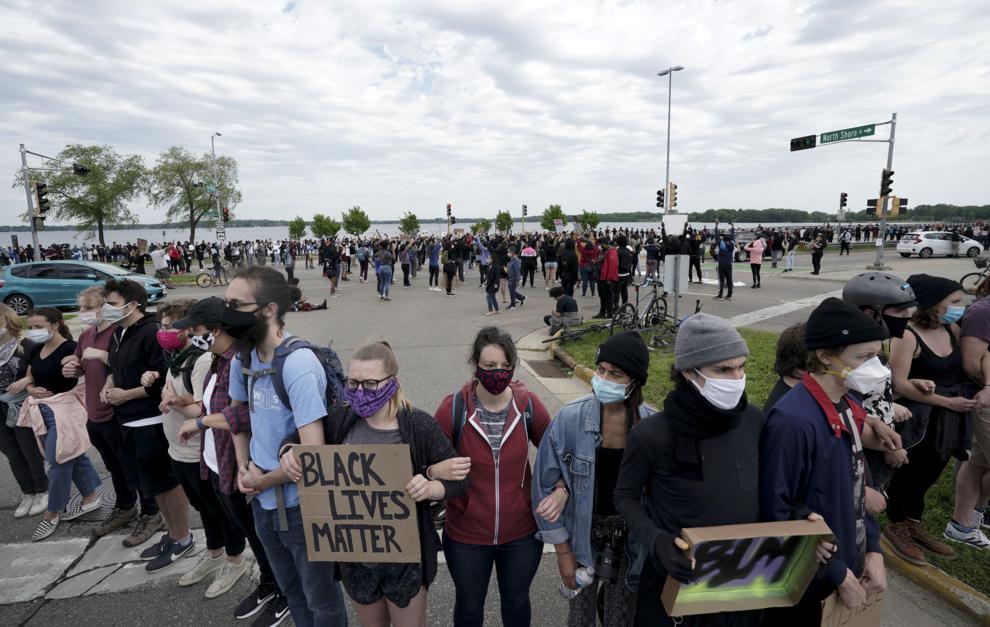 John Nolen Drive shut down, June 1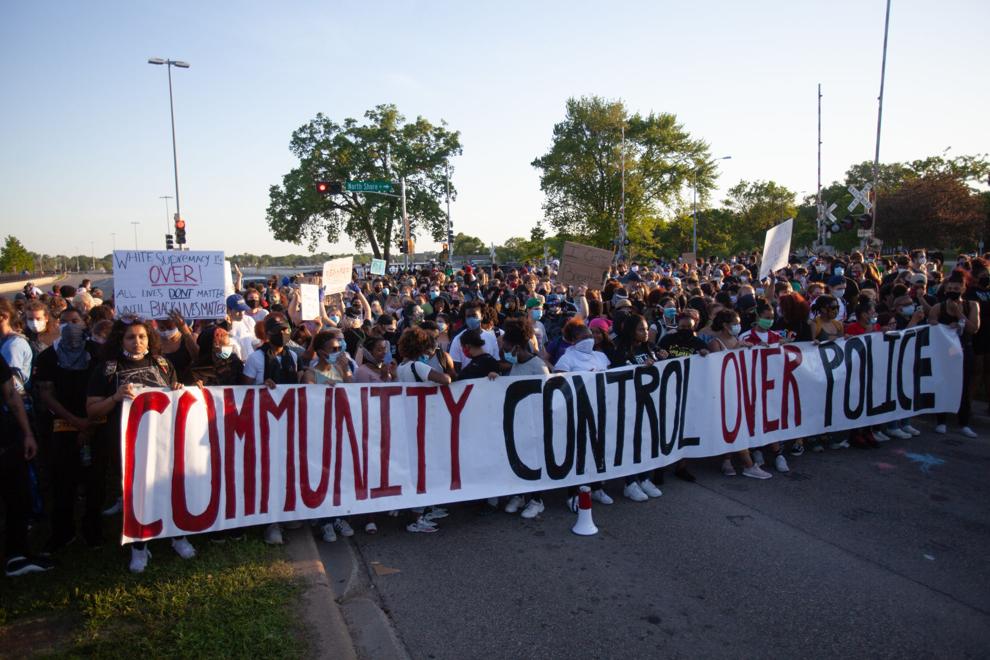 John Nolen Drive shut down, June 1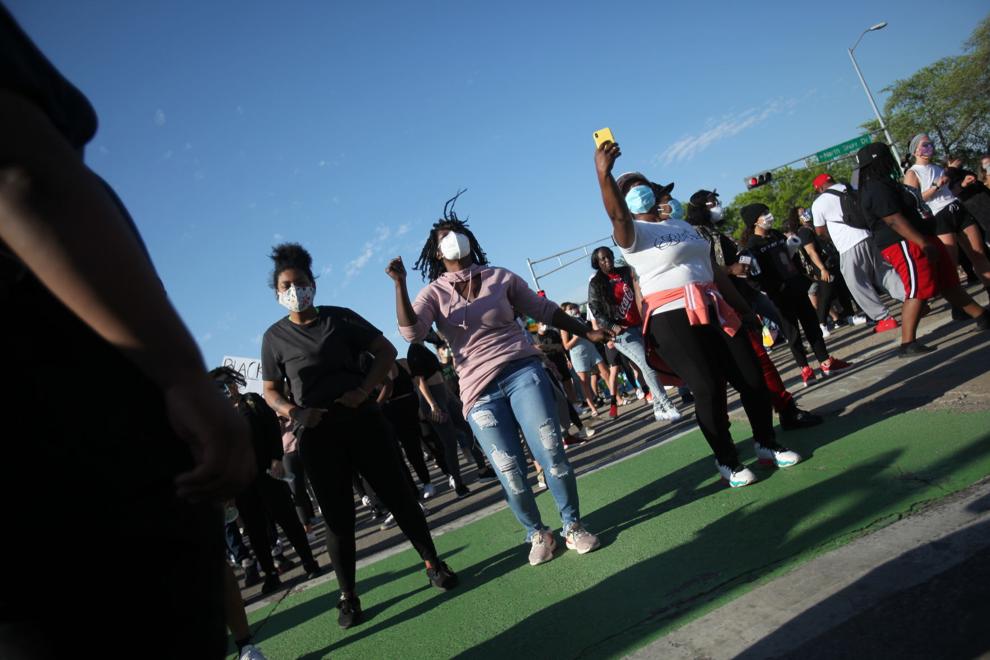 Outside police building, June 1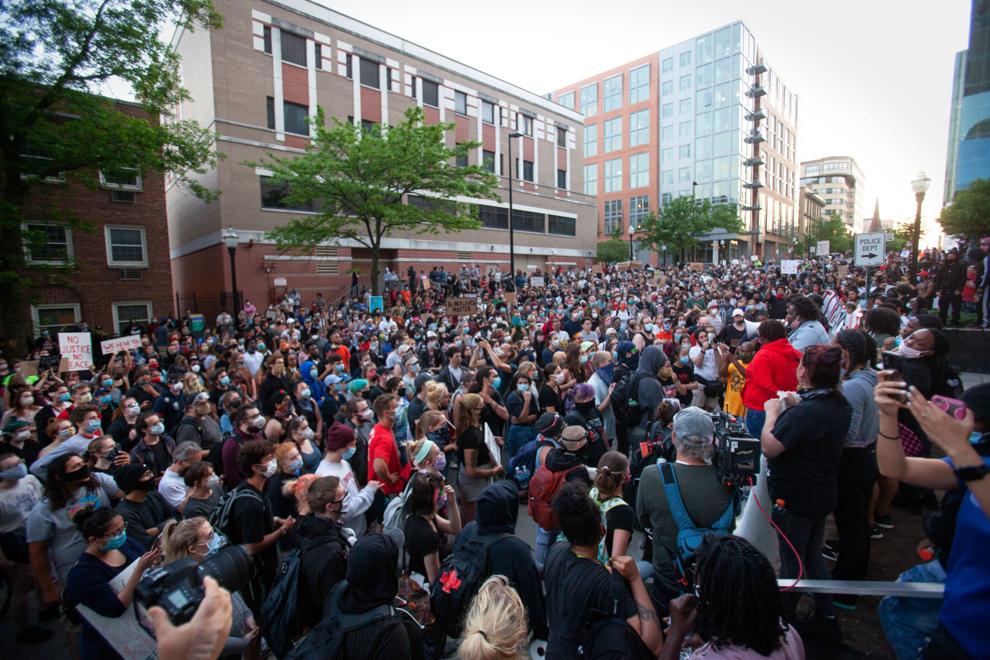 Agitators spark violence, June 2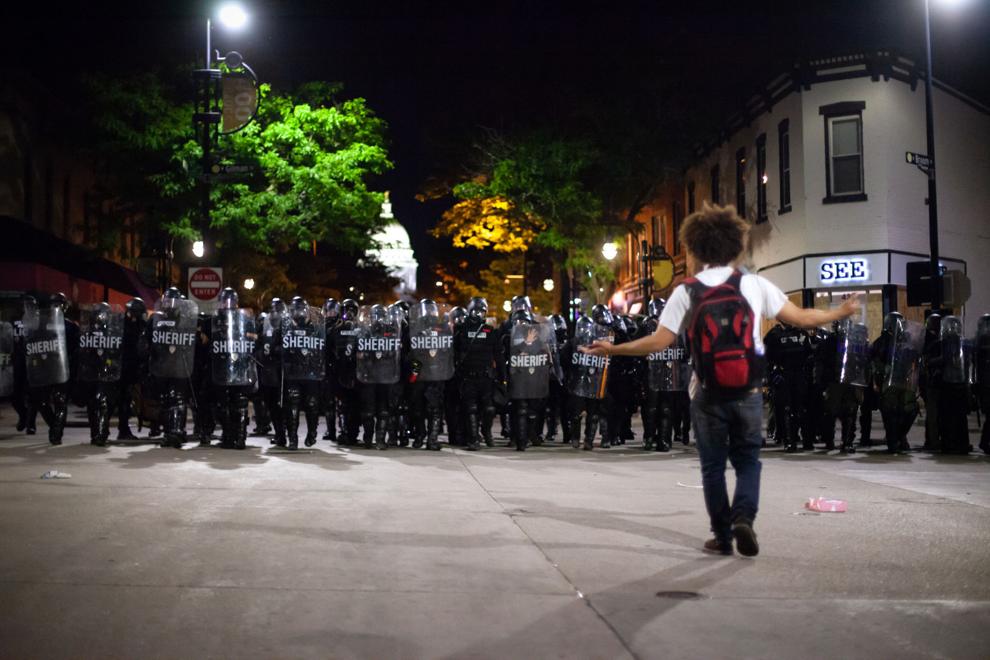 Agitators spark violence, June 2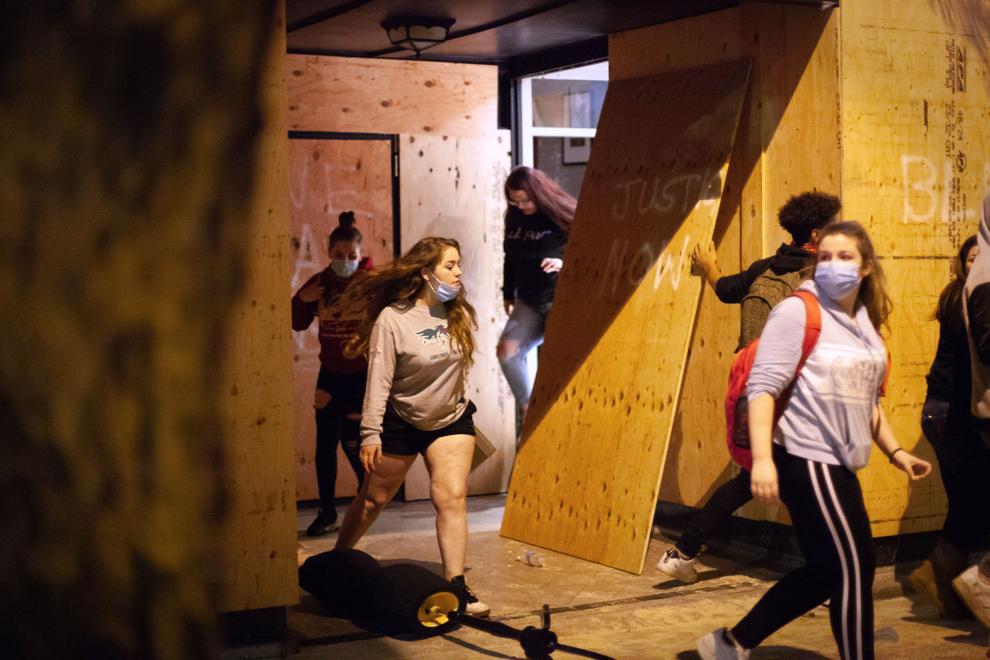 Businesses boarded up, June 2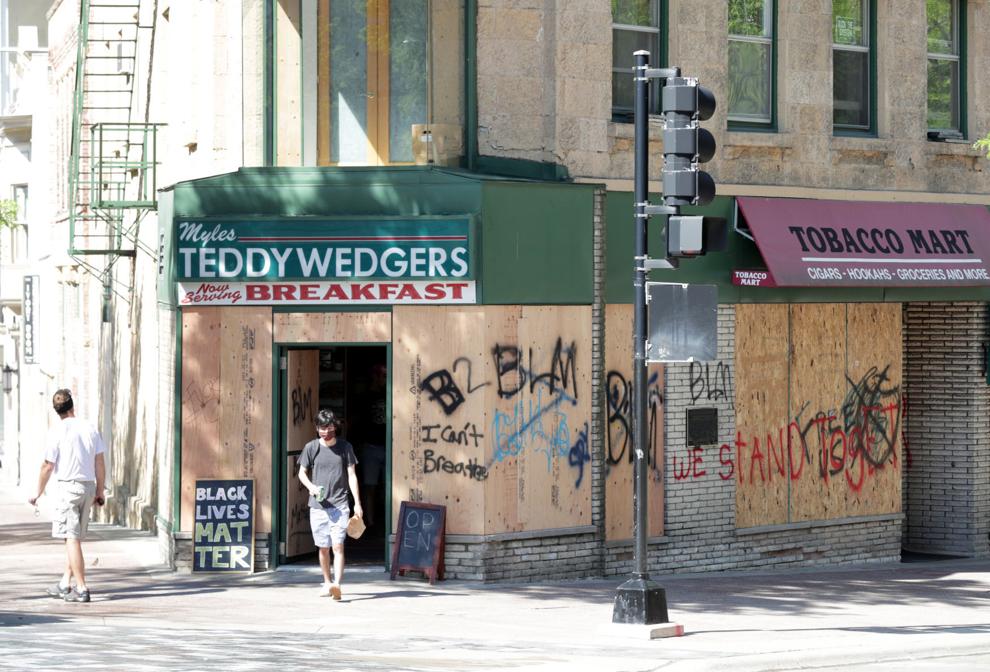 Clean-up of property damage, June 2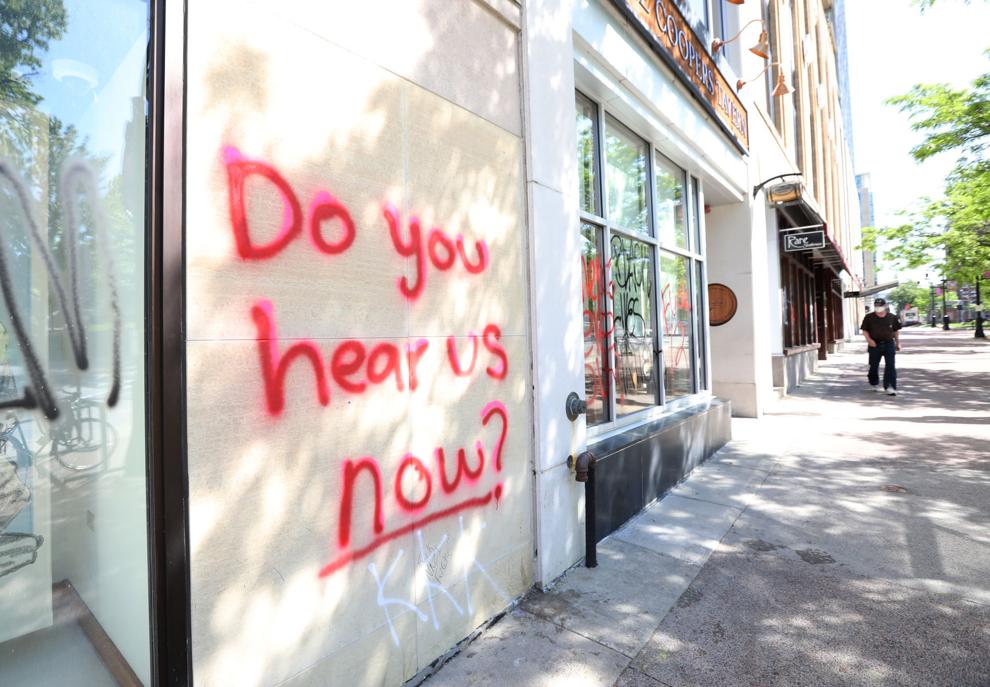 Painting murals, June 2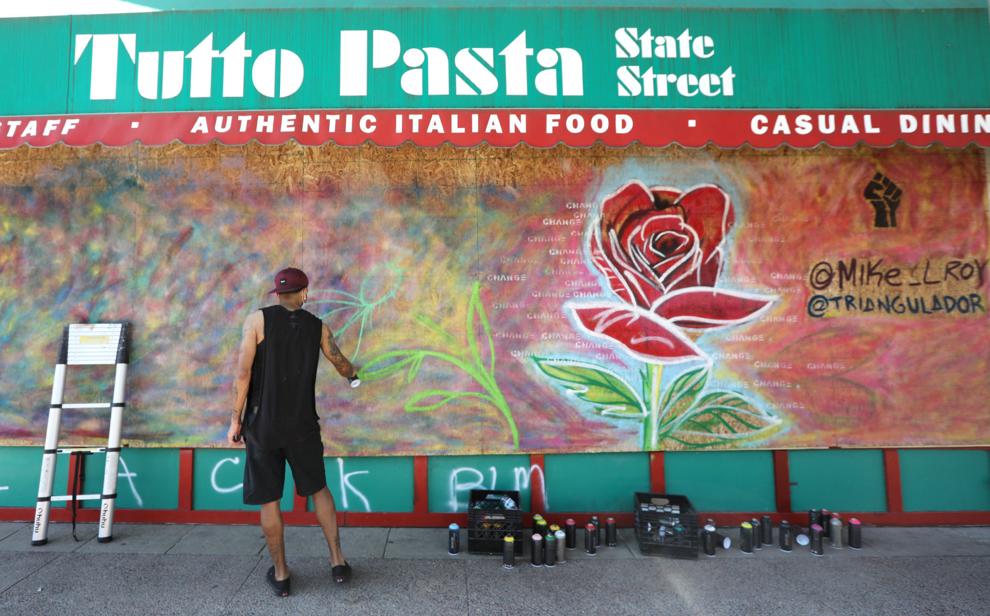 Braving the rain, June 2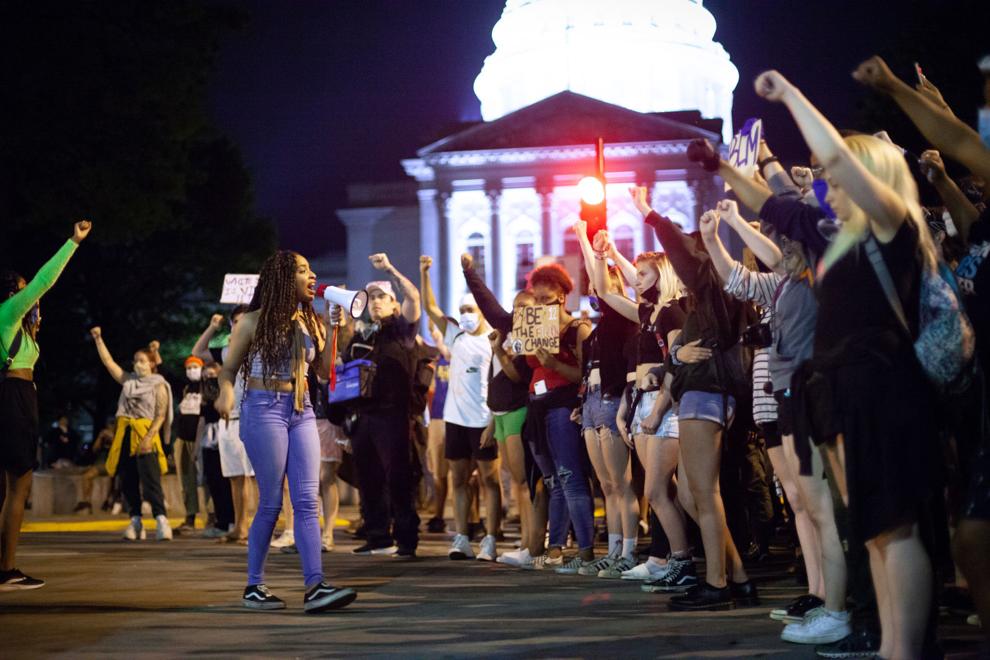 Lighting candles, June 3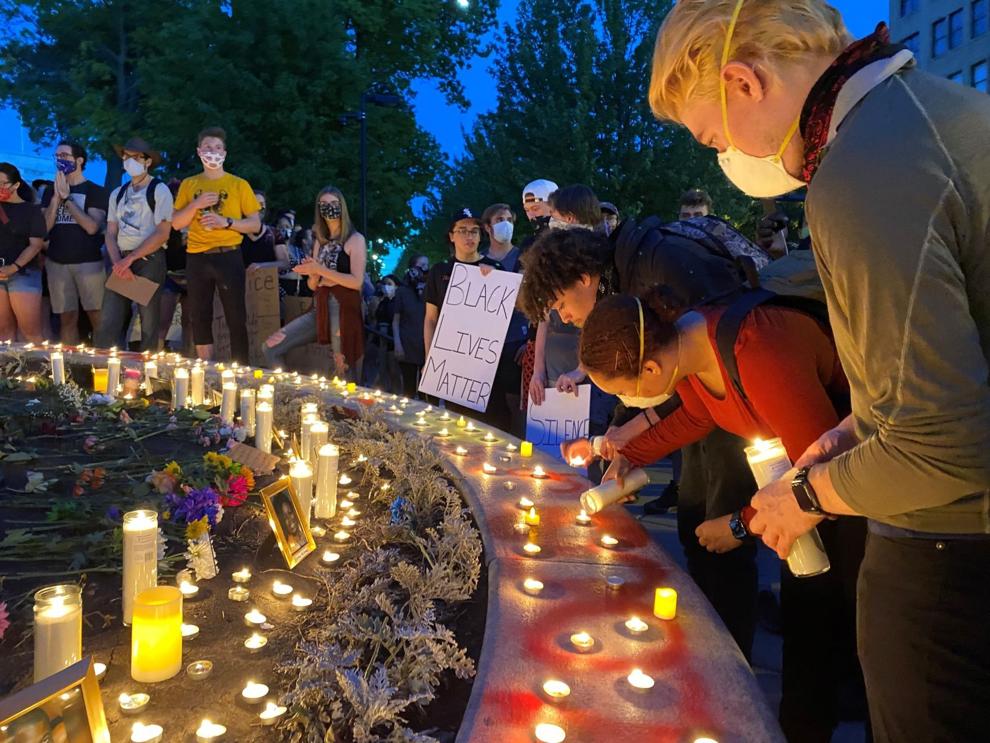 Speaking to crowd, June 3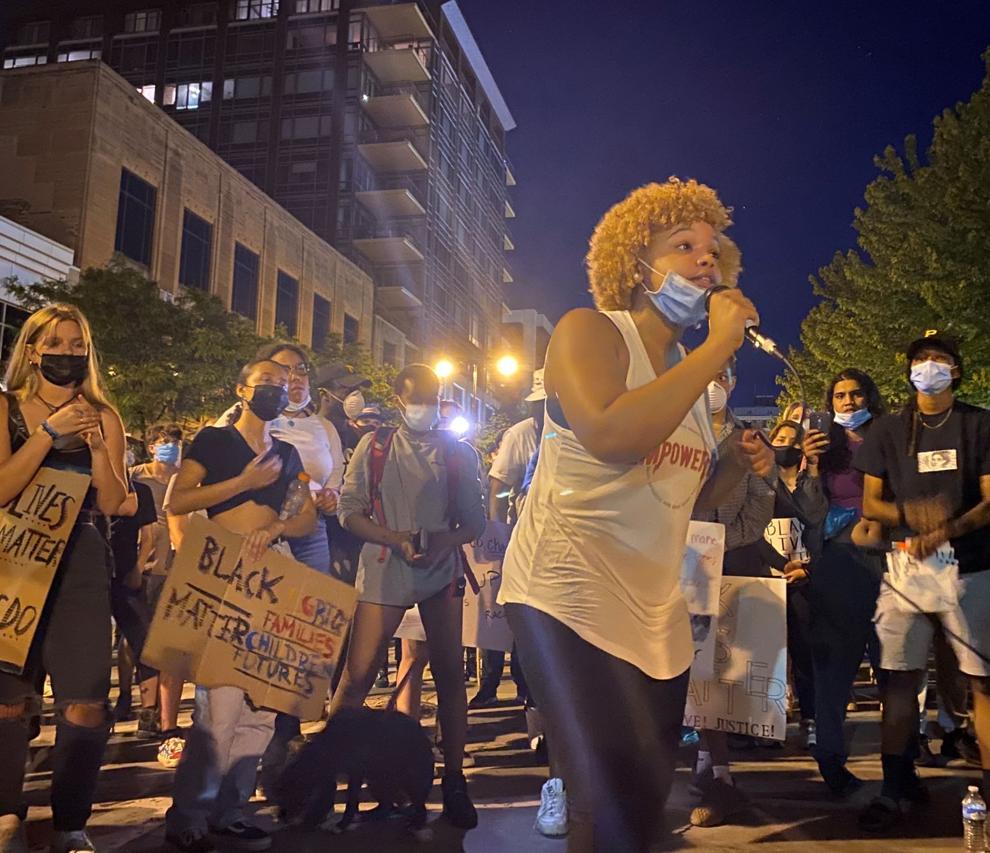 Registering to vote, June 4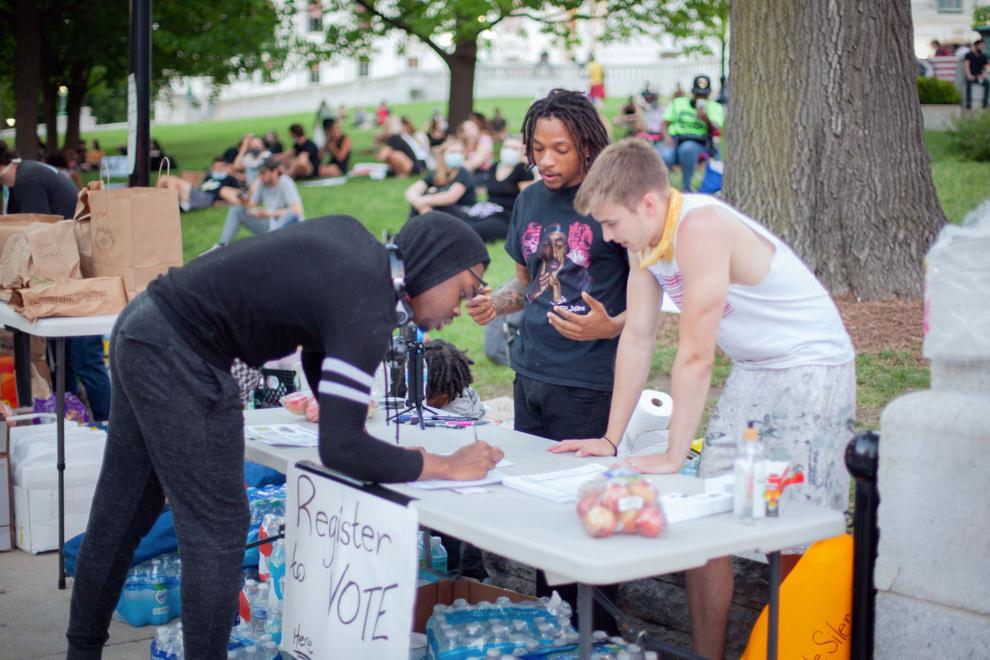 Alter to those lost, June 5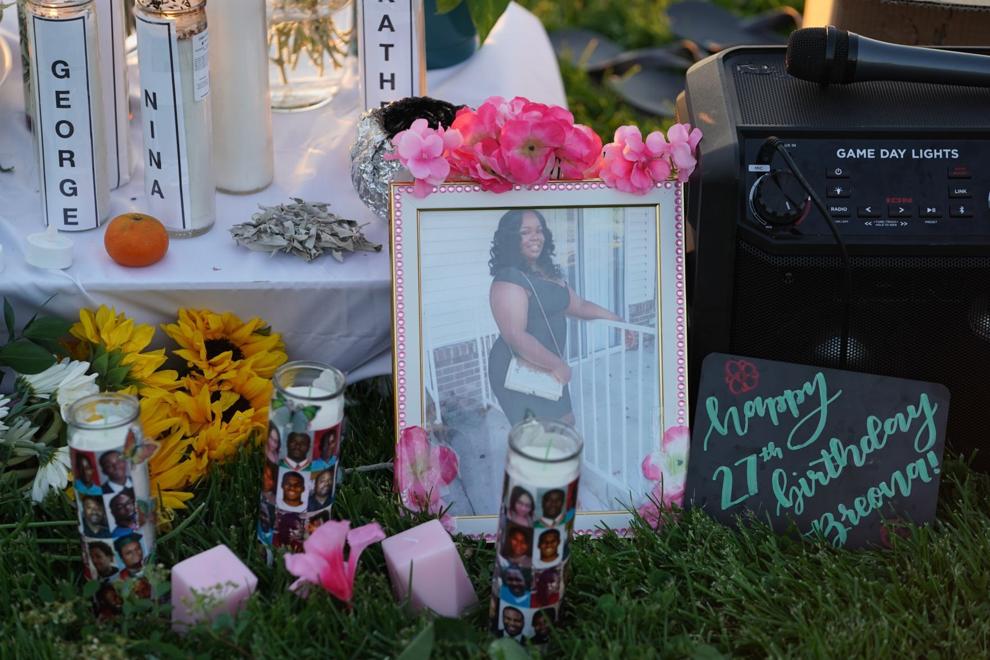 Happy birthday to Breonna, June 5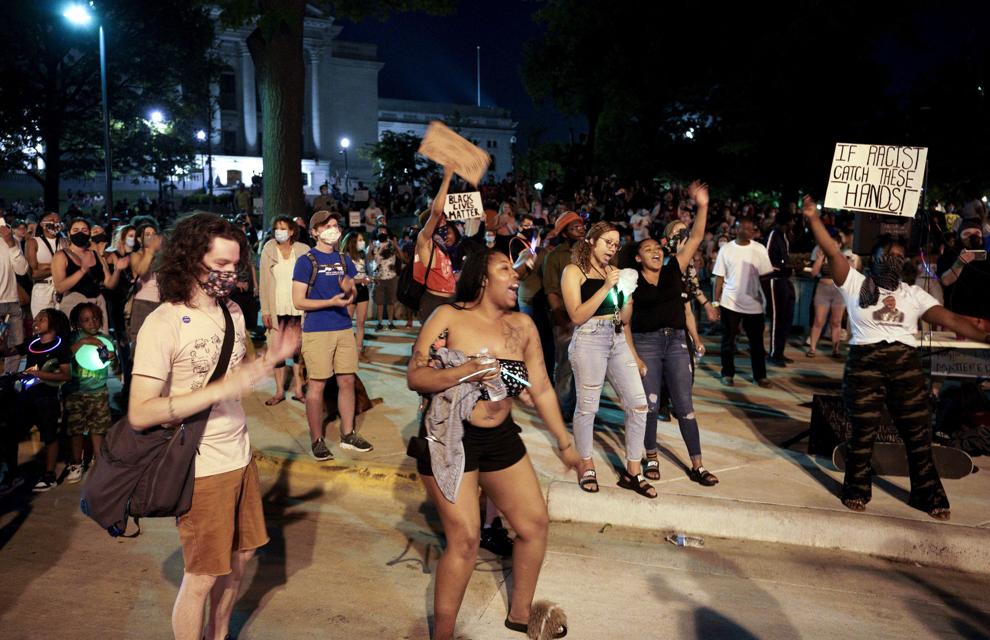 AACC Black Lives Matter Solidarity March, June 7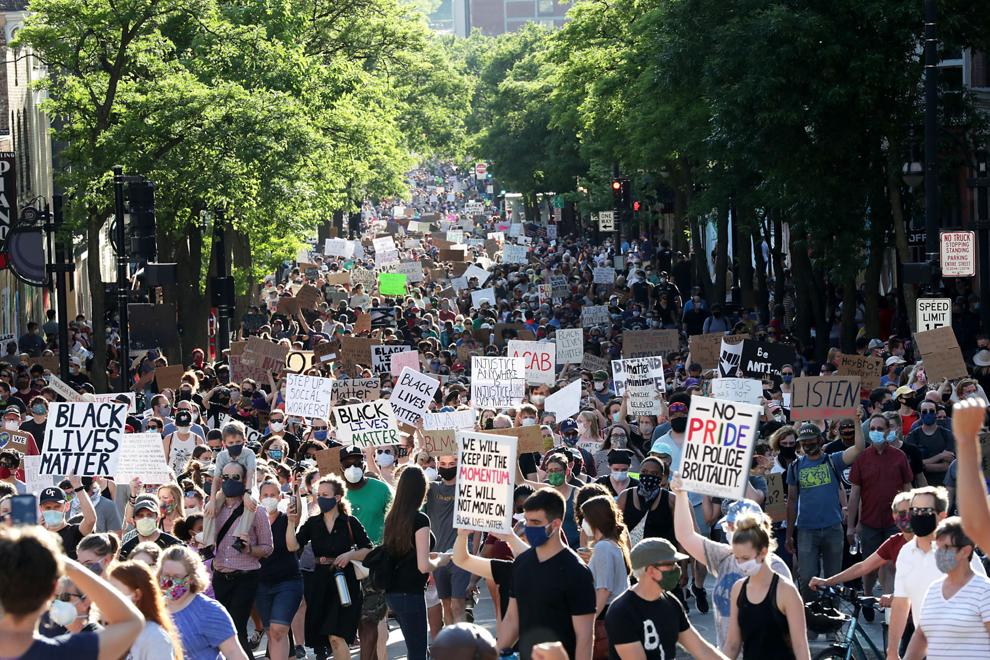 AACC Black Lives Matter Solidarity March, June 7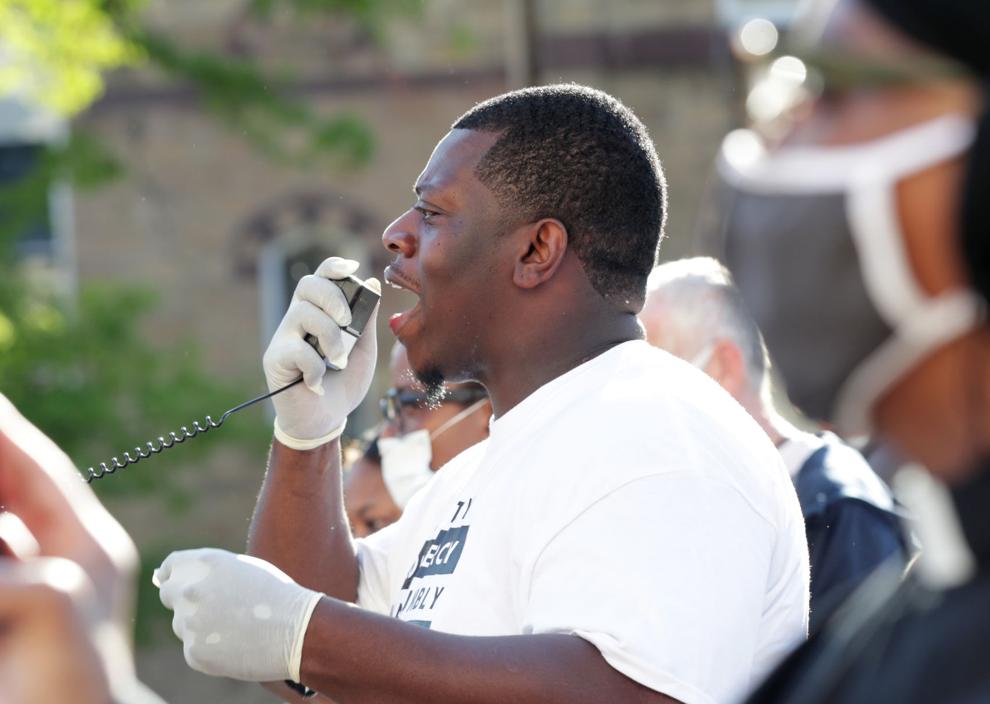 Taking a knee, June 8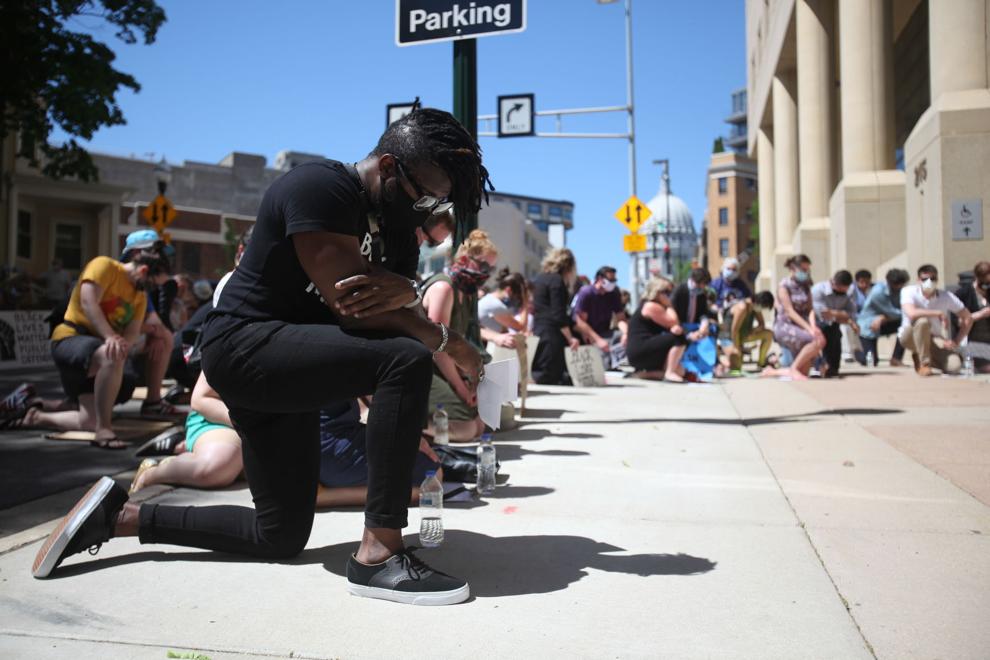 Defund police, June 8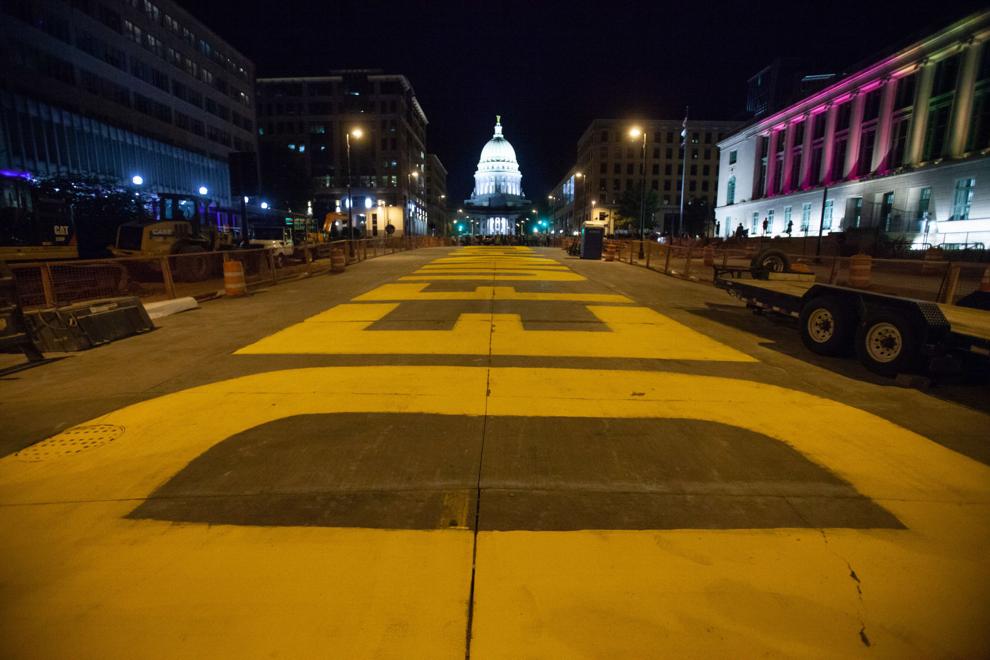 Youths fueling nighttime protests, June 8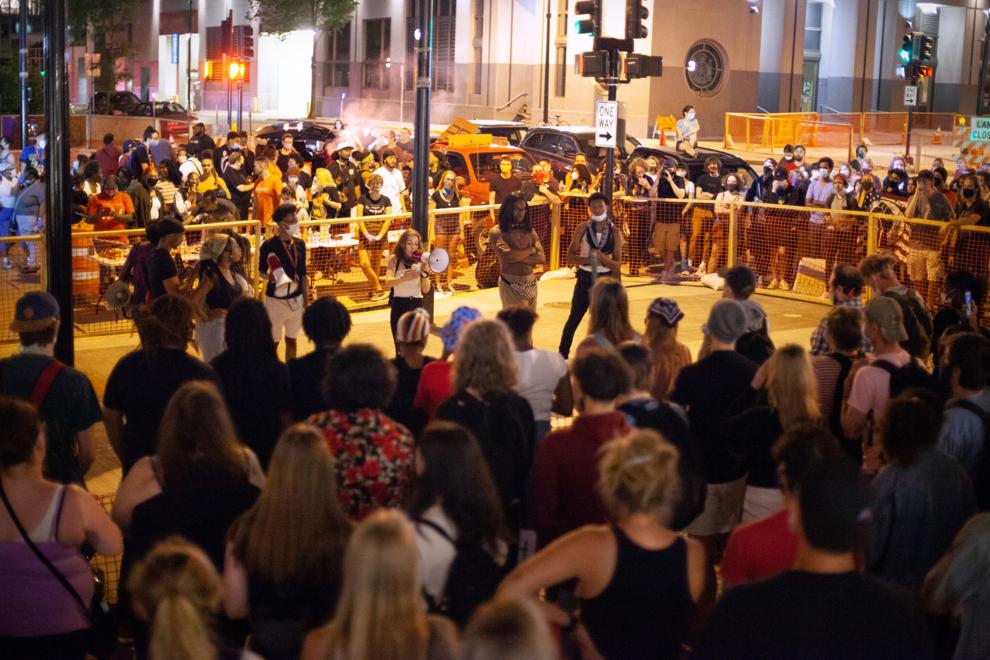 Closure note, June 16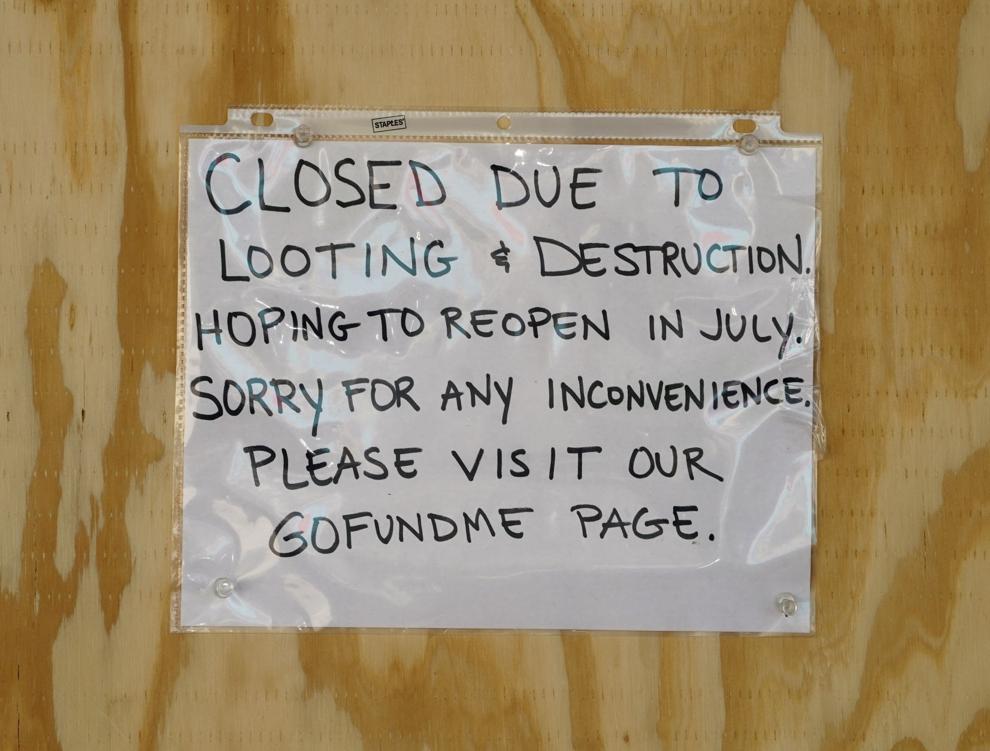 Blocking traffic, June 17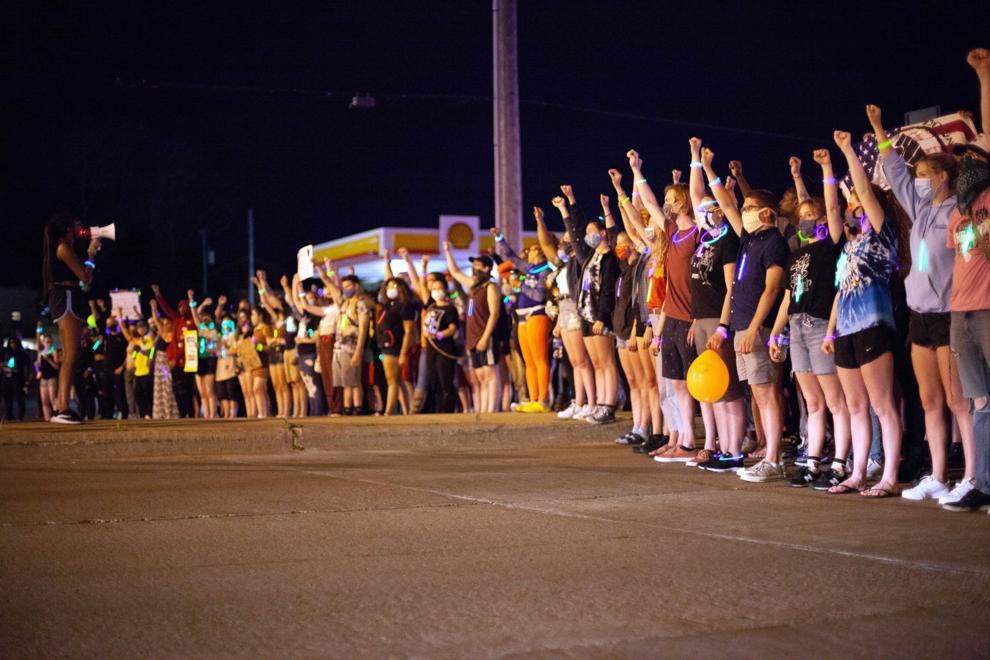 Glow in the dark march, June 17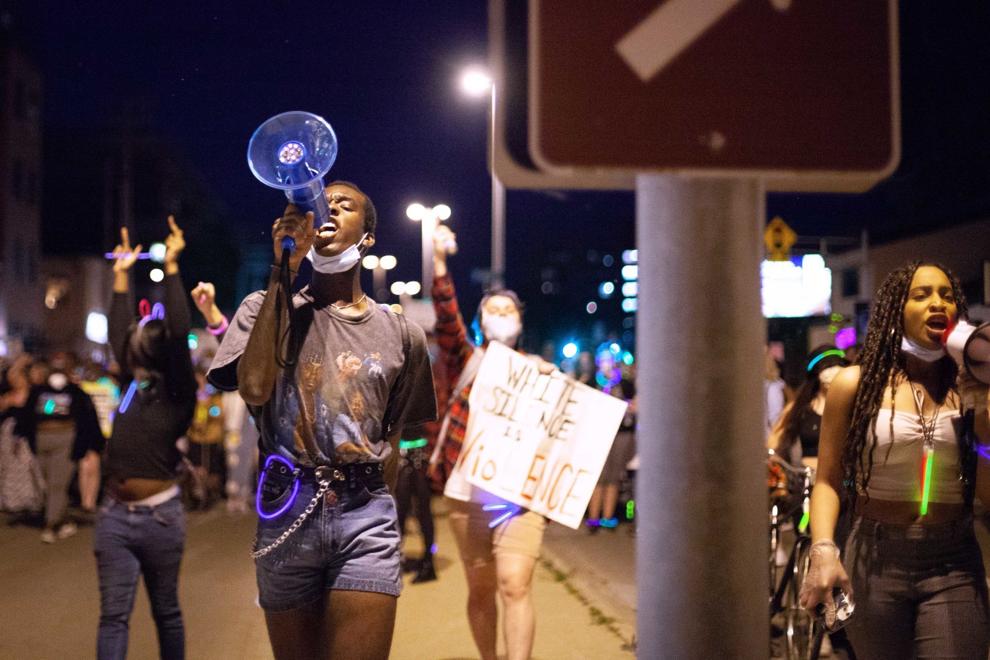 Juneteenth rally at Olin Park, June 19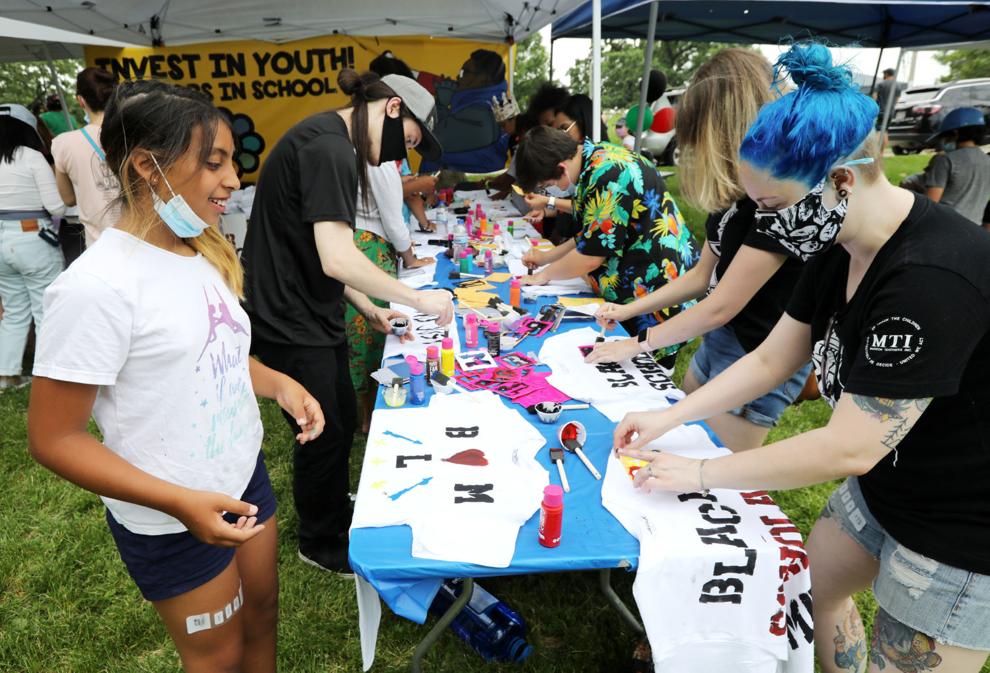 Boarded-up State Street, June 22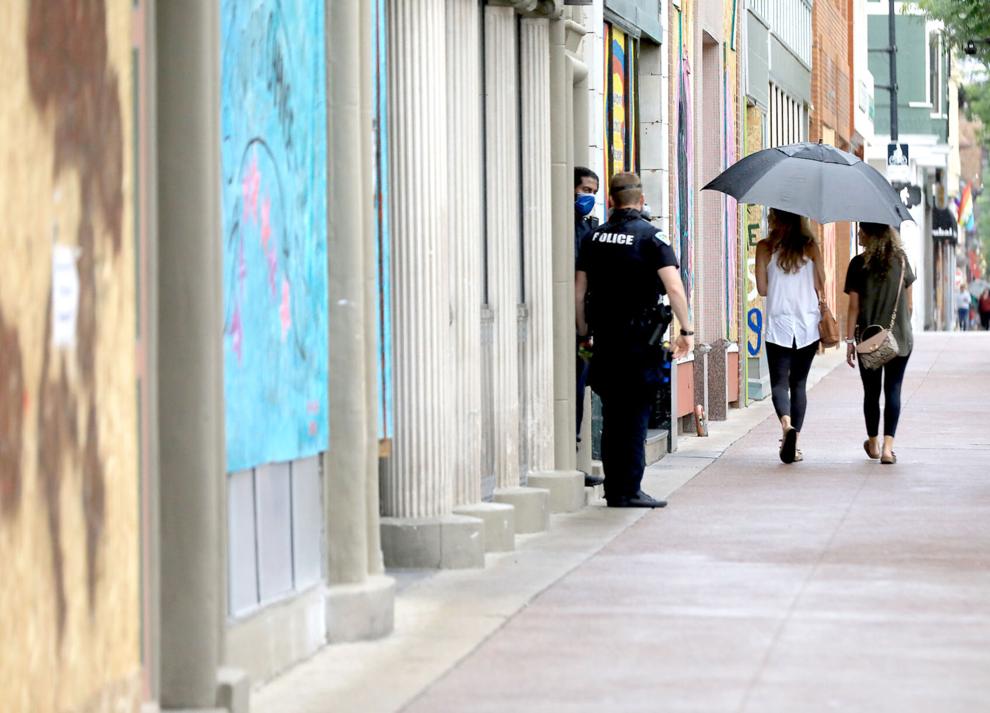 Confronting driver, June 23
Madison protesters, June 23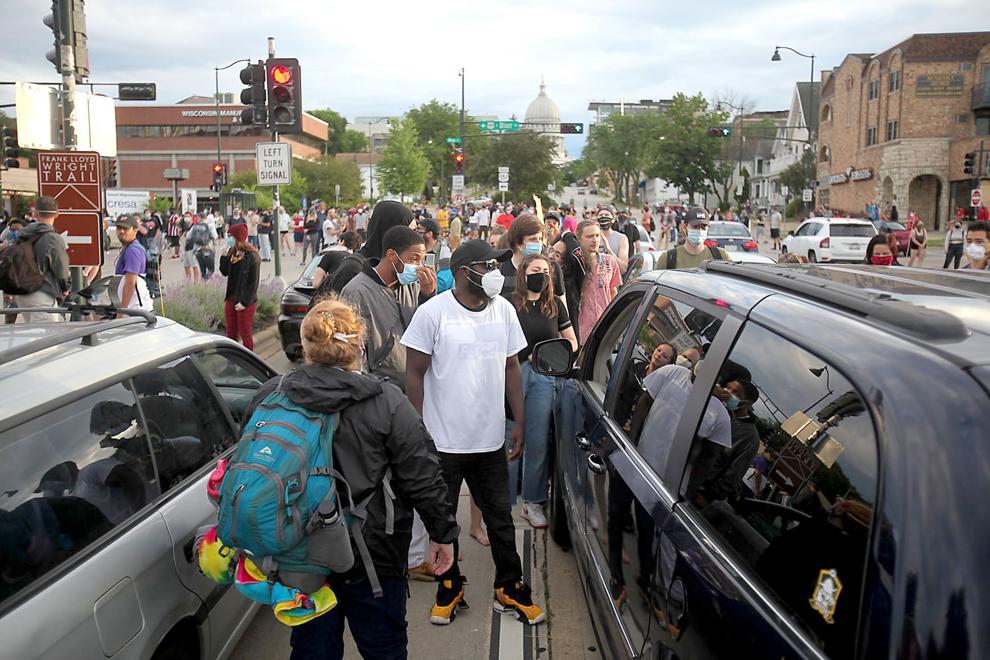 Protesters block intersection, June 23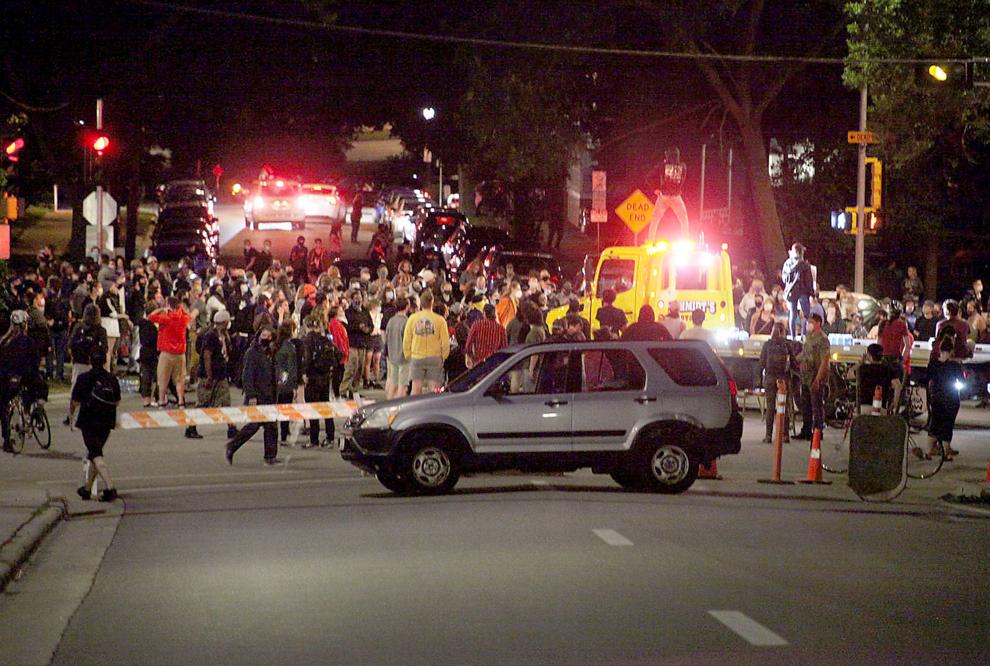 Heg statue toppled, June 23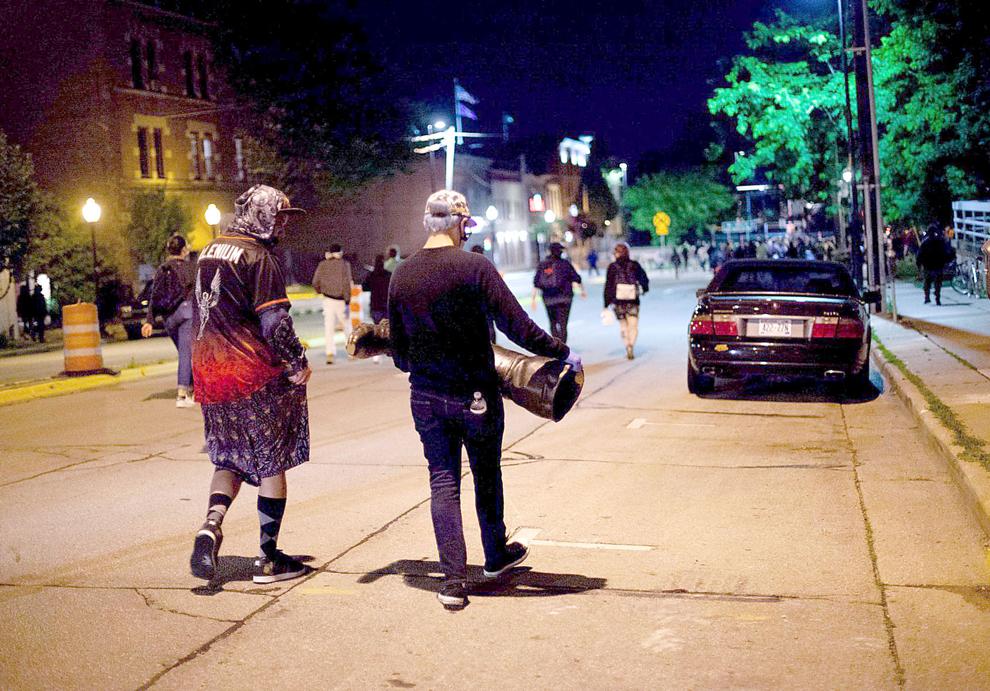 Forward statue topped, June 23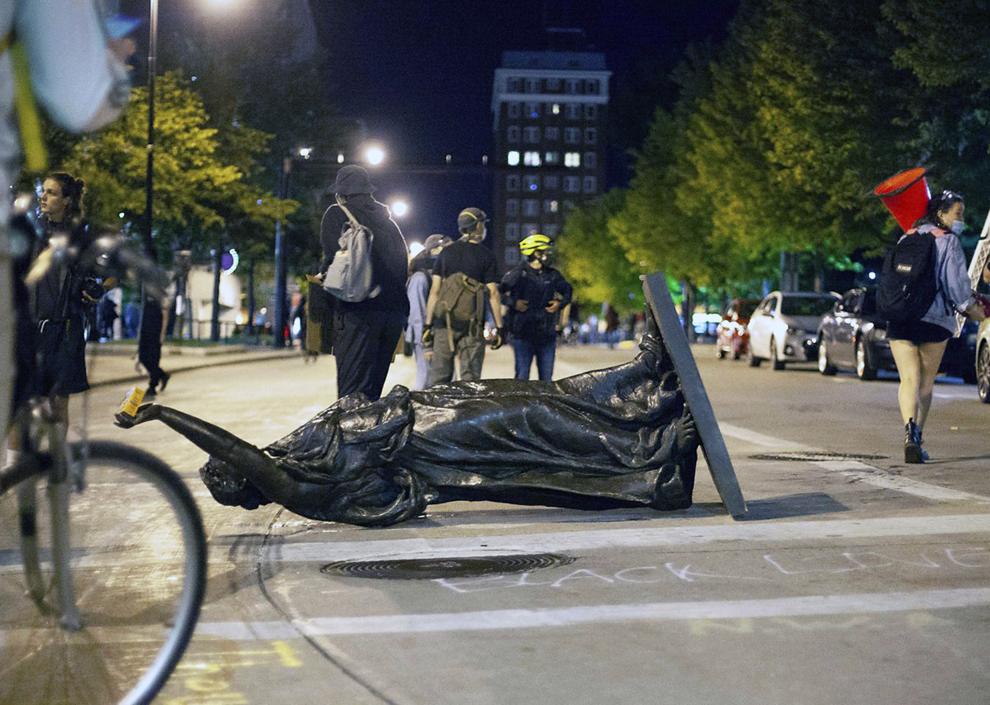 Empty statue pedestal, June 24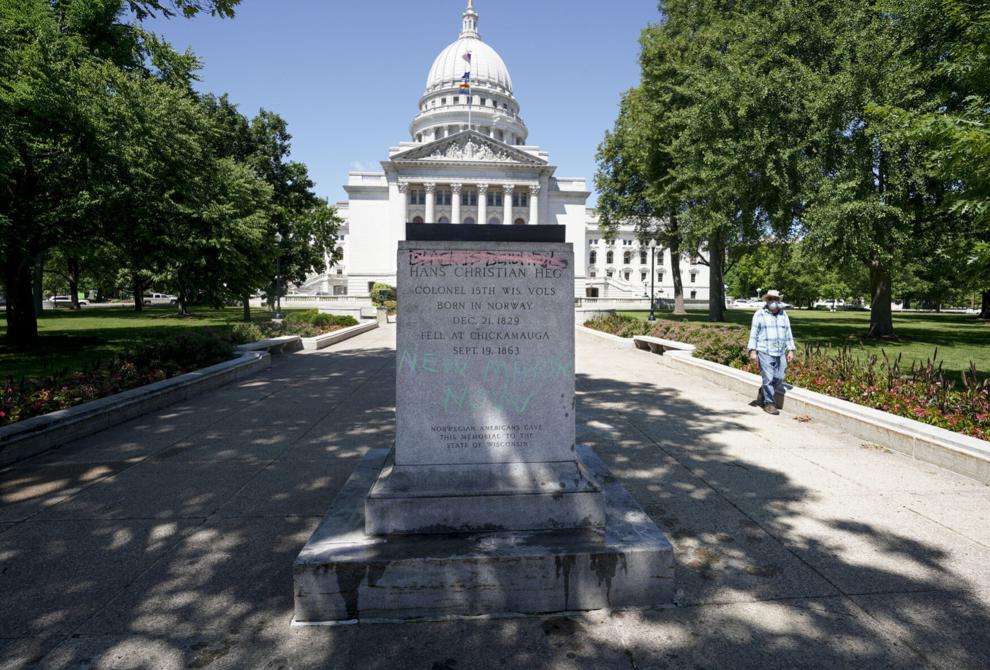 Protecting the Capitol, June 24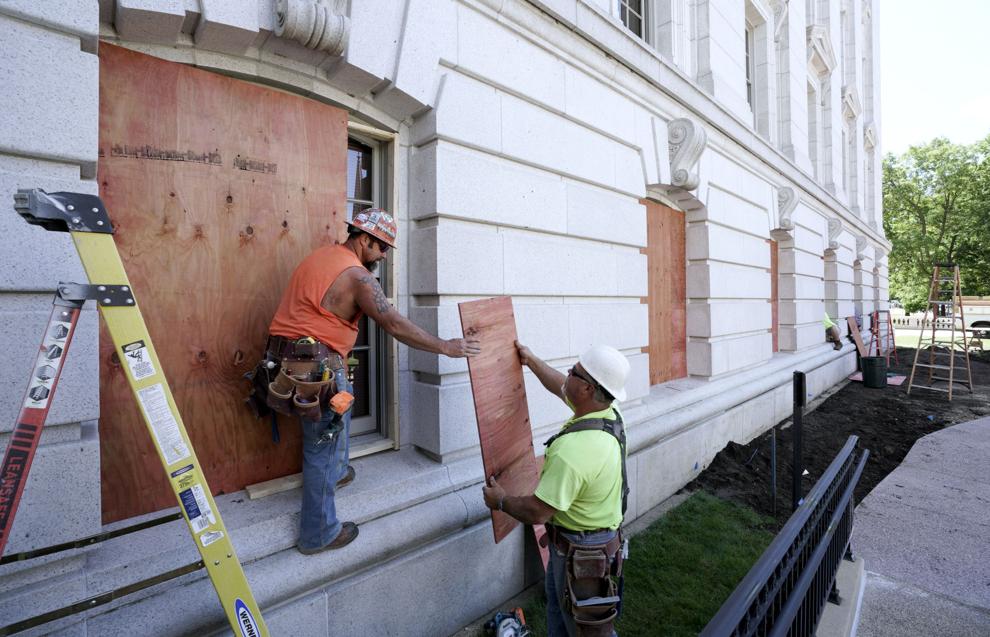 Police supporters get opposition, July 2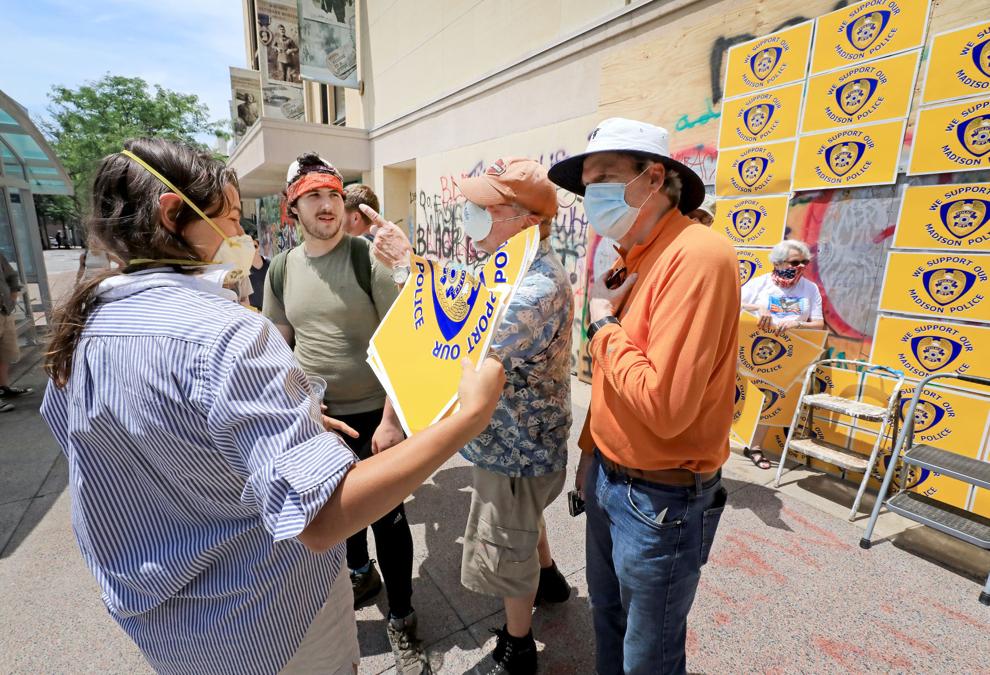 BLM demonstration, July 4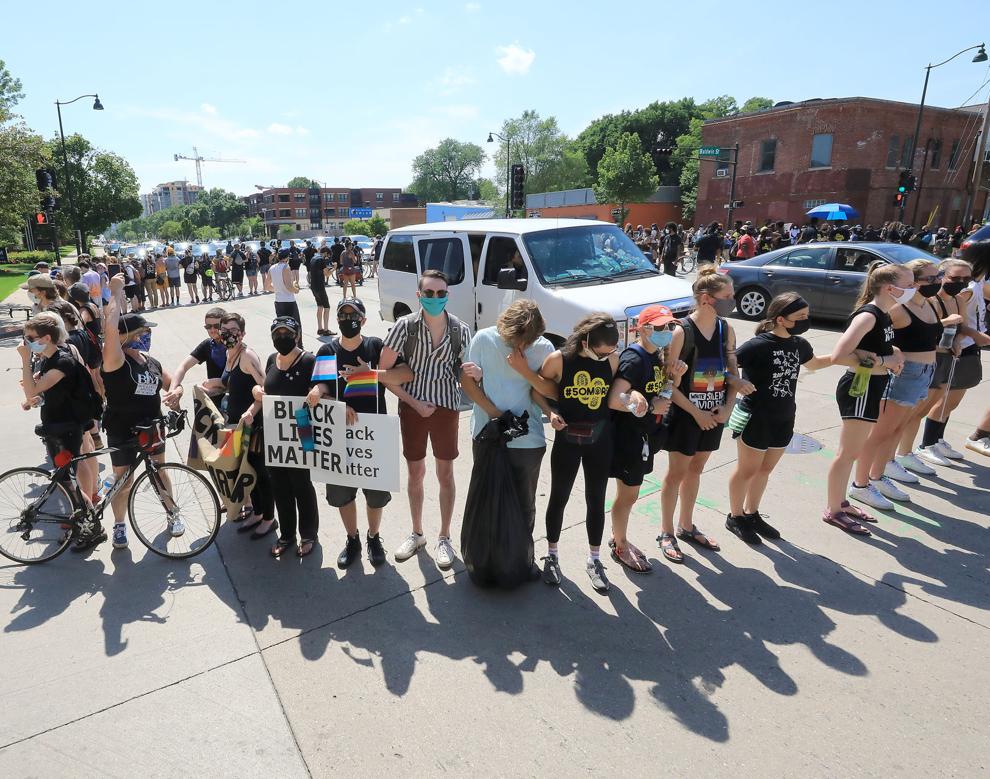 "If you have a person who's struggling, can't find a job, can't pay rent, what do you think is going to happen?" Anthony Cooper, Focused Interruption Coalition executive director