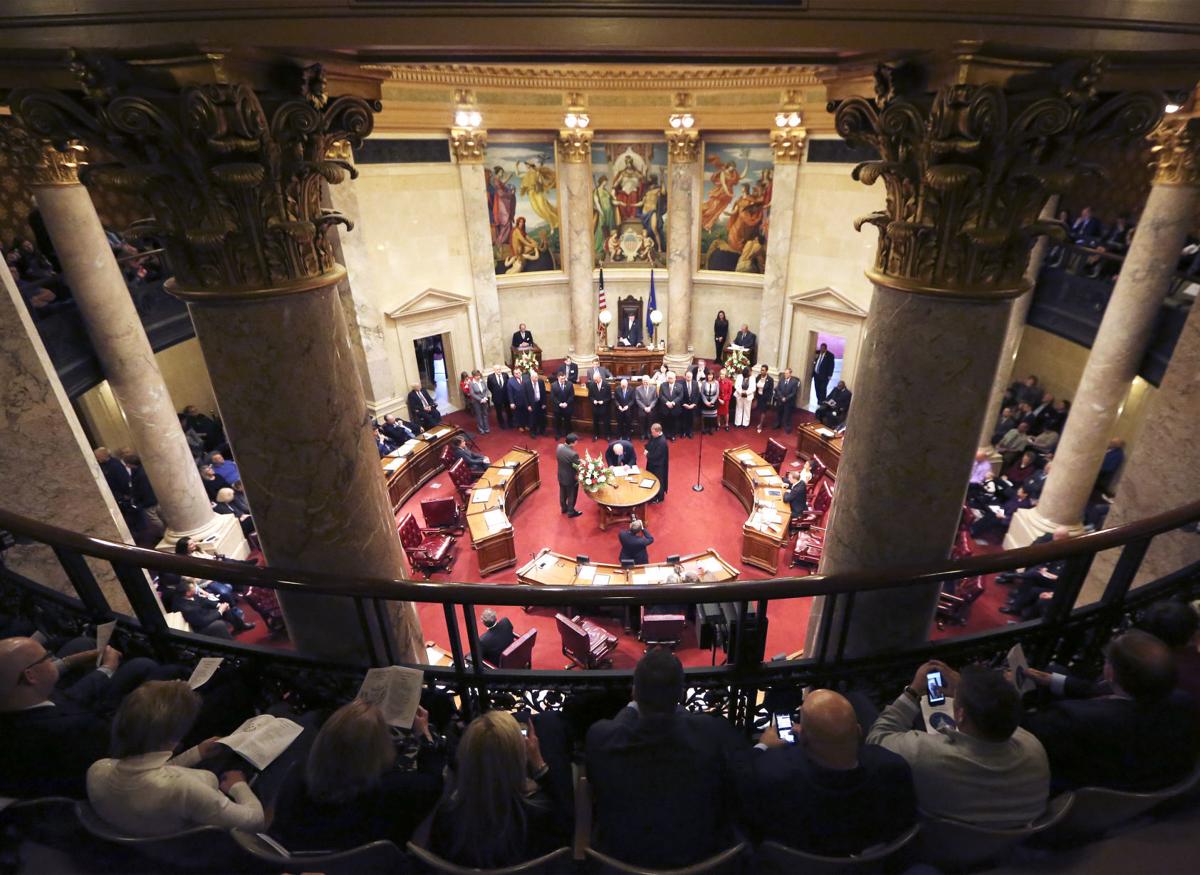 The Republican-controlled Wisconsin Senate is headed for a showdown with the Evers administration on Tuesday when it convenes for its last major session of the year.
And in a significant setback for homelessness advocates, Senate Majority Leader Scott Fitzgerald, R-Juneau, has no plans to take up a package of bills addressing homelessness that cleared the state Assembly months ago.
The two major actions putting the Senate on a collision course with Democratic Gov. Tony Evers are a likely ouster of his agriculture secretary, Brad Pfaff, and a proposed constitutional amendment that would prohibit the governor from using partial veto authority to increase state spending.
Additionally, the Senate is expected to essentially ignore Evers' call for the chamber to take up gun-control legislation in a special session on Thursday. Fitzgerald has said he plans to adjourn the special session immediately after calling it to order.
Evers called Senate and Assembly lawmakers into session to vote on bills that would require universal background checks for all firearm purchases in Wisconsin and implement so-called red-flag laws, under which people deemed to be threats by a court must surrender their firearms.
Pfaff will likely be out of his job leading the Department of Agriculture, Trade and Consumer Protection unless enough Republican senators join Democrats in an effort to indefinitely postpone Pfaff's confirmation vote.
The likelihood of that happening is low. On Friday, Fitzgerald told Evers to withdraw Pfaff's nomination — an action equivalent to firing him — because he doesn't have the support from his 19-member caucus to confirm him.
If Pfaff is ousted, the Evers administration hasn't ruled out promoting the agency's deputy secretary, Randy Romanski, to secretary, and giving Romanski's job to Pfaff.
Besides Pfaff, two other cabinet secretaries are up for a vote Tuesday: Mark Afable, Commissioner of Insurance; and Rebecca Valcq, chairperson of the Public Service Commission.
Both of those cabinet members are expected to be confirmed.
Senate punts on homelessness
Despite clearing the Assembly in June, the package of bills that aim to address homelessness won't get a vote in the Senate despite winter nearing.
The package of eight bills that passed the Assembly this summer would increase state spending by around $4 million per year. They are all co-sponsored by Republican senators. The state budget set aside about $7.5 million in additional funding for Republican-led efforts to help the homeless.
Provide short-term grants or loans to defray housing costs.
Help struggling people find housing.
Create more beds at emergency shelters.
Pay for skills training to escape homelessness.
Assist landlords with repairs to low-cost housing.
Expand grants for housing and related services.
You have free articles remaining.
Joseph Volk, executive director of the Wisconsin Coalition Against Homelessness, lambasted Senate Republicans for their inaction, arguing that the consequences could be dire for Wisconsin's homeless population as the cold weather months approach.
For example, one bill, AB 123, would provide an additional $900,000 annually for grants to help provide housing and other services to homeless individuals. Another bill, AB 119, would provide $500,000 annually to supplement the operating budgets of homeless shelters.
"Half the people who are homeless in Wisconsin are children," Volk said. "There will be people who will be outside this winter when it's cold, including children, because the Senate didn't act in a timely manner."
Fitzgerald declined to respond to a request seeking comment. He previously wouldn't commit to the legislation, noting only that the measures are making their way through the legislative process.
While homelessness bills are still making their way through the committees, Fitzgerald could take them up at any time. The Senate may vote on any bill with the consent of two-thirds of the members.
The inaction on the bills could be due to skepticism from some fiscally conservative senators. For example, a spokesman for Sen. Steve Nass, R-Whitewater, said the senator is cautious about authorizing any new spending and wants to ensure nonprofits receiving the funds use them responsibly.
Constitutional amendment
Senators are also set to consider a constitutional amendment proposed by Republicans that would prevent governors from using their partial veto powers to increase spending in any bills.
But even if the amendment clears the Senate, it'll be a while before it could become law. An amendment must pass both houses in two consecutive sessions and be ratified by voters in a general election before it takes effect. The governor cannot veto a constitutional amendment.
The constitutional amendment was introduced in July in the wake of the signing of the state budget, when Evers used his veto power in one case to increase school funding by about $65 million more than the Republican-controlled Legislature intended.
He did that by taking a $630 per-pupil amount the Legislature had deleted from existing law, restoring the "$63" and adding that new number to a different per-pupil amount the Legislature had created.
Republican advocates of the amendment say it would protect taxpayers.
Evers is far from the only governor to use his veto power to increase spending.
For example, Gov. Jim Doyle stitched together numbers and words to create a new sentence in the 2005 budget that spent $330 million more than the Legislature intended on K-12 education.
In 2008, voters abolished what became known as the "Frankenstein veto" via constitutional amendment.
Even with constitutional limits imposed by voters over the past several decades, Wisconsin governors still have among the strongest powers over appropriation bills in the country, with the ability to strike words, numbers and punctuation in both appropriation and non-appropriation text in bills that determine how money is spent.
Governors may also strike appropriation amounts and write down an entirely new, lower amount. Most other states allow governors only to strike or reduce appropriations in bills spending money.