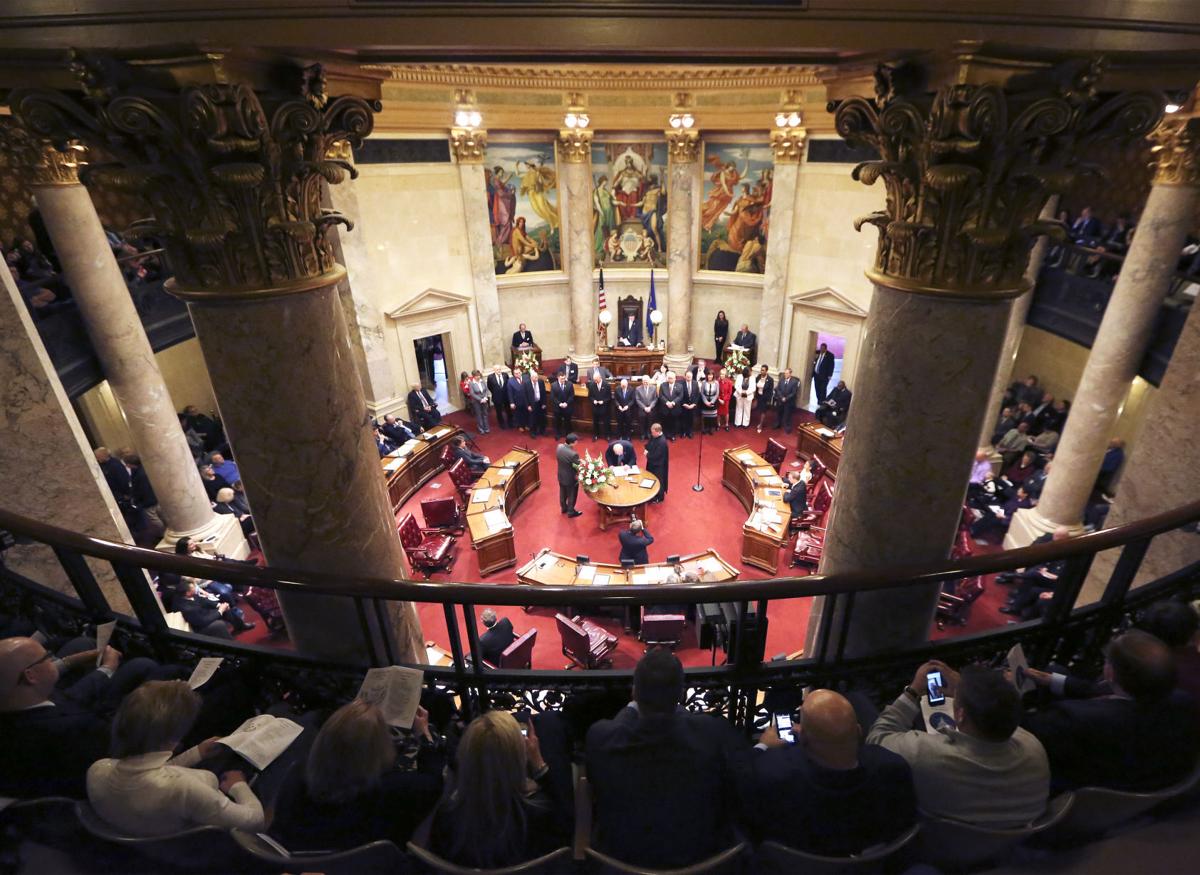 Senate Republicans on Wednesday approved nearly a dozen bills that would control how around $3.2 in federal stimulus dollars would be spent in the state, sending them to Gov. Tony Evers' desk despite questions over their legality and a likely Evers' veto.
The Senate also approved several changes to how the state's elections are run, largely based on false claims of impropriety about the November presidential election. The bills are part of a larger package of GOP-authored election changes working their way through the Legislature based on grievances from former President Donald Trump and his supporters. Evers is expected to veto them as well.
One of the bills would prevent local election officials from accepting private grants for elections administration, as a number of Wisconsin's largest cities, including Madison, did for the November election.
The bill, which passed the Senate on a voice vote, would allow the Wisconsin Elections Commission to accept private grant money but would require it to distribute it to cities and towns on a per capita basis. It now goes to the Assembly.
Another bill would make interfering with election observers a crime as well as guarantee observers close proximity to election and recount proceedings, a response to complaints from election observers during the Dane and Milwaukee county presidential election recounts. Under the bill, observers would have to stand within three feet of tabulators during a recount. Intentionally obstructing an observer's access would be a misdemeanor punishable by up to six months behind bars and a $1,000 fine. The bill passed the chamber 20-11 and goes to the Assembly.
"The law has been silent in regard to election officials treating observers as if they're criminals, as if they have no right to be there," said Sen. Kathy Bernier, R-Chippewa Falls. "The goal here is where we have a balance, a respect for the electoral process, and observers are part of the electoral process, even more so in a recount procedure."
But Democrats panned the proposed legislation, saying it puts election officials in a difficult position and, as Sen. Tim Carpenter, D-Milwaukee, put it, is based on "a big lie" about voter fraud.
"The poll workers have enough on their hands," Carpenter said. "What this bill is going to do is create a big hassle for election workers. Why should they go ahead and try to risk themselves going to prison for six months or $1,000 or both just because someone says they are obstructed?"
The Senate also approved an election bill that would give the WEC the power to issue temporary orders, as it deems necessary, to local election officials to follow the law. Under current law, the WEC is authorized to do so after an investigation. The bill passed on a voice vote.
The chamber also passed a bill 20-11 that would allow anyone who violates election law to be prosecuted in a county in the area covered by any office involved on the ballot.
Directing funds
Senate Republicans followed the Assembly's lead a day earlier passing nearly a dozen bills that would direct how $3.2 billion in federal funds from the latest stimulus package are spent.
Some of the spending may not be allowed under federal rules, according to the nonpartisan Legislative Fiscal Bureau. Republicans, however, have pushed forward with the legislation, saying the people's representatives should have a say over allocating the money instead of one person. Republicans have also criticized Evers for providing too little detail on how he plans to spend the billions of dollars in funding.
Republicans in the Legislature have advocated for oversight of those funds for several months now and on Tuesday passed bills aimed at directing the governor to spend about $2.7 billion, including $1 billion on property tax cuts, $200 million on small business aid, $75 million on tourism grants, $308 million on road projects and $150 million on nursing home aid, among other proposals.
Other measures would direct an unspecified amount toward unemployment benefits and eliminate the state sales tax between June 1 and Aug. 31 at bars, restaurants, brewpubs, movie theaters, amusement parks and resorts.
"These are real solutions," said Senate Majority Leader Devin LeMahieu, R-Oostburg. "We're trying to provide a road map, frankly, with this vast amount of money that's coming into the state to make sure these bills invest in mostly one-time funding options to make sure we're not creating budget holes."
Democrats, however, slammed Republicans for passing legislation of dubious legality, and for not respecting Evers' legal authority to distribute the funds.
'Hopes or dreams'
Senate Minority Leader Janet Bewley, D-Mason, called the bills "fictitious."
"They're maybe hopes or dreams of my colleagues across the aisle, but they know they will be vetoed," Bewley said. "They also know there's a very good chance they're a fraud. This is pretending, this is acting. This is performing as if you had the authority."
To address some of the potential legal issues with the legislation, the Republican-controlled Senate followed the Assembly's lead in passing a resolution directing Democratic Attorney General Josh Kaul to join more than a dozen other states in suing the federal government to allow states to use federal stimulus dollars to cut taxes.
According to a state Department of Justice spokesperson, the department's position is that the Legislature can authorize but not require the state to pursue legal action.
Evers announced earlier this month he would direct $2.5 billion in spending toward economic relief for families, workers and small-business owners, which includes $50 million for the tourism industry and $600 million to support businesses affected by the pandemic. Evers also is planning to spend $500 million on the state's pandemic response efforts, and $200 million for infrastructure, with a large portion of that going toward expanding broadband access.
On Tuesday, Evers announced plans to spend $100 million in federal funds on economic recovery in the state, including $50 million in grants to "encourage businesses to move into vacant storefronts in downtowns and other commercial corridors around the state," according to a statement.
"The poll workers have enough on their hands. What this bill is going to do is create a big hassle for election workers."

State Sen. Tim Carpenter, D-Milwaukee