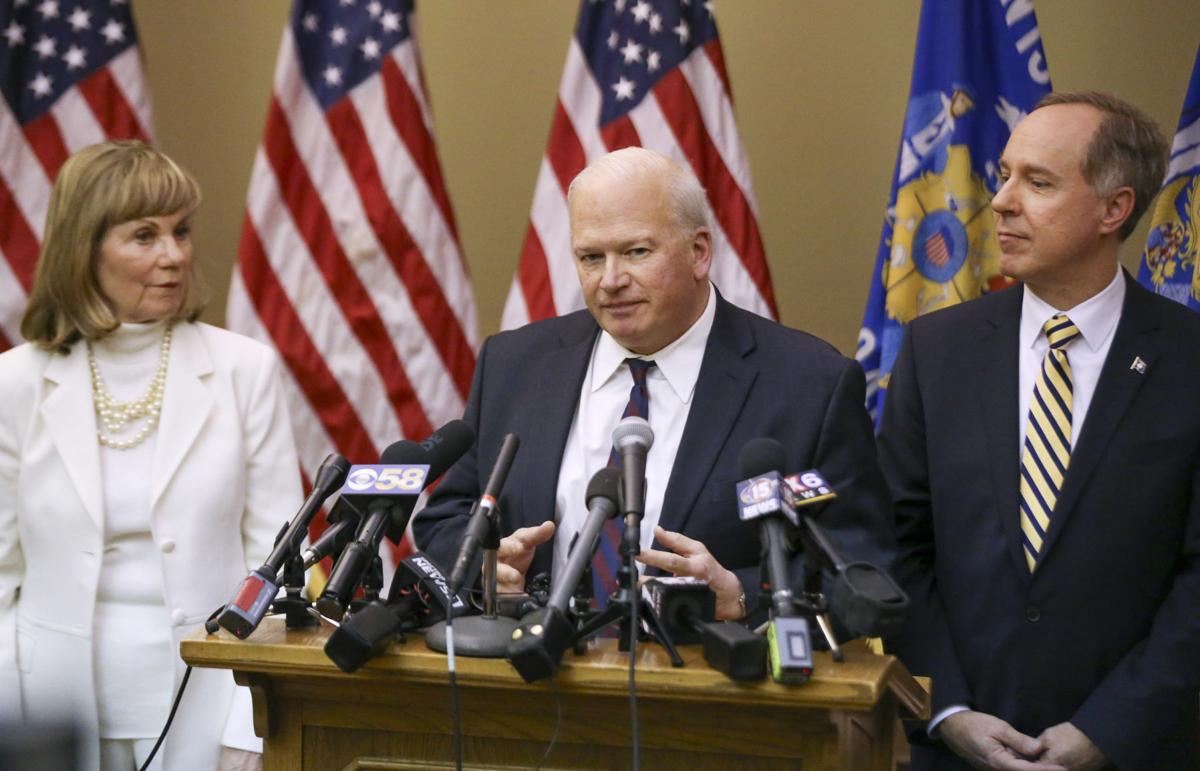 Senate Republicans passed a slate of controversial abortion-related legislation Wednesday, sending it to a Democratic governor who has vowed to veto the bills.
The attempt to pass abortion-related legislation comes as Republicans in other parts of the country approve measures that would severely restrict access to abortion.
After brief debate, the Senate's Republican majority approved four bills that Democrats have called unnecessary and a distraction from the budget debate. Republicans have championed the four bills, particularly one dubbed the "born alive" bill, as adding additional protections for the unborn.
Democrats in Wisconsin and nationally have warned that abortion access is being threatened. Wisconsin Democrats on Tuesday introduced legislation that would repeal Wisconsin's abortion ban still on the books.
The ban is not in effect due to the landmark 1973 Roe v. Wade decision generally guaranteeing a woman's right to an abortion. Democrats, citing conservative-backed Brett Kavanaugh's addition to the U.S. Supreme Court, fear Roe could be overturned, meaning Wisconsin's abortion ban would be reinstated.
The Republican-controlled state Assembly passed the legislation last month. The highest-profile bill is the "born-alive" bill, which would require a health care provider who is present for an abortion or abortion attempt "to exercise the same degree of professional skill, care and diligence to preserve the life and health of the child."
Democrats say the legislation isn't needed because cases where a fetus survives an abortion attempt are extremely rare. Such a case hasn't been reported in Wisconsin since 1982.
Senate Minority Leader Jennifer Shilling, D-La Crosse, said claims made by Republicans surrounding the bill are not supported by medical science, and called the bill a "smoke-screen" distracting from the GOP's anti-abortion agenda.
You have free articles remaining.
Republicans, however, contended the bill clears up ambiguity for how an infant born after an abortion attempt is treated.
"It's not anti-abortion, it's anti-murder," said Sen. Roger Roth, R-Appleton.
Cases of infants being born after abortion attempts are not tracked by the state Department of Health Services. Wisconsin already bans abortions after 20 weeks, before the point of fetal viability outside the womb, and federal law provides legal protections to all babies born alive, including after an abortion attempt.
Republicans lack a two-thirds majority in both the Senate and Assembly that would be needed to override a veto by Gov. Tony Evers.
The focus by Wisconsin Republicans on abortion access comes as Republicans in Alabama passed sweeping legislation that would ban abortion in nearly all cases, which is likely to be suspended by the courts.
Another bill the Assembly passed last month and the Senate approved Wednesday would bar abortion selection on the basis of factors such as the fetus' sex, race or disability. A third bill would require providers to submit more information to the state about abortions they perform, and a fourth bill would make health care providers ineligible for the state's Medicaid program if they perform abortions, with certain exceptions.
Mel Barnes, legal and policy director for Planned Parenthood Advocates of Wisconsin, said the bills are "inflammatory" and meant to "politicize health care."
The Senate also passed a number of other bills with unanimous or near unanimous support or on a voice vote. The bills, all advancing to the Assembly, would:
Create guidelines for "step therapy," which allows patients to try less expensive prescription drug options before "stepping up" to drugs that cost more.
Authorize the use of electric scooters on highways.
Create a $5,000 surcharge for prostitution crimes.
Waive the $69 fee for certificate of title for vehicles transferred upon a person's death to a spouse or domestic partner.
Create a regulatory framework for 5G wireless infrastructure.