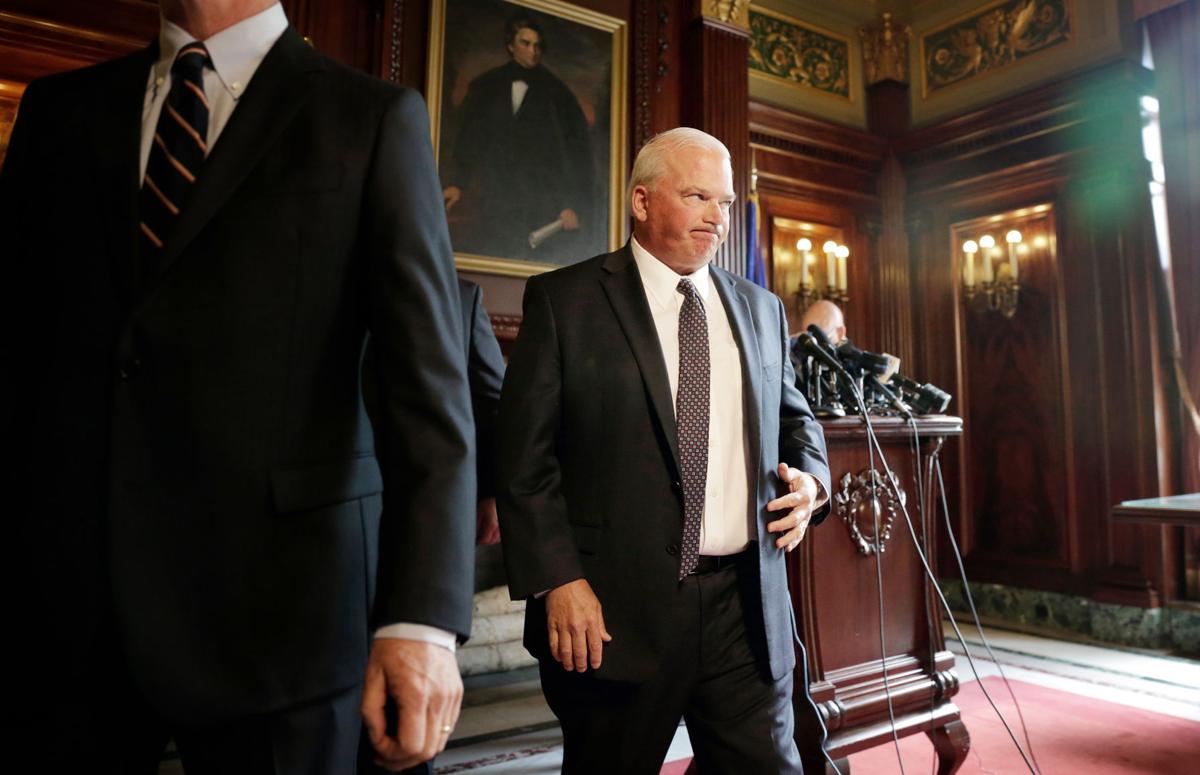 Taiwanese manufacturing company Foxconn should have a deadline to create the 13,000 jobs it has promised to bring to Wisconsin in exchange for a $3 billion incentive package funded by state taxpayers, the Senate's leader said Thursday.
"Let's say we go through all these hoops, and the locals do as well ... but then the jobs don't show up," Senate Majority Leader Scott Fitzgerald, R-Juneau, told conservative talk radio show host Jerry Bader Thursday morning. "There's no timeline necessarily for job creation, and I think that's got a lot of people nervous."
Later Thursday, after Senate Republicans met with members of Gov. Scott Walker's administration who are negotiating with Foxconn, Fitzgerald said he was assured such deadlines could be worked into the contract being drafted. Lawmakers do not have a final say on that contract, however.
Fitzgerald also said he still hasn't sought to find out whether he has enough votes in his caucus to pass legislation authored by Walker that provides $2.9 billion in refundable tax credits to Foxconn over 15 years, exempts the company from another $150 million in sales taxes on construction materials and equipment, and waives environmental regulations.
Meanwhile, Assembly Speaker Robin Vos, R-Rochester, said Thursday he is "confident" the bill will pass the Assembly — a vote he has scheduled for next week.
"I am not going to do anything that is going to screw up this deal," he said on a conservative talk radio show Thursday evening.
Foxconn Technology Group wants to build a 20 million-square-foot LCD panel manufacturing campus — its first in the U.S. — in Racine or Kenosha counties and has promised to hire 13,000 workers.
An analysis released this week by the nonpartisan Legislative Fiscal Bureau shows the state will not begin to recoup the money it provides Foxconn in tax credits until 2043.
While Walker has proposed tying the tax credits to job creation, the bill also provides the company with $1.4 billion in tax credits for the construction of the campus and exempts their spending from sales taxes on materials and equipment.
The bill neither specifies when the jobs must be in place nor sets a minimum number of jobs the company must create in exchange for the tax credits.
"There should be some benchmarks along the way," Fitzgerald told Bader. "I don't think we are concerned about the ultimate payout, or break-even point, it's more what are we going to see five years or 10 years from now."
Republican lawmakers in recent weeks have been wrapped up in securing Foxconn's promise to build the campus in Wisconsin but they also still have not passed a 2017-19 state budget, which was due to be in place by July 1.
Fitzgerald signaled Thursday that both tasks could be completed this month. He said he wants a public hearing on the legislation on Aug. 22 and for the Legislature's Joint Finance Committee to use the rest of that week to finish its work on the state budget.
Fitzgerald also said he wants to build in a cushion in the next state spending plan in case there's an economic slowdown that results in lower tax revenues for the state.
"We're continually hearing that there's a possibility that the economy could soften," he said. "We don't want to be in a position where we have to revisit the budget."
He didn't say whether Walker administration officials have warned of such a slowdown, but said he has heard those concerns from lawmakers elsewhere in the country.
Finance committee co-chairwoman Sen. Alberta Darling, R-River Hills, said the Senate can "multitask" and wrap up both the budget and the Foxconn bill in that time frame. She also signaled support for the Foxconn legislation, which has already received a public hearing in the Assembly and is set for a floor vote next week.
Rep. Adam Neylon, R-Pewaukee, who heads the Assembly Committee on Jobs and the Economy which held the hearing, said he has heard lawmakers are considering submitting to him between 50 and 60 amendments making changes to the bill but that seven are being drafted — four of which also have support from Democrats.
Changes to the bill could include the annexation of the town of Yorkville, which is in Racine County, through a referendum process, Neylon said, signaling that Foxconn could be close to choosing that area for the proposed campus. Walker has said the company was deciding between two sites — one each in Racine and Kenosha counties.
Other changes being considered could include creating a provision for job training and requiring or providing an incentive to choose Wisconsin-based companies for construction work, and allowing money from a tax incremental financing district created for Foxconn to be used to build and expand fire and police services. Changes to the bill's language regarding wetlands also could be made and the bill could end up clarifying the state Department of Natural Resources' oversight of the construction process, Neylon said.
Another amendment could create a new position within the state Department of Administration to work with Foxconn to secure Wisconsin vendors, Neylon said.
Neylon said more changes could be submitted before his committee votes on the bill, which they are scheduled to do on Tuesday. The full Assembly plans to vote on the bill on Aug. 17.
While Assembly Republicans have moved quickly to pass the Foxconn legislation, which was introduced Aug. 1, Fitzgerald appeared on radio shows Wednesday afternoon and Thursday morning to defend against criticism that the Senate is moving too slowly. The Senate introduced its version of the bill Thursday afternoon.
Fitzgerald told Capitol reporters this week the bill needed further vetting and that Assembly Republicans have not "at all" involved the Senate in the process to amend the bill.
Amid pressure from some conservative talk radio show hosts not to bungle the deal with Foxconn by taking too long to pass the incentive package, Fitzgerald said it's been suggested to him to support the bill and "read it later."
"We're not going to do that in the state Senate," he told Bader. "We never have; we never will."
Vos, who represents the area Foxconn is considering, expressed dismay on a conservative talk radio show that Fitzgerald and Senate Republicans have taken this long to start considering the legislation.
He told host Mark Belling that he asked Fitzgerald repeatedly to participate in a joint committee hearing on the bill, but Fitzgerald refused, prompting Vos to "go it alone."
"I am falling all over myself to see how can I generate the very best deal for the company and the taxpayer," Vos said.