The state Senate voted primarily along party lines late Wednesday night to approve a contentious fast-tracked right-to-work bill after about eight hours of debate.
Shouts of "shame, shame, shame" instantly arose from the Senate gallery after the 17-15 vote.
A small group of protesters also greeted Republican senators with chants of "shame" as they exited the chamber. The group followed the chants with an evening rendition of the long-standing Solidarity Singalong, which competed with Capitol Police announcements that the building would soon close.
Democrats had launched an unsuccessful effort to send the measure back to committee. Republicans also beat back an attempt by Democrats to delay implementation by 90 days rather than as soon as Gov. Scott Walker signs it, which is expected to happen as early as next week.
About 2,000 protesters showed up for a second time Wednesday to protest Senate Bill 44. 
"Republican Senators clearly weren't there to listen to their constituents or vote in the best interests of all Wisconsinites," Phil Neuenfeldt, president of the Wisconsin AFL-CIO said in a statement. "With out-of-state special interests calling the shots, Wisconsin citizens get left behind.  Right to Work is a continuation of the destructive policies of the Scott Walker Administration that have cost Wisconsin jobs and economic opportunity."
Senate Majority Leader Scott Fitzgerald told the 32-member body that the measure is the most important jobs bill the Legislature will consider in the next two years. He said right to work will entice businesses to move to or stay in Wisconsin.
Fitzgerald, of Juneau, also said the bill is a matter of individual freedom.
The bill "affirms the right to join and support any labor organization ... and the right not to join or support any labor organization," Fitzgerald said.
Aside from Sen. Van Wanggaard, R-Racine, no Republican rose to discuss the merits of the bill. Wanggaard said constituents in his district, which has suffered from high unemployment, asked him to pass right to work.
"You have not had the courage to stand up and explain this to anyone," said Senate Minority Leader Jennifer Shilling, D-La Crosse. "That's disappointing."
Senate Democrats argued that making Wisconsin the nation's 25th right-to-work state will lower wages and quality of life for union and nonunion workers alike.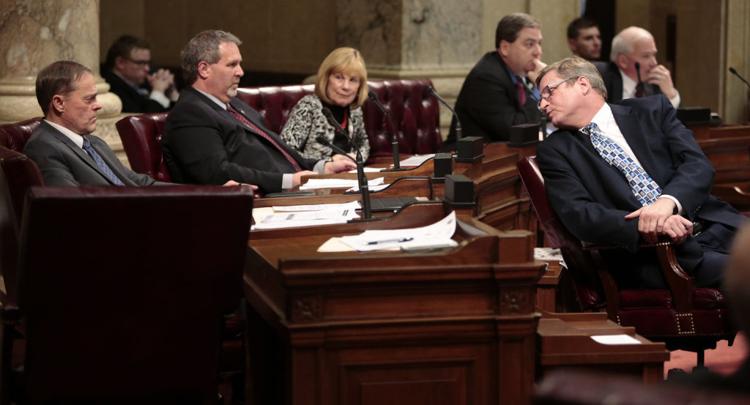 "This bill is going to drive down family wages. Period," said Shilling said.
Sen. Tim Carpenter, D-Milwaukee, charged that right to work is the second half of Walker's "divide and conquer" strategy to "cripple" labor unions — the first part being Act 10 in 2011 which stripped collective bargaining rights from most public workers.
Democrats repeatedly accused Republicans of "ramming through" the measure, introduced Friday, that would prohibit workers from being required to financially support any labor organization.
They noted that 1,751 people submitted comments or registered to speak against the bill at Tuesday's public hearing, with just 25 in favor.
Among the opponents were members of the 440-company Wisconsin Contractor Coalition, which opposes right to work. Democratic senators also read letters of opposition sent by unions representing professional baseball, hockey and football players.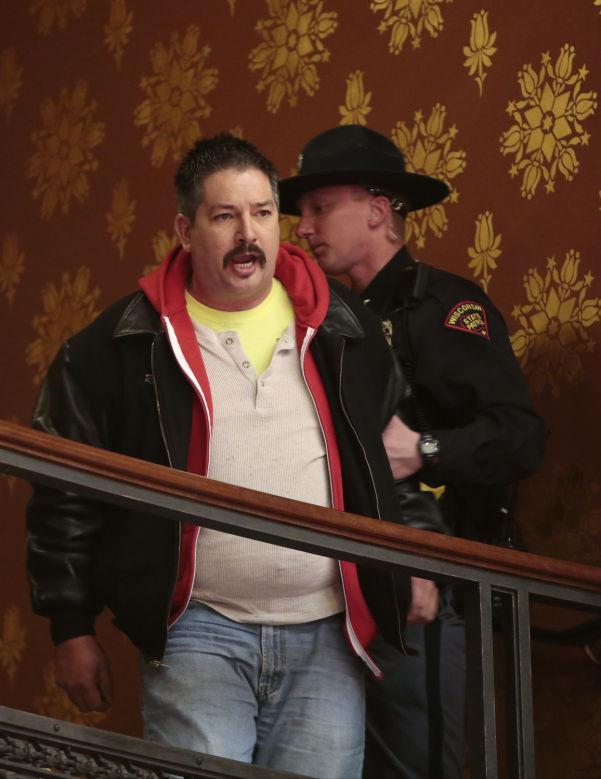 Several protesters were removed during Wednesday's Senate debate, one of whom accused Wisconsin of being a "banana republic." Shouting could be heard at times inside the Capitol and outside the Senate chamber.
But as a vote neared, only a handful of protesters remained. Some had been camped outside the session all day. Department of Administration spokesman Cullen Werwie said some people were removed from the Senate gallery throughout the day but not arrested. Four people were arrested, but Werwie declined to provide further details of their arrests.
At a press conference Wednesday before the session, Democrats expressed faint hope that enough moderate Republicans would defect Wednesday and vote against the bill.
Republicans control the chamber 18-14, and Fitzgerald has said 17 from his caucus will vote for it. There is one vacancy.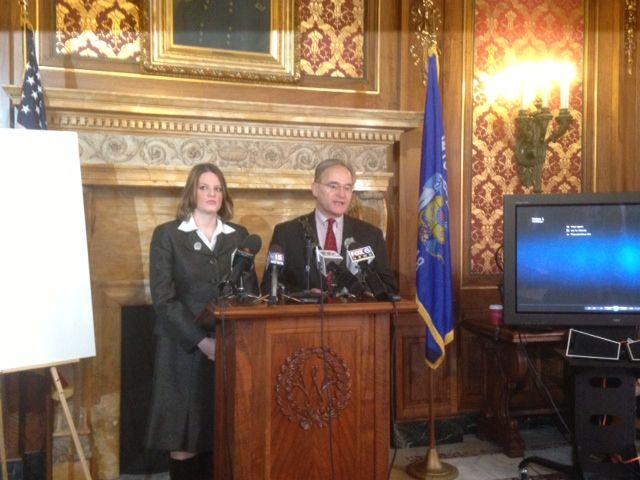 Sen. Jerry Petrowski of Marathon, the lone Republican who has publicly expressed opposition to right to work, issued a statement Wednesday night saying he planned to keep his word and vote no. He was the only Republican to vote against the measure.
"I am not convinced that the supposed benefits of passing this bill will materialize and offset a potentially disruptive impact on our economy," he said.
About 2,000 protesters rallied for a second day on the steps outside the Capitol. Afterwards, hundreds of protesters flooded into the Capitol chanting and hoisting signs.
Neuenfeldt told the crowd that demonstrators would return for a third rally against the bill on Saturday. Some protesters carried signs advocating for workers to strike.
Speaking at the AFL-CIO rally, United Auto Workers member John Drew called the bill "a political attack on labor, dressed up as an issue of worker freedom."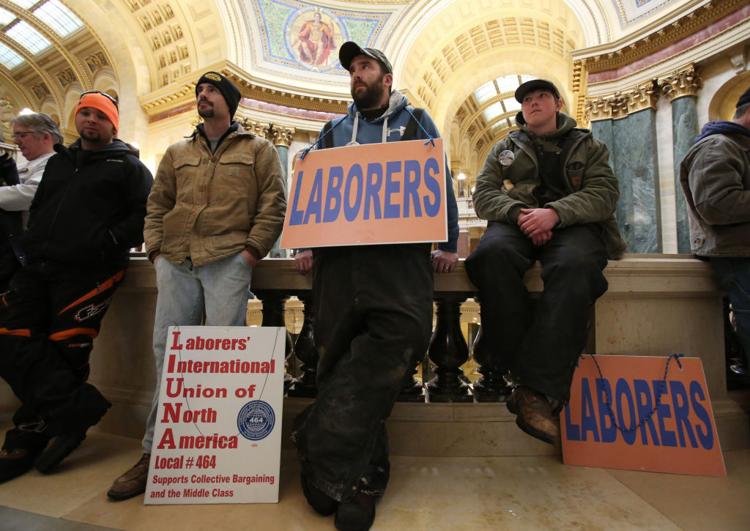 "They want to beat us down, brothers and sisters," Drew told the crowd of union supporters. "This is politics, pure and simple."
Sen. Chris Larson, of Milwaukee, and Sen. Bob Wirch, of Kenosha, the two Democratic members of the Senate Labor and Government Reform Committee, complained about the abrupt end of a public hearing on the bill Tuesday.
Larson said 180 people were waiting to be heard when chairman Sen. Steve Nass, R-Whitewater, called for a vote to approve the proposal after being told of plans to disrupt the hearing.
Larson noted that most if not all speakers in favor of the bill had financial or other connections to the conservative Bradley Foundation, run by Walker campaign co-chair Michael Grebe.
The liberal advocacy group One Wisconsin Now said speakers representing seven groups that got $3 million in funding from the conservative Milwaukee-based foundation went to the head of the line at Tuesday's hearing, which lasted for 8 1/2 hours.
Fitzgerald described the legislation as a "simple bill." But Democrats noted the measure eliminates a lengthy policy statement in the state statutes about the purpose of labor laws.
The stricken language calls for protecting the interests of the public, employees and employers and promoting "industrial peace" and "regular and adequate income for the employee."
"This doesn't pass the smell test," Sen. Janet Bewley, D-Ashland, said. Deleting that language, she said, "makes me very, very suspicious."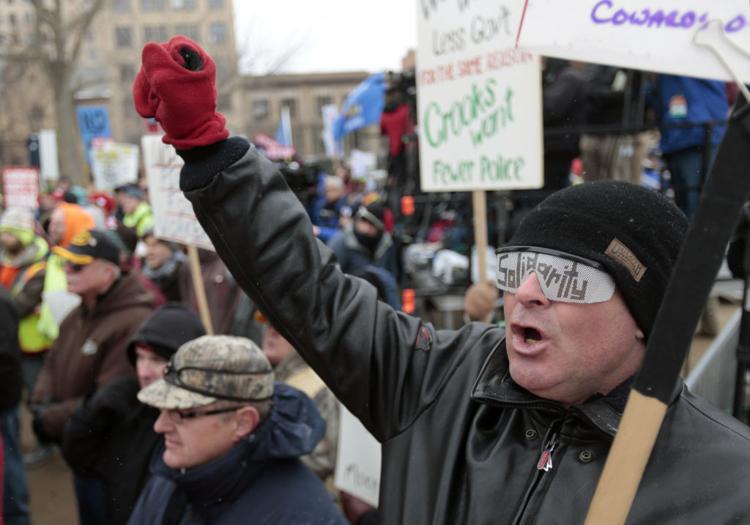 Sen. Jon Erpenbach, D-Middleton, said right to work "is tearing not only us apart as a chamber, but it's tearing the state apart."
Sen. Lena Taylor, D-Milwaukee, accused Republicans of turning the state into "Wississippi."
"You're rushing us to a place that's worse than where we are."
Reporters Nico Savidge, Mary Spicuzza, Steven Verburg and Jeff Glaze contributed to this report.