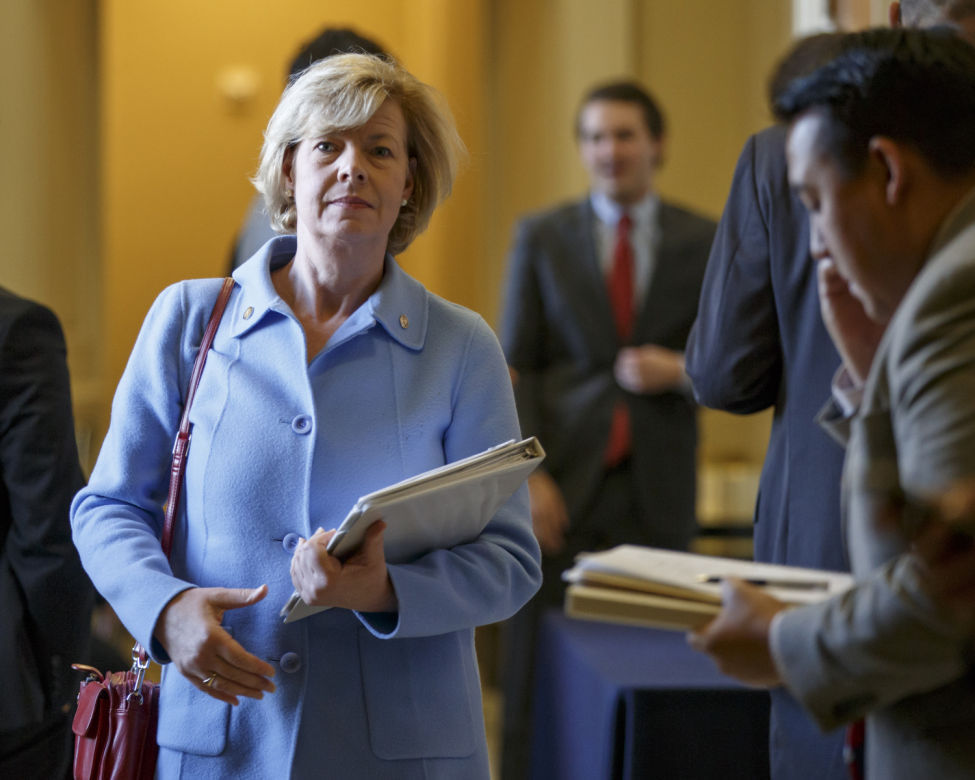 U.S. Sen. Tammy Baldwin is urging the nation's top prosecutor to investigate the Wisconsin Economic Development Corp.'s handling of loans in three separate cases in which taxpayer funds have yet to be repaid.
In a Nov. 6 letter to U.S. Attorney General Loretta Lynch, Baldwin asked the U.S. Department of Justice to review a $500,000 WEDC loan to a struggling Milwaukee company, Building Committee Inc., owned by a top donor to Gov. Scott Walker.
The Madison Democrat also cited a Sept. 21 letter from members of the Oneida Tribe of Indians of Wisconsin calling for an investigation into more than $1.1 million WEDC loaned to Green Box NA Green Bay and $2 million the agency loaned to Oneida Seven Generations Corp. Both loans are in default, and in the case of the Oneida Seven Generations Corp. the state used federal stimulus money, which Baldwin highlighted.
"The actions alleged in these letters are concerning and merit prompt review by the Department of Justice," Baldwin said.
Baldwin cited her position as ranking Democrat on the Senate Homeland Security and Government Affairs Subcommittee on Federal Spending Oversight and Emergency Management.
A spokesman for Sen. Ron Johnson, R-Oshkosh, chairman of the Senate Homeland Security and Government Affairs Committee, said Johnson would review Baldwin's letter before commenting.
A Justice Department spokesman said the agency is reviewing the letter, but had no comment.
Assembly Minority Leader Peter Barca, D-Kenosha, and Sen. Julie Lassa, D-Stevens Point, wrote to Lynch in May, citing several potential violations of federal law in what the State Journal reported, including illegal campaign contributions, theft involving programs receiving federal funds and wire fraud.
They had concerns that WEDC officials continued to work with Minahan after learning about the luxury car debt. Also, state officials didn't catch that Minahan's loan application said his company hadn't been involved in any lawsuits, when the state Department of Revenue had filed a tax warrant for $15,800 in unpaid taxes by BCI the day before he contributed $10,000 to Walker's campaign.
"If true as reported, the actions undertaken by officials in Governor Walker's administration in their interactions with BCI both hindered our ability to monitor WEDC's action and potentially violated numerous federal laws," Barca and Lassa wrote.
The $1.1 million loan and $95,000 grant to Green Box was to develop a product owner Ron Van Den Heuvel claimed would turn fast food waste into clean energy. Like Minahan, Van Den Heuvel did not disclose prior lawsuits in order to obtain state funding and has since been taken to court by WEDC to reclaim the money.
Unlike Minahan, there is no evidence he made large donations to Walker or was given special attention by top Walker aides.
Detectives with the Brown County Sheriff's Office are investigating Van Den Heuvel for allegedly defrauding WEDC. They seized a truckload of documents from his home and offices in De Pere and Ashwaubenon in July. In warrants, the lead detective alleges that Van Den Heuvel misrepresented his product, which Van Den Heuvel denies. No charges have been filed.
WEDC spokesman Steven Michels noted of the three loans, the only one involving federal funds was the $2 million to Oneida Seven Generations Corp., which the company was making interest payments on until April. In August the loan was declared in default.
The company had applied to the Commerce Department under Gov. Jim Doyle for the loan, saying it would create 22 jobs in Green Bay as part of a $17.6 million project to turn waste products into clean energy. WEDC signed the contract for the loan in November 2011 after the Green Bay City Council approved a conditional use permit.
However, the project faced public opposition and the City Council rescinded the permit in late 2012 saying the company had misrepresented its product. The company sued and the Wisconsin Supreme Court reversed the city's decision in May.