U.S. Sen. Ron Johnson said Tuesday he has ruled out a run for Wisconsin governor in 2022, but he remains undecided about whether to seek a third term in the Senate.
"I have no idea who started that rumor, but if I run for anything, it's not going to be for governor," Johnson, R-Oshkosh, said in response to a question from conservative talk radio host Vicki McKenna. "So anybody considering governor, you're not going to have me entering any kind of primary for governor."
Johnson himself floated the possibility of a run for governor back in 2019 when he was asked about it and responded: "Never say never."
Numerous Republicans are considering running for governor. Democratic Gov. Tony Evers has not yet said whether he will seek a second term.
Former Republican Lt. Gov. Rebecca Kleefisch is building a campaign to run. Others thinking about it include U.S. Rep. Mike Gallagher, former U.S. Rep. Sean Duffy, Waukesha County Executive Paul Farrow, lobbyist Bill McCoshen and Reince Priebus, former President Donald Trump's first chief of staff.
Kevin Nicholson, who ran for Senate in 2018 but lost in the Republican primary, plans to run for either Senate or governor.
Johnson had pledged in 2016 not to seek a third term in the Senate, but he's since rescinded that and said in recent days that he may not make a decision for several more months.
Johnson has been doing numerous interviews in recent days to explain his comments saying he wasn't afraid of insurrectionists at the U.S. Capitol in January, but he would have been concerned had they been Black Lives Matter protesters. The comments were denounced as racist, while Johnson said he was speaking about the rioters, not their race.
Johnson said in an interview on WOSH-AM in Oshkosh that because he had been to Trump rallies and been around his supporters for "hours and hours," he never felt threatened during the insurrection at the Capitol that resulted in five deaths, including one Capitol police officer.
Johnson has repeatedly accused his opponents of "playing the race card" against him to try to "destroy" him.
"It's going to backfire on them because this just fires me up more," Johnson said.
---
Readers react to Ron Johnson's remarks about riot
Johnson was active enabler for Trump -- Donna Silver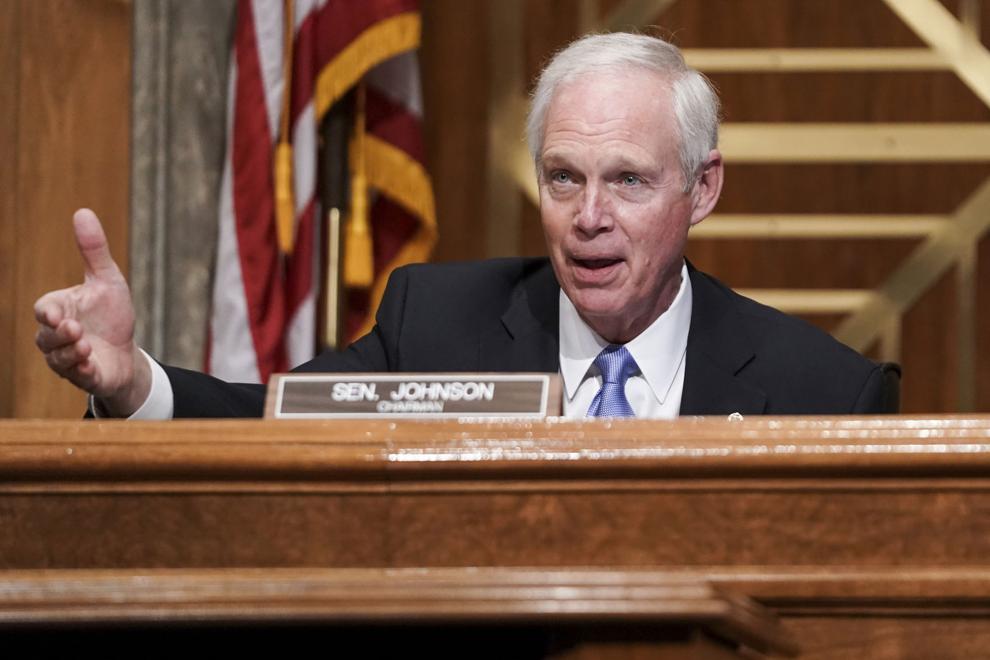 U.S. Sen. Ron Johnson, R-Oshkosh, is now saying "no insurrection" occurred at the nation's Capitol on Jan. 6.
What part of the definition of insurrection -- a violent uprising against the government -- does he fail to grasp? Must there be more than five dead and over a hundred wounded for it to be violent? Does the legislative branch not qualify as government?
To give Johnson the benefit of the doubt, a valid psychological reason could cause him to be delusional. Since he and a handful of senators (most notably Josh Hawley, R-Mo., Lindsey Graham, R-S.C., and Ted Cruz, R-Texas) have been active enablers of the Trump-led insurrection, it is understandable he would want to diminish the magnitude of the event.
Since words matter, Johnson is technically not an insurrectionist. The more accurate descriptor would be "seditionist," a person whose speech incites rebellion against the state.
By sowing doubt about the legitimacy of Joe Biden's victory in the presidential election -- a point conceded even by Trump's ever-loyal attorney general, Bill Barr -- Johnson enabled a dangerous lie and may accurately be called a seditionist.
Johnson doesn't represent state -- Joanie Ouellette
Sen. Ron Johnson, R-Oshkosh, should not run for office again. He shouldn't waste voters' time as a candidate. Instead, he should let other people run for U.S. Senate to better represent Wisconsin.
His recent comments that the uprising at the U.S. Capitol was not an armed insurrection made national news. His comments will negatively cost our state in tourist dollars, potential business investment and applications to our wonderful universities. Johnson's statements are a poor reflection of what Wisconsin is really all about. We are not ignorant people. Nor can we be bamboozled into believing that the insurrection did not happen. We saw and heard it with our own eyes and ears.
If this is what Johnson truly believes -- that the events of the Capitol were not an armed insurrection -- then he should not represent me or many others in Wisconsin who see it in a different and more alarming way.
Johnson should stop making fools of us here in Wisconsin. Please stop talking and please do not embarrass us any more by running for an office that you misrepresent.
Joanie Ouellette, Madison
Trade for Johnson wasn't an upgrade -- Ron Sklansky
It remains difficult to deal with the notion that Wisconsin swapped a person of political integrity, former U.S. Sen. Russ Feingold, D-Middleton, for a conspiracy theorist and Trump enabler in U.S. Sen. Ron Johnson, R-Oshkosh.
As a longtime Cubs fan, I've been haunted by the deal that sent future Hall of Famer Lou Brock to St. Louis for the soon-to-be burned out Ernie Broglio. Even so, it seems the Cubs made a better trade in 1964 than Wisconsin did in 2010 and 2016 when it sent Johnson to Washington, D.C.
MY VIEW | PHIL HANDS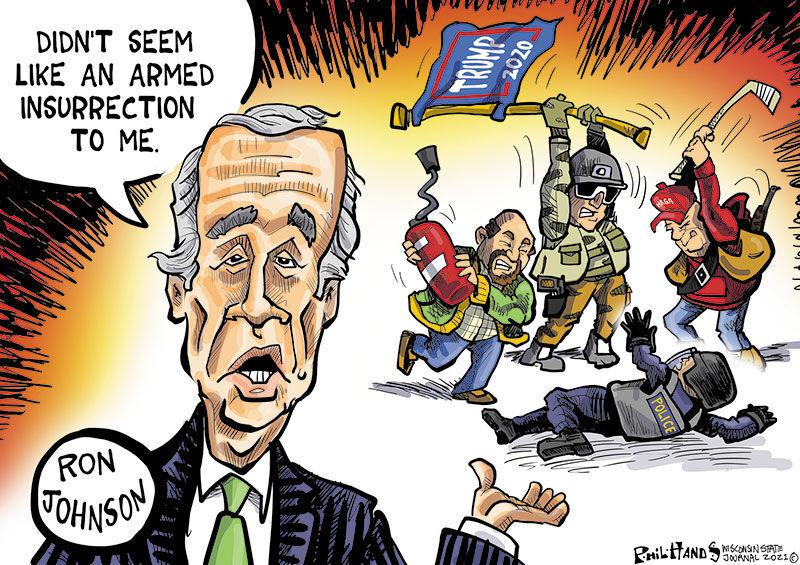 Johnson shamed Wisconsin again -- Rick Burgsteiner
The recent comments from U.S. Sen. Ron Johnson, R-Oshkosh, about the Capitol riots being an exaggerated threat are astonishingly sad.
Those comments reinforce how little respect he seems to have for those who put their lives on the line to defend the Capitol. He has brought shame on Wisconsin.
But of course it's not the first time, and it won't be the last.
Rick Burgsteiner, River Falls
Insurrectionists were indeed armed -- Susan Fiore
I'm baffled by Sen. Ron Johnson's comment that the attack on the U.S. Capitol and our elected officials and their staffs "didn't seem like an armed insurrection to me."
Here's a list of some of the weapons people were carrying, according to The Hill:
Guns, including at least one automatic rifle.
Molotov cocktails.
A crossbow.
Smoke bombs.
Stun guns.
Pipe bombs.
Hundreds of rounds of ammunition on just one man.
Tasers.
People died. People were injured. People were prevented from doing their jobs. Property was destroyed, damaged and covered with human feces.
I am Johnson's constituent. A constituent is: "One who authorizes another to act as agent," according to the Merriam-Webster dictionary. Consequently, as my senator, Sen. Johnson works for me. I would like him to do so with honesty, integrity and knowledge of what he speaks.
WATCH NOW: Phil Hands draws Ron Johnson
Johnson must stop enabling Trump -- Gerry Bastien
I have a question for U.S. Sen. Ron Johnson, R-Oshkosh.
Donald Trump says he believes he won the election and it was stolen from him by Democrats. Absolutely no evidence of widespread voter fraud or voting machine tampering suggests this, and all 50 states confirmed and certified the vote.
So either Trump is suffering from some delusion and really needs to believe he won, or he knows he didn't win but is lying to keep his base intact so he can continue to be a force in the GOP. If it's the first case, he is in need of medical help. If it's the second, he is perpetrating a hoax on the American people "the likes of which no one has seen before," to quote a former politician.
So, Sen. Johnson, which one do you believe to be the case? And, either way, why are you still enabling him?
Radical Trumpism is here to stay -- Michael Prestigiacomo
I was sickened by Sen. Ron Johnson, R-Oshkosh, and the other 42 cowardly GOP senators who voted "not guilty" during Donald Trump's second impeachment trial.
They chose to ignore Trump's responsibility for inciting the mob, leading to the attack and insurrection against our nation's capitol. Johnson and his colleagues also provided credence to millions of Americans who still believe Trump's utterly false narrative that the election was "stolen."
All 50 states legally certified their election results, with Joe Biden clearly winning the electoral vote and becoming our new president.
The ex-president's "not guilty" verdict also destroyed the last vestiges of the GOP, while validating the Party of Trump to eliminate moderate Republicans within their ranks, and to double-down on voter suppression while turning a blind eye toward right-wing political violence in securing future elections.
Hardcore Trumpism throughout the country is here to stay, and the rest of the free world has taken note.
Michael Prestigiacomo, Madison
WATCH NOW: Phil Hands draws his latest political cartoon
Ron Johnson should resign from the US Senate -- William Corse
As a former supporter of U.S. Sen. Ron Johnson, R-Oshkosh, who campaigned for him in northwestern Wisconsin back in 2010, when he unseated Russ Feingold, I add my name to the many people who have demanded Johnson resign from the Senate immediately.
After four years of being a lapdog for Donald Trump, he has proven he is not capable of honoring his oath, much less representing the people of Wisconsin properly.
Johnson has spent the last year digging up dirt on Hunter Biden, which is not why we sent him to the Senate in the first place. Farmers are struggling to stay afloat, but he doesn't care. He should do us all a favor and resign now.
After John is gone, Gov. Tony Evers can name a Democrat for the remaining two years of Johnson's current term and help President Joe Biden pull us out of this horrible pandemic before another 200,000 U.S. citizens die needlessly. 
William Corse, Eau Claire
Ron Johnson spread lies, kowtowed to Trump -- Brent Odell
For four years, Republicans saw no need to work with Democrats in seeking common ground in addressing the pressing issues facing our country. Now that Republicans aren't in control of the Senate, they're calling for folks to link arms, let bygones be bygones and sing "Kumbaya."
This is coming from the likes of U.S. Sen. Ron Johnson, R-Oshkosh, who spread lies about the election. It's sickening that he and others allowed and continue to allow themselves to be bullied, putting their own self-serving needs above the security of the country and the needs of the American people.
Johnson enabling Trump the past four years and allowing him to have a stranglehold on the Republican Party was sad and scary. It speaks volumes about Johnson's character that he continues to kowtow to Trump, who has no ethics or morals, manipulates government agencies and acts in ways that only benefit himself.