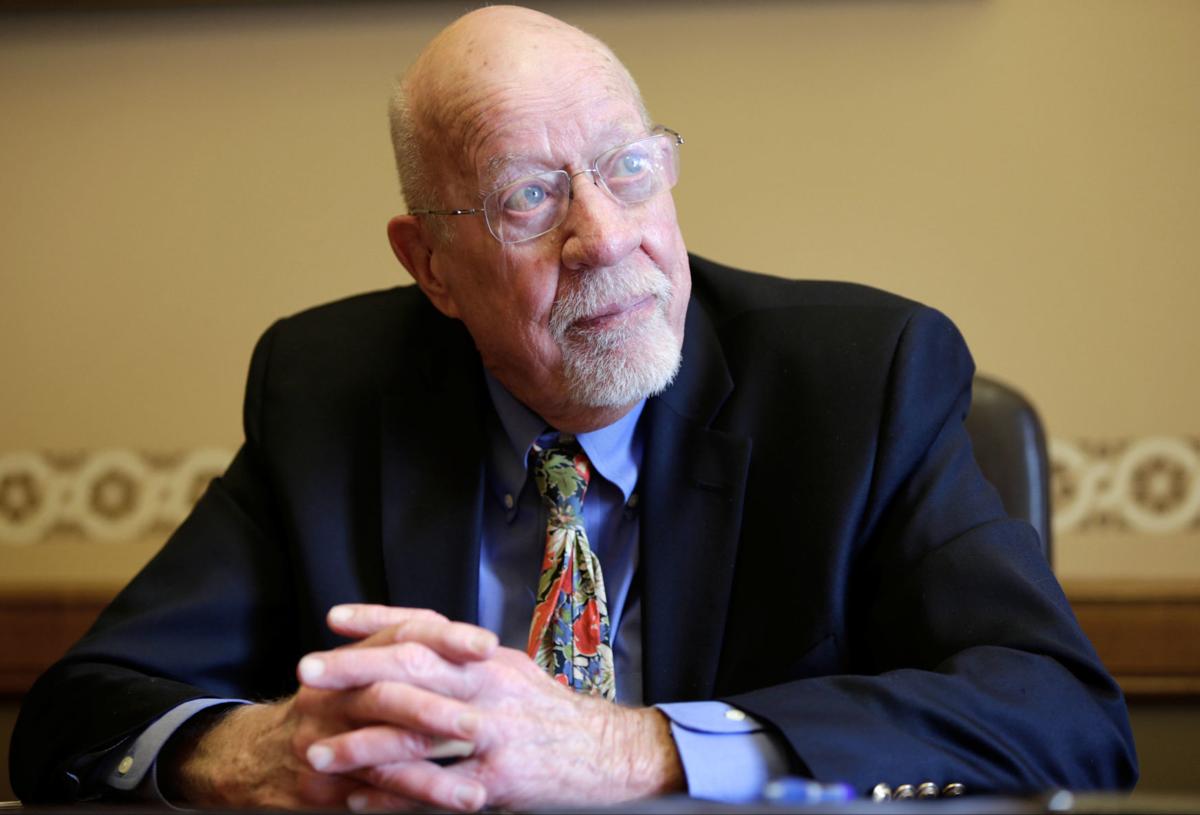 State Sen. Fred Risser, the longest-serving lawmaker in the nation's history, announced he will retire after the end of his term, capping his historic 64-year tenure amid a global pandemic and tumultuous presidential election year.
Risser, 92, is also the last World War II veteran remaining in either the state or nation's legislatures. His time in the Legislature since being elected to the Assembly in 1956 and the Senate in 1962 has spanned 13 different governors, and he says he never missed a legislative roll call.
After decades immersed in Wisconsin politics, the Madison Democrat told the Wisconsin State Journal that it was simply time to hang it up, though a number of his friends thought he should soldier on.
"The truth is, it was a difficult decision for me," Risser said. "I came to the conclusion, after thinking of all the changes and options, that it was time. I don't know what else to say other than that."
If Risser had chosen to run again, he would have been 97 by the end of the next term.
"I'm still a practicing attorney, though I don't practice much," he said. "I have a garden. I have a wonderful wife. We like to travel and I'm looking forward to a new period where I can spend more time doing other things."
Risser said he'll most miss his co-workers in the Capitol and the fact that no two days there were the same.
A number of candidates are already lining up for the reliably Democratic seat. Former state Rep. Kelda Roys, who ran unsuccessfully for governor in 2018, said she's considering running. So is Scot Ross, the former leader of the liberal advocacy group One Wisconsin Now, which gained national attention as a foil to Wisconsin Republicans.
Three people announced their bids for the seat before Risser's retirement announcement. They are: Nada Elmikashfi, a UW-Madison student and activist; Aisha Moe, a Capitol staffer; and William Henry Davis III, a write-in candidate for lieutenant governor in 2018.
Roys had also expressed interest in running for the seat being vacated by retiring state Sen. Mark Miller, D-Monona, but would have likely had to move. Risser said he has no plans to endorse anyone in the race.
Risser, who even as a nonagenarian says he has never ridden a Capitol elevator — preferring instead to take the stairs — was a rock for many amid the shifting sands of Wisconsin politics.
Master tactician
"This is a generational shift," said Stuart Levitan, a local historian, author and former Dane County Board supervisor who ran against Risser in 1996. "This is the longest-serving legislator in American history stepping down. That's a big deal."
It's now been almost a quarter-century since Levitan ran against Risser with a "pass the torch" slogan. And just as he was doing then, Risser around his birthday continues to bike a mile for every year he's lived.
Levitan said Risser carries a legacy of being a strong supporter of abortion rights, a "fierce foe" of smoking and the state lottery, and a successful minority leader and master of parliamentary tactics who "could tie the Republican majority up in knots."
Still, Levitan said Risser's record-setting time in the Legislature had its downsides, denying people from one of the most politically engaged Senate districts in the state a chance to take up the mantle.
"There has been a full generation, maybe two, that have aged out," Levitan said.
A life's calling
Risser said he chose to remain a state senator for so long simply out of enjoyment.
"I've always enjoyed representing people," Risser said. "I always knew from the time that I was born that I would be involved in some type of political service. I was honored that the people of this district allowed me to serve that long."
Risser's family, too, has had an influential role in the politics of the state. Risser is the fourth generation in his family to represent the Madison area in the Wisconsin Legislature. His father, Fred E. Risser, was the last Progressive member of the state Senate, his grandfather was a Progressive Republican and served in the Assembly, and his great-grandfather, elected as a Unionist, served in both the state Senate and Assembly.
Risser never ran for elected office outside the Legislature, except for a brief time when he considered running for Congress if Bob Kastenmeier, a Democrat who represented Wisconsin's 2nd District from 1959 to 1991, had stepped down earlier.
Accomplishments
Risser has a list of legislative accomplishments over his tenure, including 50 years as a member of the State Building Commission and 244 bills signed into law. He highlighted several of those bills, including the state's Clean Indoor Act, which restricts smoking in certain public and privately owned buildings and on most types of public transportation.
He's also responsible for a law giving senior citizens over the age of 60 the ability to audit, without cost, courses at the University of Wisconsin. He also highlights his work drafting the Capitol Master Plan and 10 years of work on state Capitol restoration.
He said one of the biggest changes in Wisconsin politics he's seen has been the increasing diversity of the Legislature, which he said he welcomes. When he started out, he said there wasn't even a women's restroom near the Senate floor. Now, there are 38 women in the Assembly and Senate.
Widening divide
Other changes are the role of a legislator becoming more full-time, and how tense partisanship so common in Washington has bled into Wisconsin politics, reaching a crescendo under former Republican Gov. Scott Walker.
"I thought the camaraderie was much greater years ago," Risser said. "Now we see that party leaders make a decision and all the members of the party follow the line."
In his earlier years, Risser said it was common to see lawmakers being persuaded by their colleagues on the Senate floor, and decide there whether they would pass or not.
Now, he said all those decisions are made in private party caucuses, long before any lawmakers set foot in the Senate chambers.
An 'icon'
Risser received bipartisan praise after his retirement announcement.
"Fred has been a clear and consistent voice for environmental issues, public education, the UW System, and public health," said Senate Minority Leader Jennifer Shilling, D-La Crosse. "His push for smoking bans in Wisconsin led to the smoke free laws now in place. Fred leaves behind a lasting legacy and has served the state of Wisconsin and his community well during his 64 years of public service."
Assembly Speaker Robin Vos, R-Rochester, said Risser "is a legislative icon."
"He devoted his life to serving his constituents in the legislative branch," Vos said. "During his 64 years in the Legislature, he has inspired generations of current and future lawmakers and undoubtedly, made a lasting impact on our state."
Risser, who lives across the street from the Capitol, said he still plans to be involved in politics after he retires, putting forth his best effort to elect a Democrat to the White House in November.
He said it's unlikely Democrats will take back the state legislative majority in November, but could do so if the political maps change after the completion of the 2020 Census.