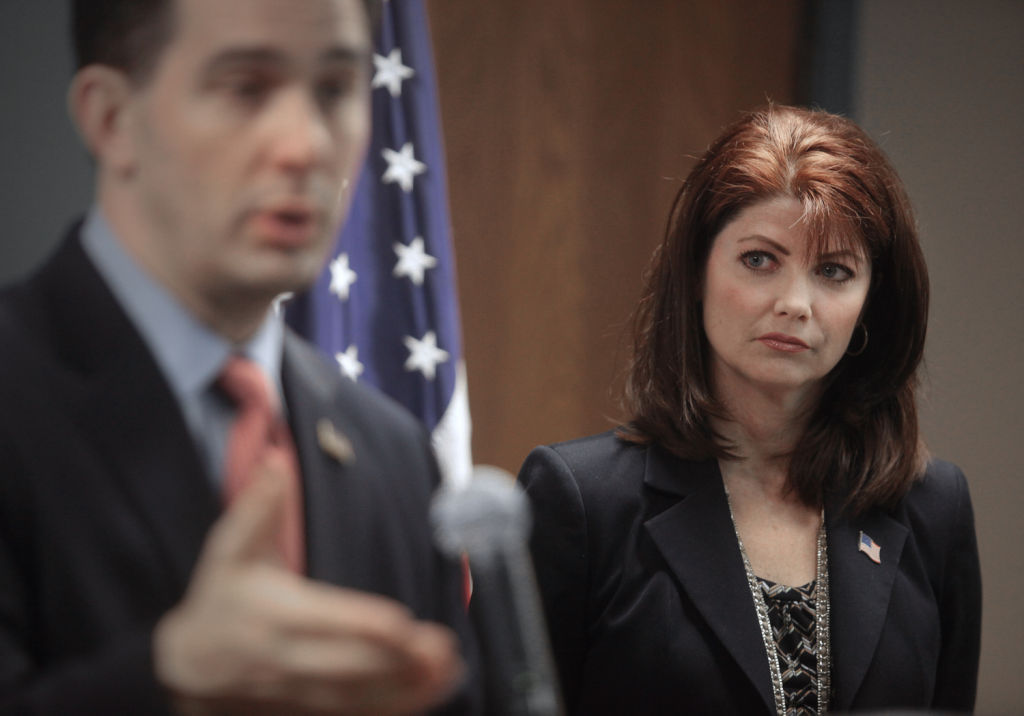 Gov. Scott Walker has put all of his political energy into winning the GOP presidential nomination, creating a leadership void in Wisconsin marked by increasing public discontent among the state's Republican-leaning independent voters and departures by some of his top staff, observers said.
The situation — combined with a recent effort by state GOP officials to highlight Lt. Gov. Rebecca Kleefisch at the annual party convention — raises questions about Walker's political future in the state, including how well he could govern should his presidential quest end prematurely, political experts and observers say.
Former Gov. Tommy Thompson, who made a brief bid for the Republican presidential nomination in 2008, said in a July interview — before Walker's presidential prospects dropped dramatically — that the governor would win Wisconsin in a general election if he were the GOP nominee. But his chances at continuing a run as Wisconsin's governor? That's not as clear, he said.
"There would be an allegiance" to Walker as a presidential candidate, Thompson said. "That would not be the same if he were to run for re-election for governor."
Just 39 percent of Wisconsinites polled in August approved of Walker's performance as governor, according to the Marquette Law School Poll, the lowest level since January 2012 when the poll began measuring Walker's backing.
Poll director Charles Franklin said the numbers show Walker is losing support in the state's political middle. While Republican and Democratic voters' support for Walker hasn't changed much in recent months, Walker's support from Republican-leaning independents has dropped sharply. — from 86 percent supporting Walker in his November re-election in an October poll to now 64 percent approving of the job he's doing as governor, according to an August poll Franklin conducted.
Franklin said Walker's overall approval rating from the August poll is "striking" because since 2012, his approval rating hasn't seen big swings in support — never dropping below 46 percent and not topping 51 percent.
"He's losing that middle, and that middle had been so solid for him three years ago, but now has moved away from him," Franklin said.
While state Republican Party spokesman Chris Martin said Walker remains the head of the party, and the governor's office says he's still making decisions about state matters, Franklin said the poll results suggest Walker's pursuit of the GOP presidential nomination is causing voters to wonder what governing role he's actually playing in his home state.
When asked what message those polled are receiving, Franklin said, "I really do think it's 'He's just not into you anymore.' "
Franklin said that throughout his first term, Walker used the bully pulpit of the governor's office and scheduled events statewide to "talk up" his policy proposals to residents. That face-to-face visibility across the state has all but vanished, replaced with nonstop news coverage of Walker speaking to other states' voters.
"With him out of town so much of the time — really since November, but especially since January — it's hard for you to look at that and not have the sense that 'He's always somewhere else and never at home,' " Franklin said.
Even before Walker announced his bid for president in July, Wisconsinites opposed much of Walker's 2015-17 budget and felt the budget situation turned out to be far worse than Walker had presented during his November re-election campaign, according to the poll in April, Franklin noted.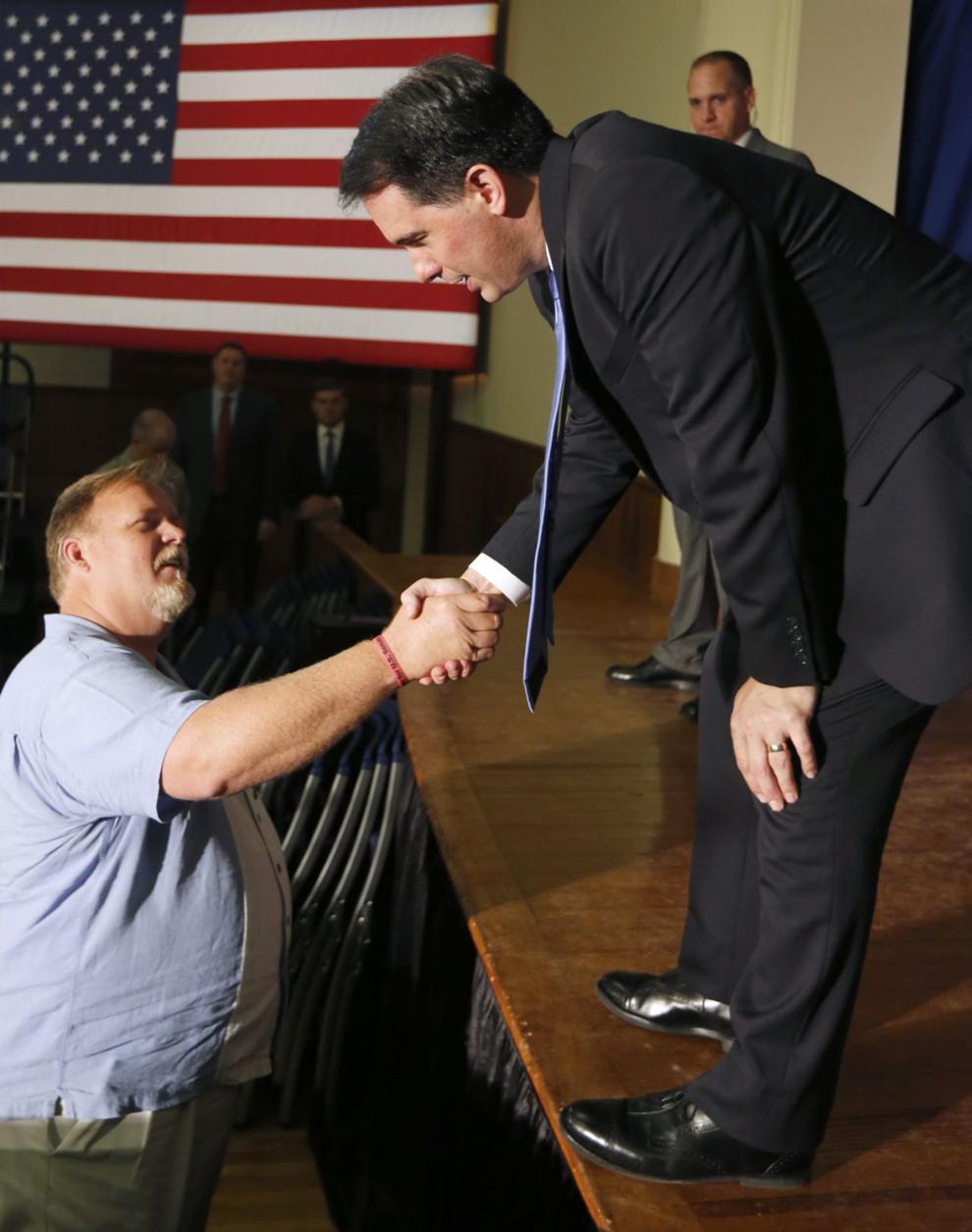 The August poll also showed 63 percent of those polled said that they didn't like Walker running for president. In the April poll, 67 percent said they don't think a sitting governor can govern and run for president at the same time.
Walker spokeswoman Laurel Patrick said in July that Walker remains engaged with his staff, and noted that he ran two campaigns for governor while leading the state.
But he's now losing longtime chief of staff Eric Schutt, who Republicans have said was Walker's key contact at the Capitol as he traveled around the country seeking the presidential nomination. In July, he appointed legal counsel Brian Hagedorn to the state Court of Appeals in Waukesha. And Reed Hall, the CEO of his flagship job-creation agency, the Wisconsin Economic Development Corp., announced he will step down later this month — the latest in management turnover at the beleaguered agency.
While ramping up his presidential bid earlier this year, Walker lost a key adviser in Mike Huebsch, who was secretary of the Department of Administration, which oversees the state budget. Huebsch left for a job with the Public Service Commission.
In addition, questions about Walker's leadership role surfaced this spring when Republicans in the Legislature became increasingly bold about their disagreements with his plans for the 2015-17 state budget.
And the effect of the governor's absence could be seen as lawmakers took the lead on such issues as right-to-work legislation and the prevailing wage repeal effort, said Bill McCoshen, a Republican lobbyist who was Commerce secretary under Thompson.
The questions accelerated in recent weeks when Walker told audiences that he had to convince reluctant Republicans to support his plan to undercut collective bargaining by public workers. The backlash among lawmakers was swift and strong, and Walker was forced to concede he was talking about just a couple of lawmakers.
Sen. Jon Erpenbach, D-Middleton, said Walker's absence was noticed during the end of the 2015-17 budget process, when Republican legislative leaders in the Senate and the Assembly bickered over parts of the budget, resulting in a month-long stalemate lasting past the July 1 deadline to pass a state budget.
Thompson, who left midway through his fourth term as governor to serve in President George W. Bush's Cabinet, said it's not impossible for Walker to govern and run for president at the same time. But it requires regular communication with staff.
"It's difficult, it's time-consuming, but it's certainly doable," Thompson said.
When former Virginia Gov. Douglas Wilder sought the Democratic presidential nomination in 1992 against then-Arkansas governor Bill Clinton, he didn't stay on the trail long.
"The people of my state didn't think I could (do both)," said Wilder.
Walker is one of four sitting governors seeking the GOP nomination, joining New Jersey's Chris Christie, Ohio's John Kasich and Louisiana's Bobby Jindal.
As Walker's presence in the state has diminished, Kleefisch's has grown.
Kleefisch, who declined to be interviewed for this story, was featured numerous times at the Republican Party convention in May in La Crosse and gave an impassioned speech in July in Waukesha at Walker's presidential announcement event. Since Walker's run for the presidency began, she has become more visible, McCoshen said.
Last week, she visited the Farm Progress Show in Decatur, Illinois, which bills itself as the nation's largest outdoor farm show, and she will lead a trade mission with the WEDC executives to Japan and Taiwan next week to promote trade and investment opportunities in those countries to Wisconsin business leaders.
Last month, she crisscrossed the state visiting manufacturing companies and also accepted the state's updated emergency response plan from the state's homeland security council on behalf of Walker.
"They've got her out there more, so she's more visible on the surrogate circuit than she was in the past," McCoshen said. "It's pretty obvious the governor thinks highly of her and have given her an expanded role in his absence."
Franklin said Walker has rebounded from low poll numbers before — after the Act 10 protests and recall election.
"I think that's a worthwhile cautionary tale to realize it could get worse in the future and it could get better and really no one can know what it will do," he said.
Franklin said if Walker returns to Wisconsin as governor without winning the GOP nomination, "it's clear he has some repair work to do with voters here."
"He needs to fashion an appeal to win back these people in the middle who don't think as well of him," Franklin said. "If he comes back, let's not forget he will still be governor of the state. ... The future will have to depend on what he chooses to do."