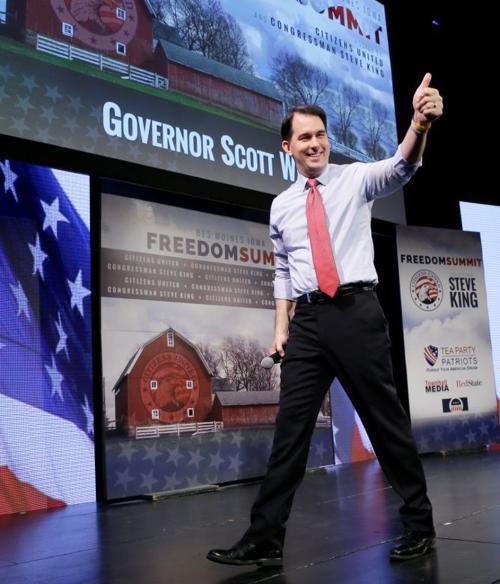 Gov. Scott Walker plans to launch his 2016 presidential campaign on Monday in Waukesha, an event that has been months, if not years, in the making.
Walker has been laying the groundwork for a presidential run since shortly after winning re-election to a second term last November — despite saying during the campaign that he was "committed" to the governor's office and planned to serve four years if elected.
On Nov. 20, Politico reported that Walker was "taking active steps toward a presidential campaign that would launch next summer" and would "contrast his record of conservative achievements in a swing state with paralysis in Washington."
In January he told reporters that he was praying about whether to run. Then he rolled up his sleeves at the Iowa Freedom Summit and fired up the crowd, calling for a president who would "go big and go bold." It was one of at least a half-dozen trips this year to the state that hosts the first nominating contest of the 2016 cycle. He plans to barnstorm the state in a Winnebago this weekend.
In the first six months of the year Walker traveled outside the state on about as many days as he stayed in the state, even as his biennial budget proposal came under fire from fellow Republicans.
Walker talked about buying a $1 sweater at Kohl's in New Hampshire and his love of Harleys in South Carolina. He toured the Texas-Mexico border, took a six-day trip to Israel, attended private fundraisers from California to Florida and participated in at least 17 "cattle call" events with more than a dozen other GOP candidates.
He also had several stumbles along the way, punting on a question about evolution in London, saying his experience standing up to 100,000 protesters prepared him to take on international terrorists, shifting his positions on abortion, ethanol subsidies and immigration, and claiming British Prime Minister David Cameron had criticized President Barack Obama's leadership, only to be contradicted by a Cameron spokesperson.
In February he formed a political nonprofit group, Our American Revival, to raise an unlimited amount of money to pay for his staff, office space and travels. The group's first fundraising figures are due out later this month.
Though the groundwork for a presidential campaign has been laid over the past eight months, the possibility that Walker might run for president has been mounting for years — at least since enacting his signature 2011 law curtailing public-worker collective bargaining catapulted him onto the national stage.
Walker's campaign didn't respond to a question about when he first thought about running for president.
It's possible the idea was planted as early as 1985, when as a rising high school senior in Delavan he represented his state in Washington, D.C., as part of the prestigious Boys Nation summer leadership program. In 2010, Walker told the State Journal that Ronald Reagan, who was president at the time but did not meet with the Boys Nation delegates that year, "played a big role in inspiring me."
Walker long talked about his goal of becoming governor one day. According to a GQ profile last fall, he told his future wife, Tonette, in the early 1990s that he would some day be governor.
Neenah Mayor Dean Kaufert, a Republican state representative for 24 years who served with Walker in the 1990s, recently told the State Journal he remembered Walker talking about running for governor as far back as 1997.
"It's something he wanted," Kaufert said, but added, "I didn't hear any of the presidential aspirations back in the 1990s."
Assembly Speaker Robin Vos, R-Rochester, who has known Walker since they were delegates at Badger Boys State in 1985, also said he doesn't recall Walker talking about running for president before 2010.
"I don't think he ran for governor thinking he was going to be president someday," Vos said. "Governor Walker has always been someone who does a good job in the job he's in, but because of that people are always saying, 'You should think about this' or 'You should think about that.' "
Walker entered the national political consciousness in early 2011 as his collective bargaining law known as Act 10 drew tens of thousands of protesters to the state Capitol. When he introduced the idea to his Cabinet secretaries he invoked Reagan's firing of striking air traffic controllers and said it was "our time to change the course of history."
The protest spectacle broadcast on national TV and ensuing recall election helped him build a following among conservative activists across the country who wouldn't otherwise pay attention to the daily affairs of another state's governor.
In February 2012, as the recall was ramping up, Walker had his national coming-out moment with conservative activists, giving the keynote address at the Conservative Political Action Conference in Washington, D.C.
"Lord help us if we lose," Walker said at the event. "I believe that it will set acts of courage in politics back at least a decade if not a generation."
At one point Walker sent Romney an email criticizing his campaign's tone and urging the former Massachusetts governor to show more passion, get out from behind the podium and connect directly with voters.
Walker presidential buzz was building soon after Romney's defeat. Larry Sabato, director of the University of Virginia Center for Politics, told the State Journal in January 2013 that "conservatives mention Walker as a presidential candidate prominently and frequently."
"Would I ever be (interested)? Possibly," Walker said. "I guess the only thing I'd say is I'm not ruling it out."