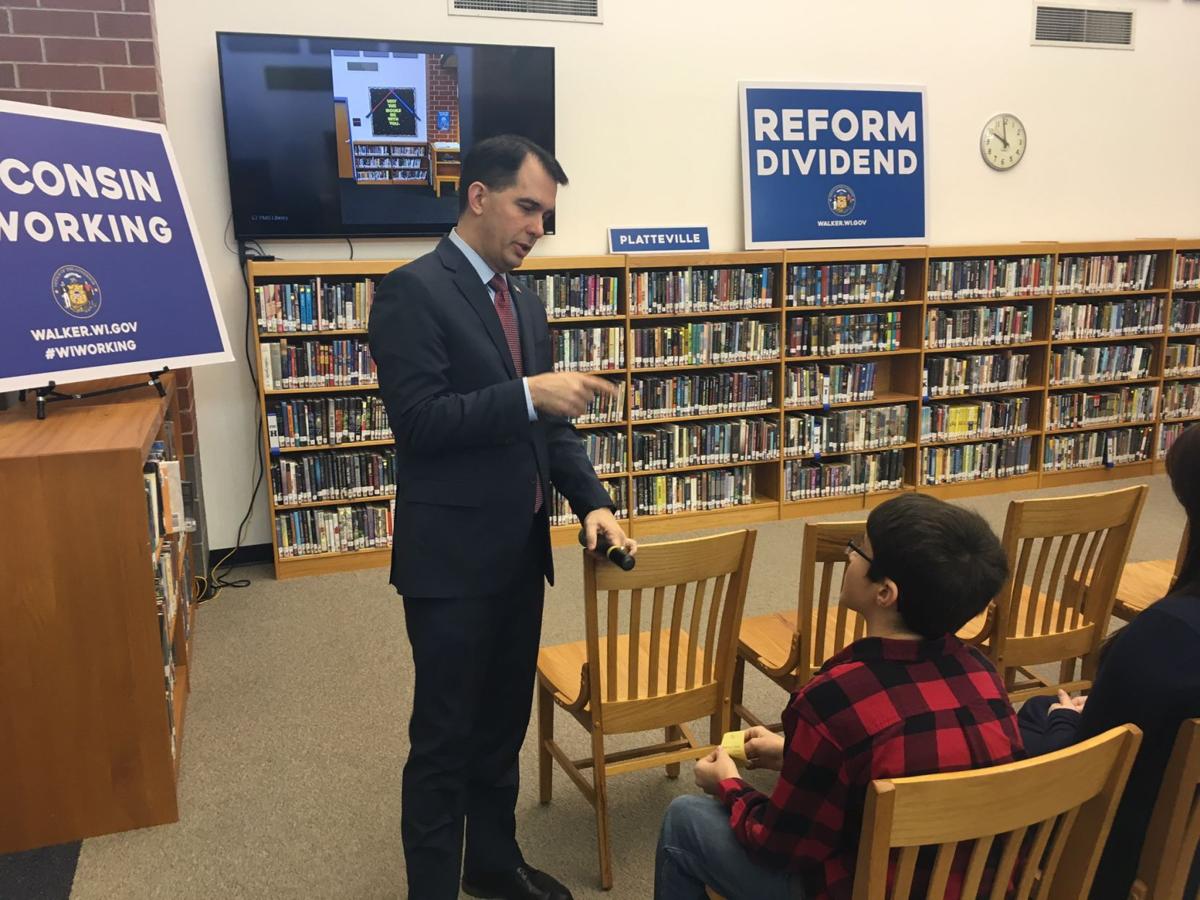 Gov. Scott Walker's latest budget proposal has left little doubt that he plans to run for re-election in 2018 and may telegraph his strategy for winning a third term.
Walker has said he won't announce a decision until after the budget wraps up this summer. But after his approval rating tanked during a short-lived presidential run in 2015, he spent time last year hosting private meetings around the state and announced plans to ratchet up his campaign fundraising.
The latest sign of an imminent run is a 2017-19 budget proposal chock-full of new spending that offers something for just about everyone. The proposals include:
More money for K-12 schools across the state than even requested by state Superintendent Tony Evers, who is supported by Democrats.
A 5 percent University of Wisconsin System tuition cut and a 2 percent raise for public employees — both set to take effect right before the next election (with another 2 percent raise in 2019).
A boost in state tax money for rural schools, municipal and county road repair funding and broadband infrastructure — all appealing to voters in northern, central and western parts of the state where his approval rating has sagged.
A targeted increase in the earned income tax credit and homestead credit and an income tax cut that makes the tax code more progressive, blocking an attack line from liberals.
Elimination of the prevailing wage, municipal
project-labor
agreements, and government boards and
commissions
, and a requirement that the Legislature approve agency rules with an economic impact greater than
$10 million
, appeasing conservatives.
"This document clearly shows he's gearing up to run for re-election," said lobbyist and Republican strategist Bill McCoshen. "He's addressing areas his opponents thought were weaknesses — primarily in education."
Walker's budget telegraphs a political strategy of shoring up support in rural parts of the state while also cutting into the Democratic case against his re-election, said Dave Cieslewicz, a former Democratic mayor of Madison.
"He's doing something that's going to make it harder for a Democrat. The first thing you would do is attack him for his lack of support on education, so he's going right at that issue," Cieslewicz said. "He's looking at geography and he's also looking at putting any potential Democratic opponent in a corner."
Whichever Democrats run will be criticizing Walker's entire record, and won't be deterred by an attempt to backtrack on areas where he has pushed major cuts, said Rep. Cory Mason, D-Racine.
Walker's first budget cut K-12 education by nearly $800 million, though his Act 10 changes to public unions helped districts pass those cuts to employees, and his previous budget cut the University of Wisconsin System by $250 million, while also extending a tuition freeze for four years.
"It's like an arsonist lighting a fire and coming back six years later with a hose," Mason said. "I think he thinks he's highly vulnerable. Otherwise he wouldn't try to undo the mess he's done."
Walker's attentiveness to rural issues, after turning down $23 million in federal broadband funding in his first term, may reflect a strategy to secure the support of voters who cast ballots for Donald Trump.
Joe Heim, a UW-La Crosse political science professor, noted Trump voters were willing to vote for down-ballot Republicans, knocking out Democrats in two rural Wisconsin races.
"Walker sees this as an indication that they're willing to vote for Republicans, not just Trump," Heim said. "He sees this as an area to be further mined for political advantage."
Walker: I'm listening
Walker said he hasn't made a decision on whether to run again, but he told reporters Friday "obviously, if I'm listening to what people say and doing the things that they and I think are priorities, should I choose to run, obviously I think it's not a leap of faith to think that that would benefit re-election."
"This is about appealing to what I heard in every county in the state, what people told me were their priorities and what people told me they needed to grow the economy," Walker said. "If responding to what I hear from the people of the state is popular, then I'm guilty. I'm doing what the people asked me to do, and I think that's what you're supposed to do when you're an elected official."
One figure that illustrates how Walker is using the budget proposal to shore up his re-election prospects is the structural deficit his proposal creates in the 2019-21 budget. The structural deficit is the difference between spending and revenue in the next two-year cycle if neither changes.
The budget backloads much of the new spending, such as the state employee raise, into the second year of the biennium and spends down a starting balance of $453 million to about $8 million by June 30, 2019.
It also banks on $60 million in savings from switching to a self-insurance plan for state employee health care, but some of those savings are only a one-time benefit to the state and they're not guaranteed.
The result is a $740 million structural deficit, the largest in raw dollars over the past eight budget proposals. Gov. Jim Doyle's 2009-11 budget proposal just before the recession hit projected a $689.5 million deficit, which adjusted for inflation is slightly higher than Walker's.
Spending before
re-election bid
Todd Berry, president of the Wisconsin Taxpayers Alliance, said Walker's budget proposal fits a trend of governors from both parties pumping up spending in the budget right before standing for re-election.
Doyle, for example, increased public school funding in the 2005-07 budget, which helped soften the statewide property tax increase just before he won re-election in 2006. Gov. Tommy Thompson introduced the state's commitment to funding two-thirds of public education in spring 1994 just before winning a third term.
Walker himself also benefited from three rounds of income and property tax cuts in spring and fall 2013 and spring 2014 just before his re-election victory. The nearly $800 million cut to K-12 education in his 2011-13 budget helped prime the pump for those tax cuts.
"This is the budget that will leave its imprint on public opinion and local government leading into the election," Berry said. "This is in one respect part of a long tradition of seeing budgets do turns up right before an election."
Walker's proposed spending has already spurred resistance from Republican legislative leaders and conservatives with whom he worked closely on more austere budgets in the past.
Sen. David Craig, R-Town of Vernon, issued a statement after Walker's budget address encapsulating the tension.
"I am encouraged by nearly $600 million in tax and fee reductions along with substantive welfare reforms, the repeal of prevailing wage requirements for state projects, and regulatory relief," Craig said. "However, I am deeply concerned by the dramatic spending increases within the Governor's budget which further expand government and increase the fiscal commitment of taxpayers going forward."
Eric Bott, state director of the conservative advocacy group Americans for Prosperity Wisconsin, said his group is generally pleased with Walker's proposal but disappointed by the spending level — the $76.1 billion in total spending adds $2 billion to the current level and is $8 billion more than what Walker proposed in his past two budgets. The group is also disappointed the budget provides no expansion of taxpayer-funded vouchers for private schools, which Democrats have criticized.
Jon Peacock, research director of the left-leaning Wisconsin Budget Project, cautioned that Walker's per-pupil approach to new K-12 funding deviates from the state's commitment to providing funding based on the relative property wealth of a district. And his plan for forcing parents on food stamps to work 80 hours a month doesn't account for situations where low-income people have difficulty securing jobs because of lack of transportation or paid sick leave.
But he also acknowledged that Walker's approach to cutting income taxes — reducing the lowest two rates by 0.1 percentage points — fits with his group's recommendation for tax relief.
Taylor Hartfield, a special education teacher at Platteville High School, says the governor's plan to boost K-12 spending by $649 million is "refreshing." She said Platteville schools' budget has been more stable than some other rural districts in part because the university is a stabilizing force for the local economy.
But the roughly $900,000 funding boost Walker estimated the district would get under his plan would be helpful, Hartfield said.
"It's the right move to support education," she said.
State Journal reporter Mark Sommerhauser contributed to this report.
Prosecutors: Walker offers merit raises but no new jobs. B1