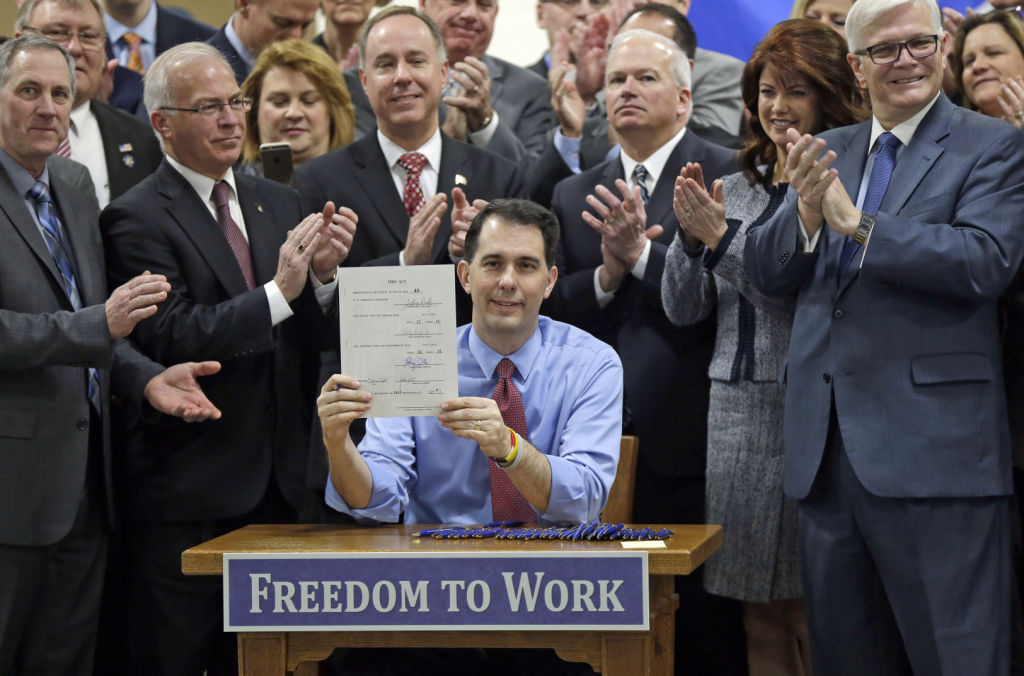 Seeking to "drain the swamp in Washington," Gov. Scott Walker will call Monday for the end of public sector labor unions, abolishing the federal labor relations board and enacting national right-to-work law as part of his plan to take his Wisconsin battle with labor unions to the White House.
The 2016 Republican presidential candidate is scheduled to lay out details of his labor union plans Monday afternoon at a town hall-style event in Las Vegas. His campaign provided details of his proposal late Sunday in advance of the speech.
"I will work with Congress, or when appropriate, use the power of the executive, to make common sense changes to some of the workplace rules set by Washington," Walker plans to say, according to the campaign. "I will check the power of the big-government special interests, empower individuals and protect taxpayers."
With his standing in national and early primary state polls diminished, Walker is seeking to refocus his campaign on the issue that gained him national attention — his 2011 changes to public sector collective bargaining in Wisconsin, known as Act 10, and the ensuing recall election that he won, a feat never before achieved by a sitting U.S. governor. The law virtually eliminated collective bargaining by public workers.
You have free articles remaining.
Taking aim at "the union bosses and the politicians they puppet," Walker plans to lay out 12 policies that he says would "change the status quo" and "bring power back to the people." They include:
Working with Congress to eliminate public sector labor unions on the federal level and encourage state and local governments to do the same.
Eliminating the National Labor Relations Board, which conducts labor union elections and investigating unfair labor practices, and transferring some of its duties to the National Mediation Board, which coordinates labor-management relations with the railroad and airline industries.
Requiring online disclosure of union expenditures and other information.
Passing nationwide right-to-work legislation, requiring states to opt out of a law now in 25 states that prohibit employers from negotiating union contracts that require all members of a workplace to participate in the union.
Changing the National Labor Relations Act to eliminate a union's exclusive representation in the workplace.
Requiring federal employee unions to disclose the amount of dues spent on political activity.
Creating systems that compensate exceptional public employees more than other employees.
Protecting union whistle-blowers.
Repealing the Davis-Bacon Act, which would eliminate prevailing wage laws for federal highway and
other
public works projects.
Walker has already enacted some similar proposals on the state level, such as making Wisconsin the 25th right-to-work state earlier this year. He also repealed state prevailing wage laws for road construction projects. Those laws strike more at the private sector labor unions.
In calling for the elimination of public sector labor unions, Walker is targeting a major political funding source for Democrats.
Overall union membership in the U.S. has fallen from nearly 25 percent in 1980 to 11.1 percent last year. Private sector union membership fell to 6.6 percent last year, while public sector union membership topped 35 percent.