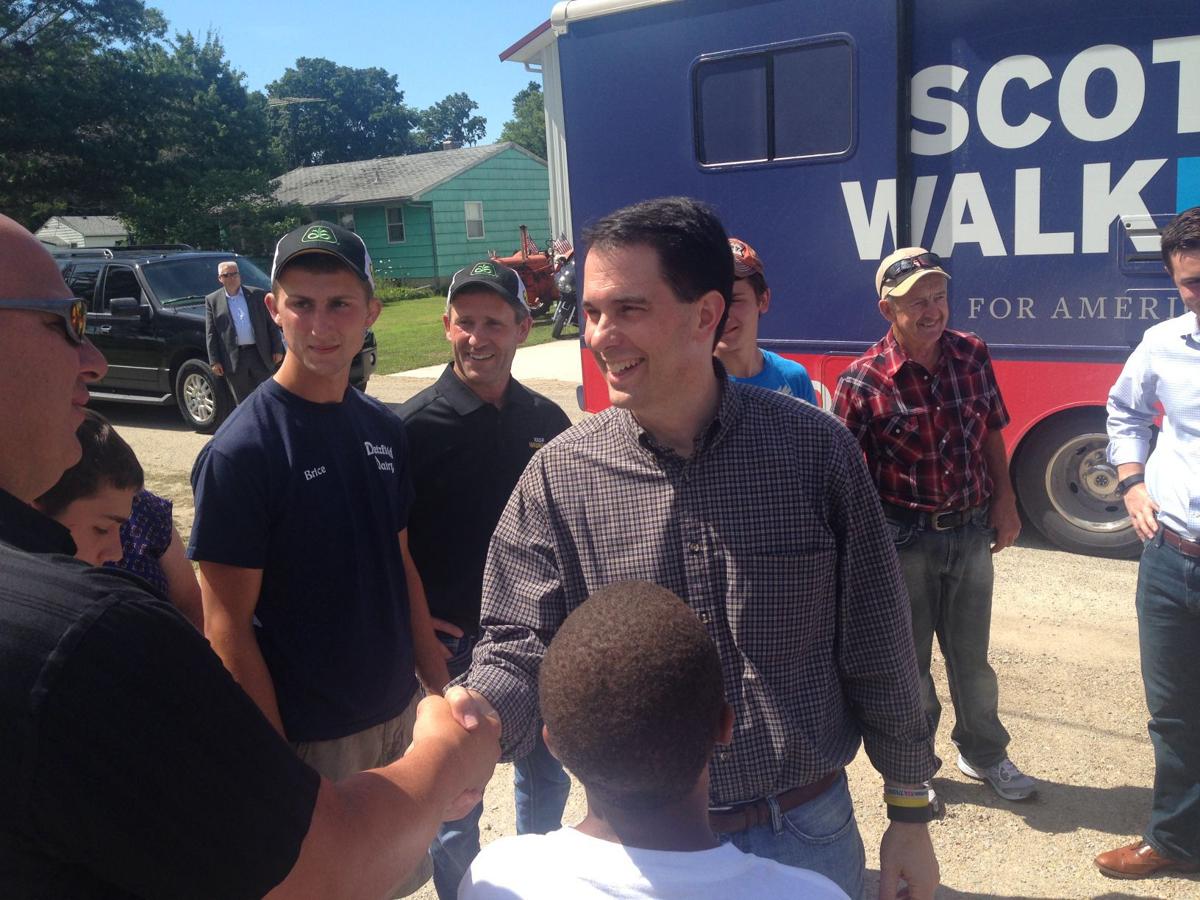 A super PAC supporting Gov. Scott Walker's presidential campaign is hitting the Iowa airwaves with a big splash.
Unintimidated PAC is making an advertising purchase in Iowa of nearly $7 million, according to Brad Dayspring, a senior adviser to the PAC.
The ads will air on radio and TV in various markets from September through February, when the Iowa caucuses are held.
They will give Walker a strong early presence in Iowa, the first presidential nominating state. Walker has been near the top of recent GOP presidential polls in Iowa, and he has spent considerable time stumping there in the early days of his campaign.
Political observers agree a victory in Iowa is key to Walker's path to the nomination, though his campaign manager, Rick Wiley, has said it's not a must-win state. The announcement by his super PAC is another indicator of what Walker has at stake there, said Tim Hagle, political science professor at the University of Iowa.
"It sends a signal that he wants to play, and play hard, here in Iowa," Hagle said.
Other presidential Super PACs, increasingly awash in cash during this campaign cycle, are sure to counter with ad blitzes of their own.
It's difficult to put the Unintimidated PAC ad buy in context, since many other presidential super PACs haven't announced their plans yet, said Hagle and Craig Robinson, editor of The Iowa Republican, a blog that tracks GOP politics in the state.
But Hagle and Robinson said the scope of the pro-Walker ad buy is getting noticed by the state's political observers. Robinson called it an "aggressive move to set the tone in Iowa."
"This is the Walker operation at large, throwing down a marker," Robinson said.
Markets targeted by the advertising buy include Des Moines, Ames, Cedar Rapids, Waterloo, Iowa City and Dubuque.
Unintimidated PAC has signaled there likely will be additional advertising purchases to come in Iowa. A second phase of advertising purchases is expected in other states, including New Hampshire, South Carolina and Nevada.
Dayspring said the ads are meant to build a narrative around Walker's political resume.
"This is the first phase of telling his story — a conservative governor from a blue state who has challenged the status quo, fought the entrenched special interests, and enacted conservative reforms to reform government from the bottom up — to voters in early states who are looking for a fighter who does more than make promises," Dayspring said in a statement.
A super PAC may air ads for or against a candidate but is required by law to operate independently — though in practice, that distinction is rarely, if ever, enforced. Super PACs, unlike candidates, can accept contributions of unlimited size. They also can accept contributions from businesses and labor unions, as well as individuals.
Unintimidated PAC announced last month that it raised about $20 million in its first quarter. Roughly half of that came from two $5 million contributions from three billionaires: one from Joe Ricketts, who founded TD Ameritrade, and his wife, Marlene Ricketts, both of whom co-own the Chicago Cubs. The other is from roofing magnate Diane Hendricks.