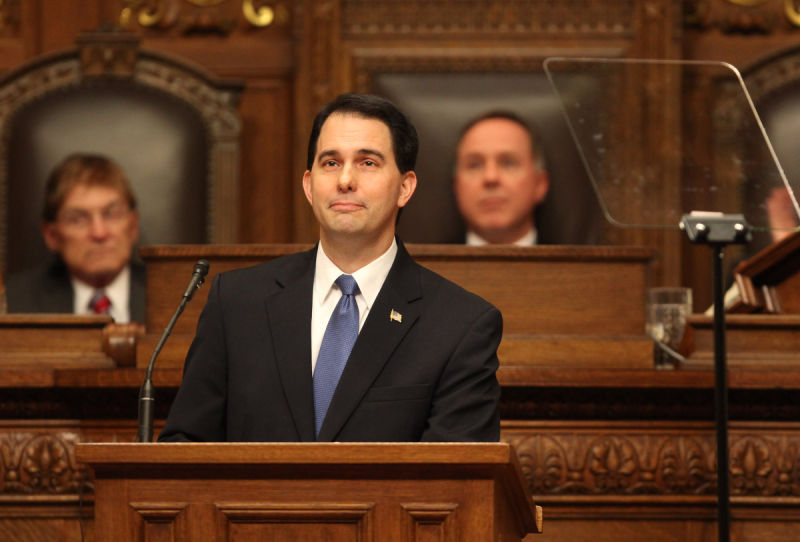 Gov. Scott Walker plans to announce Wednesday his much-anticipated decision on whether Wisconsin will expand its Medicaid services to cover 175,000 childless adults as allowed under the federal health care overhaul law.
Walker signaled last week that he may strike a middle path, not fully embracing the expansion allowed under the law championed by President Barack Obama but also making it possible for more people to get coverage under the state's BadgerCare Medicaid health programs.
"I think there's more than just a black or white," Walker told the Milwaukee Journal Sentinel in a Friday interview about the choices before him. "I think there's variations."
Walker is among the last Republican governors to decide whether to move forward with the expansion. Six Republican governors, including John Kasich in Ohio, already have agreed to the expansion while 11 other Republican governors have turned it down.
Walker's spokesman Cullen Werwie said Tuesday that the governor would announce his decision on Wednesday.
There is no credible middle ground that can be taken to guarantee coverage to people who have fallen through the cracks of the current system, said Robert Kraig, director of the liberal health care advocacy group Citizen Action.
"As far as we know, taking the new health care reform money for BadgerCare really is an all or nothing proposition," Kraig said.
An outspoken opponent of the health care overhaul law, Walker previously declined to create a state-run marketplace for insurance providers, instead deferring to the federal government to create the exchange.
His decision on Medicaid expansion has been a tightly held secret within his administration leading up to the release of his state budget on Feb. 20. Republican Assembly Speaker Robin Vos said Tuesday he had not been told what Walker's decision would be.
"I want to maintain the maximum flexibility for the state," Vos said, expressing concerns that the federal reimbursement rate to the state could be cut in future years, increasing costs.
Supporters of the Medicaid expansion pointed to an independent analysis by Wisconsin's nonpartisan Legislative Fiscal Bureau released earlier this month that said the state could save nearly $66 million over three years by accepting the federal money under the expansion. The savings would come by replacing state money to cover childless adults with money from the federal government.
Democratic supporters have said that is too good of an opportunity to pass up.
"He either supports making a bold investment in BadgerCare for everyday Wisconsinites, or he doesn't," said state Rep. Sandy Pasch, D-Whitefish Bay.
An estimated 175,000 childless adults in Wisconsin were expected to qualify for Medicaid starting in 2014 under a full expansion as allowed under the law. To qualify, the household income must be below 138 percent of the federal poverty level, which is $15,414 for an individual this year and $20,628 for a couple.
The federal government pays for all the expansion for three years, or $1.4 billion in Wisconsin, according to the Fiscal Bureau. After that, the federal reimbursement gradually declines to 90 percent. Through 2020, Wisconsin would receive nearly $4.4 billion in federal money, the Fiscal Bureau said.
Democrats and a broad array of labor groups, doctors, hospital, health providers and advocates for the poor have urged Walker to take the deal.
But Walker had repeatedly cited concerns about how much it may cost in the long run to pay for the expansion. While the federal government would pick up the tab for three years, costs to the state would gradually increase and eventually be 10 percent. Over four years, starting in 2016, new costs to the state would total about $133 million, the Fiscal Bureau said.