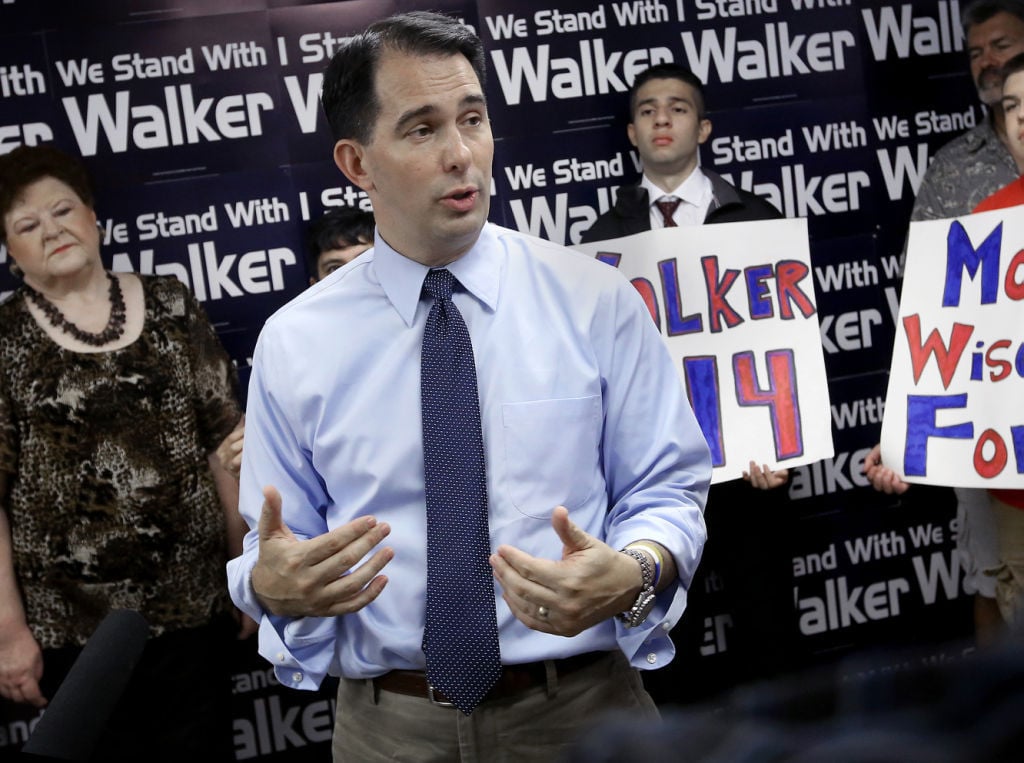 Likely 2016 presidential candidate Gov. Scott Walker called the U.S. Supreme Court's ruling legalizing gay marriage across the country "a grave mistake."
Walker issued a lengthy statement on Facebook Friday calling for an amendment to the U.S. Constitution that would allow states to define marriage and described the ruling as "judicial activism."
"Five unelected judges have taken it upon themselves to redefine the institution of marriage, an institution that the author of this decision acknowledges 'has been with us for millennia,' " he wrote. "In 2006 I, like millions of Americans, voted to amend our state constitution to protect the institution of marriage from exactly this type of judicial activism."
Walker said during last fall's re-election campaign — after a federal judge overturned Wisconsin's ban on gay marriage — that his opinion on the issue didn't matter, despite consistently being against it previously. Some religious conservatives have cited this statement as a reason for skepticism about Walker.
Walker, expected to announce a presidential bid next month, said the ruling is an example of why the country needs "a conservative president who will appoint men and women to the Court who will faithfully interpret the Constitution and laws of our land without injecting their own political agendas.
"As a result of this decision, the only alternative left for the American people is to support an amendment to the U.S. Constitution to reaffirm the ability of the states to continue to define marriage," he said. "I call on the president and all governors to join me in reassuring millions of Americans that the government will not force them to participate in activities that violate their deeply held religious beliefs. No one wants to live in a country where the government coerces people to act in opposition to their conscience. We will continue to fight for the freedoms of all Americans."
He also said Wisconsin residents who are "concerned about the impact of today's decision" should be assured "that your conscience rights will be protected, and the government will not coerce you to act against your religious beliefs."
Spokeswomen for Walker did not respond to questions seeking clarification.
'Me too'
University of Missouri-Columbia political science professor Peverill Squire said Walker's statement is targeted at older conservative voters, "most of whom will be comforted by it."
"But the governor's problem is that (Mike) Huckabee's comments work better as a sound bite and his U.S. senator competitors can actually take the lead on any push for a constitutional amendment," said Squire. "Walker is left in a 'me too' position, which is not where you want to be in a crowded field."
Squire said that to this point, Walker has been focused only on securing the GOP nomination, but he and other Republican presidential hopefuls that took a similar position Friday "may well regret it in the generalelections."
Kyle Kondik, managing editor of Sabato's Crystal Ball at the University of Virginia's Center for Politics, said there's "a greater chance of the sky turning orange than the United States enacting a constitutional amendment along the lines of what Walker is proposing."
He called the statement "pure pandering," and along the same lines as likely Democratic presidential nominee Hillary Clinton's backing of a constitutional amendment that would reverse the Citizens United campaign finance decision.
"To do either would require two-thirds of both Houses of Congress and three-fourths of the states to go along. That's just not going to happen," said Kondik. "Walker finds himself aggressively on the wrong side of national public opinion on same-sex marriage, and if he is the nominee next year this will not be a position he emphasizes, to say the least."
Nationally, public opinion on gay marriage has shifted dramatically over the last two decades.
In 2014, 54 percent of Americans supported gay marriage while in 1996 just 27 percent said they were in favor, according to Pew Research Surveydata.
"Walker is just throwing red meat to the base, particularly to the evangelical, conservative voters who don't like this decision and who dominate the GOP electorate in states like Iowa," said Kondik. "But in proposing a constitutional amendment he's going further than some others, like Jeb Bush and Marco Rubio."
Bush makes statement
Bush, the former Florida governor who announced his presidential bid recently, said in a statement Friday that he believed "in traditional marriage."
"I believe the Supreme Court should have allowed the states to make this decision," he said, but also added: "In a country as diverse as ours, good people who have opposing views should be able to live side by side. It is now crucial that as a country we protect religious freedom and the right of conscience and also not discriminate."
Florida Sen. Marco Rubio, also seeking the nomination, echoed Walker's rhetoric by describing the Supreme Court as "unelected judges," and also said that it should be a state matter.
"This decision short-circuits the political process that has been underway on the state level for years," Rubio said.
But he acknowledged gay marriage is now legally allowed, and emphasized that the next president should nominate justices to the high court that are "committed to applying the Constitution as written and originally understood."
Walker's position far right
Kondik said Walker "might be positioning himself further to the right than some of his bigger-name competitors."
"In a contest where voters in the middle of the party, not the more religious social conservatives, typically hold sway, I wonder whether that's the wisest place for him to go, politically," he said.