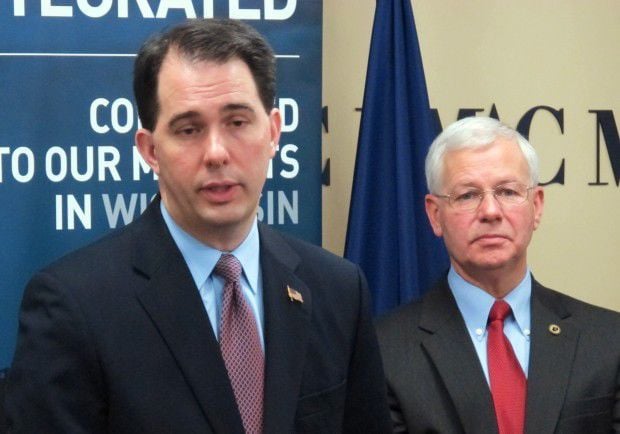 Gov. Scott Walker does not routinely get copies of economic development award letters issued by the state, even though he was criticized for that practice in 2012.
Walker, chairman of the Wisconsin Economic Development Corp. board, said in June 2012 that he would change the agency's practice of noting on award letters that he is copied but not actually forwarding the letters to his office.
"If I'm included in a letter that says I'm being included in an offer, I should probably see the letter before it goes out," Walker said at the time, according to The Associated Press.
WEDC spokesman Mark Maley said Tuesday that "WEDC does not routinely forward award letters to the governor's office." And Walker spokeswoman Laurel Patrick said Tuesday the award letter template changed after the issue was raised in 2012.
Letters no longer indicate that they are written on the governor's behalf or that he is copied as a recipient, Patrick said.
"He was not calling for our office to see or review the letters," she said in an email.
The issue came up in 2012 after Walker and his Department of Administration criticized WEDC for awarding $11.7 million in tax breaks to Skyward, a Stevens Point-based company bidding on a $15 million statewide student information system.
The March 2012 award letter to Skyward included a "cc" notation at the bottom to Walker, which raised questions about whether he was aware of the deal even though he said he first learned of it after the June 2012 recall election. Walker's office said then that even though he was cc'd on the awards letter, it was never forwarded.
You have free articles remaining.
The same issue surfaced this week because Walker was cc'd on a September 2011 letter awarding a $500,000 loan to a struggling Milwaukee construction company.
Walker's office said, despite the cc notation (which stands for "carbon copy"), it never received a copy of the award letter, and a Walker lawyer confirmed that after a search.
Maley and former WEDC CEO Paul Jadin confirmed to the State Journal on Tuesday that WEDC never forwarded the letter to Walker's office.
"In the early days of WEDC (and earlier at the former Department of Commerce), there was template letter language that was sent to all award recipients," Maley said. "Even though the letter indicates that the governor was cc'd on it, that never happened."
The State Journal reported Sunday that Walker's top aides, including DOA Secretary Mike Huebsch, pressed for a $4.3 million loan to Building Committee Inc. as the company was collapsing. The company's owner, William Minahan, made a last-minute $10,000 contribution to Walker's 2010 campaign.
WEDC provided a $500,000 unsecured loan that was never repaid. Last year, the agency sued the company, which has since dissolved.
Patrick told the State Journal last week that Walker "has not met with Mr. Minahan, nor was he involved in or aware of any part of the loan process concerning The Building Committee Inc." Walker made similar comments to reporters on Saturday.
The State Journal investigation also found that BCI's loan application stated the company had not been sued in the previous five years, even though court records show three lawsuits filed against the company in 2010 — including one by the state.
Falsified information on a loan application is grounds for automatic denial.