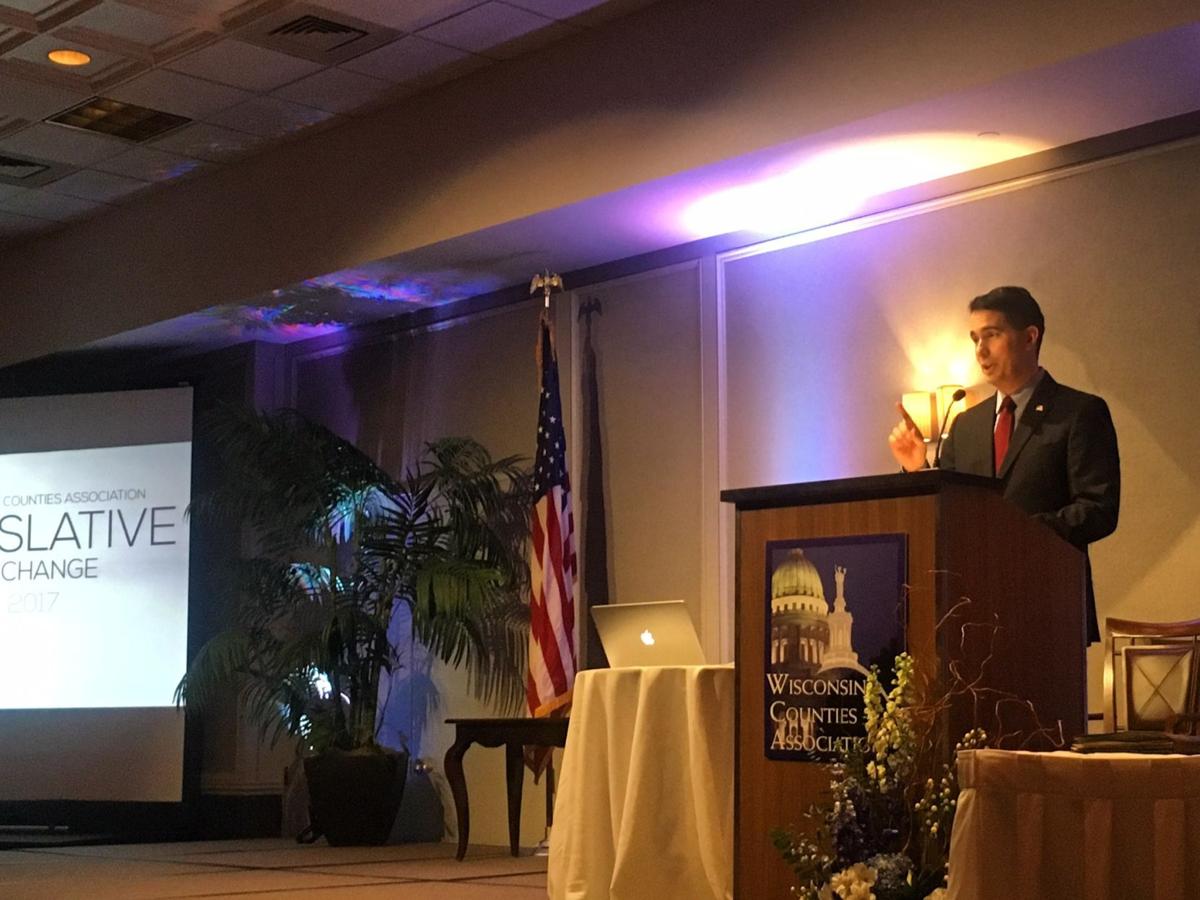 A bright budget outlook could mean millions of more dollars sent from the state to county governments to provide child welfare services and to fix their roads, Gov. Scott Walker told county officials on Tuesday.
Walker, a day before he plans to unveil his full 2017-19 spending plan, told members of the Wisconsin Counties Association that one "major ask" he plans to fulfill for counties is to propose state funding to eliminate waiting lists for children with disabilities needing long-term care from counties.
The budget will provide $39 million over two years to eliminate the waiting lists for 2,200 children with disabilities.
As of 2013, the 10 counties with the largest waiting lists were delaying care for nearly 1,400 children, according to the Wisconsin Board for People With Developmental Disabilities.
Mark O'Connell, executive director of the Wisconsin Counties Association, on Tuesday called Walker's proposals "gifts" to county officials.
You have free articles remaining.
Walker also said he will propose to increase rates at which foster care and kinship care providers are paid to care for children by 2.5 percent annually, along with additional funding. The total state aid to help counties provide child welfare services will increase by about $6.5 million over the biennium in his budget proposal, too, Walker said. The total allocation will be about $145 million.
Nursing home provider rates also will increase by 2 percent annually under Walker's budget proposal, he said, with a funding increase of $18.3 million in the first fiscal year of the budget and about $33 million in the second year.
Walker also said he will propose about $373.3 million in the state budget to give to counties for highway maintenance.
About $1.3 million will be provided to counties through grants to expand the state's drug court program, which provides offenders with treatment as an alternative to jail time. About $9 million will be provided in the state budget proposal to expand the state's program that offers criminal offenders with substance abuse problems alternatives to jail or prison sentences.
Walker is also proposing to add $649 million for K-12 schools. The idea has received a mixed reaction from even Republican lawmakers, though school officials have praised it.
Walker said Tuesday that detractors are "cynics."