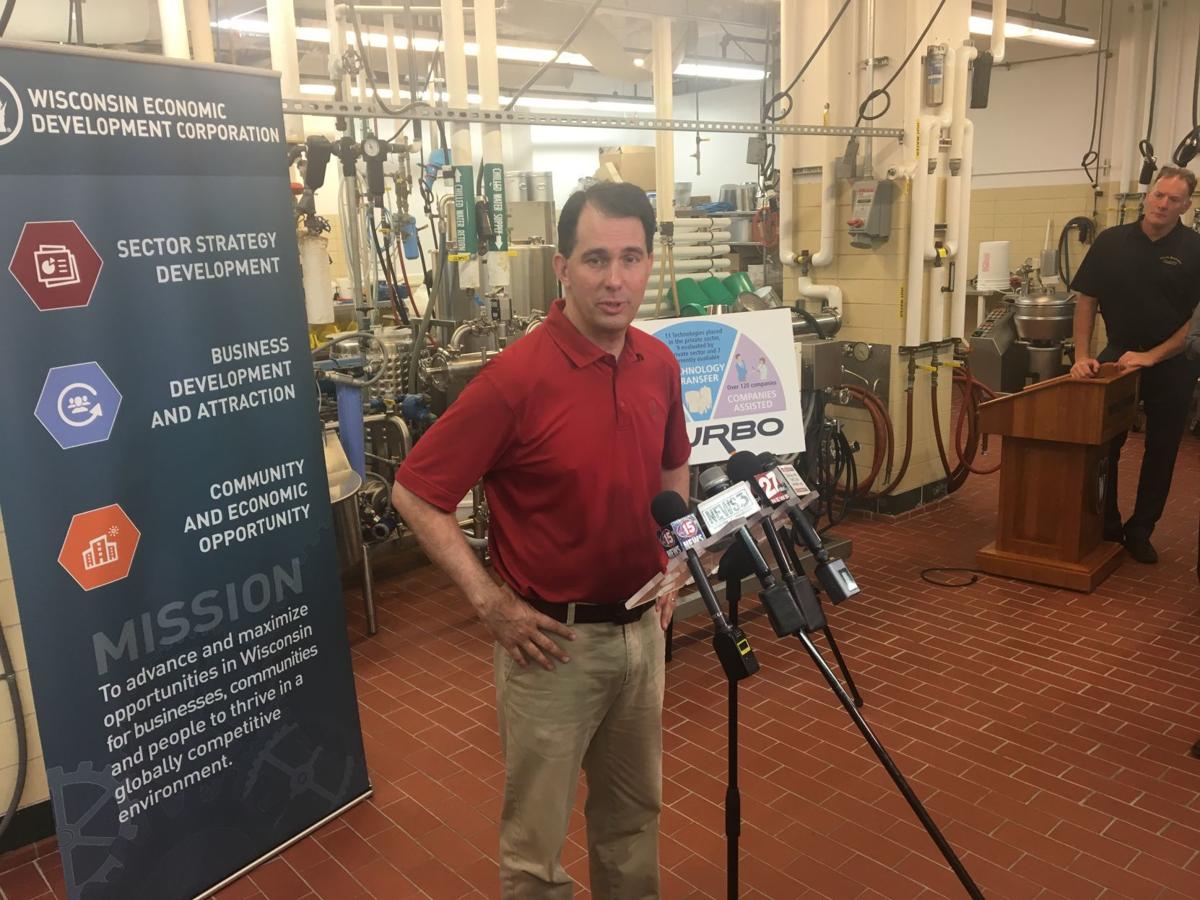 Gov. Scott Walker says if re-elected to a third term, he'll seek to extend the existing University of Wisconsin System tuition freeze for in-state undergraduate students for another four years.
Such a move gives Walker a potent item to tout on the campaign trail, as he contends his policies have made college more affordable for Wisconsin families.
The Democrats challenging him have all talked about college affordability on the campaign trail, and some are also saying they will continue to freeze tuition. Most of them also want to make two-year and technical college tuition free.
Freezing tuition could force UW System officials, who already are overseeing a sweeping merger of its two- and four-year campuses, to make more tough decisions about the university's budget. The state is providing $2.14 billion in general purpose revenue to the UW System in the current biennium, or about $175 million less than it did in the 2009-11 budget, or $624 million less in inflation-adjusted terms.
Walker's plan would bring the total duration for which the freeze had been in place to a decade. Walker and legislative Republicans first imposed the freeze in 2013.
Walker "will continue to freeze UW tuition during his next term," his campaign spokesman, Austin Altenburg, said in a statement. "Prior to the freeze, UW tuition went up 118 percent during the prior decade. That's unacceptable, so Gov. Walker took action."
UW System spokeswoman Heather LaRoi said System President Ray Cross was unavailable Tuesday to respond to Walker's plans.
The UW Board of Regents in August will consider whether to propose an inflationary increase in tuition for the 2019-20 academic year, the Milwaukee Journal Sentinel reported Tuesday.
Cross told the newspaper that "I don't want to close any of these campuses."
"If we don't raise tuition some, we start to put quality in jeopardy, and we're going to have to reduce expenditures," Cross said.
State Superintendent Tony Evers, who is a member of the Board of Regents, said he would extend the tuition freeze in his first budget if elected governor. During a recent debate he was the only Democrat who said he opposed free tuition for two-year and technical college students, saying he believed students should have some "skin in the game."
"Any Wisconsinite who wants to pursue additional education opportunities after high school no matter their age, means or background should be able to, period," Evers said. "Scott Walker has been the most anti-higher education governor in Wisconsin's history, and for the people and economy of this state we have to do better and I will."
Sen. Kathleen Vinehout said she would rely on the recommendation of the Board of Regents before making a decision on continuing the tuition freeze. She has authored legislation that would make two-year UW campuses and technical colleges tuition free based on a Tennessee program that requires students to apply for and receive as much financial aid as possible, excluding loans, and have the state cover the rest of the student's costs.
Former Rep. Kelda Roys said "we can lower the price of higher education while also strengthening our universities and technical colleges," though she didn't explicitly say whether she would continue or end the tuition freeze. She supports a similar approach to making two-year and technical college free as Vinehout. She criticized Evers' approach to ensuring students pay something saying it "discourages Wisconsinites without family wealth."
State firefighter union president Mahlon Mitchell said he would continue the in-state tuition freeze, "however we must look at all options to reverse the massive cuts to our UW System so that these institutions are not starved for resources at the expense of the quality of education."
Former Democratic Party chairman Matt Flynn said he wants to create a public pre-K-14 system where all students receive two years of free college, paid for by eliminating the Foxconn deal, the manufacturing and agriculture tax credit and legalizing and taxing marijuana.
Corporate lawyer Josh Pade said he doesn't oppose a tuition freeze, while Madison Mayor Paul Soglin said he wouldn't extend the tuition freeze. He said tuition should be reviewed annually.
Soglin added that he would make tuition free "for governors voted out of office who never finished college," referring to Walker.