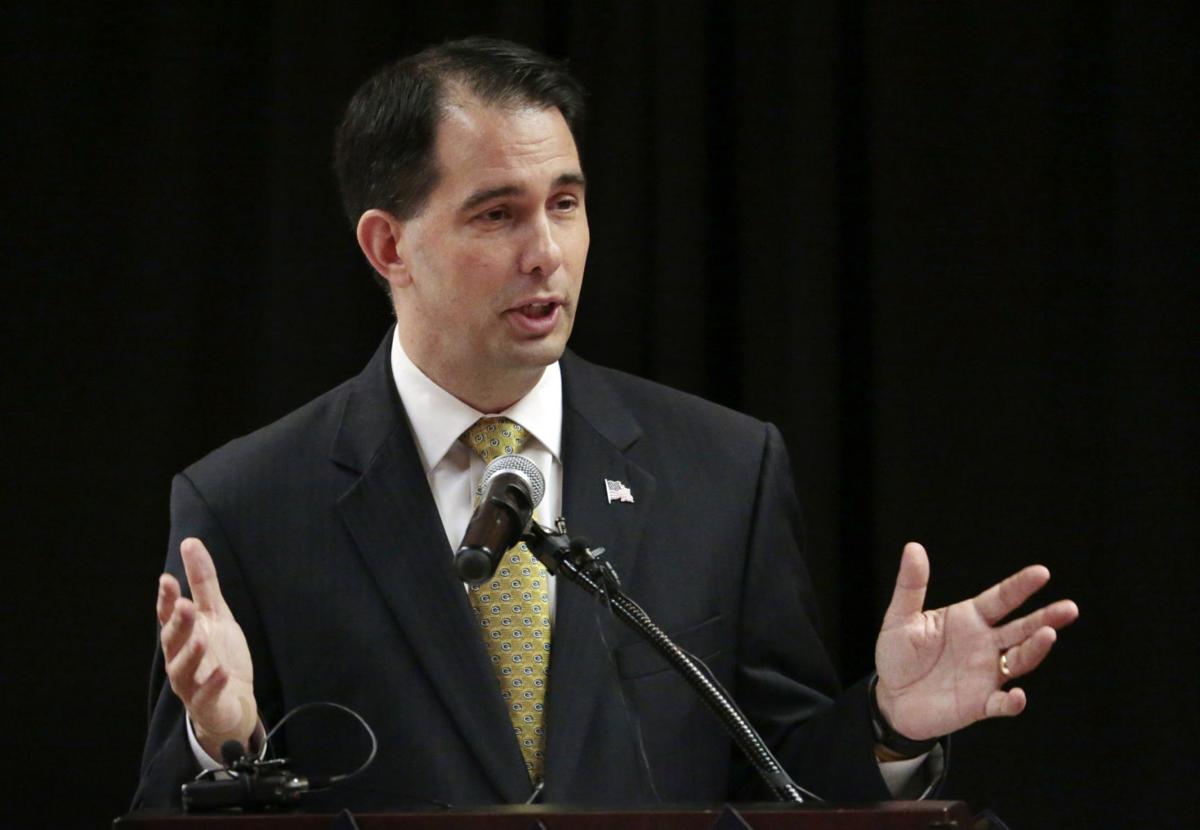 Gov. Scott Walker told reporters Monday he forwards all text messages related to state business to his state email account and that his administration complies with the law in handling records.
"As you all know in the past four or five years I've been in office we've gotten tens of thousands of open records requests fulfilled," Walker said after a menorah lighting ceremony at the Governor's Mansion in Maple Bluff. "Many of them include information not only from me, but from other individuals that was forwarded or was included in personal texts or emails. That's been a pretty consistent policy."
Walker's office didn't respond to questions about who is covered by the policy.
Walker's statement came a day after theWisconsin State Journal reported that Walker's administration has used a novel method for denying records in at least two cases by claiming certain records are "transitory" in nature and did not have to be retained.
One of those cases involved a text message referenced in hundreds of pages of emails related to a failed $500,000 Wisconsin Economic Development Corp. loan to Building Committee Inc., a now-defunct Milwaukee construction company owned by a top Walker donor. Walker's then top cabinet secretary Mike Huebsch aggressively pushed WEDC to give the company money, which has yet to be repaid.
One of Huebsch's top aides wrote to BCI owner William Minahan a few days before forwarding the company's information to WEDC, "Just talking (I should say texting) about you. Secretary Huebsch wanted to touch base with you tomorrow on developments on our end — is there a time and number that would work best?"
You have free articles remaining.
A Walker administration spokesman told the State Journal in August the state didn't have a copy of the text message because "transitory messages are not required to be retained."
The response came a day after the Public Records Board, which sets the minimum amount of time various types of public records must be retained, changed the definition of "transitory records" to include communications about scheduling meetings and also clarified they don't have to be retained at all.
Public records advocates dispute that either the old or new definition of such records granted authority to discard text messages related to state business. They say such records would fall under "correspondence" which must be retained for three years after a top department official leaves office.
Matthew Blessing, administrator of the division of library-archives for the Wisconsin Historical Society and chairman of the records board, said Monday it is up to each state agency's records custodian to determine whether a record is "transitory" or something else. He offered no opinion on how to classify the DOA text messages.
Anne Schwartz, a spokeswoman for the state Department of Justice, said Monday in an email that unless a request for the record is made prior to the record's destruction there is no recourse under the public records law to appeal a decision by a records custodian that something is "transitory." She added that "recourse may exist under another area of law or local rule or ordinance," without further explanation.
The Walker administration has not responded to multiple requests for further explanation of why text messages among top DOA officials related to a state loan applicant weren't retained.
State Journal reporter Mark Sommerhauser contributed to this report.