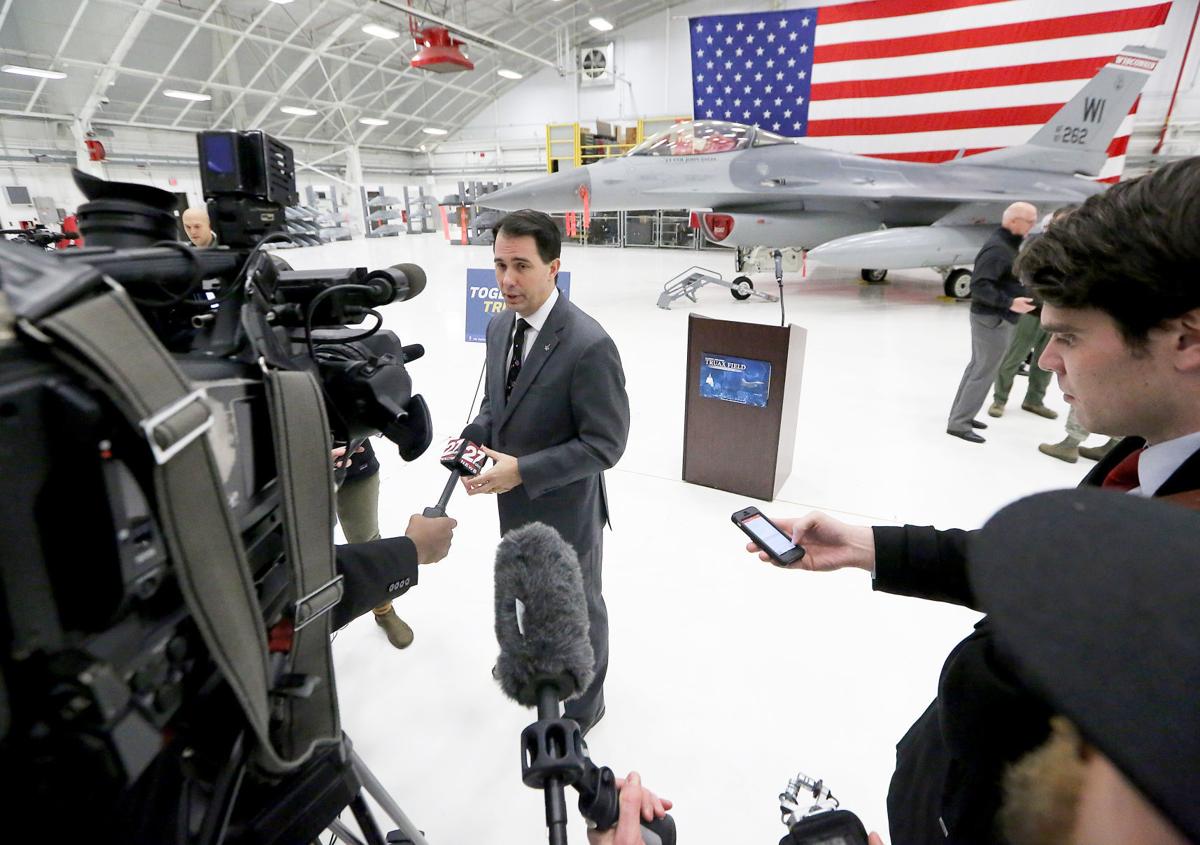 Gov. Scott Walker took 869 flights on state-owned airplanes over a two-and-a-half-year period while he was reconnecting with voters after his failed presidential run, costing taxpayers about $818,000, a liberal advocacy group reported Monday.
The flights included eight trips of less than 40 miles, including from Appleton to Green Bay, though that was part of a busy day on Sept. 7, 2016, in which Walker attended a ribbon-cutting ceremony in Neenah before promoting his sales tax holiday proposal in Green Bay and Menomonee Falls. The four flights he took that day each covered less than 75 miles and cost a total of $1,667.51.
In nine cases, he flew out of Madison round trip, covering distances of less than 75 miles, with each trip costing on average $819. The destinations included Burlington, West Bend and Oshkosh.
About 41 percent of the flights Walker took between September 2015, when he dropped out of the presidential race, and April 2018 covered distances of less than 100 miles, according to research by liberal advocacy group One Wisconsin Now.
"Scott Walker will say, do and spend anything to get re-elected," One Wisconsin Now executive director Scot Ross said at a news conference in the State Capitol on Monday.
Walker spokeswoman Amy Hasenberg called Ross' research "a gross mischaracterization of Governor Walker's dedication to visiting with the people of Wisconsin."
"Governor Walker has shown an unparalleled level of commitment in supporting, listening to, and meeting with hard-working families in every corner of the state," Hasenberg said. "From visiting communities recovering from disasters, to attending funerals of fallen officers and public officials, to discussing the positive things getting done throughout the state, Governor Walker has shown he stands ready to support Wisconsin and our citizens at any time."
Ross said the group hadn't determined whether it would file a complaint about Walker's use of state resources with the state Ethics Commission. He acknowledged most of the cases he flagged raised issues of whether Walker was making the wisest use of taxpayer dollars, not whether it was inappropriate to use taxpayer-funded transportation to attend an event in his official capacity.
Ross highlighted one trip in which the state plane picked up Walker in Milwaukee after he attended a funeral in Wauwatosa to take him to a National Rifle Association convention in Wausau and then back to Madison. The flights cost $2,586.72.
Hasenberg noted Walker attended the NRA event to sign a bill allowing the concealed carry of switchblades and other knives with a concealed firearms permit.
Ross also noted a couple of examples where he said the use of a state plane for an official event helped facilitate Walker's attendance at a separate political event for which he didn't use a state plane.
On Nov. 1, 2016, Walker flew round trip the 175 miles from Madison to Menomonie for an invite-only listening session at a cost of $1,832.48. Later that day he attended a rally in Eau Claire with Donald Trump, a trip not paid for by taxpayers. Two days later he flew 81 miles to Kenosha for a Veterans Day program at a private religious school and back at a cost of $855.12 and then attended a campaign event in La Crosse later in the day.
The research found Walker had spent about $825,000 total and reimbursed the state roughly $6,760 over the period reviewed.
In 2016, he took 351 flights covering 44,114 miles and in 2017 he took 322 flights covering 45,317 miles. He spent on average $318,340 in each of those two years on flights.
As a point of comparison, a February 2006 report from The Associated Press found Democratic Gov. Jim Doyle flew 28,900 miles in one year toward the end of his first term costing the state $164,000.
His predecessor, Republican Gov. Scott McCallum, took 277 flights over a roughly 18-month period in 2001-02, according to press reports during the 2002 election, when Doyle's and McCallum's use of state planes came under scrutiny. Doyle had taken flights as attorney general prior to becoming governor in 2003.